📗 The history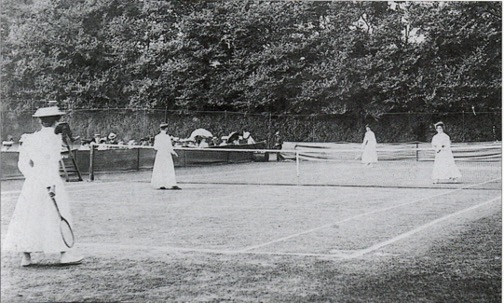 Officially known as "The Championships, Wimbledon" (how fancy), this competition dates back to 1877, making it the oldest — and arguably the most prestigious — tennis tournament in the world.
A fun fact? Since its inception, Wimbledon's been played at the All England Lawn Tennis and Croquet Club, a grass court (more on that later) nestled in the London neighborhood of Wimbledon, of course.
The early years were men's singles only, but a women's singles championship was introduced in 1884, the same year a men's doubles tourney was added. By 1913, the tournament featured mixed doubles and women's doubles, but Wimbledon wouldn't open to professionals until 1968.
🎾 The surface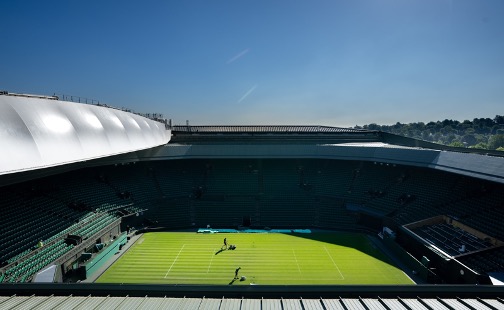 Wimbledon is the only Grand Slam tennis event played on grass, and similar to clay, pros either excel on or fall victim to the terrain.
The grass is so precious to the club that Serena Williams was fined a whopping $10,000 (!!!) in 2019 for damaging the court during practice. It's going to be a busy couple of weeks for the "get off my lawn" crowd.
Another way organizers protected the court? Installing a retractable roof over Centre Court back in 2009 in preparation for rainy English days. But this upgrade was met with lots of controversy. Change can be difficult.
Back to those players who excel on the surface, while they haven't quite reached Rafael Nadal's "King of Clay" status, Martina Navratilova and Roger Federer can be considered the goddess and god of grass. Navratilova's won a whopping nine Wimbledon titles, the most of any tennis player, and Federer's secured eight, the most of any man.
Plus, they have respective career win rates of around 89% and 87% on the surface. Pretty good.
🍓 The traditions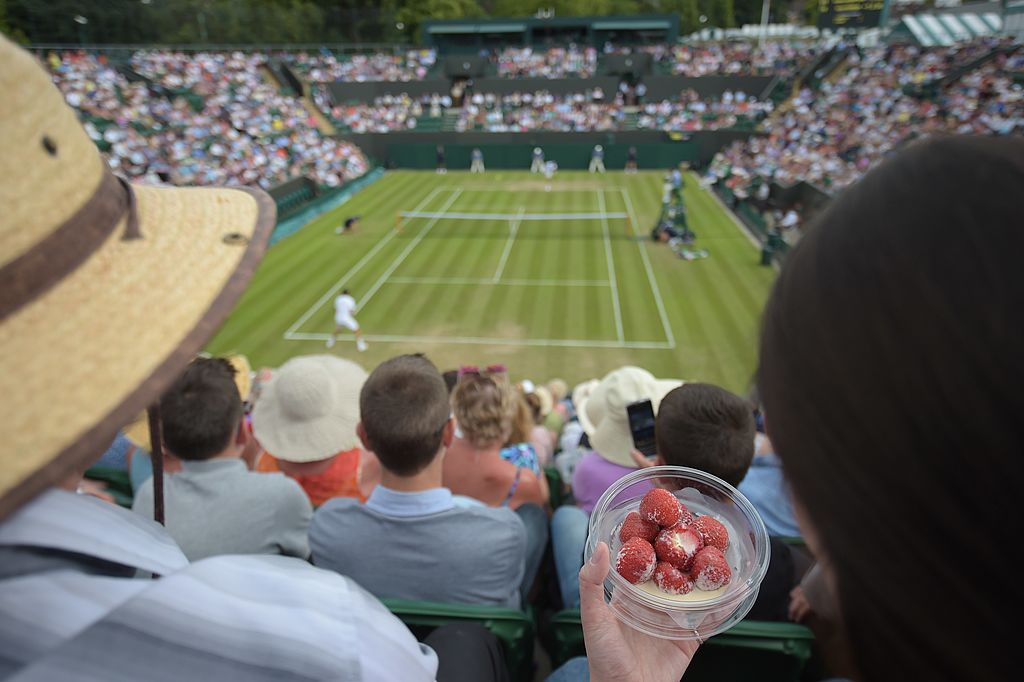 With nearly 150 years of history, it's no surprise that Wimbledon has many notable traditions. For starters, the tournament mandates a strict dress code for participants, complete with a list of rules dedicated specifically to clothing and equipment.
Good thing it's played well before Labor Day, because that dress code includes white — Wimbledon's staple color.
The original reasoning behind the color choice was due, in part, to the supposed cooling effects, but it also allowed athletes to sweat discreetly on hot summer days since signs of sweat were deemed "improper."
Many players have challenged the dress code over the years. If they don't abide by the rules, though? They may be asked to change or even be disqualified. Okay, fashion police.
As for a sweeter tradition, Wimbledon's also known for a delicious summertime snack staple — strawberries and cream.
In 2019, 191,930 servings of strawberries and cream were consumed, and the price has remained the same since 2010: £2.50 (about $3 USD). Spectators are allowed to bring their own bottle of wine or champagne or two cans of beer to cut down on costs.
And finally, it's not Wimbledon without a member of the Royal Family making an appearance. While the Queen has only attended four times, her grandsons and their partners have been known to enjoy the tournament more frequently.
💪 Women to watch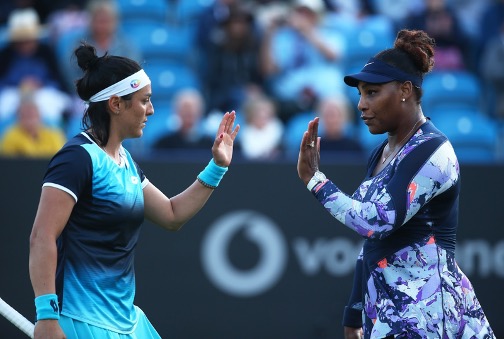 While we sadly won't see Naomi Osaka in action after she withdrew last week with an Achilles injury, there are plenty of other contenders in this stacked women's field.
Serena Williams: But of course. As mentioned, it's been nearly a year since Williams took the court in a Grand Slam. It's only fitting that her comeback begins at Wimbledon, where she's won seven of her 23 career major titles. We've been waiting for this one.
World No. 1 Iga Świątek: Świątek's dominance has been the story of the 2022 tennis season — she's riding a 35-match win streak into Wimbledon, an epic run highlighted by her French Open victory a few weeks ago. One more W and she'll break a tie with Venus Williams for the longest women's win streak in the 21st century. Bet on it.
World No. 3 Ons Jabeur: Jabeur's recent rise to No. 3 in the WTA rankings marks a career-high for the Tunisian star. But the quest for her first Grand Slam title could be in danger: Jabeur (and her doubles partner Serena) withdrew from last week's tune-up event after Jabeur suffered a knee injury.
World No. 12 Coco Gauff: The American phenom burst onto the scene with a run all the way to the French Open finals, her first appearance in a Grand Slam final. Now the 18-year-old will be looking to beat her previous best at Wimbledon, where she was bounced in the fourth round last year. Can confirm — we're still loco for Coco.
👊 Men to watch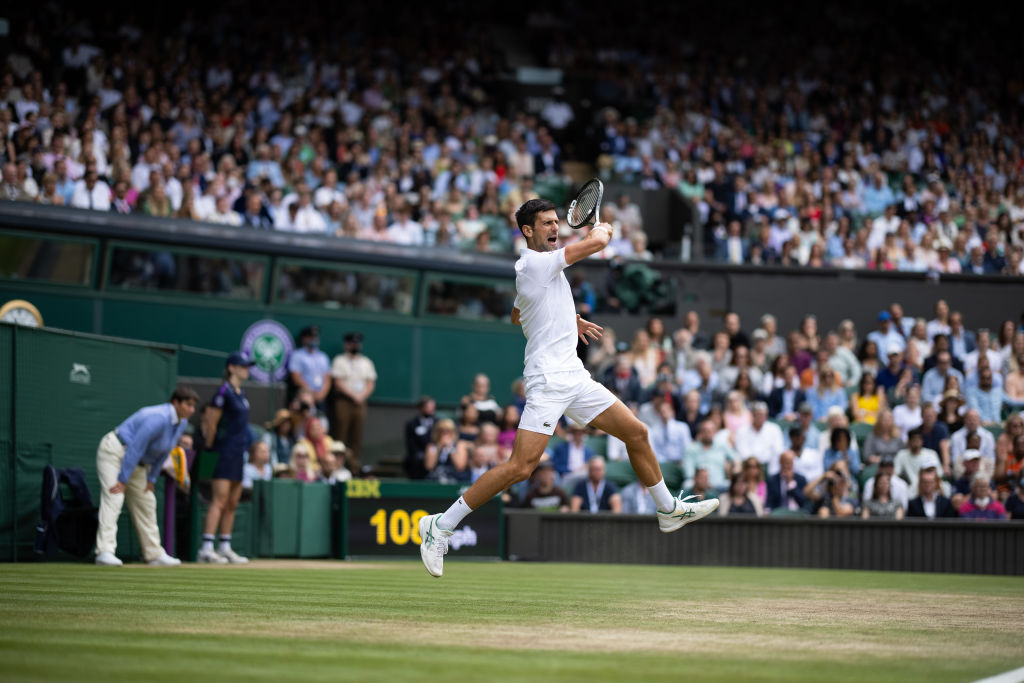 World No. 1 Daniil Medvedev won't be competing due to Wimbledon's ban on Russian and Belarusian athletes (more on that below) and the aforementioned Federer is out of the main draw for the first time since 1998 as he continues to recover from knee surgery, leaving the door wide open for these contenders.
World No. 3 Novak Djokovic: The defending champ, Djokovic's had plenty of success on grass, with six of his 20 Grand Slam titles won at Wimbledon. And he'll need to make it seven if he wants to keep pace with Rafael Nadal's current record of 22 men's titles. Speaking of…
World No. 4 Rafael Nadal: Rafa hasn't been as successful as Djokovic in London, but he still boasts two Wimbledon trophies. Plus, the Spaniard's been on a tear this year, winning the first two majors on the calendar. Could this be a Grand Slam in the making?
World No. 7 Carlos Alcaraz: The 19-year-old put the tennis world on notice with his dominant clay-court play earlier this year, and while he struggled in his first grass match of the season last week, the No. 5 seed is still a threat to make a deep run in London.
World No. 11 Matteo Berrettini: Last year's runner-up, Berrettini has yet to reach a Grand Slam final this season, but that could change at Wimbledon, especially considering the Italian's success on grass. With a favorable draw, he could just burst through for his first major title.
📺 How to tune in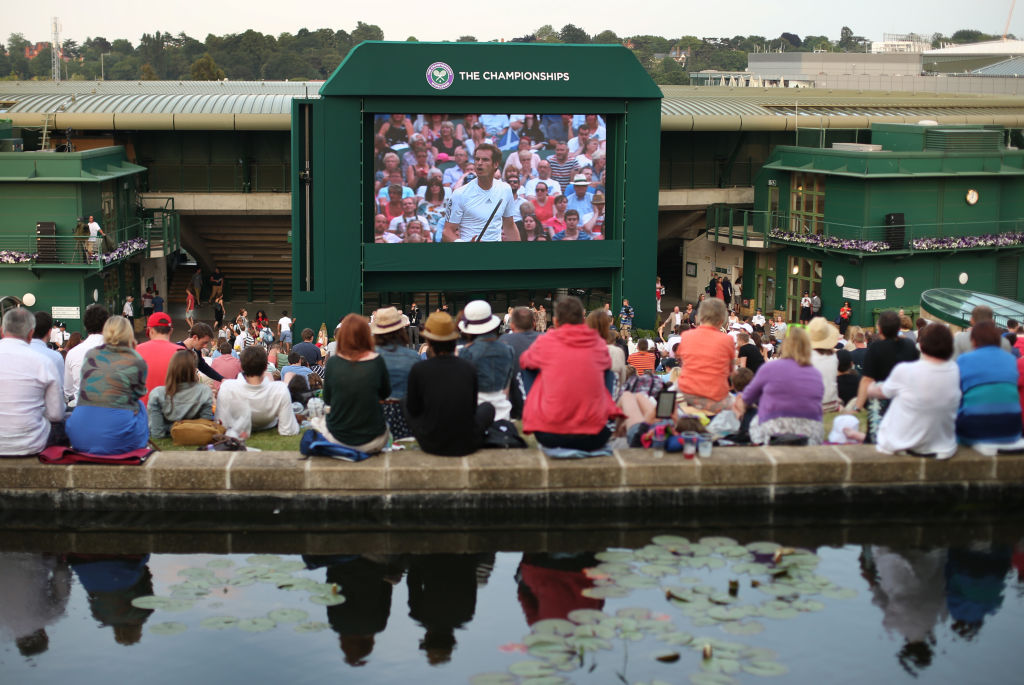 The 128 men's and women's singles contenders will begin their two-week quest for the Gentleman's Singles Trophy and Venus Rosewater Dish tomorrow, with all the action airing on ESPN in the U.S. and TSN in Canada.
Then mark your cal for the women's singles final on Saturday, July 9th, followed by the men's on Sunday, July 10th. Serve it up.