WNBA Playoff Preview
September 23, 2021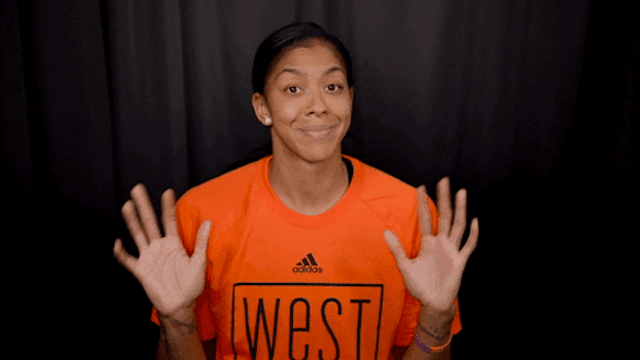 SOURCE: WNBA/GIPHY
Today is the first full day of fall, but more importantly, it's the first day of the WNBA postseason. Cancel your apple picking and pumpkin patch plans...we're watching basketball.
QUOTE OF THE DAY
"You're measured by championships no matter what."
— Superstar Candace Parker, who won the WNBA title with the LA Sparks in 2016 and is looking to double up this year with her new team, the Chicago Sky.
🏀 The set-up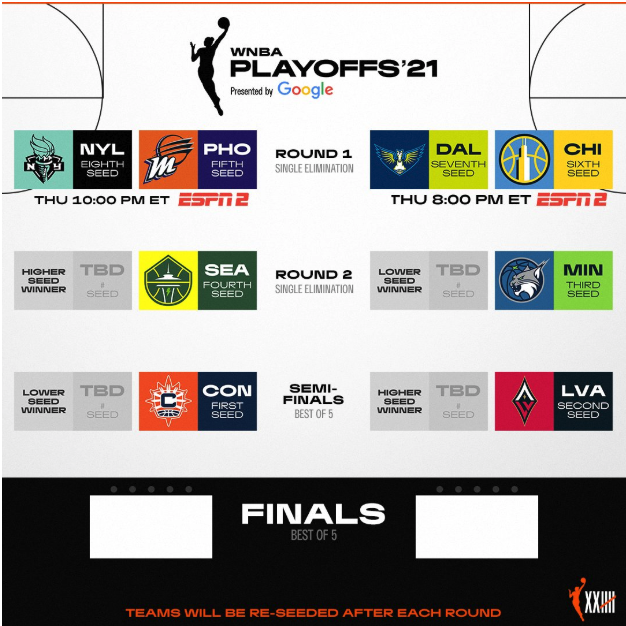 The WNBA playoff structure is our favorite one in pro sports. Unlike other leagues whose postseason berths are based on divisional or conference standings, the W's top eight teams — regardless of their conference — make the postseason.
The playoff seeding is based on the teams' regular-season records and standings. Ah, simplicity.
There are four rounds of playoffs, beginning with today's anxiety-inducing single-game elimination first round, where the fifth-ranked team faces the eighth-ranked team and the sixth takes on the seventh.
Winners will move on to Sunday's second round, where they'll play the No. 3 or No. 4 team, in another nerve-wracking single-game elimination.
Those winners move on to the semifinals to face the top two regular-season teams, who earned a bye straight through to the semis.
Both the semis and the WNBA Finals are best-of-five series, and the whole postseason should wrap up by mid-October.
1️⃣ First round match ups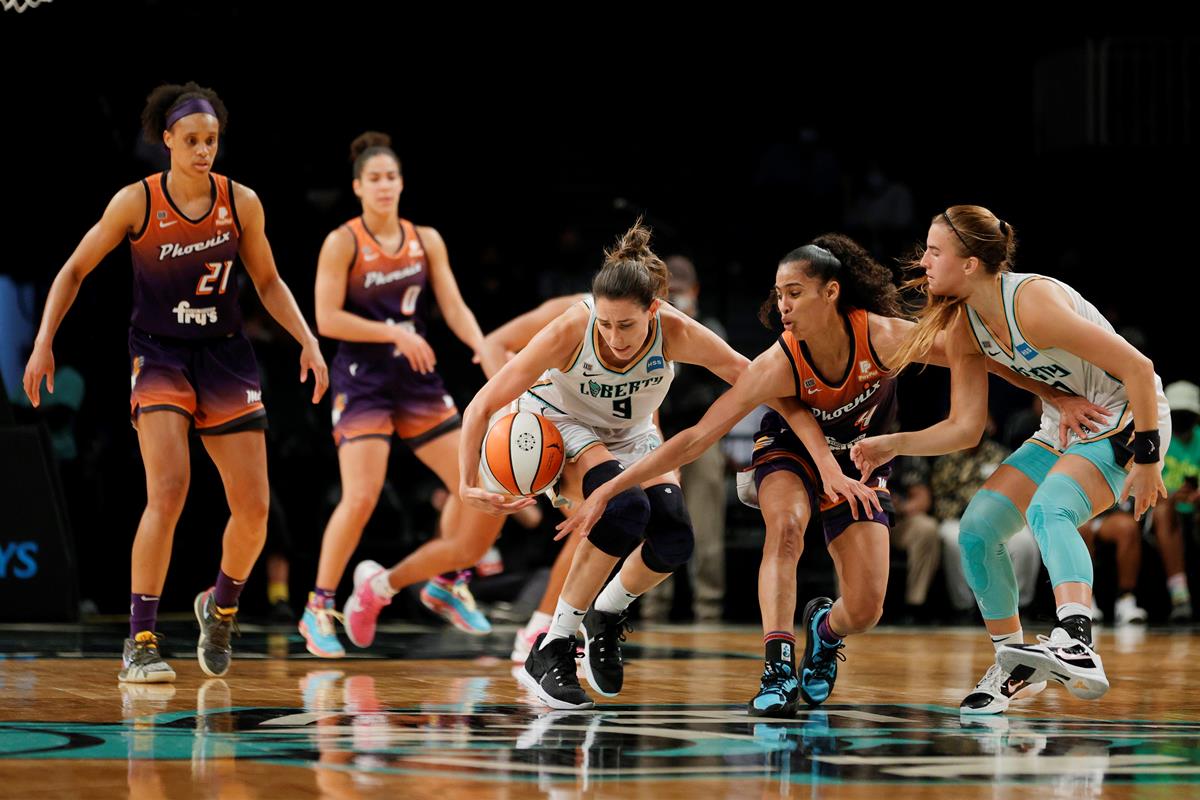 No. 5 Phoenix Mercury vs. No. 8 NY Liberty, 10 p.m. ET: Bad news for Mercury fans: Mercury's top star Diana Taurasi might not play, as she continues to deal with an ankle injury. Good news: Skylar Diggins-Smith, Brittney Griner and Canadian Kia Nurse are more than capable of leading the team to glory.
Where Phoenix is experienced, NY is full of youth. Michaela Onyenwere (pronounced own-yen-WEH-ray) is the top Rookie of the Year candidate, DiDi Richards is a lock for the All-Rookie Team, and Sabrina Ionescu (pronounced YO-ness-cue) just finished her first full season.
Phoenix is the favorite, having gone 2-1 against the Liberty in the regular season, but NY has nothing to lose.
No. 6 Chicago Sky vs. No. 7 Dallas Wings, 8 p.m. ET: ​​Speaking of experience, this game will prove once and for all how important it really is. Four different Chicago players have more playoff minutes than Dallas' entire roster combined, and the Wings' roster only has a total of 10 playoff games under their belt.
Aforementioned vet Candace Parker will likely lead the Sky to a win, though we're more excited to watch two of the W's top rising talents: Chicago's Diamond DeShields and Dallas' Arike Ogunbowale (pronounced ah-REE-kay oh-goon-buh-WALL-ay).
🏆 The top four teams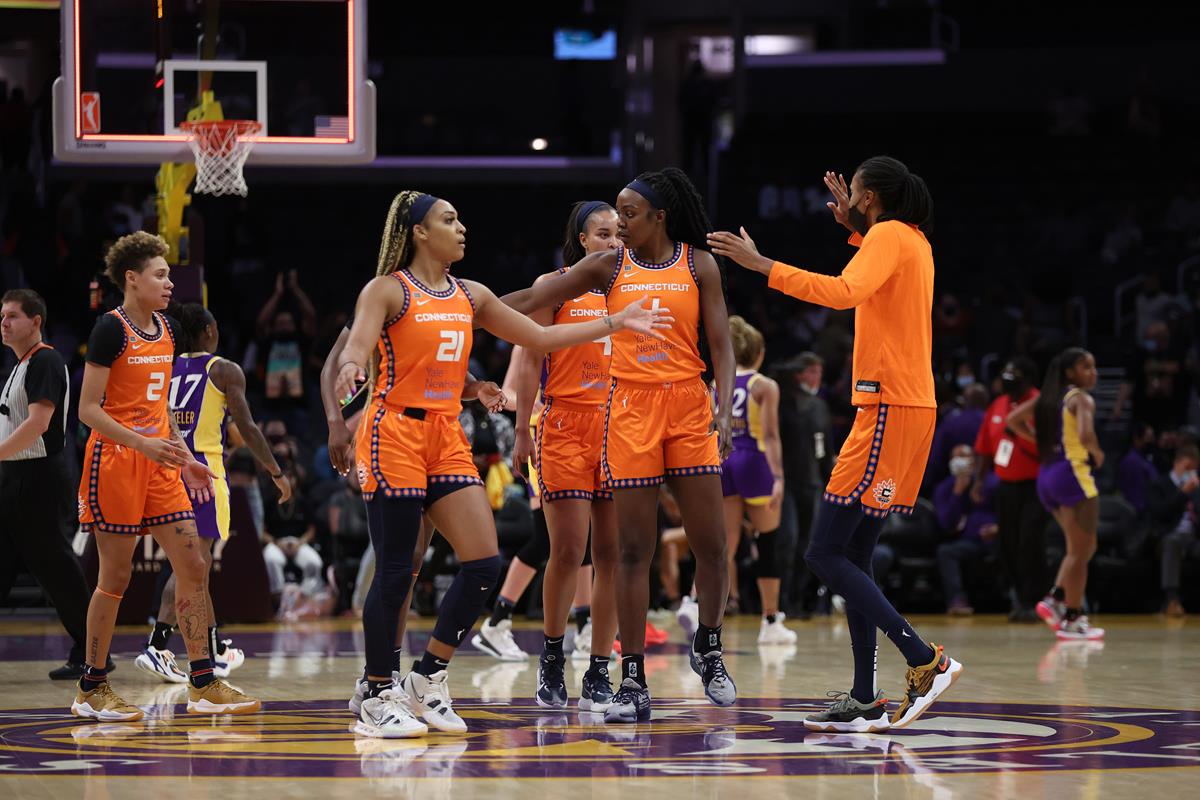 No. 1 Connecticut Sun: The league's best team has lost just once since July 9th, and the loss — in the Commissioner's Cup final on August 12th — didn't even count towards regular-season standings. Led by MVP-favorite Jonquel Jones, the Sun are primed to win the franchise's first ever WNBA title.
Unfortunately, we'll need to wait to watch them play. Their top regular-season record earned them a double bye, sending them right through to the semis, set to start September 28th.
No. 2 Las Vegas Aces: After losing to the reigning champs Seattle Storm in last season's final, the Aces, led by four WNBA All-Stars in Chelsea Gray, Liz Cambage, Dearica Hamby and A'ja Wilson, are going all in, in search of a franchise-first title.
Like the Sun, the Aces also earned a double bye and will face the higher-ranked team to come out of the second round.
No. 3 Minnesota Lynx: The four-time champs (we miss you, Maya Moore) are looking to extend their WNBA Finals appearances record to seven, and based on their recent performance, they might just do it.
They have a well-balanced lineup, a stellar coach in Cheryl Reeve and have lost just once in the last 10 games. Ride that wave.
They'll play their first game on Sunday against the lower-ranked team that comes out of the first playoff round tonight.
No. 4 Seattle Storm: The reigning champs and first-ever Commissioner's Cup winners are perennial favorites, with stars like Sue Bird, Jewell Loyd and 2020 Finals MVP Breanna Stewart leading the show.
But the Storm's end-of-season run wasn't spectacular, with Stewart out with a foot injury.
Still, we believe deeply in the power of Bird and Lloyd, so we're not too worried. They'll begin their postseason push on Sunday too, against the higher-seeded winner from tonight's games.
👀 How to watch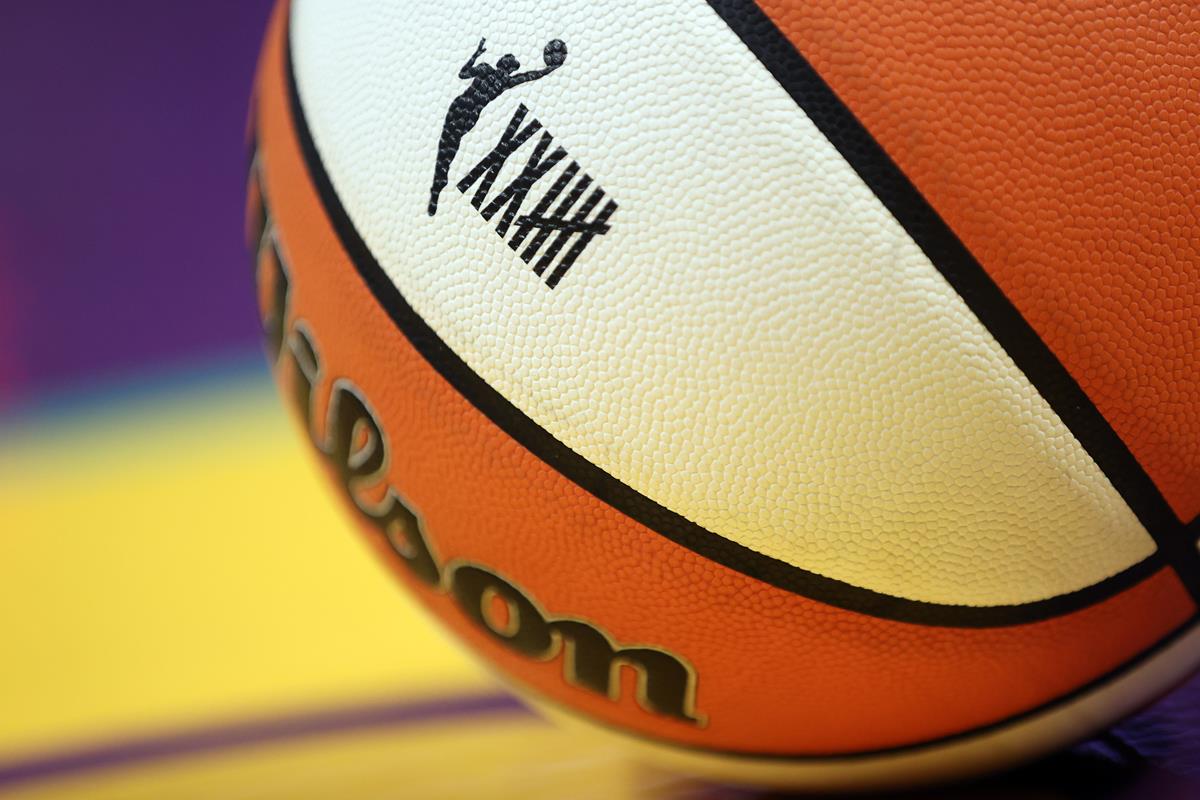 Tune in tonight to catch the first round on ESPN2 in the U.S. and TSN5 in Canada. Both stations will show all of the postseason, and for updates throughout, keep an eye out for us in your inbox.