Native American Heritage Month
November 21, 2021
in honor of Native American Heritage Month in the U.S. and with American Thanksgiving just around the corner, we're focusing on Native American mascots in sports and the work being done to eliminate these harmful stereotypes. From high school to the pros, this is a pervasive issue, so today we're shedding light and calling for change.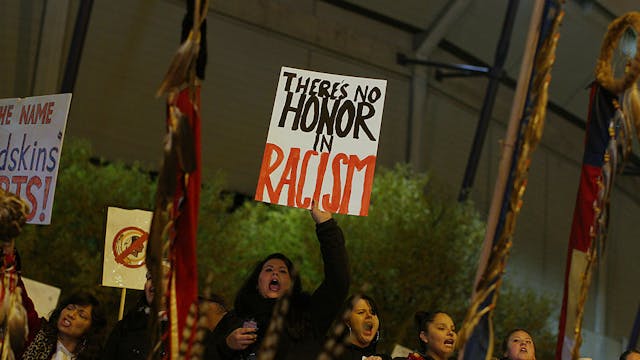 SOURCE: ADAM BETTCHER/GETTY IMAGES
QUOTE OF THE DAY
I'd ask him, 'Would you dare call me 'a redsk*n,' right here, to my face?' And I suspect that, no, he would not do that.
— Amanda Blackhorse, when asked what she'd say to Washington Football Team (WFT) owner Dan Snyder during her legal fight to strip the team of its racist name back in 2013.
📖 History and context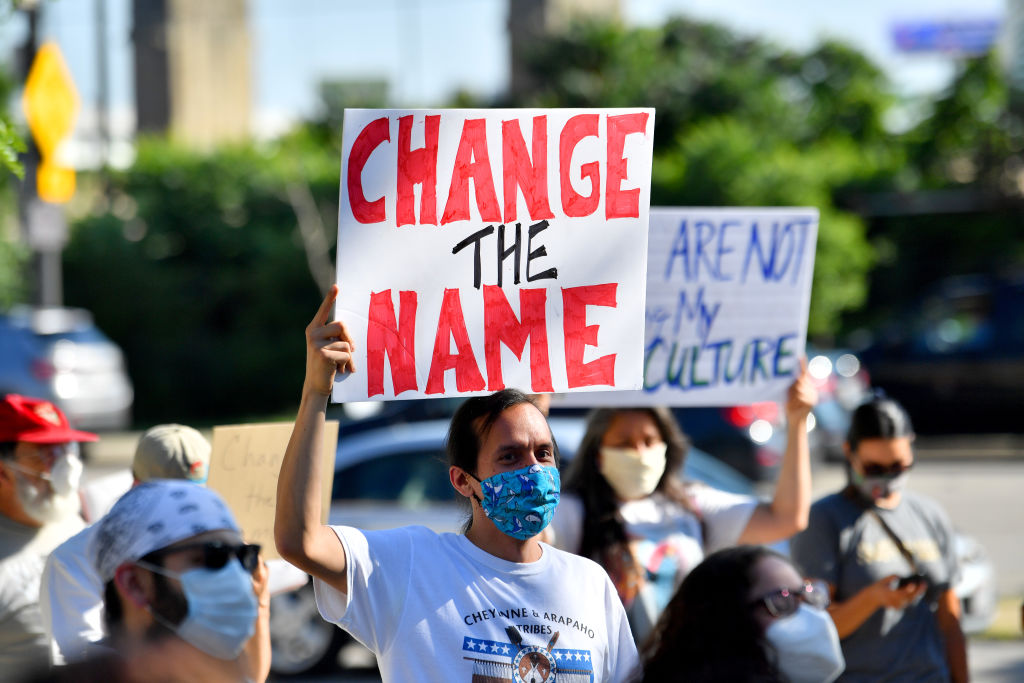 The beginning of the movement to remove harmful "Indian" mascots can be traced back to the 1968 National Congress of American Indians (NCAI) campaign to address stereotypes found in pop culture and media, including sports mascots.
There's been significant progress since, with hundreds of names and mascots being removed in the last few decades thanks to Indigenous-led activism. But we know the work is not yet complete.
And while many opposed to removing Native mascots say that they "honor Native Americans" or aren't inherently harmful, countless studies have shown the real psychological damage these stereotypes cause for Native and non-Native people alike.
The widespread use of "Indian" mascots caused Native American participants in one study to report lower self-worth. It also encouraged the use of racial slurs by non-Indigenous people.
What's more, a separate study found that the images led Native youth to believe what they could achieve was limited by their race.
It's not just a game, or just a chant, or just a character — these mascots cause real-life, lasting damage, and it's well past time for change.
⌛ The fight continues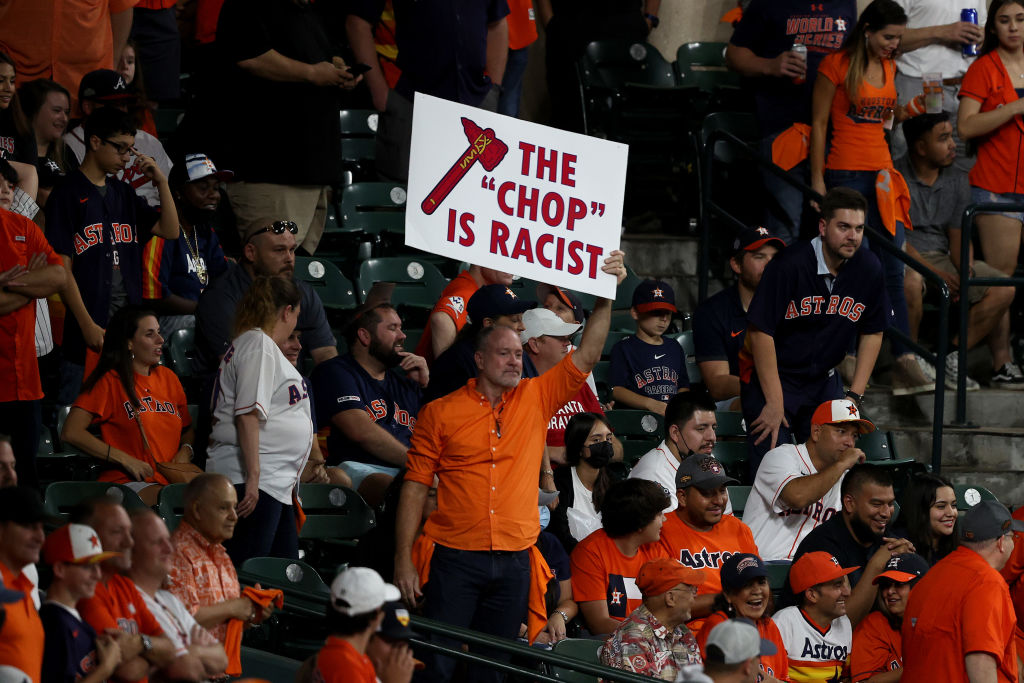 The most recent example of these harmful stereotypes on display came during the MLB World Series in October. When Atlanta's MLB team (whose stadium is on Cherokee land) played at home, it was impossible to watch a game without hearing and seeing fans doing a racist gesture called "The Chop."
"The Chop" mimics the use of a tomahawk and has been widely criticized, with Indigenous people such as St. Louis Cardinals pitcher Ryan Helsley (who is a member of the Cherokee Nation) calling for it to be eliminated.
And while Atlanta competing on the national stage during the World Series was an opportunity to enact change, MLB commissioner Rob Manfred instead brushed aside the conversation, claiming that "the Native American community in that region is wholly supportive of the Braves program, including the chop." Umm, what?
The NCAI (along with other Indigenous leaders) released a statement explaining how far off-base (no pun intended) Manfred's comments were, but "The Chop" continued and was broadcasted throughout the stadium and on national TV.
As for Atlanta's racist nickname, which the team adopted in 1912 (and again in 1941), plenty of non-offensive changes have been floated. Personally, we're fans of the "Hammers" in honor of late Atlanta baseball legend Hammerin' Hank Aaron.
And Atlanta's MLB team isn't the only pro team for which change is long overdue. Indigenous leaders have called for the NFL's Kansas City squad and the NHL's Chicago team to change their names, but so far to no avail.
🌱 Signs of progress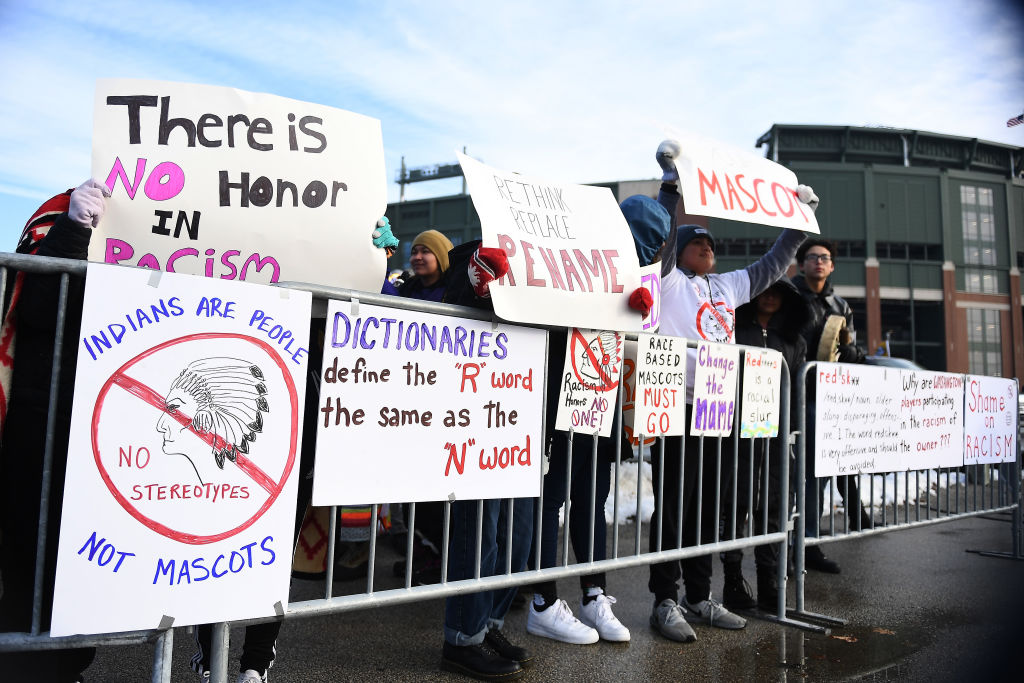 While the work continues in the pros, we can celebrate successful moments of progress. The most notable team name change came from the aforementioned WFT, but this welcomed removal didn't come without significant conflict.
With lawsuits swirling and increased public pressure to change the name, team owner Dan Snyder issued an infamous statement in 2013 saying, "We'll never change the name. It's that simple. NEVER — you can use caps."
But Snyder must have listened to Justin Bieber, because the team finally removed the racist moniker last year.
And while the WFT has yet to officially replace their nickname (we don't hate Washington Football Team, actually), it's proof that real change is possible...and that the world doesn't stop when a team rids itself of a racist moniker. "Tradition" be damned.
Other notable changes in the pros include the MLB's Cleveland team, who will go by the Guardians beginning next year, and the CFL's Edmonton Elks, who dropped their old nickname in 2020 and adopted the Elks in June.
Now if only the other teams would listen up and figure their sh!t out.
🚫 Beyond the pros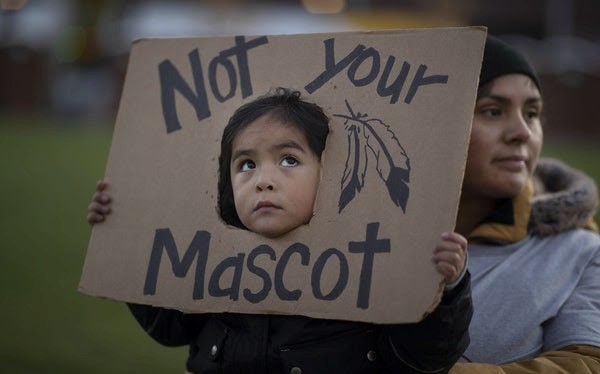 The pro teams we discussed earlier receive most of the attention and scrutiny, but harmful and stereotypical mascots are pervasive throughout the sports world, from minor leagues to colleges and even at the K-12 level.
Similar to the MLB's Atlanta team, Florida State's racist mascot and associated chant are perhaps the most well-known example on the collegiate stage.
Meanwhile, it's estimated that over 1,000 K-12 U.S. schools still have racist mascots. Last year, the NCAI launched a database tracking progress made at this level and where work still needs to be done.
The good news? Bills to ban Native mascots in public schools have been introduced in a handful of states, and the issue is gaining traction.
But this work (and supporting and listening to Indigenous communities) must continue beyond Native American Heritage Month. It's truly the bare minimum.