50th anniversary of Title IX
June 23, 2022
⬅️ The history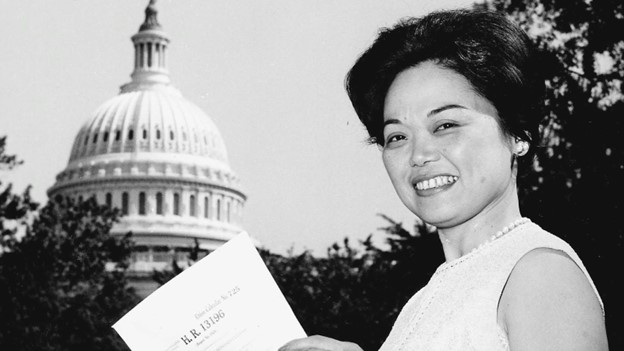 The opportunities for women to compete in sports prior to Title IX were severely limited — the NCAA offered no scholarships for women and did not host championships in women's sports prior to the legislation.
What's more, in 1972 (the year Title IX was passed), just 30K women competed in college sports, compared to 170K men. Decidedly not it.
Luckily, Representative Patsy T. Mink set out to change that. The first woman of color elected to the U.S. House of Representatives, Mink was the primary sponsor of Title IX, which she authored in response to adversity she faced during her own education.
Other politicians and activists who championed Title IX include Rep. Edith Green, who oversaw hearings on the legislation, and the aforementioned Dr. Bernice Sandler, who documented and spoke out against gender-based discrimination.
And it's no surprise that female athletes were also pivotal in passing Title IX. One of those trailblazers? Tennis legend Billie Jean King (BJK). After advocating for gender equity in sports throughout the 1960s and 70s, BJK took to Capitol Hill to testify on behalf of Title IX in 1972. Bow down.
❓ What Title IX does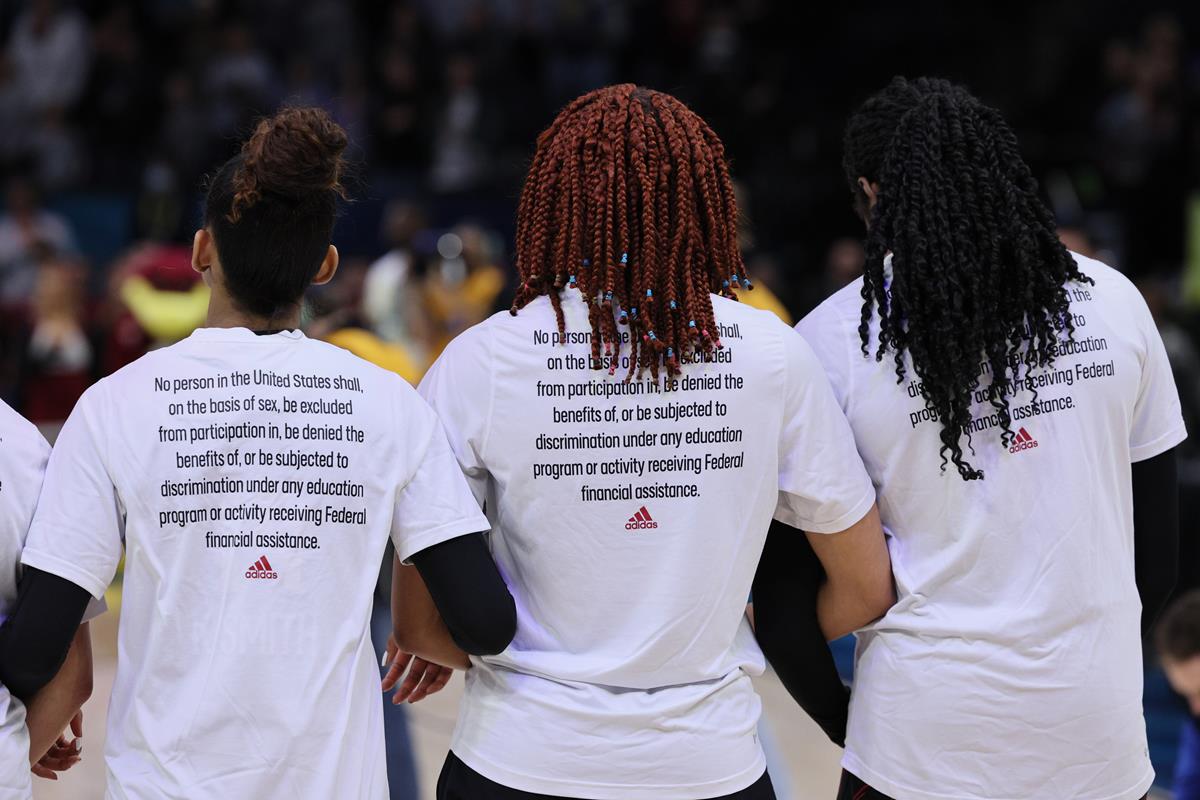 Title IX's just 37 words — "No person in the United States shall, on the basis of sex, be excluded from partcipation in, be denied the benefits of, or be subjected to discrimination under any education program or activity receiving Federal financial assistance" — but that text truly changed it all. So, what does the language cover exactly?
While the word "sports" isn't included in the provision, women's sports majorly benefited from Title IX. High school and college programs must now provide equal treatment (training, money, equipment, etc.) and opportunities in women's and men's sports.
Title IX protections can also notably extend beyond the playing surface. While the way the law is interpreted shifts with political power, in 2011, the Department of Education (DoED) issued a "Dear Colleague" letter clarifying that the legislation protects all students against sexual harassment and violence.
Then in 2016, the DoED released another "Dear Colleague" letter, this time reiterating Title IX's protections for transgender students, outlining that schools must treat students in a manner consistent with their gender identity.
Unfortunately, those letters were rescinded in the years that followed (the Biden administration is currently working to implement them again) and trans rights remain under attack on and off the field (more on that later.)
💪 The progress
There've been plenty of pivotal moments in women's sports since Title IX was enacted. Let's take a stroll down memory lane with a look at a few, shall we?
🏀 Overcoming hurdles on the hardwood: One disparity Title IX helped to overcome was the difference in scholarships for men's and women's sports. Basketball player Ann Meyers busted down that wall in 1974 when she became the first woman to receive a four-year athletic scholarship at UCLA.
Meyers went on to break even more barriers in the years that followed — she posted the first quadruple-double (yes, quadruple) in NCAA Division I history in 1978, then became the first woman to sign an NBA contract in 1979.
🏆 They are the champions: Nine years after Title IX was passed, the NCAA finally established Division I women's national championships in January 1981 — the first champs in cross country, field hockey, volleyball, swimming, basketball, golf, gymnastics, tennis and softball were crowned that year. Time to queue up Queen.
⚽️ Kicking out disparities: The world felt the impact of Title IX when FIFA staged the first-ever women's World Cup in 1991 (over 60 years after the first men's). But it was well worth the wait — the USWNT hoisted that inaugural trophy, competing with a squad composed of NCAA stars. The rest is history.
🔢 Title IX by the numbers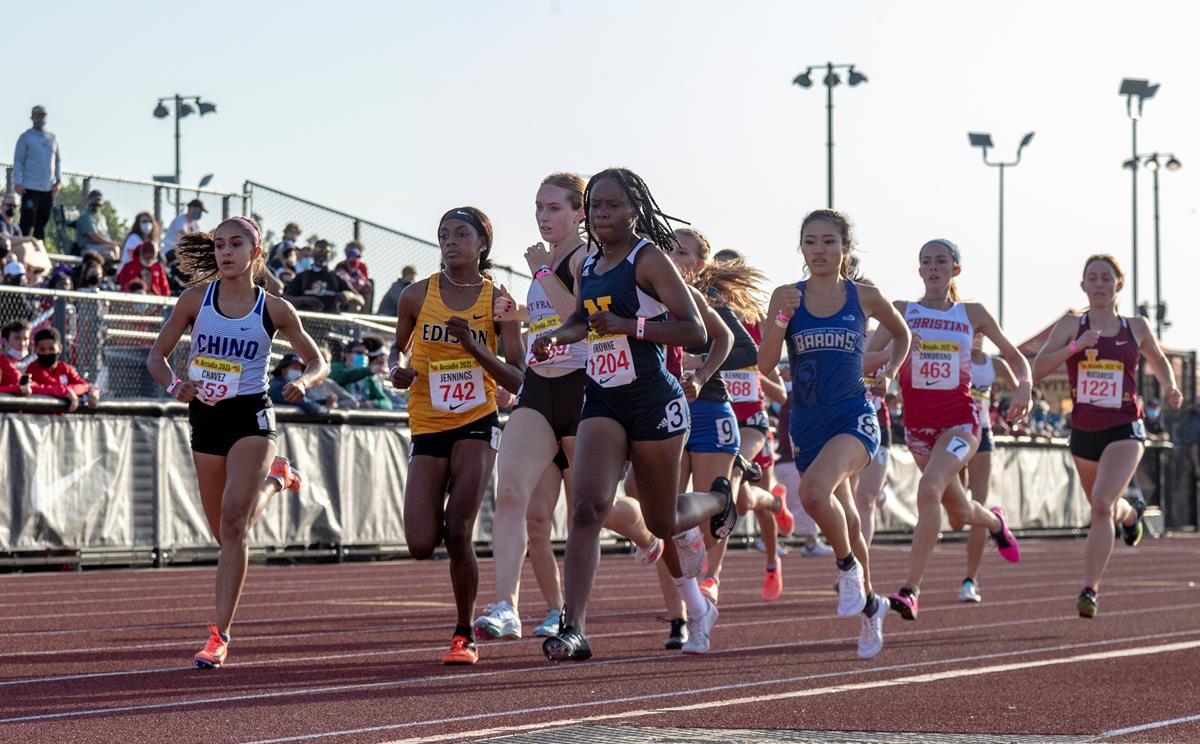 2.6: As in 2.6 million, the number of girls who are now participating in high school sports, compared to just 295K in 1972. Grow the game, baby.
15.7: The percentage of name, image and likeness (NIL) deals that women's basketball accounts for, good for third overall behind football and men's basketball. Plus, women's sports round out the next three spots, with volleyball, softball and swimming and diving athletes pulling in some serious dough.
NIL transformed the NCAA when it was adopted last June, providing a much-needed opportunity for female athletes to capitalize on their earning potential while still competing at the collegiate level. Cha-ching.
94: The percentage of female C-suite executives who played sports growing up. What's more, nearly half competed in college sports, too.
10,586: The number of women's teams competing at the NCAA level across Divisions I, II and III, an all-time high reached in 2018.
216,890: The number of people who attended first- and second-round games at the most recent women's March Madness tournament, setting an all-time attendance record. The high also came along with more record-setting crowds (and viewership numbers!) in volleyball, gymnastics and softball. But no one watches women's sports, right?
🔮 The future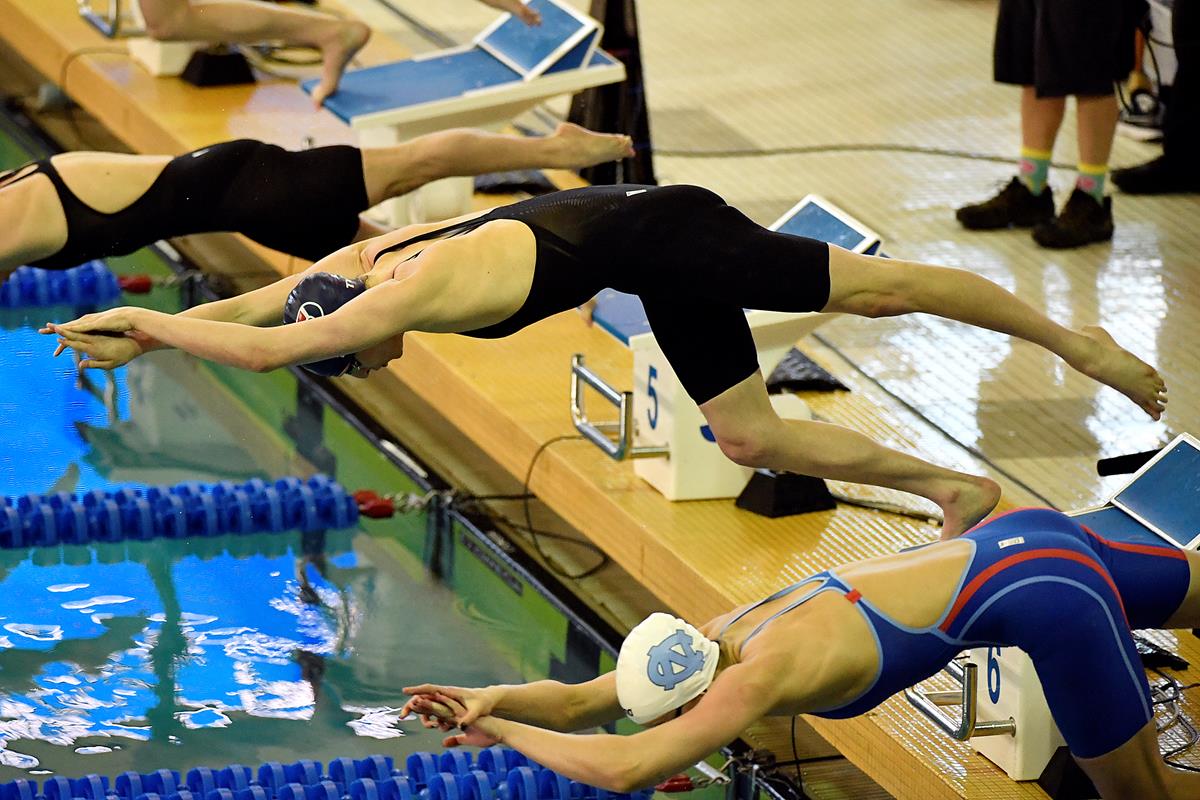 Today's anniversary is certainly celebration-worthy, but it's also a time to recommit to the work that lies ahead. While there's been plenty of progress, many problems persist in women's sports, especially at the high school and collegiate level.
One of those problems is the discrimination trans athletes continue to face. Since 2020, 18 states have passed legislation barring transgender girls and women from competing in sports consistent with their gender identity.
Those discriminatory policies have sadly extended into the pros. The International Swimming Federation (FINA) recently approved a new policy restricting trans women from competing in women's elite events if they did not transition before early puberty or by age 12. Bullsh!t.
Another issue area? Schools eluding Title IX compliance. Numerous NCAA women's programs were cut during and after the COVID-19 pandemic, drawing attention to an oft-ignored problem — it's estimated that more than half of all Division I schools do not follow the law.
So, while we celebrate 50 years of Title IX, it's essential to remember that the legislation is intended to protect and support all women. Fifty years of barrier-breaking moments, incredible growth and essential change…with even more to come.