Indigenous Athletes You Need to Know
July 04, 2021
Today is Independence Day in the United States, and last Thursday marked Canada Day. But this year, after the remains of more than 1,000 residential school victims were discovered, we have little to celebrate. We're using our platform today to highlight some of the many incredible Indigenous athletes who broke barriers and excelled in sports, while also dealing with racism, generational trauma and a long list of injustices.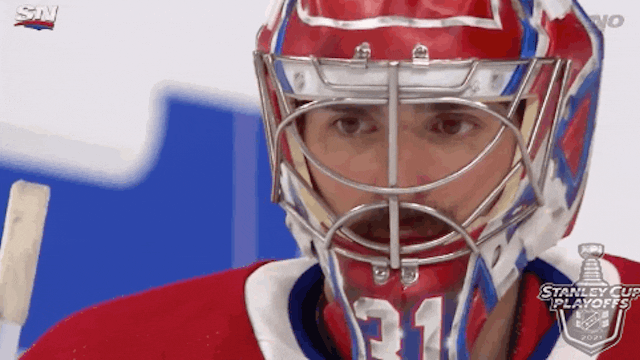 SOURCE: NHL/GIPHY
QUOTE OF THE DAY
And I would really like to encourage First Nations youth to be leaders in their communities. Be proud of your heritage, and don't be discouraged from the improbable.
—Montreal Canadiens goalie Carey Price, proud Indigenous Canadian and son of Chief Lynda Price of the Ulkatcho First Nation.
🤽‍♀️ Waneek Horn-Miller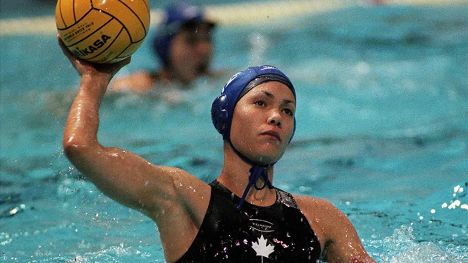 Perhaps no other athlete's story juxtaposes athleticism and talent with the Indigenous experience quite like that of Waneek Horn-Miller. In 1990, a violent land dispute broke out between the Mohawk people of Kanehsatà:ke and the municipal (and later federal) government of the town of Oka, Quebec, in what most know as the Oka Crisis or the Siege of Kanehsatà:ke.
As the Mohawk women decided to walk out peacefully and surrender to the armed Canadian military on the 78th, and final, day of the siege, chaos erupted and Horn-Miller was stabbed in the chest by a Canadian soldier's bayonet.
Horn-Miller was just 14 at the time, and already a star water polo player. Doctors told her that the blade came within a centimeter of her heart and an almost sure death.
But Horn-Miller lived, and continued her athletic journey. She represented Canada in the 1999 Pan American Games, where she won gold. She was also co-captain of Canada's first ever women's Olympic water polo team in 2000.
Horn-Miller was inducted into Canada's Sports Hall of Fame in 2019 and continues to work as an ambassador for Indigenous youth and rights in Canada and the U.S.
🏈 Jim Thorpe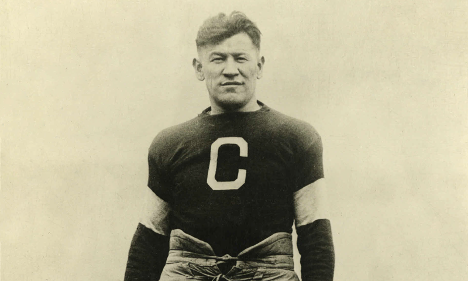 Known as the greatest athlete of all time, Jim Thorpe was a member of the Sac and Fox Nation: a tribe of Sauk and Meskwaki peoples who were forcibly removed from their land near Lake Michigan and Lake Huron and relocated to Oklahoma in the 1870s, not long before Thorpe was born in 1887.
At the 1912 Stockholm Olympics, he became the first Olympic gold medal-winning Indigenous American in both the pentathlonand the decathlon.
A versatile athlete, Thorpe was also a pro baseball and football player (which caused some Olympic controversy), and was the first president of the American Professional Football Association, which eventually became the NFL. No wonder he's the GOAT.
🏃‍♂️ Tom Longboat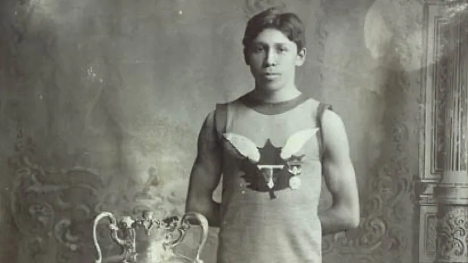 A contemporary of Thorpe, Tom Longboat was a distance runner from the Six Nations Reserve near Brantford, Ontario. At the age of 12, he was sent to a residential school where he experienced unimaginable horrors before successfully escaping from the school and hiding from authorities at his uncle's home.
Longboat became a marathoner, and although he never won an Olympic medal, he did set a record for the then-fastest Boston Marathon win in 1907.
Longboat even maintained his pro running career while serving as a soldier for the Canadian army in World War I.
A member of Canada's Sports Hall of Fame,Longboat is also the namesake for two prestigious awards — the Tom Longboat Awards — given annually to the top female and male Indigenous athletes in Canada.
🚣‍♂️ Alwyn Morris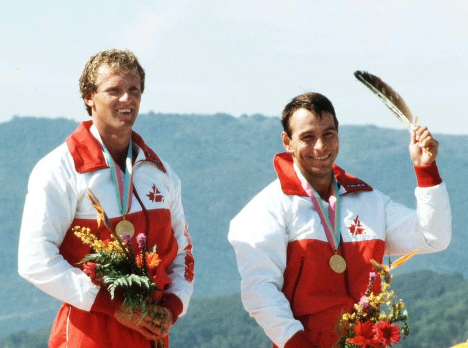 Also a two-time Longboat Award winner, Alwyn Morris is a member of the Mohawk Nation in Kahnawá:ke and as a kayaker, is the only Indigenous Canadian athlete to win a gold at the Summer Olympics.
Morris is best remembered for his eagle feather salute at the 1984 Games in Los Angeles, when he accepted his gold medal on the podium by raising an eagle feather, echoing the Black Power salute of Tommie Smith and John Carlos at the 1968 Olympics.
The eagle feather, Morris later divulged, was a symbol not only to pay tribute to his Indigenous grandparents, but to also remind the world, and especially Canadians that cheered him on, that he was an Indigenous person.
⛷ Sharon and Shirley Firth
Twin sisters from the Gwich'in First Nation, the Firths were first introduced to cross-country skiing in the 1960s through a Canadian federal government program called Territorial Experimental Ski Training (TEST), established to help Indigenous youth in Northern Canada participate in physical activity.
The sisters were members of the first Canadian women's cross-country Olympic team, which debuted at the 1972 Sapporo Games, and were the first Indigenous females to compete for Canada in the Olympics.

Together, they won 79 (!!!) national medals in cross-country skiing, competed in four Olympic games and continued to advocate for Indigenous youth sports programs like TEST following their retirement.
➡️ The next generation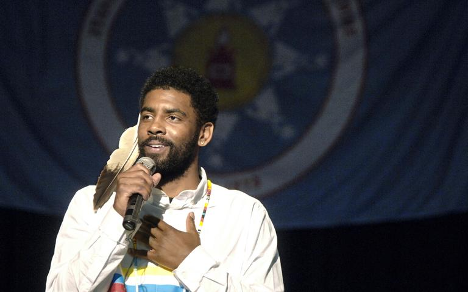 Thanks to incredible organizations like Olympian Beckie Scott's Spirit North and Nike's N7 Fund, Indigenous youth have more opportunities to participate in sport. And with an ever-growing list of talented, outspoken Indigenous athletes, the next generation has bright stars to follow.
Indigenous youth are now represented in almost every major sport, with the likes of Kyrie Irving in the NBA, Brigette Lacquette of the PWHPA, Carey Price and Ethan Bear in the NHL and Madison Hammond in the NWSL. Let's support.