QUOTE OF THE DAY
November 09, 2021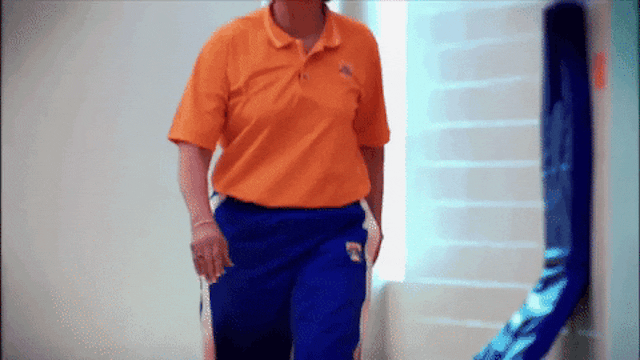 SOURCE: WNBA/GIPHY
"A guy raised his hand and asked if I had any advice when it came to 'coaching women.' I remember leveling him with a death-ray stare and then relaxing and curling up the corner of my mouth and saying, 'Don't worry about coaching 'women.' Just go home and coach basketball.'"
— The late, great, legendary Tennessee basketball coach Pat Summitt, sharing perhaps our favorite anecdote ever in her memoir, Sum It Up. You tell him, Pat.
HEY THERE!
Hear that? It's the sweet sound of swishes, dribbling and cheering crowds, because college basketball is back, baby — and with fans in the stands after COVID-19 limited spectators last season.
So before the season tips off later today, we have everything you need to know about the women's and men's 2021-22 campaigns. Get'cha head in the game.
🏀 The set-up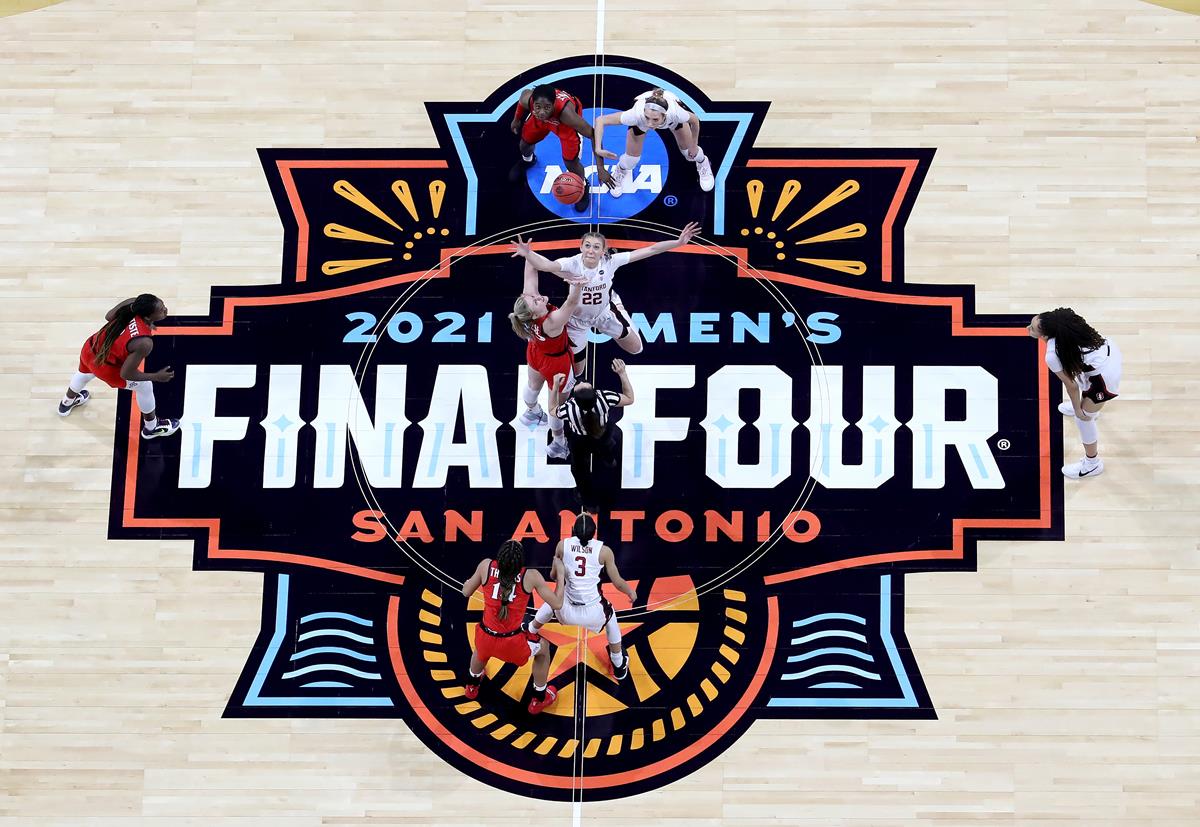 The Division I women's and men's basketball seasons tip-off later today and will culminate with the aptly named March Madness tournaments beginning in mid-March, all leading up to the championship games on April 3rd and April 4th, 2022, respectively.
On both the women's and men's sides, over 350 teams compete across 32 conferences, with the ultimate goal of being one of the 64 teams to advance to the Big Dance.
Of note, after last year's debacle, this will be the first season in which "March Madness" branding will be used for the women's tournament. About damn time.
💃 The women's contenders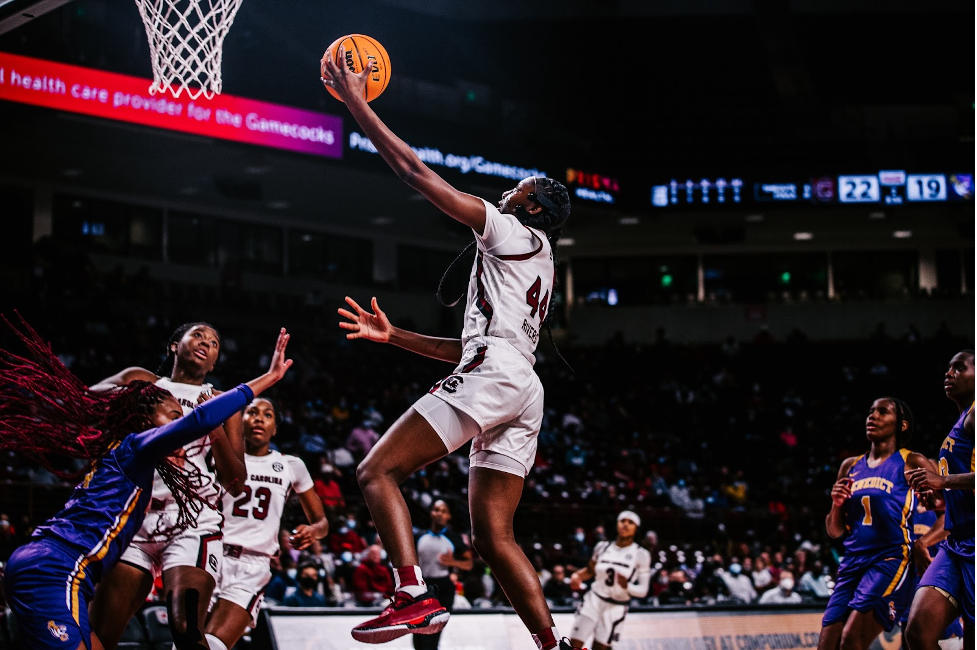 No. 1 South Carolina: With legendary head coach Dawn Staley, the No. 1 recruiting class in the country, Player of the Year candidate Aliyah Boston (more on her later) — the Gamecocks are, in a word, stacked.
And they'll be hungry to avenge last year's heartbreaking, one-point Final Four loss to the eventual champions, Stanford.
No. 2 UConn: Perennial championship contenders, UConn only improved after last season's Final Four appearance. With all five of last year's starters — including superstar Paige Bueckers (pronounced BECK-ers) — returning and a talented first-year class highlighted by top recruit Azzi Fudd coming in, U-Conn bet the Huskies will make another deep run.
No. 3 Stanford: The defending champs kept all but one player from last year's championship squad, and head coach Tara VanDerveer - who last season became the winningest coach in women's college basketball history - is also returning.
They'll hope to win their fourth title and be the first team to repeat since UConn in 2016. Is more history on the horizon for the Cardinal?
✍️ The men's contenders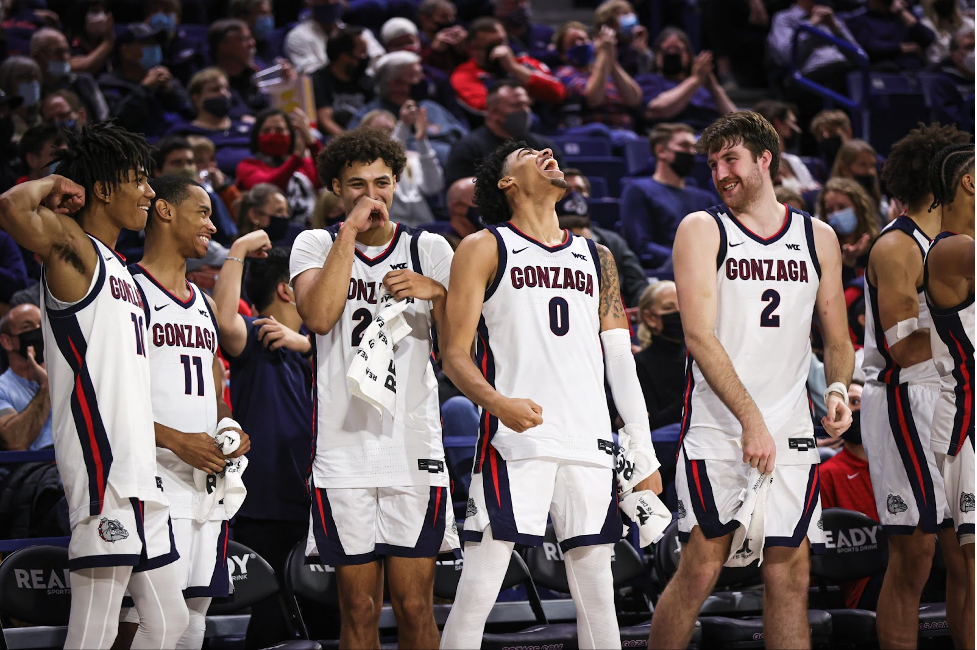 No. 1 Gonzaga: The 'Zags nearly went undefeated last year, falling just short and losing the championship game to Baylor. So close. But, with the exception of breakout star Jalen Suggs (who now plays for the NBA's Orlando Magic), some of Gonzaga's core will return to the court, including the man, the myth, the mustache: Drew Timme.
No. 2 UCLA: Last year's Cinderella Story, UCLA nearly handed Gonzaga their first loss in the men's game of the year during the Final Four. With that young squad now boasting playoff experience, it feels like there'll be many more Bru-wins in their future.
No. 3 Kansas: One of the most storied programs in men's basketball history, the Jayhawks return four starters from a team that was unexpectedly bounced in the second round of last year's championship tourney, along with several key transfer and freshman additions.
Per usual, Kansas is favored to win the Big 12. Let's see if they can live up to expectations.
💪 Women's players to watch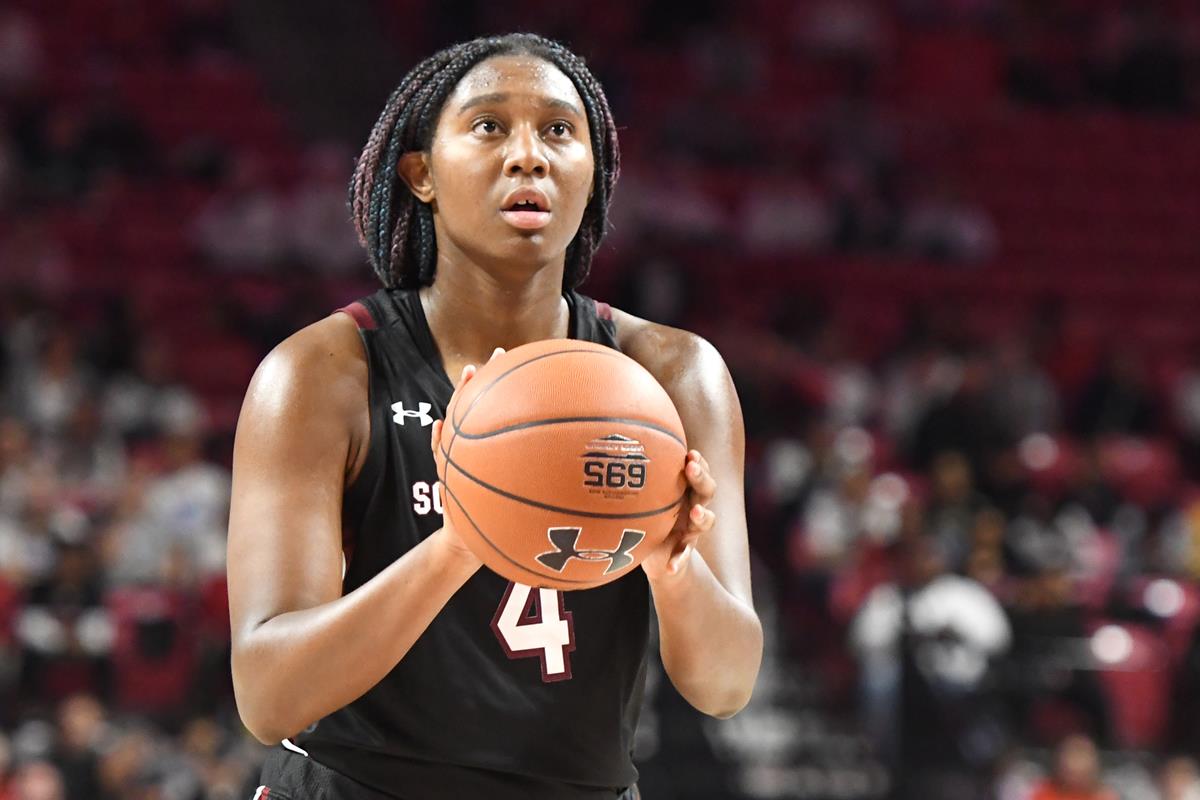 Aliyah Boston, South Carolina: Two-time Lisa Leslie Award winner and reigning SEC co-Defensive Player of the Year, Boston gets it done on both sides of the ball for the Gamecocks, averaging over 13 points per game last season. No wonder she's an early Player of the Year favorite.
Paige Bueckers, UConn: The top-ranked recruit in the 2020 class, Bueckers more than lived up to the hype last season, garnering AP Player of the Year, Naismith Player of the Year and John Wooden Award honors, among a laundry list of other accolades. Did we mention she's only a sophomore? Can't wait to see what Paige Buckets does next.
Rhyne Howard, Kentucky: The expected No. 1 WNBA draft pick next year, Howard has amassed plenty of hardware and will go down as one of the best in school history. Now the senior is laser-focused on the one accomplishment she's yet to achieve: a national title.
Caitlin Clark, Iowa: As Clark goes, Iowa goes. A preseason All-American selection (the first in school history), Clark averaged a nation-leading 26.6 points per game in her freshman campaign and is the centerpiece for the ninth-ranked Hawkeyes. Ready to soar.
👊 Men's players to watch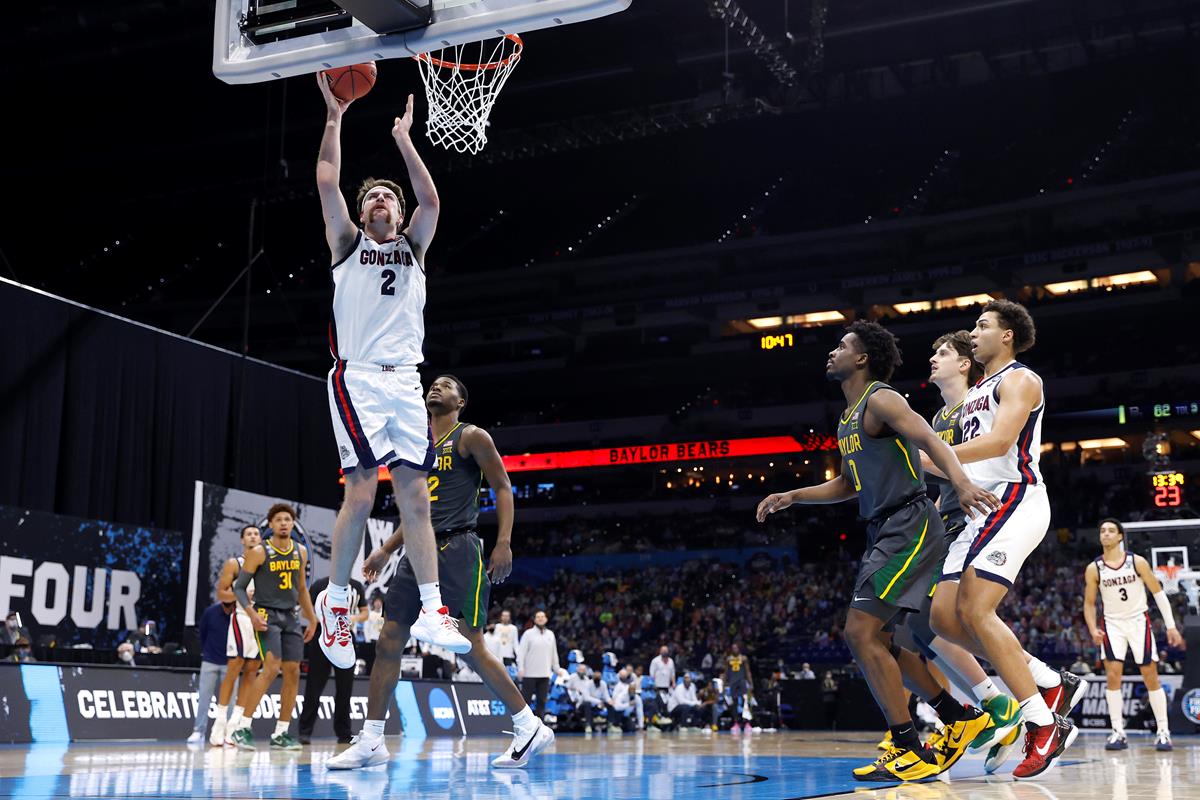 Drew Timme, Gonzaga: His legendary 'stache aside, there's ample reason to watch out for Timme this year. The graduate student could have opted into the NBA Draft (and would've been an early-round pick) but instead chose to come back for another shot at a national title.
Johnny Juzang, UCLA: The key player during UCLA's unlikely Final Four run last season, Juzang also chose to forgo the NBA Draft to return for his junior campaign with the Bruins. And he only improves as the moments grow bigger, as he averaged over 22 points per game during the March Madness tourney. Watch out, world.
Kofi Cockburn, Illinois: After averaging nearly a double-double last season, Cockburn's Illinois team suffered an unexpected early second-round exit in the championship tourney. The All-American will surely be looking for redemption this year.
Paolo Banchero, Duke: Watch for the expected No. 1 2022 NBA Draft pick to make an immediate impact in what's likely to be his only college season (reminder: the men have a "one-and-done" rule, meaning they can enter the NBA after just one year of college).
Banchero is a favorite for Freshman of the Year and will be a huge boost for a Duke squad that missed March Madness for the first time in 26 years last season.
📺 What to watch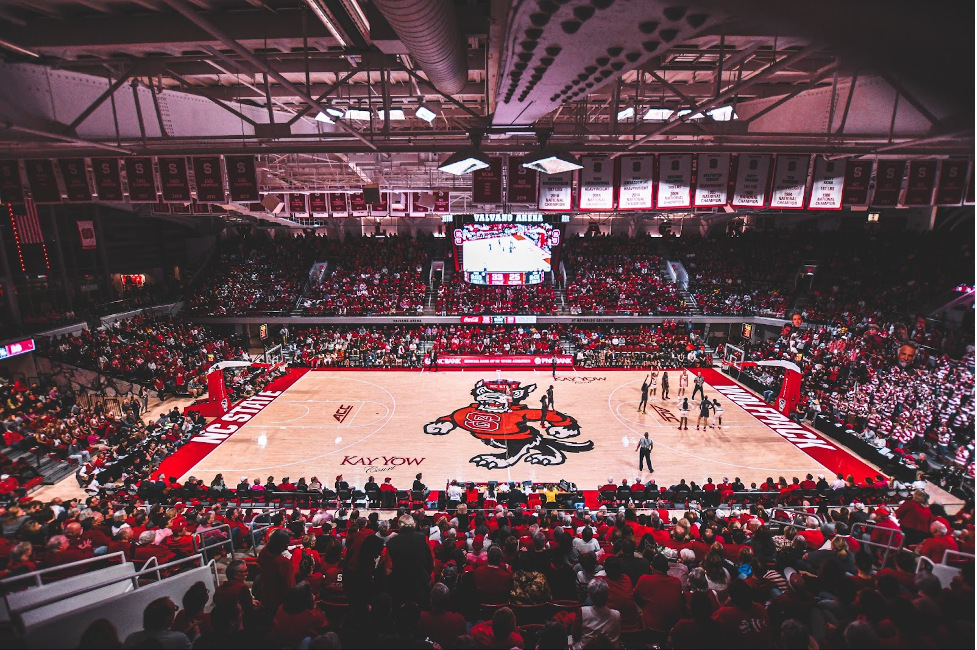 The journey begins today, and opening day features two high-powered matchups. On the women's side, No. 5 NC State hosts No. 1 South Carolina at 5 p.m. ET, an early test for these two title contenders.
As for the men, No. 10 Kentucky and No. 9 Duke, ahem, duke it out at 9:30 p.m. ET. Let the madness begin!