Everything you need to know about College Football
August 28, 2021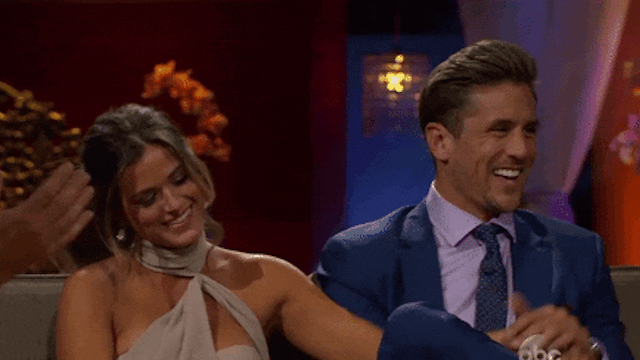 SOURCE: THE BACHELORETTE/GIPHY
HELLO HELLO!
School is starting, fall is in the air and pumpkin spice is back on the menu, which can only mean one thing: football season is upon us.
NCAA college football starts today, so we're here to give you "the gist" on the new season and a bit of background on why college football reigns supreme.
QUOTE OF THE DAY
There is very little in my life I enjoy more than college football.
—Former Vanderbilt Commodores quarterback (QB) Jordan Rodgers. We're assuming he didn't use this line on his application for The Bachelorette.
🎉 College football's popularity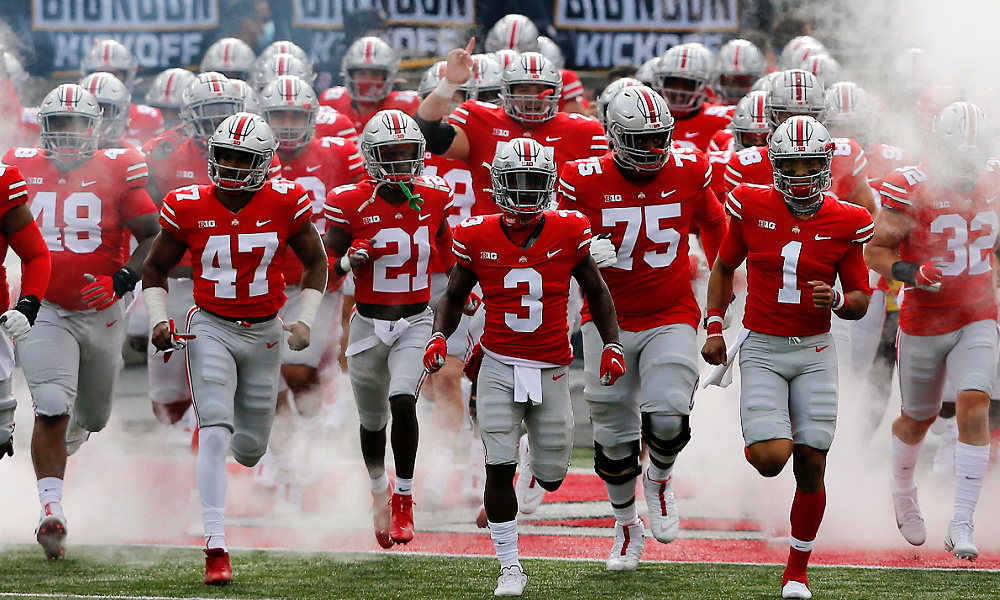 For the uninitiated, college football is a BFD in the U.S. While the NFL has 32 teams across 22 states (23 if you count New Jersey), the NCAA's Division I Football Bowl Subdivision (FBS) — the top level of college football — has 130 teams across all but nine states, giving football fans around the country a local team to support.
With many folks feeling highly connected to their alma mater, over 56 percent of Americans consider themselves college football fans, making it the second most popular game — behind the NFL — in the country.
And because nearly all pro players make their way through the college system before making it to the big leagues, Div I football is the perfect place to get to know the future stars of the NFL.
⚙️ The setup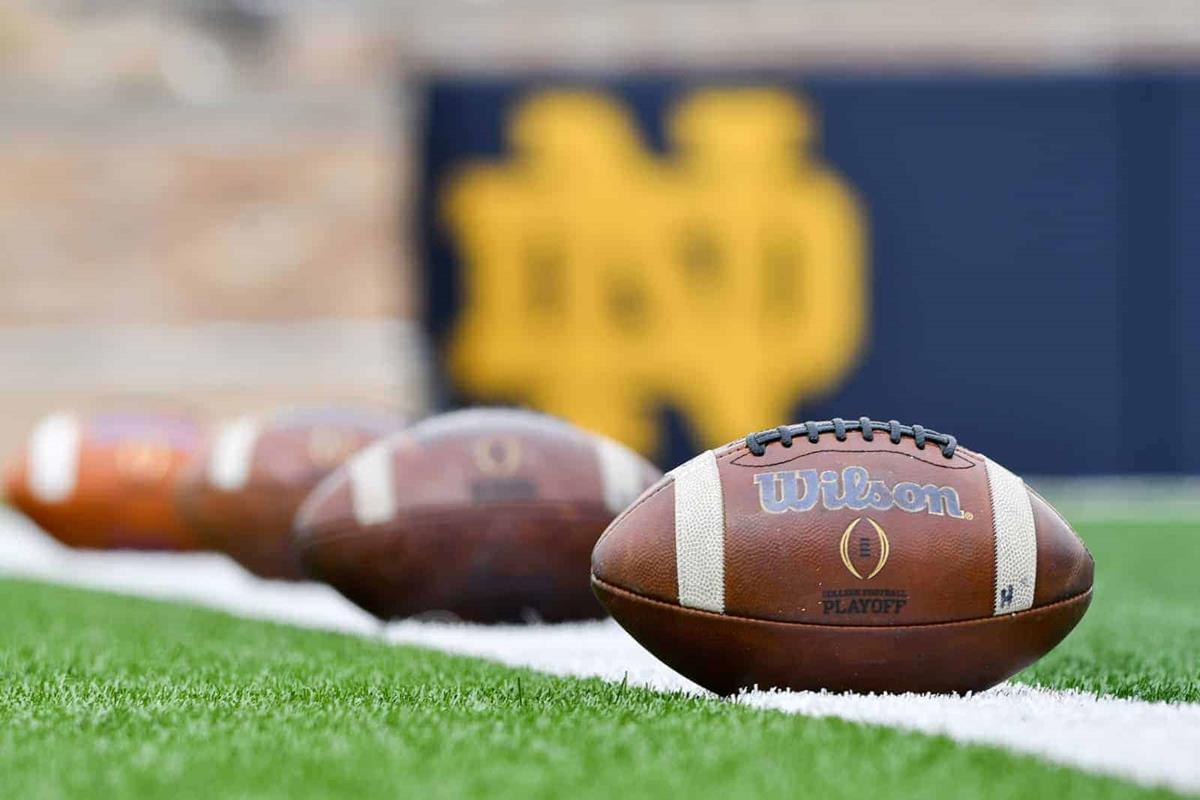 Things can get a bit unruly with 130 teams, so to keep things structured, most teams belong to one of 10 conferences. The most elite conferences to know belong to the "Power Five": the Atlantic Coast Conference (ACC), Big Ten, Big 12, Pac-12 and Southeastern Conference (SEC). The rest make up the Group of Five.
Each conference is made up of 10 to 15 teams and are further divided into divisions. Along with a few out-of-conference games, most teams face their divisional rivals and non-divisional conference opponents once per season.
As with pro football, games are usually played once a week. But unlike the NFL's Sunday domination, college football is usually played on Saturdays, with occasional weeknight games. The season runs from August through December.
There are also seven "independent" teams — including the well-known Notre Dame — who are not affiliated with a conference, and therefore aren't required to play specific teams each year, but are still eligible for the national championship.
🏆 The reason for the season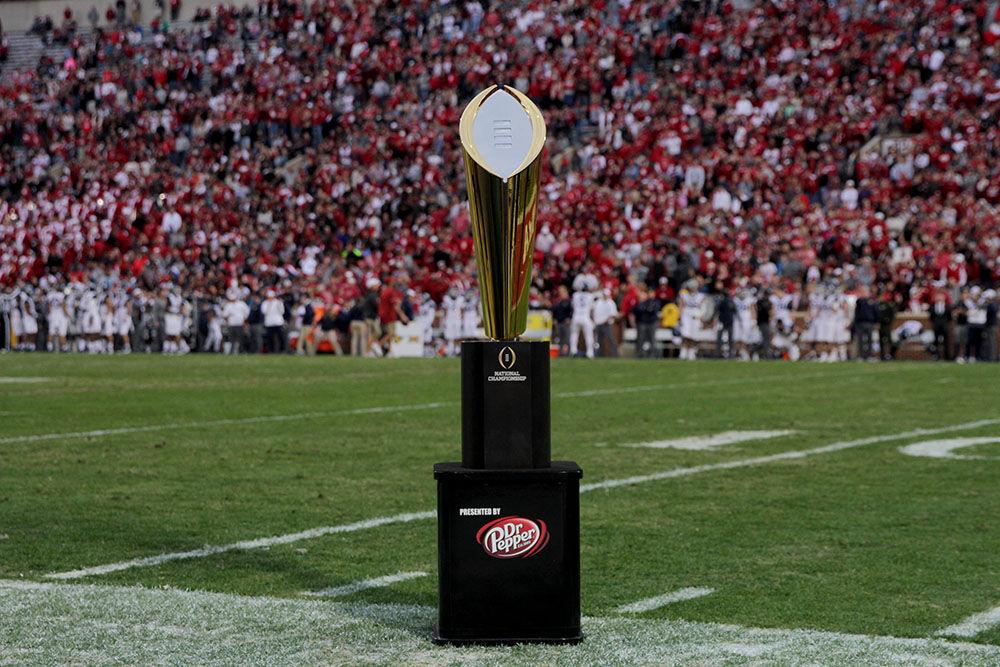 Everyone's playing for one thing: the College Football Playoff (CFP) trophy, aka the National Championship. With so many teams, conference structures and varying levels of competition, the NCAA adopted a new system in 2014 in which a 13-person selection committee determines the best four teams from the regular season.
Beginning in the second half of the season, the committee releases weekly rankings, based on teams' records, strength of schedule, game performances and head-to-head records.
The top four in the final ranking move on to the knockout playoff tournament, and it's almost always controversial.
⭐️ The favorites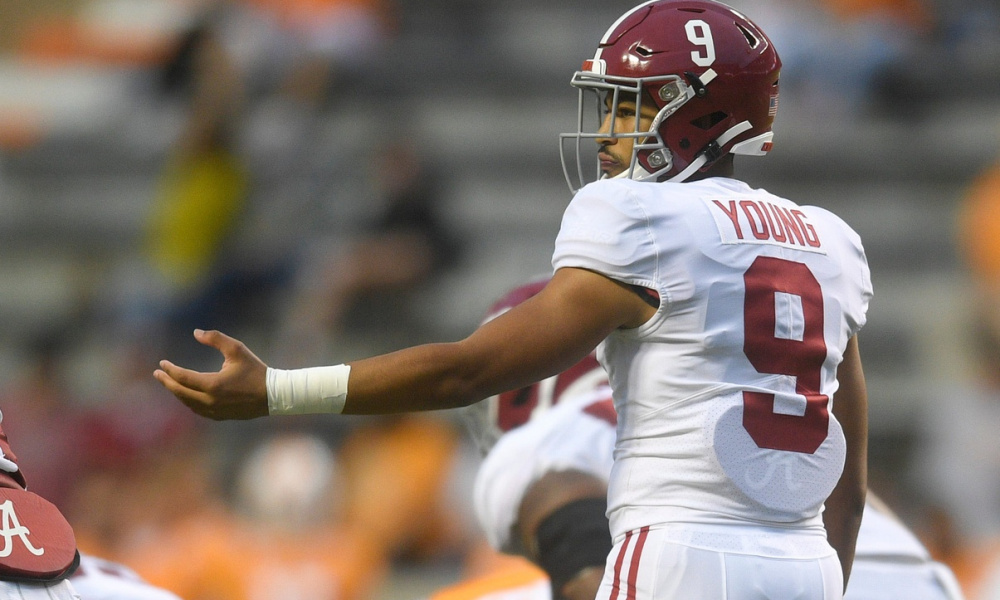 Alabama: With QB Mac Jones, running back (RB) Najee Harris and Heisman Trophy–winning wide receiver (WR) DeVonta Smith being drafted to the NFL in April and former offensive coordinator Steve Sarkisian taking the head coaching job at Texas, the reigning national champs are basically starting from scratch this season.
But don't fret, the Crimson — with sophomore star QB Bryce Young, tight end (TE) Jahleel Billingsley, Canadian WR John Metchie III and five-time SEC Coach of the Year Nick Saban returning — are still favorites to repeat. Roll tide.
THE Ohio State: The Buckeyes haven't won a national title since 2014, but we think they're the best bet to upset 'Bama. Though QB Justin Fields has gone to the big leagues, new starter redshirt freshman C.J. Stroud has the power and poise to fill the void.
He also has a stellar offense to play with, including WRs Chris Olave and Garrett Wilson, RB Master Teague III and TE Jeremy Ruckert. Hey FanDuel, we're putting our money on these guys.
Clemson: The Tigers have been trading national titles with Alabama for years, and like their familiar foes, Clemson's without last year's star QB too, as Trevor Lawrence was taken first overall by the Jacksonville Jaguars in the NFL Draft.
But when Lawrence tested positive for COVID-19 last season, QB DJ Uiagalelei (pronounced oo-ee-AHNG-guh-luh-lay) started two games, throwing for five touchdowns and no interceptions. Impressive.
Oklahoma: Without a CFP national title to their name, the Sooners are the underdogs on our list. That said, QB Spencer Rattler (of QB1 fame) is already a favorite for the Heisman and WR Austin Stogner is back and "better than ever" after a life-threatening infection.
👀 Players to watch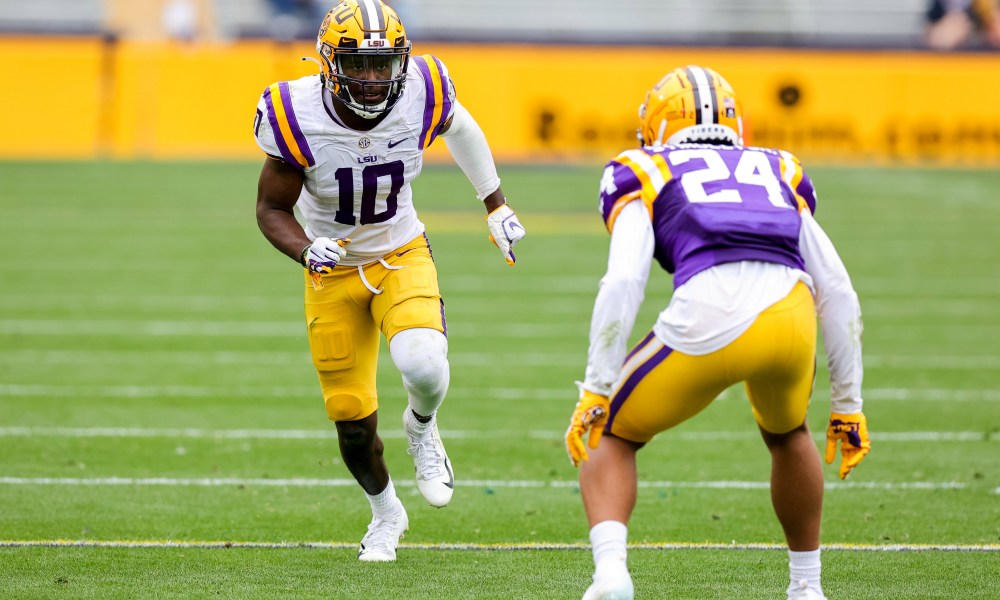 Derek Stingley Jr., LSU: The All-American cornerback led LSU's defensive powerhouse on the way to the 2019 national championship, and as a potential No. 1 pick in next year's NFL Draft, he's looking to get back on top before leaving Louisiana.
Sam Howell, North Carolina: If any other QB can give Spencer Rattler a run for his money, it's Howell. The sophomore has already set a number of North Carolina records and is primed to break the school's all-time passing yards record this season. If he can keep it up in 2021, he could be the top QB in the 2022 NFL Draft.
🥊 Can't-miss rivalries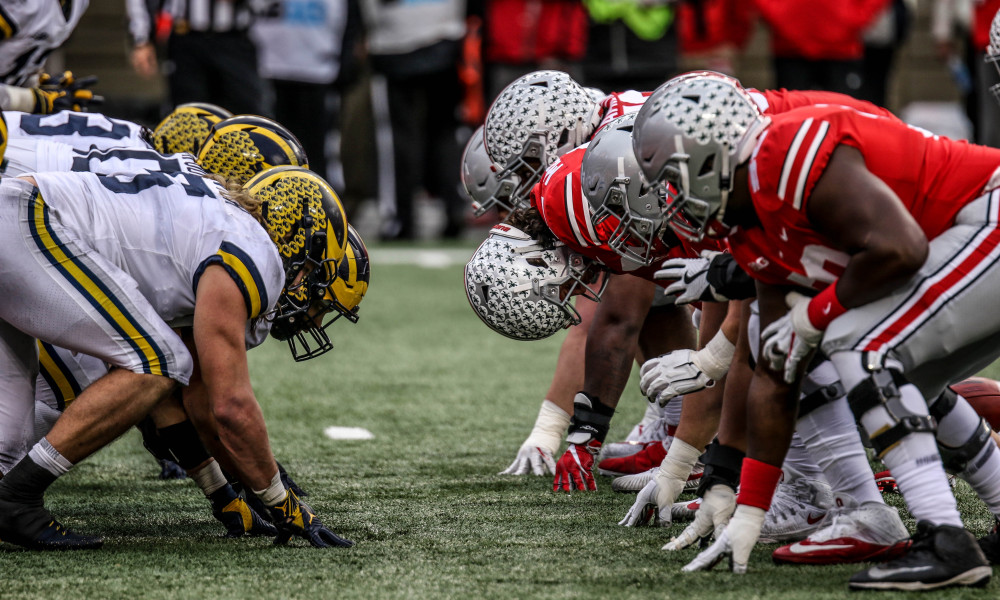 College football is steeped in tradition, and with that comes decades-old rivalries. Here are a few that we're especially excited for this season:
Michigan–Ohio State: Once called "the greatest rivalry in North American sports, "The Game" is back for its 117th (!!!) edition after last year's was canceled.
Michigan leads the series 58–51–6, and will look to break Ohio State's eight-game winning streak when they meet on November 27th.
Notre Dame–USC: This rivalry game, which has been played 91 times, doesn't have a name, but the trophy does: the Jeweled Shillelagh(pronounced she-LAY-lee) is a wooden club bejeweled based on the most recent winner: emeralds for the Notre Dame Fighting Irish or rubies for the USC Trojans. They'll meet again on October 23rd.
Minnesota–Wisconsin: The oldest rivalry in Division I football, these two Midwest powerhouses will play each other for the 131st time on November 27th. Wisconsin leads 62–60–8 and is on a two-season winning streak. It's not just pride on the line: they're playing for Paul Bunyan's Axe.
Alabama–Auburn: Another Thanksgiving weekend staple, the intrastate matchup known as the Iron Bowl has seen Auburn and Alabama face off for the Foy–ODK Trophy 85 times since 1893, with the Crimson Tide holding a 47-37-1 lead in the series.
👀 How to watch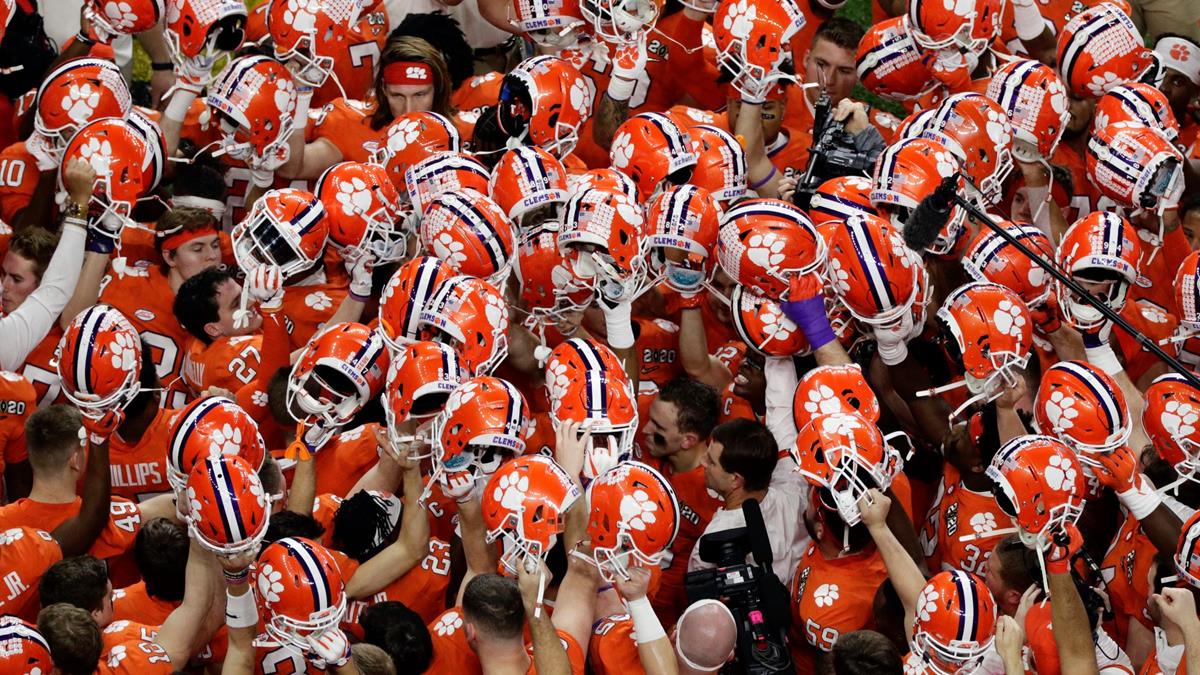 With just five regular-season games on the schedule, Week 0 kicks off today with Nebraska at Illinois at 1 p.m. ET. Week 1 will see nearly everyone else in action, beginning Wednesday and running through next weekend. Check out the full schedule here.