NWSL semifinals preview
November 14, 2021
The NWSL semifinal playoff games take place this afternoon, so we're breaking down both matchups before the winners advance to Saturday's championship game. Let's get kicking, shall we?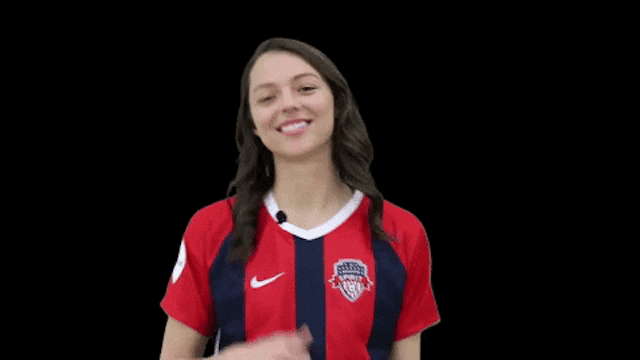 SOURCE: WASHINGTON SPIRIT/ GIPHY
QUOTE OF THE DAY
It's just trying to keep the train rolling...They are 'The Little Engine That Could' right now.
— Washington Spirit interim head coach Kris Ward on the team's success throughout the 2021 campaign despite the turbulent off-field drama they've faced. Keep on chuggin'!
⚽️ How we got here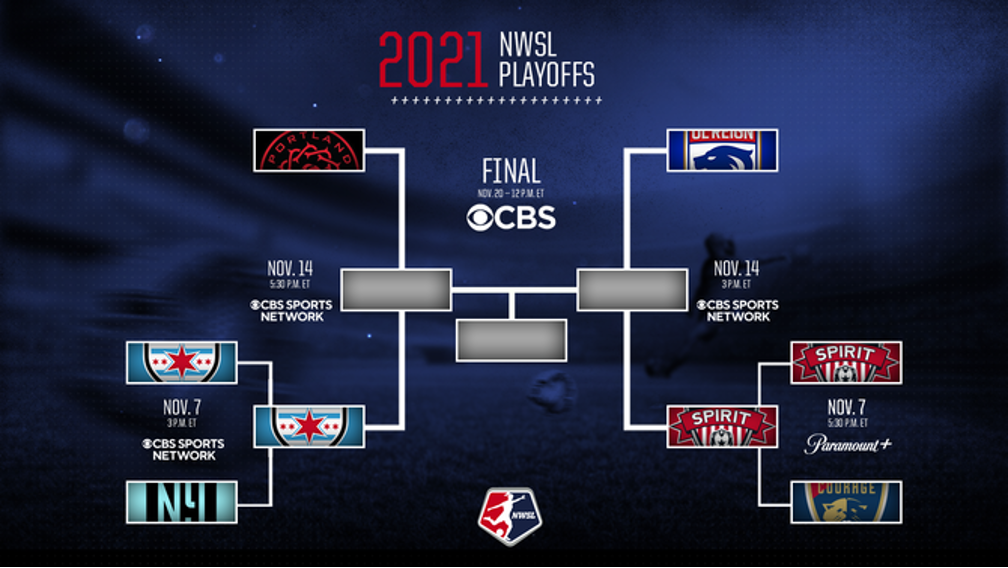 For a quick refresher, six of the NWSL's 10 teams advanced to this year's single-elimination playoffs.
It all kicked off last Sunday which saw No. 5 NJ/NY Gotham FC and the No. 6 North Carolina Courage eliminated in the quarter-final round.
In today's semis, the No. 3 Washington Spirit will play No. 2 OL Reign at 3 p.m. ET, followed by a battle between the No. 1 Portland Thorns and No. 4 Chicago Red Stars at 5:30 p.m. ET.
The winners of today's doubleheader will face off next Saturday, November 20th at 12 p.m. ET (a reasonable start time) on Racing Louisville FC's home field (moved away from the Portland Thorns' artificial turf) to contend for the title. It all comes down to this.
1️⃣ Game 1: No. 2 OL Reign vs. No. 3 Washington Spirit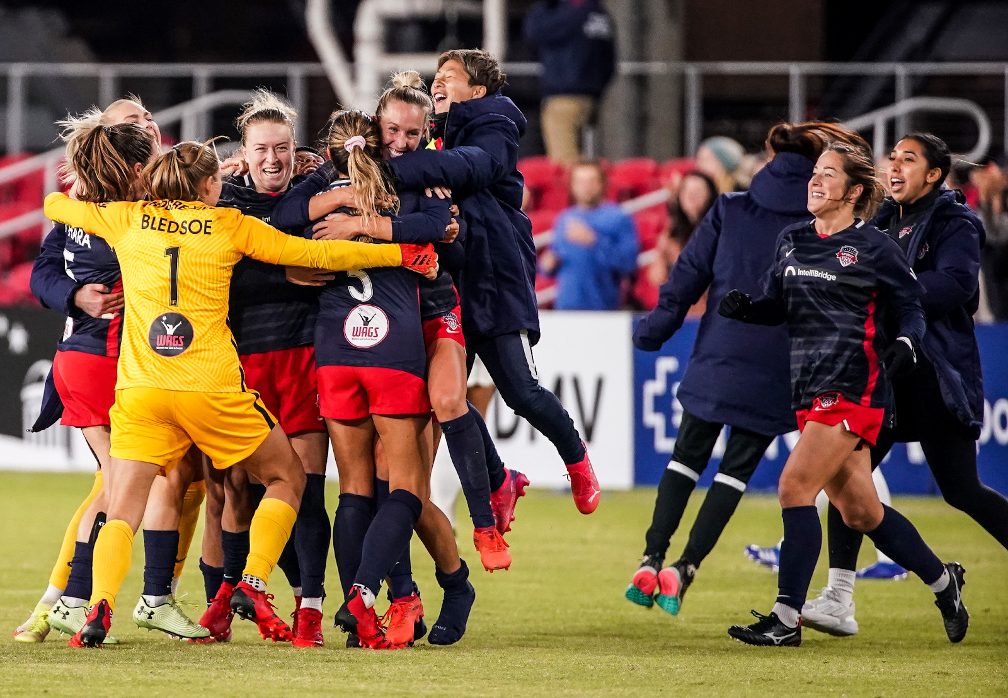 No. 2 OL Reign enters today's match with fresh legs after receiving a bye to the semifinal round thanks to their strong regular-season performance. That also means they'll play host to the Spirit in Tacoma, Washington (State).
The squad had a surge of success after they took out the trash head coach Laura Harvey took the reigns, going from No. 9 in the league to No. 2, just two points behind the Portland Thorns.
Despite leading the league in scoring and having veterans like Megan Rapinoe and Rose Lavelle on the roster, the Reign's X factor will be their defense, led by NWSL Defender of the Year nominee Alana Cook.
On the other hand, the No. 3 Washington Spirit had a hard-fought battle against the North Carolina Courage in their quarter-final match, nabbing a 1–0 overtime victory thanks to a late goal from star forward and regular season Golden Boot winner Ashley Hatch.
Despite the long list of hardships the Spirit faced this season, they haven't lost a competitive match since August, and they're hoping to keep it that way.
Head-to-head record: While OL Reign have the higher ranking coming into today's game, the Spirit have the better record in their matchups. Washington secured two wins against Reign earlier this season, and Reign's only win came after the Spirit were forced to forfeit due to breaches of the NWSL's COVID-19 protocols.
Prediction: With their depth and impressive showings in their last several games, we have to go with OL Reign for game one, as they're also our pick to win it all. However, it's safe to say this will be a competitive match and an exciting start to the semifinals.
2️⃣ Game 2: No. 1 Portland Thorns vs. No. 4 Chicago Red Stars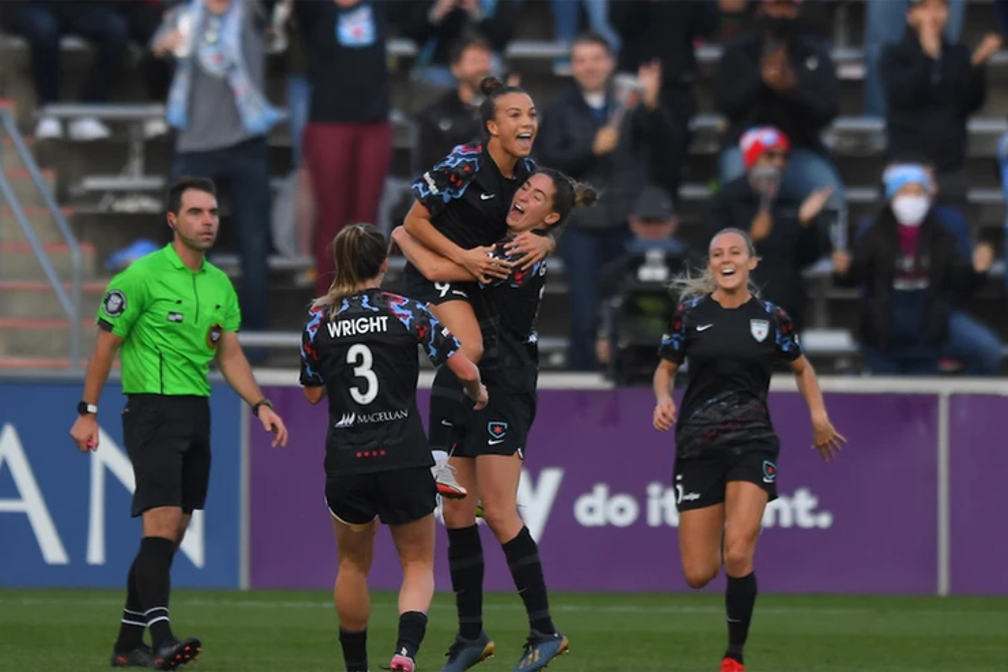 The No 1. Portland Thorns also earned a bye past the quarter-final round and will have home-field advantage in tonight's game. Coming off their second NWSL Shield and a Challenge Cup victory in May, the Thorns played an impressive season despite off-field leadership troubles of their own.
Former head coach Paul Riley has been at the center of a verbal abuse and sexual coercion scandal that spanned multiple teams over 10 years. Riley was the fourth coach to be fired for abusive conduct in the NWSL this year. Absolutely disgusting.
Thorns GM Gavin Wilkinson was placed on administrative leave last month following the scandal and a player-led protest in which Thorns players wore shirts reading, "No More Silence." Wilkinson's replacement? Former player (and CanWNT star) Karina LeBlanc. Much better.
When it comes to leadership on the field, Portland has plenty of strength. The Thorns will look to Olympic gold medalist (and friend of The GIST) Christine Sinclair to lead the squad on the attack tonight, along with Lindsey Horan, Morgan Weaver and Sophia Smith.
The No. 4 Chicago Red Stars defeated NJ/NY Gotham FC 1–0 in another tight match last weekend. Led by forward Mallory Pugh's goal in the 61st minute, Chicago was able to hold off Gotham for the rest of the game, punching their ticket to the semifinals.
With core players like Julie Ertz and Alyssa Naeher out almost all season, the Red Stars have relied on leadership from Pugh, along with teammates Morgan Gautrat and Kealia Watt (NFLer J.J. Watt's better half).
Head-to-head record: In their season opener, the Thorns beat the Red Stars pretty handily in a 5–0 victory, but Chicago secured a 2–1 win when the squads met later in the season. And the Red Stars beat Portland 1–0 when they met in the 2019 semifinals. Revenge match, anyone?
Prediction: For the sake of not choosing the No. 1 team to make it to the final, we have to go with Chicago for game two, but it's anyone's match.
📺 Tune in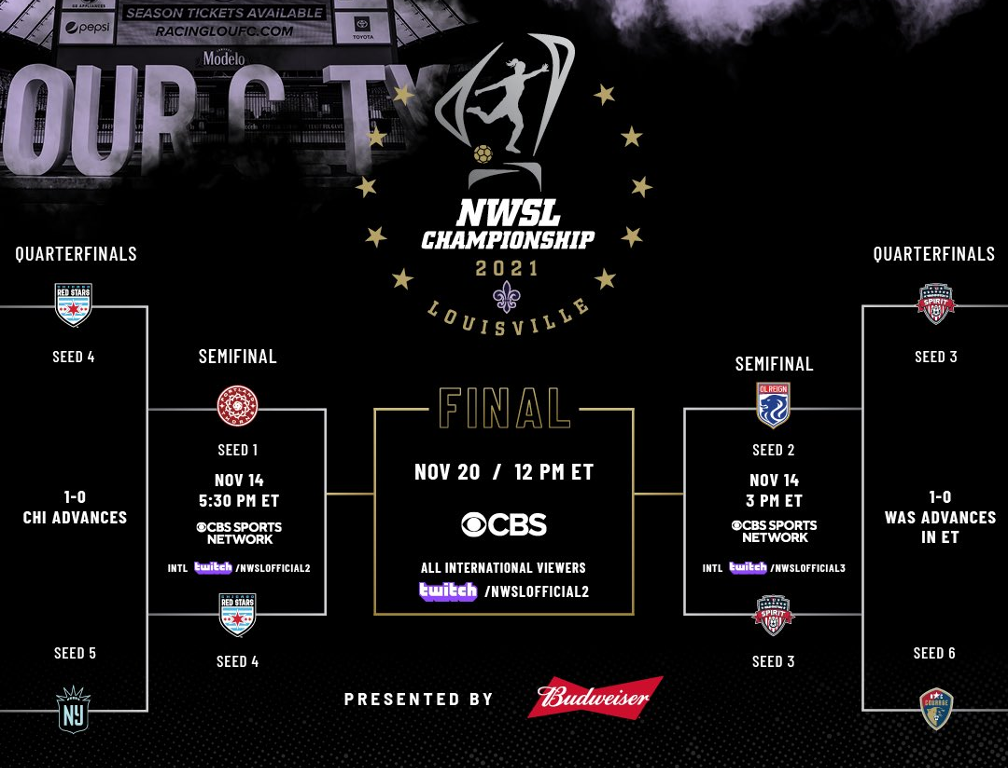 Catch all the action today beginning at 3 p.m. ET when the Washington Spirit take on OL Reign, followed by the 5:30 p.m. ET tilt between the Portland Thorns and Chicago Red Stars — all airing on CBS Sports Network in the U.S. and streaming on Twitch in Canada. What better way to spend your Sunday?