Full of Pride
June 06, 2021
HAPPY PRIDE! To celebrate Pride Month, we're taking a closer look at the relationship between the sports world and the LGBTQ2S+ community, at barrier-breakers who helped end stigma and inspire change and at the progress still needed for sports to be a safe space for everyone.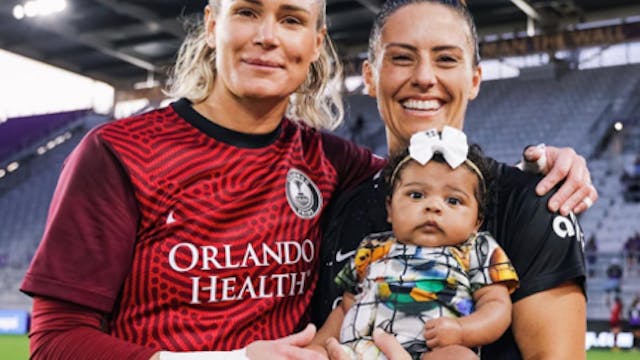 SOURCE: ALI KRIEGER/INSTAGRAM
QUOTE OF THE DAY
I didn't see people of my community, and it made me feel like I had to hide, and it made me feel that I couldn't live my truth. I think, for us, that is something that Ali and I strive to do just to create the visibility aspect in our sport and in our life and show that we get happy endings, too.
— Orlando Pride and USWNT star Ashlyn Harris, touching on the importance of representation in sports. Harris and her wife (and teammate) Ali Krieger welcomed their daughter Sloane into their lives in February. Family goals.
🌈 Why we celebrate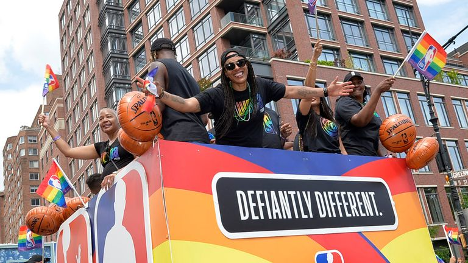 Pride Month is celebrated in June because of the June 1969 "Stonewall Uprising," a pivotal moment in the gay rights movement, when a police raid occurred at the Stonewall Inn — a gay club in New York City — sparking a wave of riots.
Since then, many discriminatory (though not all) laws against LGBTQ2S+ individuals and same-sex couples have been struck down, while gay representation throughout the media and society has grown.
Unfortunately, the sports world doesn't have a great reputation when it comes to standing with the LGBTQ2S+ community. Homophobia was and is rampant in locker roomsand online sports communities, and athletes who discuss their sexuality have been subjected to discrimination and even physical harm for decades.
So, when athletes do come out publicly and use their platforms to advocate for LGBTQ2S+ rights, it's a brave feat — one that should be recognized and celebrated for longer than a single month.
⛹️‍♀️ Barrier-breakers in women's sports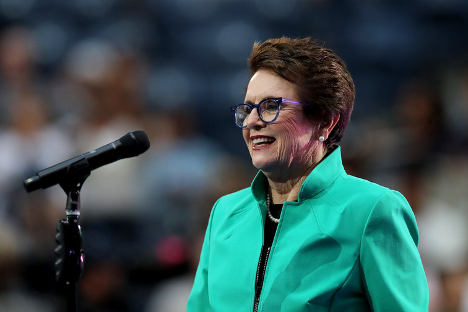 You know we stan Billie Jean King (BJK). Sadly, the tennis icon wasn't able to come out on her own terms after being publicly outed in a 1981 lawsuit from a former partner. When the news spread, King lost all her professional endorsements at that time.
The WNBA leads the way in advocating for LGBTQ2S+ athletes today, but was slow on the uptake. In 2002, New York Liberty's Sue Wicks became the first WNBA player to publicly come out as gay, but the league still distanced itself from the gay community for another decade. Ugh.
Finally in 2014, the W became the first pro sport league to create and promote a Pride campaign, a year after 2013's No. 1 draft pick Brittney Griner publicly came out.
Today, there are a handful of out players in the WNBA alongside Griner, including some of the league's biggest names like Diana Taurasi, Elena Delle Donne, Sue Bird and trans and non-binary athlete Layshia Clarendon.
⛹️‍♂️ Barrier-breakers in men's sports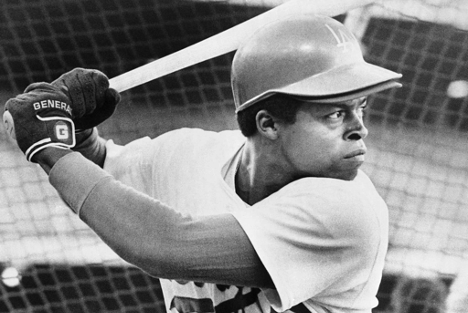 On the men's side, there's still work to do in creating safe spaces for athletes. There are currently no openly gay athletes in any major league in North America. Looking back, one of the first openly gay athletes in a major pro sport was the MLB's Glenn Burke, who came out publicly in 1982 after retiring from the league.
That said, prior to 1982, Burke was already out to his teammates, coaches and staff on the LA Dodgers and Oakland Athletics.
Burke — credited with inventing the high five — was said to be incredibly comfortable with who he was and didn't keep his sexuality a secret. It was actually society and the mediawho weren't ready for such news in the late '70s. No surprise there.
Before passing in 1995 due to AIDS-related complications, Burke set an example of courage for gay baseball players to come, like Billy Bean (not to be confused with Moneyball's Billy Beane), who came out publicly in 1999.
Since then, Bean has made equality in pro baseball his life's work and in 2014, was named the MLB's first Ambassador for Inclusion.
Representation came much later in the other major pro leagues. In 2013, Robbie Rogers publicly came out while playing with the MLS' LA Galaxy, making him the first openly gay athlete to play in any major men's league.
Months later, the NBA's Jason Collins came out before joining the Brooklyn Nets in 2014, making Collins only the second publicly gay athlete to play in a men's major pro sports league.
Collins wore No. 98 in honor of the late Matthew Shepard, a gay student who was brutally murdered in 1998, and proceeds from his jersey sales benefited the Matthew Shepard Foundation and the Gay, Lesbian & Straight Education Network.
Also in 2014, defensive end Michael Sam publicly announced he was gay ahead of the 2014 NFL Draft and became the first publicly gay player to be drafted into the league, when he was picked in the seventh round by the St. Louis Rams.
📢 Coaches and management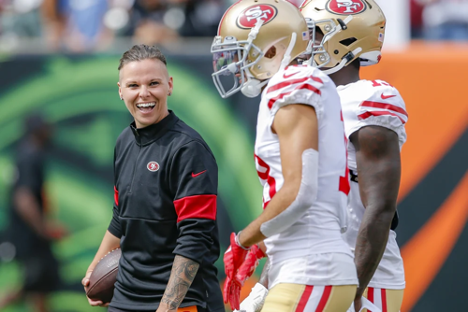 On the sidelines, a few coaches and managers have discussed their sexuality publicly, creating visibility and representation in decision-making roles within the sports world.
In 2019, San Francisco 49ers offensive assistant Katie Sowers became the first openly gay person (and woman) to coach in the Super Bowl. Sowers is headed to the Kansas City Chiefs for the 2021 season. HYFR!
At the college level, then-Bryant University assistant basketball coach Chris Burns became the first Division I men's coach to come out publicly in 2015. Burns even received praise(as he should!) after coming out from soon-to-be retired Duke head coach, Mike Krzyzewski.
🏅 On the world stage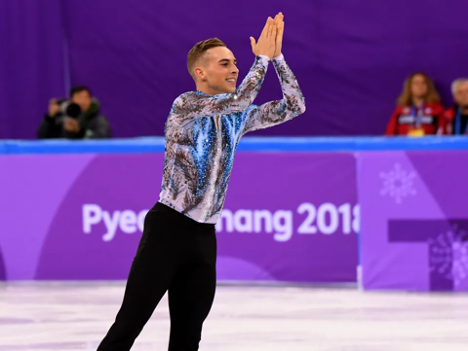 Publicly coming out on the world stage is no small task. There have been many LGBTQ2S+ athletes at the Olympic Games; however, not all felt comfortable being out when they competed.
In 1982, Olympian Tom Waddell created the "Gay Olympics" (now called the "Gay Games") as an international event and safe space to bring together LGBTQ2S+ athletes, artists and advocates from all walks of life and encourage social change through sport.
Fast forward to 2018, and figure skater Adam Rippon and skier Gus Kenworthy became the first openly gay men to compete for the U.S. in the 2018 Winter Olympics.
And the two continue to use their platforms, namely on social media, to advocate for the LGBTQ2S+ community. In 2019, Kenworthy biked 545 miles (!!!) in the AIDS/LifeCycleto raise money and awareness for HIV and AIDS.
⚧️ Continued fight for trans rights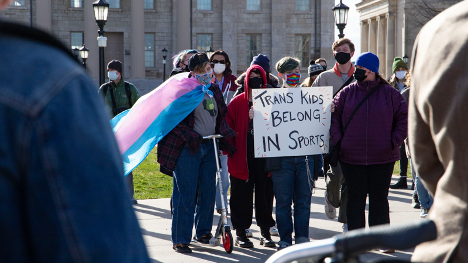 Trans athletes have historically been left out of the conversation, but stars like the aforementioned Layshia Clarendon are creating visibility for trans and non-binary athletes at the top level.
But the progress for trans athletes continues to be challenged. On Tuesday (and the first day of Pride Month, no less), Florida joined a growing list of states that have signed bills to ban transgender female athletes from competing in girl's and women's sports at public schools.
Lawmakers claim that the bills will remove an "unfair advantage," but their argument lacks any evidence. Advocacy groups, like the Human Rights Campaign, announced they will file lawsuits in order to challenge these bills.
The NCAA released a statement in April expressing support for transgender student-athletes, but we're holping the association turns their words into actions soon to help protect trans youth when they need it most.
🤝 How to show support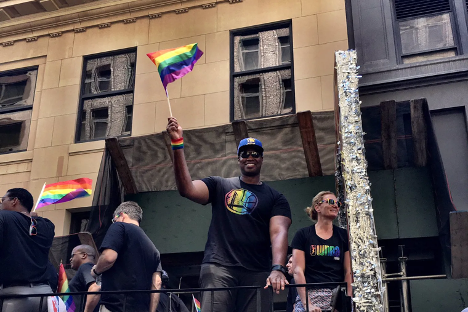 Sports play an important role in society and in order to get to a place where everyone feels safe and welcome, we have to work together. Apart from participating in local Pride parades and social media campaigns this month, there are more ways to show support.
Outlets like Out Sports and Athlete Ally are doing great work in shining a spotlight on and advocating for LGBTQ2S+ athletes year-round. Find a full list of outlets and advocacy groups here.