NCAA College Football Semifinal Preview
December 31, 2021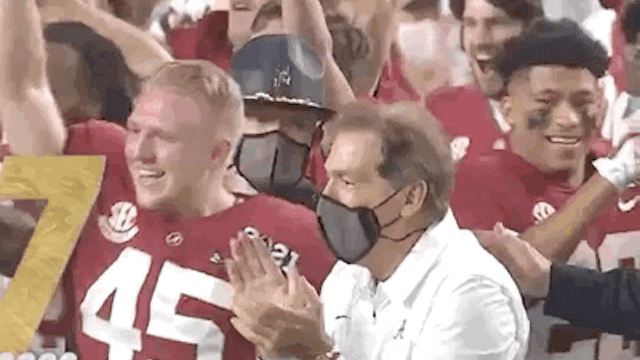 SOURCE: GIPHY
QUOTE OF THE DAY
When you're in the playoffs, it's all about what's happening, it's what's in front of you right now…You didn't come this far to get this far.
— Alabama head coach Nick Saban, as he begins the hunt for his second consecutive and record-extending eighth national title. Is there another Gatorade bath in his future?
⬅️ How we got here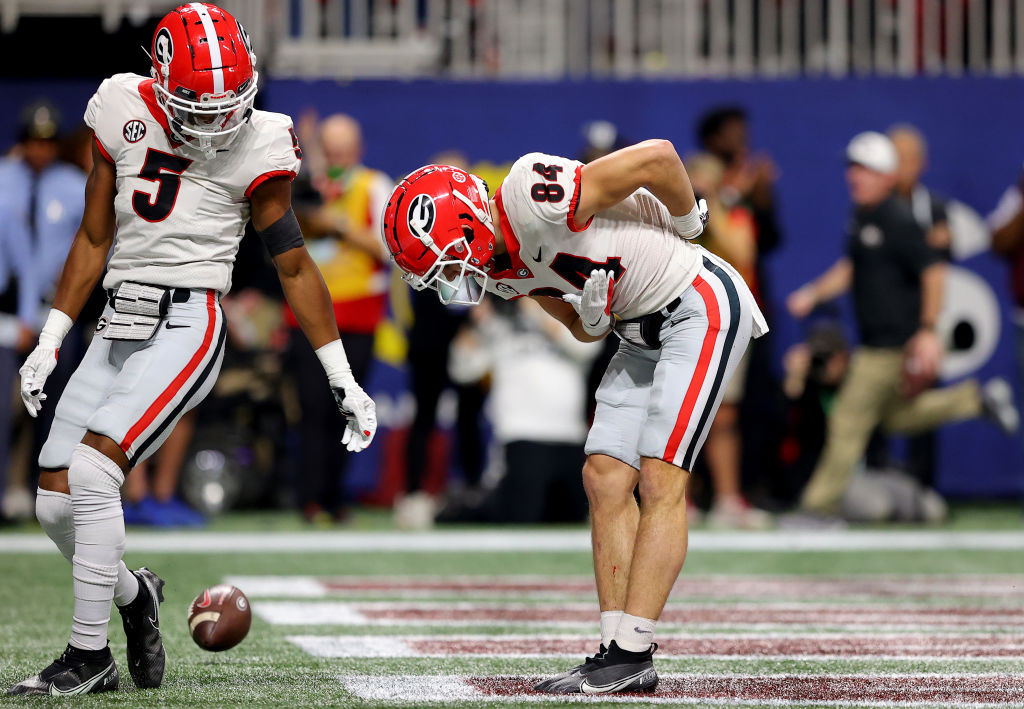 One hundred thirty teams and four months later, four squads — defending champ No. 1 Alabama, No. 2 Michigan, No. 3 Georgia and No. 4 Cincinnati — will compete for the CFP title. And while the CFP selection process is typically confusing and controversial, things were a little more straightforward this year.
Stop us if you heard this one before, but Alabama is back in the CFP, clinching their playoff spot with a big 41–24 SEC championship win over previously undefeated Georgia (whose stellar season had already all but punched their CFP ticket).
As for Michigan, they'll make their first-ever CFP appearance thanks to a statement win over rival Ohio State in late November (their first rivalry win since 2011), followed by a resounding Big Ten title win against Iowa.
Finally, with big wins over ranked squads and an undefeated regular season, the CFP selection committee couldn't ignore Cincinnati, the first non–Power Fiveschool to make the CFP (a BFD).
That brings us to tomorrow's semifinals. Winners advance to the championship game on Monday, January 10th…losers go home. No pressure.
🥣 The Cotton Bowl: No. 1 Alabama vs. No. 4 Cincinnati, 3:30 p.m. ET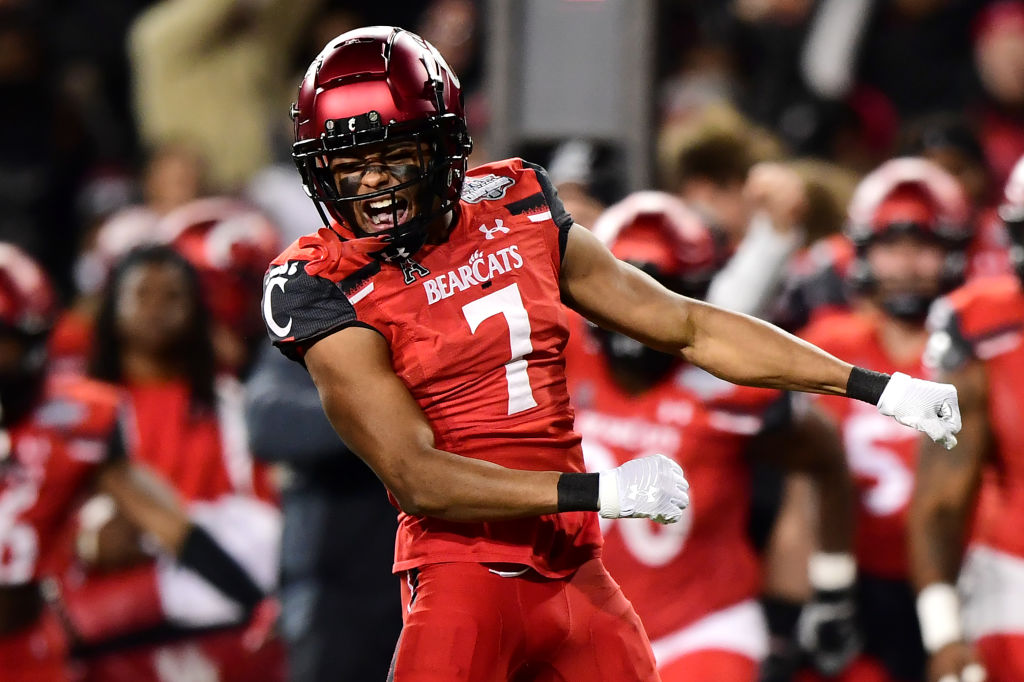 Yes, the Cincinnati Bearcats are undefeated, but this is a real David vs. Goliath matchup. Alabama's played in all but one of the previous seven CFP semis, while Cincinnati will make their first-ever appearance.
🟠 The Orange Bowl: No. 2 Michigan vs. No. 3 Georgia, 7:30 p.m. ET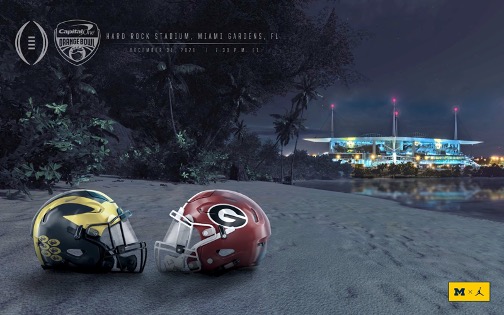 This one will be a battle of two squads with very similar playing styles focused on lockdown defense. Georgia's allowing a best-in-the-nation 9.54 points per game on average, while Michigan ranks fourth, allowing just 16.08. Expect this one to be a grind.
A prediction? While the Bulldogs were the No. 1 team in the nation for much of the season, we're going with Michigan and their five-game win-streak momentum.
Plus, it's hard to bet against AP Coach of the Year Jim Harbaugh, a man who would do anything — yes, anything — to win.
💪 Players to watch
Bryce Young, QB, Alabama: The aforementioned Heisman Trophy winner, the AP Player of the Year, the Davey O'Brien award winner — all as only a sophomore. Young's arms must be tired from carrying all that hardware and the Crimson Tide this year.
He came up clutch in 'Bama's big win over Georgia, throwing for 421 yards and three touchdowns (TDs). Watch for Mr. Clutch to pull through again.
Ahmad "Sauce" Gardner, cornerback, Cincinnati: What a name, what a player. Gardner is the centerpiece of an elite Bearcat defense and hasn't allowed a single, one-on-one TD in his three-year college career. Pretty good, and he'll need to keep it up against a tough Alabama offense.
Aidan Hutchinson, defensive end, Michigan: A finalist for the Heisman Trophy, Hutchinson's had a stellar senior campaign, notably setting a single-season Michigan sack record with 14 takedowns this season.
The potential No. 1 2022 NFL draft pick chose to forego last year's draft to try and win a national championship. Let's see if he can do it.
Brock Bowers, tight end (TE), Georgia: Just a freshman, Bowers is already playing like a vet, hauling in 11 TDs this year to tie the record for most in a season by a Bulldogs TE. Watch for him to be a main target as this Georgia offense navigates an elite Michigan D.
👀 How to tune in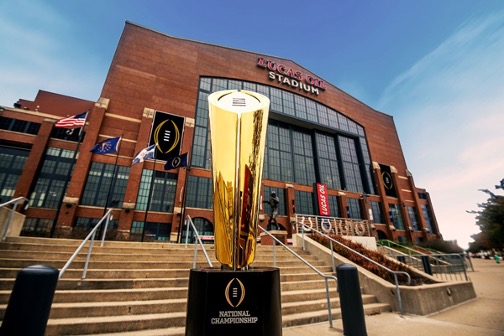 It all begins with Alabama vs. Cincinnati tomorrow at 3:30 p.m. ET, followed by Michigan vs. Georgia at 7:30 p.m. ET, with both games airing on ESPN and TSN. Grab some champagne, get comfy on the couch, and enjoy what's sure to be an epic doubleheader. It's party time.