Everything you need to know about the NWSL playoffs
November 06, 2021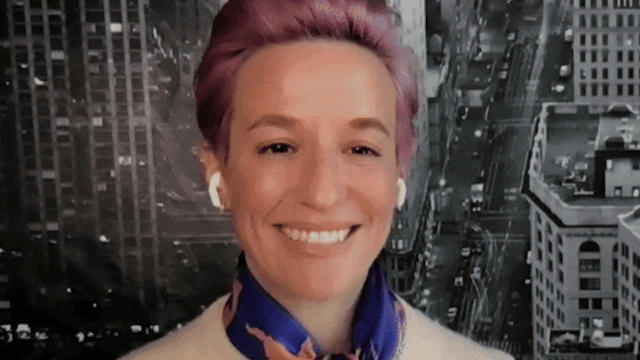 SOURCE: FALLON TONIGHT/GIPHY
HAPPY SATURDAY!
The NWSL playoffs kick off tomorrow, so we're here to give you the gist on the six-team, single-elimination tourney. What's better than Sunday fútbol?
QUOTE OF THE DAY
I'm old, I always want days off.
— USWNT and OL Reign star Megan Rapinoe, after clinching a first-round playoff bye. Relatable.
✍️ How it works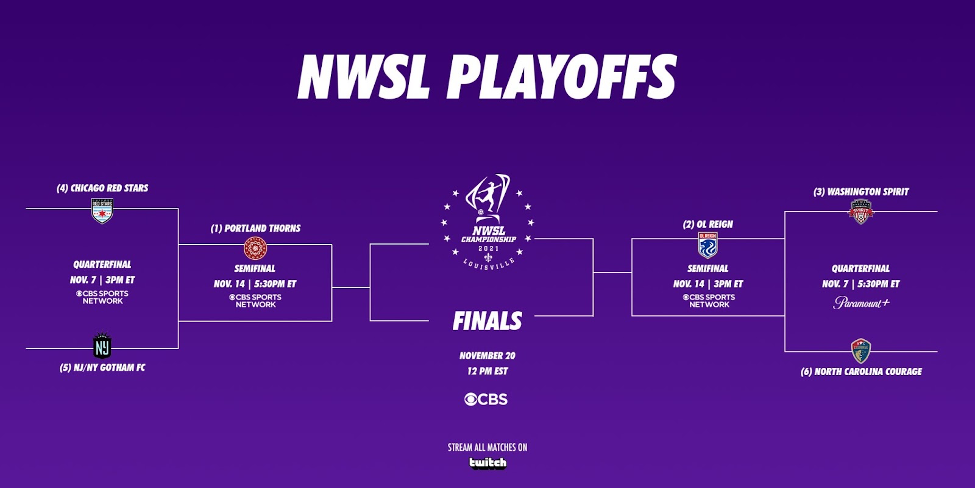 After a thrilling 24-game season, six of the NWSL's 10 teams advanced to the single-elimination playoffs, which begin with a quarter-finals doubleheader tomorrow at 3 p.m. ET.
The No. 4 seed Chicago Red Stars will face No. 5 NJ/NY Gotham FC, followed by the No. 3 Washington Spirit vs. the No. 6 North Carolina Courage at 5:30 p.m. ET.
Quarter-final winners will advance to face the No. 1 Portland Thorns and No. 2 OL Reign, respectively, who earned first-round byes to the semifinals thanks to their impressive regular-season play.
And the true reason for the season — the championship game — is set for Saturday, November 20th at 12 p.m. ET on Racing Louisville FC's home field, after being shifted away from the Portland Thorns' artificial turf and later than its way-too-early original start time. Thank goodness.
⚽️ The teams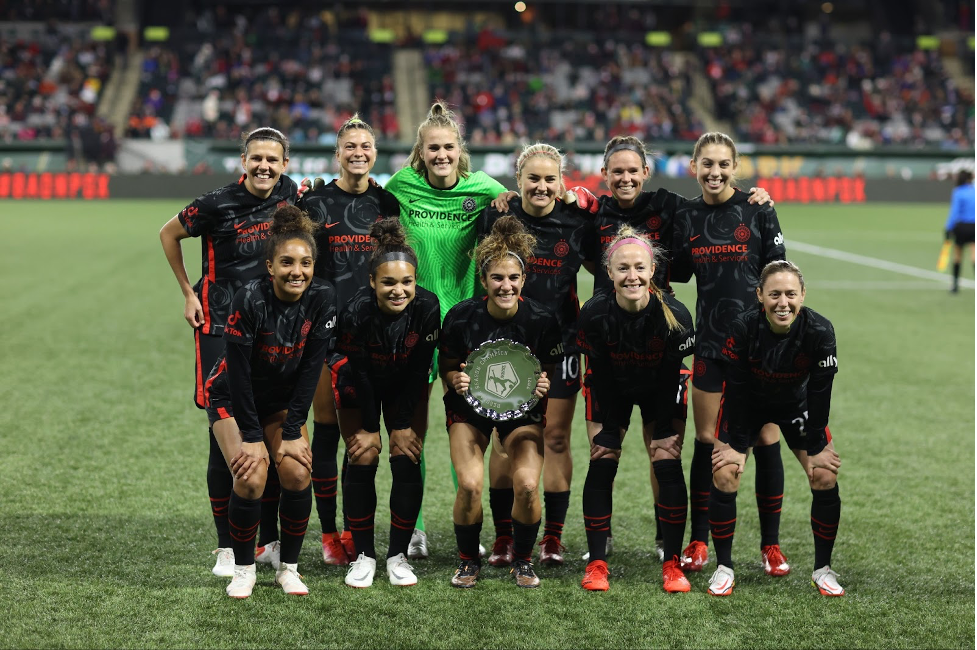 No. 1 Portland Thorns: The stacked Thorns bulldozed their way through the regular season, punching their ticket to the playoffs back in September and winning their second franchise NWSL Shield.
With stars like forwards Christine Sinclair and Sophia Smith and midfielder Crystal Dunn, the Thorns are the favorites to win it all and add even more hardware to their trophy case after their Challenge Cup victory in May.
No. 2 OL Reign: Led by forward Bethany Balcer, the Reign were the only team to challenge the Thorns for the top spot, finishing just two points shy. They also handed Portland two of their six losses on the season, so we're in for a treat if these top two seeds advance to the finals.
No. 3 Washington Spirit: Facing a midseason COVID-19 outbreak and a tumultuous coaching/leadership scandal, the Spirit overcame it all to clinch their first playoff appearance since 2016. They haven't lost since early August and have a chance to keep it that way this postseason.
No. 4 Chicago Red Stars: Despite injuries to midfielder Julie Ertz and goalkeeper Alyssa Naeher, Chicago still secured their NWSL-record sixth consecutive playoff appearance. Let's see if the Red Stars can nab another title for the Windy city.
No. 5 NJ/NY Gotham FC: Oh, what's in a name? We're about to learn as Gotham hunts for their first-ever franchise championship after rebranding from Sky Blue FC earlier this year.
Another name to know? Carli Lloyd. She'll retire at the end of the season...only question left is if she'll go out on top.
No. 6 North Carolina Courage: With last year's championship canceled due to COVID-19, the Courage are on the quest for an unprecedented three-peat after winning it all in 2018 and 2019.
The squad overcame their own midseason turmoil and, while they struggled toward the end of the season, we have a feeling they won't squander this playoff opportunity.
💪 Players to watch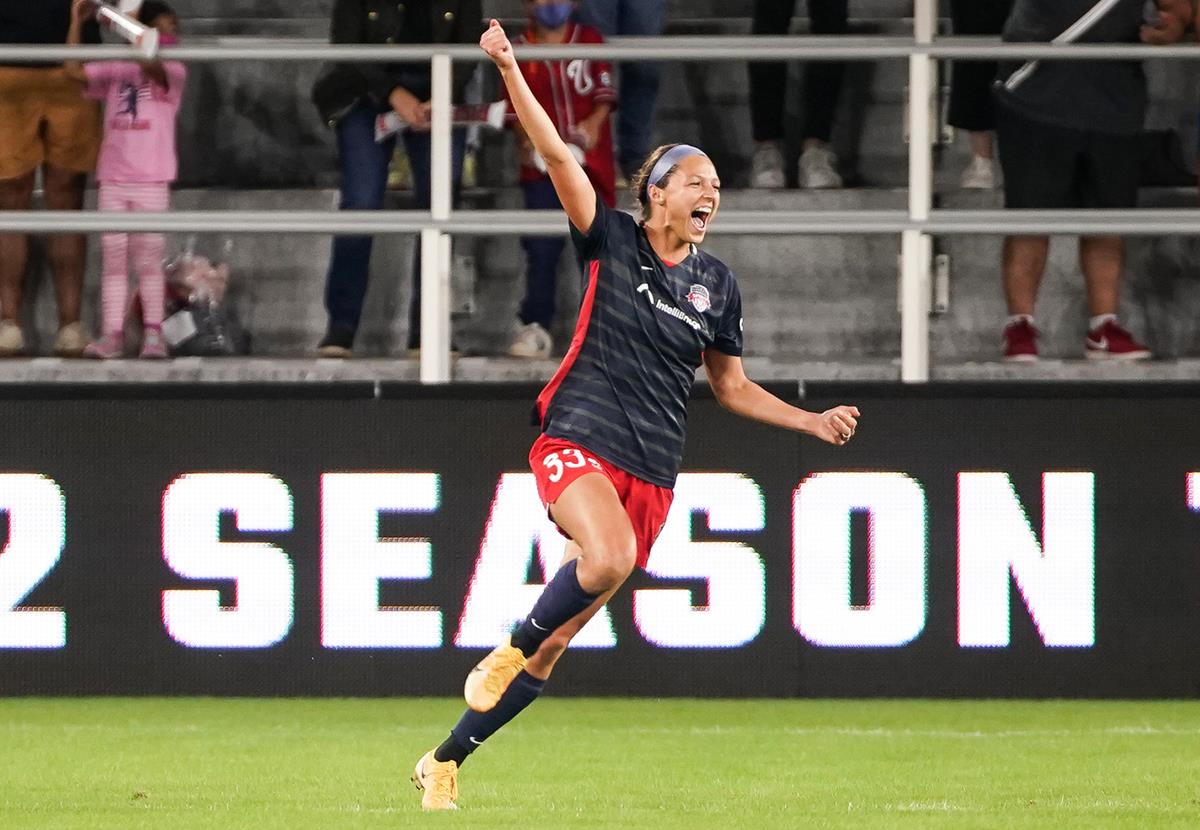 Ashley Hatch, Washington Spirit, Forward: The driving force behind a high-powered Spirit offense, Hatch netted a league-leading 10 goals in 20 games, winning her first-ever Golden Boot award. Hey Google, play "Golden" by Harry Styles.
Carson Pickett, North Carolina Courage, Defender: Pickett's a top defender, but she's gotten the job done on offense too with five assists in 24 appearances, tied for second overall in the league. What can't she do?
Christine Sinclair, Portland Thorns, Forward: All-time international goals record holder, Olympic gold medalist, friend of The GIST. Need we say more? The GOAT's looking for her third NWSL title to top off a 2021 (and maybe a career?) for the record books.
Alana Cook, OL Reign, Defender: Defense wins championships, and the Reign have a lockdown defender in Cook. After playing abroad with Paris Saint-Germain earlier this year, Cook's played every minute since returning permanently to the Reign in June. Consistency is key.
Mallory Pugh, Chicago Red Stars, Forward: She already brought championship good luck to her boyfriend, World Series Champion Dansby Swanson. With her steady offensive contributions (four goals, four assists this year), a healthy Pugh could be the difference-maker for Chicago.
Kailen Sheridan, NJ/NY Gotham FC, Goalkeeper: Sheridan's allowed less than a goal per game on average, with six shutouts in 16 appearances. She's a brick...wall.
🏆 Prediction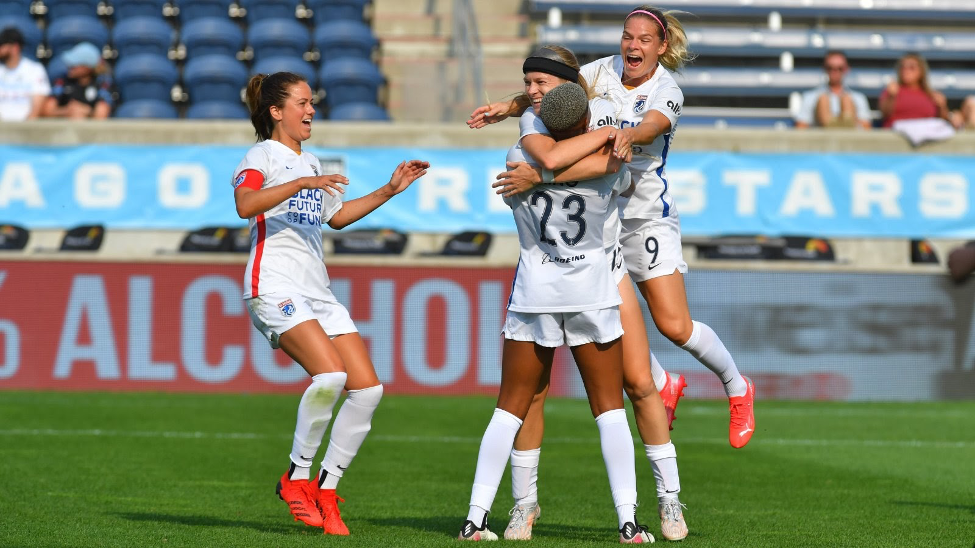 Any team can win on any given (Sun)day, but we'll still toss out a prediction as to who will hoist the NWSL Championship trophy come November 20th.
With momentum on their side (they've only lost once since late August) and Megan Rapinoe, Quinn, Eugénie Le Sommer and the aforementioned Balcer and Cook leading the way, we're picking OL Reign to win it all.
Will our prediction hold up? Tune in tomorrow at 3 p.m. ET for the first playoff game — airing on CBS Sports Network in the U.S. and Twitch in Canada — to see how it all shakes out.