July 21, 2020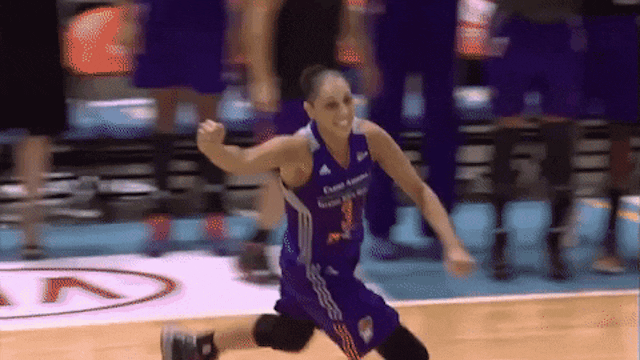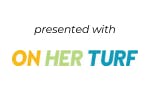 The GIST
A global pandemic, , protests for social justice…we've been through (and are still going through) a lot. But, sports are returning! The WNBA will finally tip-off its 24th season (oh, to be young) on Saturday, July 25th with star-studded matchups and an opening weekend to the Black Lives Matter movement.
Here's how we got here
Back in January, the league signed a historic CBA (Collective Bargaining Agreement) featuring many for players, most notably an increase in average compensation from $79k to $130k (!!!). So, with the 2020 WNBA season originally scheduled to begin on May 15th, the league was ready to ride that good news momentum and the of the 2019 Finals into its 2020 start.
*Enter COVID-19* On April 3rd, the WNBA the season indefinitely, leaving fans left in the lurch.
Back like they never left
After a v. successful , long-winded deliberation and salary negotiations, on June 15th the league announced plans for a shortened 22-game season (they were supposed to play 36) hosted in the "" at IMG Academy in Bradenton, Florida. All teams will practice, play and live on the IMG campus for the duration of the season. Regular season games will run from July 25th through September 12th, followed by a for the playoffs.
In the spotlight
Although all contests will be played without fans in attendance (one of many COVID-19 protocols), we can still enjoy the action from home thanks to an extensive offering 24 (!!!) nationally televised games. Looks like the national outlets might have .
Players to watch
(pronounced YOH-NESS-COO): Coming off a (and pandemic-shortened) senior season with the Oregon Ducks, New York Liberty guard Ionescu is the top player to watch this year. She was the first pick in the 2020 WNBA draft and her jersey within an hour. No worries though, it's for now and you can rock it while you watch Ionescu's highly anticipated rookie campaign.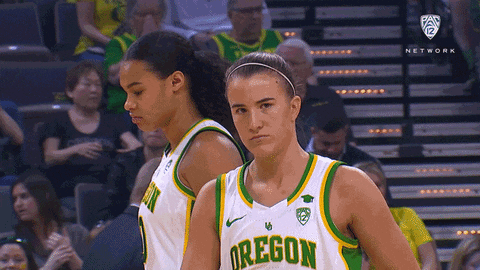 : The 2018 league MVP missed the 2019 season after rupturing her Achilles (ouch) while playing in Europe overseas. And yes, most players play in the W in the summer and to help make more money — another guide for another day. At 6'3", Stewart averaged an astounding 21.8 PPG (points per game) and 8.4 RBG (rebounds per game) in 2018 and will be looking to lead the Seattle Storm back to the championship, which they won in 2018.
: Serving up a one-two punch with Stewart, 11-time All-Star (and one half of everyone's favorite ) Bird enters her 19th season in the WNBA. Returning from missing the 2019 season due to knee surgery, she'll bring leadership and experience to the stacked Storm roster.
: Four-time All-Star Diggins-Smith missed the 2019 season to give birth to her son and was part of a blockbuster trade this offseason, moving from the Dallas Wings to the Phoenix Mercury. With her average of 17.9 PPG in 2018, watch for Diggins-Smith to make an instant splash with new teammate and the Mercury this year.
Players sitting out
A of athletes opted out of the 2020 WNBA season due to COVID-19 health concerns, injuries and/or to keep their focus on social justice efforts. Here are a few athletes we won't see on the court this year:
: A key player in the Mystics' 2019 championship run, Cloud will sit out the 2020 season to focus on the fight against police brutality. Converse offered Cloud the with the brand and will cover her salary while she advocates for social justice. We love to see it!
(pronounced OH-GWOO-MIH-KAY): The Los Angeles Sparks forward has faced numerous injuries in the past and chose to opt out this season, citing safety concerns. But that doesn't mean she won't be busy; Ogwumike recently that she'll be co-hosting a new, daily national radio show with ESPN — the first Black woman and WNBA player to ever get the nod. More of this, please! She's also partnered with LeBron James on his and will use her time away from the court to continue the fight for social justice.
Elena Delle Donne: Reigning league MVP and 2019 champion, Delle Donne entered the and did not join her Washington Mystics team in Florida for pre-season training. Despite suffering from Lyme disease, Delle Donne was not granted a medical exemption by the league. She penned a powerful about her health and disappointment in the decision. Luckily, her Mystics coach that Delle Donne will keep her roster spot and receive her full salary, whether or not she competes.
While we'll miss rooting for them on the hardwood this season, we're stoked to continue supporting these women and their advocacy.
Can't miss match-ups
The WNBA opening day schedule on Saturday, July 25th will definitely be worth the wait. The first contest of the season showcases the league's starpower with Ionescu's Liberty taking on Stewart and Bird's high-powered Storm live on ESPN at noon ET.
On Tuesday, July 28th at 7 p.m. ET, the Mystics and Connecticut Sun will clash in a rematch of last year's finals. Both teams will be missing stars, with Delle Donne and newly out for the Mystics along with opting out for the Sun, but we can still expect a thriller from these powerhouses.
And we can't wait for the 3 p.m. ET Saturday, August 8th matchup between the Mercury and Storm. WNBA legends, former UConn teammates and and Bird will meet in what could be one of the last battles between the pair. Taurasi and Bird have 20 WNBA All-Star appearances and six WNBA championships between them. Sheesh.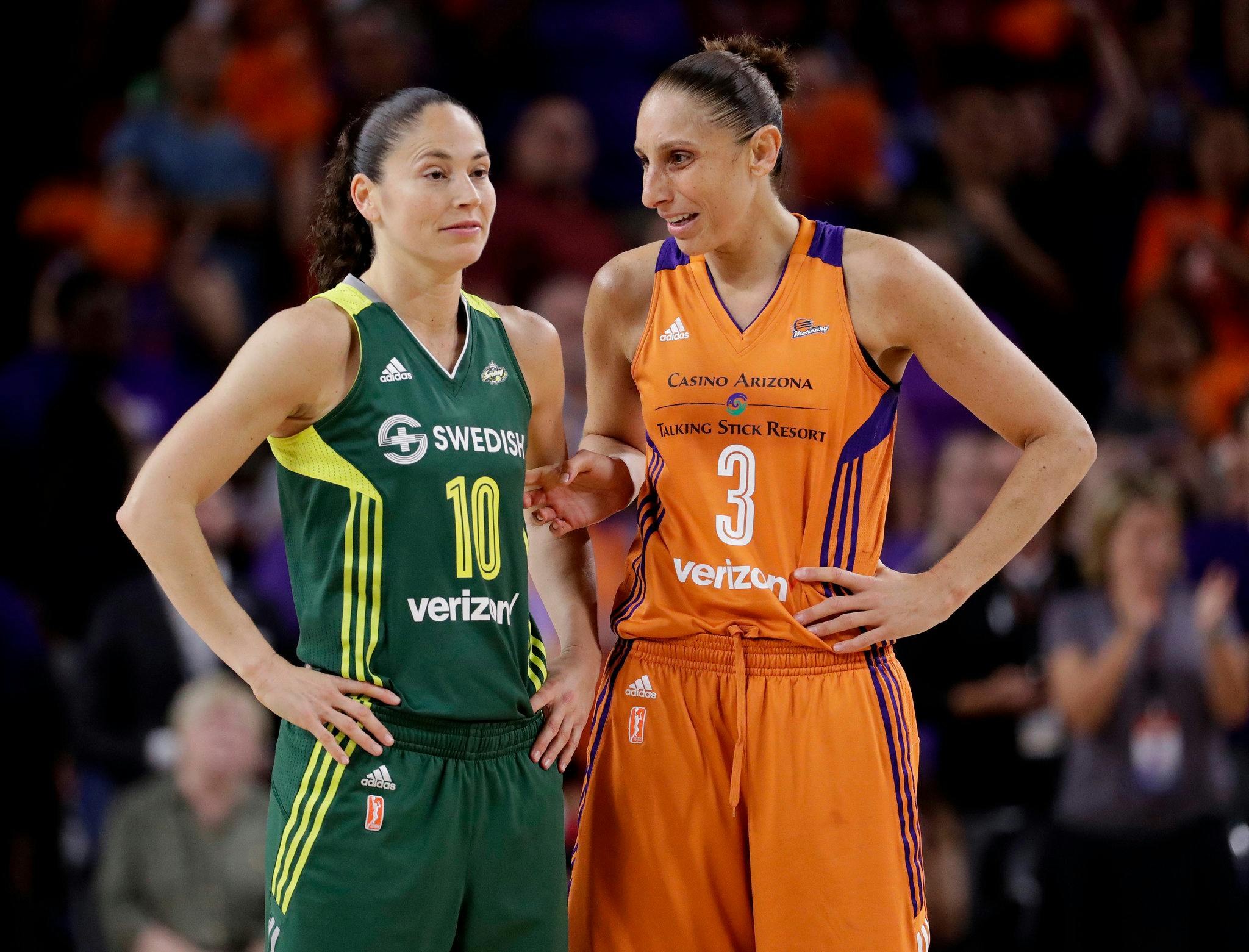 Favorites to win the championship
The Mystics earned their first-ever WNBA Championship last year, defeating the Sun in a thrilling five-game series. The Mystics were favored to defend their title this season, but with stars like Delle Donne and Cloud opting out, the trophy is up for grabs.
Thanks to the return of Stewart, the Storm are now favored to win it all. But we wouldn't be surprised if the (who made it all the way to the semifinals last year) took home the hardware either.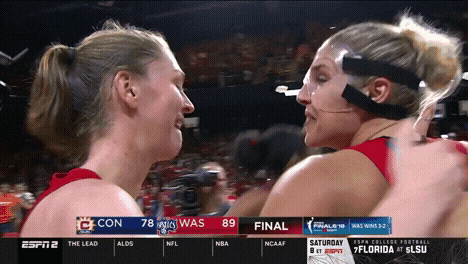 With the unprecedented nature of this season, anything could happen on the court. Check out the complete WNBA and be sure to for our twice-weekly free newsletter to stay up-to-date all season long!