Liz Rose
March 13, 2020
"Really it all comes down to believing in yourself and staying as positive as possible. You really have to focus on staying present, staying in the moment..."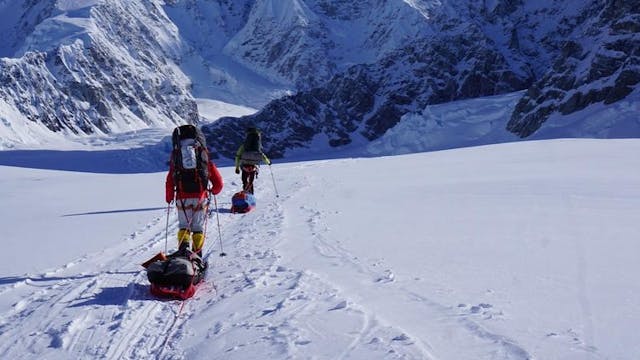 International Women's Day is Friday March 8th. To celebrate, we're featuring one bad @$$ female athlete for each of the four newsletters leading up to the special day. Why? Because female athletes only receive 4% of sports media coverage which we think (and we're sure you do too) is absolutely ridiculous. So, as a women-led sports company, we want to help change that stat.
On top of their respective interview features, each athlete will be taking over our Instagram story () on the day their interview is released. So be sure to toss us a follow to get behind the scenes footage of the day-to-day lives of these amazing athletes.
On Monday we kicked things off with . You can read her interview . Next up? . In 2017, at the age of 26, Liz became the youngest Canadian to ever climb the infamous seven summits. Liz has summited Everest, Aconcagua, Denali, Kilimanjaro, Vinson, Elbrus and Kosciuszko. Alright, let's get into it with Liz.
Photo courtesy of Liz Rose's Instagram @lizrose5
Ellen at The GIST (TG): What inspired you to get into mountaineering & climbing the seven summits?
Liz Rose (LR): At about 23 years old, I was at a crossroads in my life. I was looking for a job, finding the job hunt incredibly draining, and I didn't get my dream job right away. So, instead of googling job opportunities, I started googling adventures. I felt the need to accomplish something. With that search, I came across Killamanjaro. I saw that Killamanjaro only takes a week to climb and then I would be able to get back to the job hunt with new motivation.
So I talked to my Dad, and got him excited for a fun father-daughter trip. We prepared for about three weeks (Editor's Note: Kilimanjaro is 5,900 m in elevation so this is no easy feat) and went. It was a great new experience and I absolutely LOVED it. After that I was hooked.
TG: Climbing for days and facing the elements is obviously a very grueling physical task, but we also imagine it could be fairly mentally grueling as well. How do you keep your mental game strong throughout the hikes?
LR: The mental factor is a huge part of climbing. Some of the expeditions are really long - for example Everest takes two months so remaining mentally tough for two months is incredibly hard. To continue to stay motivated, my family and friends wrote me letters and I brought the bag of letters with me. The letters would say things like "open when you're crying" or "open when you need a pick me up", things like that (Editor's Note: we're not crying you're crying). When I was feeling defeated I would open a letter. I'm lucky to have a really strong support system.
Before some trips, I would go to a sports psychologist to get some strategies on how to stay mentally tough. Really it all comes down to believing in yourself and staying as positive as possible. You really have to focus on staying present, staying in the moment and not getting frustrated by the weather.
Photo courtesy of Liz Rose's Instagram @lizrose5
TG: Mountaineering/climbing is a non-traditional sport. What do you say to naysayers that don't classify it as as a "sport"? And, how would you suggest people that aren't lucky enough to live close to mountains train or get into the sport.
LR: To start, to those naysayers, climbing is DEFINITELY sport. Sport is such a broad thing these days. It might not be a "traditional sport" but it's still super demanding both physically and mentally.
Next, if you don't live in an area that is as accessible to get into a sport like this, but you're interested, most places you can find somewhere to at least be in nature. Just get outside and get a taste of what it would be like to be in the climbing world. It's worth starting with a local hill just to try it out. Everyone has to start somewhere.
TG: What's next now that you've conquered the seven summits?
LR: Well I'm actually currently training for a climb I'm going to be doing this summer. I can't say what mountain I'll be climbing yet, but definitely stay tuned. I'm really looking forward to gearing up for this big adventure.
I also recently finished writing a book and am currently promoting it. It's called and is all about my journey climbing the Seven Summits. Writing a book has been a summit in itself but I am so excited to finally share my story!
TG: Mountaineering is an incredibly expensive sport with equipment, travel, food, etc. How did you manage when you first got started?
LR: Well, the thing about mountaineering is that it's expensive in terms of both money and time. What I'm really lucky for is a great support system. I worked hard in between the climbs. For example, when I first got started, I worked on a cruise ship for six months and then took two months off. Later, I started working with Arc'teryx which was great as they understand my lifestyle with climbing. And most recently I've been working on my book.
TG: Alright Liz. Now it's time for some fun rapid-fire questions.
What's something that you can't live without? Family
What's your go-to work out? Spin class
Who's Your Favourite Athlete? Jimmy Chin. He's a super bad @$$ mountaineer, skiier, photographer and film director (Editor's Note: .)
Oprah or Ellen?: Oprah
Peanut Butter or Jam? Jam
What was favourite climb?: Everest
Words/mantra you live by: Dream Big!
Photo courtesy of Liz Rose's Instagram @lizrose5
That's #thegistofit
Don't get The GIST's free twice-weekly newsletter yet? Let's .