We rebranded!
Hey!
If you're reading this, it's too late you might have noticed things are looking different around here: we've had (another) makeover. Exciting, no?
Our revamp just kicked off, and, as part of our brand overhaul, you'll be seeing new logos, colors, designs and layouts across The GIST's platforms.
The GIST began as a local, Toronto-based newsletter that co-founders Jacie deHoop, Ellen Hyslop and Roslyn McLarty started off the side of their desks in 2017. Since sending our first newsletter to a list of 75 friends and family, The GIST has grown into a digital media brand with over 500K newsletter subscribers and a team of 30 women and non-binary folks. Pinch us.
And while to level the playing field in the sports industry remains the same, The GIST has evolved drastically over the years, and now it's time to upgrade our look, too!
We worked with kickass women- and BIPOC-owned agency on our rebrand. With their help, we're saying "don't let the door hit you" to our pastels and millennial pink, and transitioning to bolder, energetic, vivacious colors and brand aesthetics to better reflect The GIST's playful and witty personality.
"With the new rebrand, we wanted to create an energetic, fresh, and playful identity that invites everyone to enjoy sports. Taking inspiration from vintage ephemera and breathing new life into it, we came up with a system that is anything but traditional – just like The Gist," say Mindy Nguyen and Sarah Campbell from ilovecreatives.
Check out our new look in our and newsletters and across our and social media pages. And keep an eye on our website to see how it evolves this fall.
Our brand overhaul, and audience growth would not have been possible without the genuine love, support and feedback from our GISTers. Thank you so much for being here and changing the sports industry with us.
One more thing!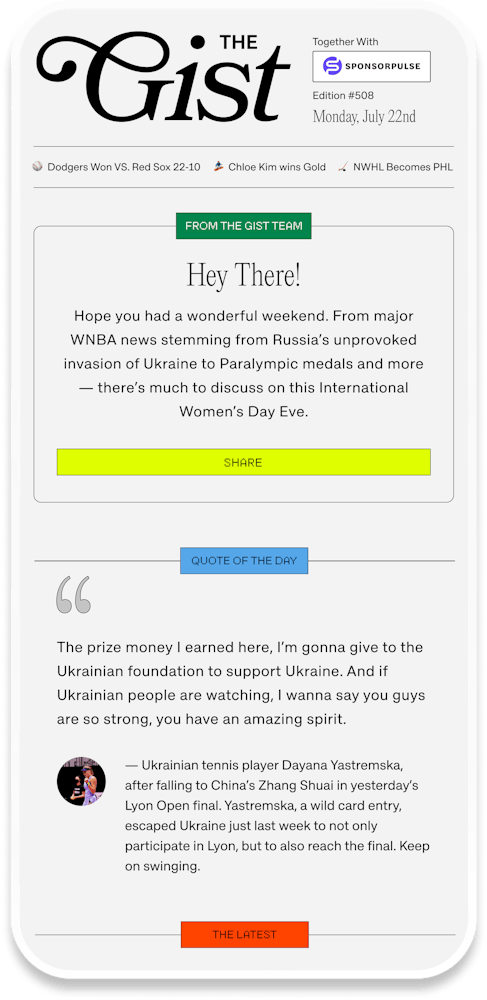 You're a GISTer!
BTW! We just sent you an email. If you don't see it, it might be hiding in your spam, junk or promotions folder. Feel free to add us to your address book to ensure our newsletter finds you every single time.