Women's Equality Day
Presented with
Did you know?
Girls are twice as likely to drop out of sports by age 14 than boys? And, though women make up 54% of college varsity sports teams, male athletes receive over $130 million more in scholarship funding? Our friends at SportsHi are committed to changing that.
To celebrate Women's Equality Day, SportsHi is providing $35,000 in scholarships to underserved female students, including scholarships sponsored by Catapult Sports, Anna Shumate, 1-800-Flowers, Elizabeth Williams and yours truly, The GIST! SportsHi's social network aims to connect high school athletes with college recruiters and scholarship opportunities.
In honor of the Women's Equality Day, we're looking at why we celebrate on August 26th, discussing the role of sports in achieving women's suffrage, and highlighting female athletes who continue to push for equality every day.
"Our goal for this campaign is to draw more attention to this problem and present a high-impact solution. We hope our celebration of Women's Equality Day can stimulate change in the sports industry, encouraging inclusivity and equality between male and female athletics. This initiative is just one stepping stone to ensuring that all athletes, regardless of gender, are receiving the respect and compensation they deserve."
—Alexander Miles, Founder & CEO of SportsHi
Why We Celebrate
Celebrated annually on August 26th in the U.S., Women's Equality Day commemorates the adoption of the 19th Amendment to the U.S. Constitution. After a long-fought battle, the 19th Amendment was ratified in 1920, finally granting women (well, white women) the right to vote. And sports played a surprisingly significant role in the amendment's adoption.
In Canada, women from Manitoba, Saskatchewan and Alberta were granted suffrage in 1916 (albeit restricted to women of British descent only), but it took until 1940 for Quebec, the final province, to pass women's suffrage. About time.
Sports and suffrage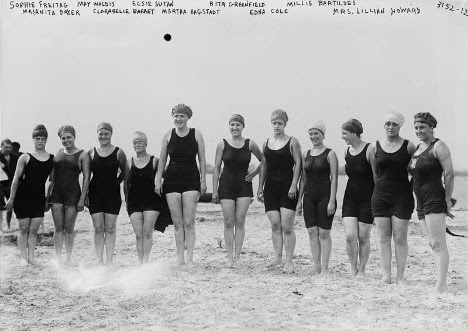 From "swimming suffragists" to circus activists, female athletes of the late 19th and early 20th centuries fought for voting rights by gaining access to the field of politics and play.
Swimming: In response to customs (and even laws!) restricting what they could wear and how they could compete, female swimmers began forming their own leagues in the 1910s, among them the National Women's Life-Saving League and the Women's Swimming Association.
These leagues created competitive races for women and allowed them to wear suits that didn't inhibit their performance.
But their advocacy went beyond just swimming. In 1917, the Life-Saving League hosted a "suffrage rescue race" in which they saved an anti-suffragist dummy from drowning: symbolic of rescuing her from political voicelessness. That's how you make a splash.
Hiking: Suffrage hikes — held from 1912 to 1914 — also helped draw attention to the cause. The hikes involved walking long distances over several days, with the first hike in the U.S. featuring approximately 200 marchers walking 170 miles from the Bronx to Albany over 12, bitterly cold, New York days.
Cycling: The popularization of the bicycle in the 1890s empowered women to move freely in an unprecedented way. Well-known suffragist Susan. B Anthony wrote of bicycling: "I think it has done more to emancipate women than anything else in the world. It gives women a feeling of freedom and self-reliance."
Increased travel by bike also resulted in women opting for shorter hemlines and pants instead of complicated, restrictive dresses. This change in dress (and mindset) paved the way for women to speed away from previous limitations.
Baseball: In the early 1900s, suffragists rallied support in the male-dominated sport of baseball by hosting "suffrage days." They sold thousands of tickets and decorated ballparks with yellow streamers and pennants, ultimately gaining the public support of many players and sports writers as a result. Now that's a home run.
Warnock the Vote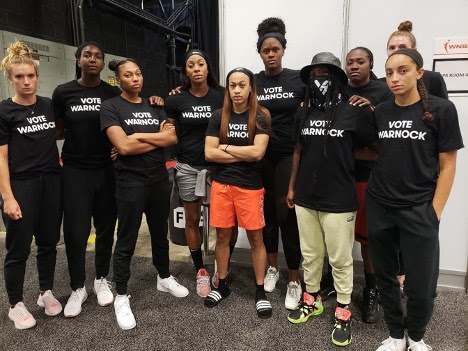 The connection between sports and voting endures today, most recently seen in the WNBA's organizing efforts during last year's U.S. elections. After then-Atlanta Dream co-owner and Georgia Senator Kelly Loeffler denounced the Black Lives Matter movement, the women of the WNBA got to work.
Rather than engaging in a public back-and-forth, players quietly consulted political leader Stacey Abrams and engaged in conversation with then-Georgia Senate candidate Rev. Raphael Warnock, vetting him on his ideas and policies.
With players aligned, the WNBA made their statement. In August 2020, ahead of a game between the Dream and the Phoenix Mercury, players from both teams wore "Vote Warnock" shirts, and players across the league followed suit.
The rest is history. Warnock (who was polling in the single digits prior to the WNBA players' endorsement) quickly rose in the polls, donations surged and the players continued their activism: supporting voter registration efforts and turning stadiums into polling places.
After forcing a runoff election with Loeffler, Warnock was elected in January 2021, helping flip the U.S. Senate to Democratic control and giving Georgia their first Black Senator. And the data shows he couldn't have done it without the W.
The fight continues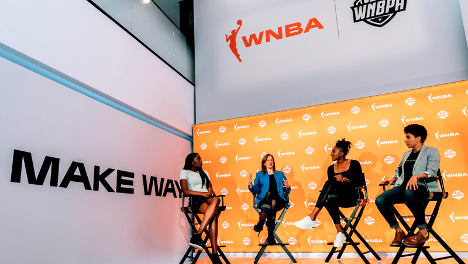 While Women's Equality Day commemorates women's suffrage, it's hard not to think of equal pay (or a lack thereof) when seeing that combination of words. It's a battle that female athletes continue to wage, making their voices heard and working to ensure front offices put their money where their mouth is.
WNBA: In January 2020, WNBA players signed a historic Collective Bargaining Agreement (CBA) which raised the average cash compensation and saw the introduction of childcare, maternity and family planning benefits, among other landmark achievements. We've said it before and we'll say it again (and again and again): what would we do without the WNBA?
USWNT: While choruses of equal pay ring out at their matches, the USWNT remains embroiled in a legal dispute with the U.S. Soccer Federation. But the women of the USWNT are no strangers to speaking out, and they filed an appeal last month after a judge dismissed their equal pay lawsuit last year. Constantly raising the (cross)bar.
NWSL: As the league approaches its 10-year anniversary season in 2022, negotiations over the NWSL's first-ever CBA officially began earlier this year. The agreement is expected to include terms on player compensation, benefits, travel and more.
With the NWSL Players Association leading the charge, we're looking forward to celebrating another progressive CBA win in women's sports. Cha-ching
What Can I Do?
Know any high school or college female students? Get them on SportsHi provides a free network for students to connect with college, scholarship and career resources, and is committed to expanding opportunities for all students. In honor of Women's Equality day, SportsHi is giving away $35,000 in scholarships to underserved female students, including a scholarship sponsored by The GIST! To check them out, download the app today.