Podcast Episode 39: Sexism and COVID-19, on the rocks
October 15, 2020
Following the LA Lakers NBA Finals win, this week co-hosts Ellen and Steph talk about the double-standards female athletes (like GOAT Sue Bird) face in sports. They also give "the gist" of everything you need to know about how COVID-19 continues to impact the MLB and the NFL, and why the Hockey Diversity Alliance is separating from the NHL. Interesting stuff. Tune in, won't you?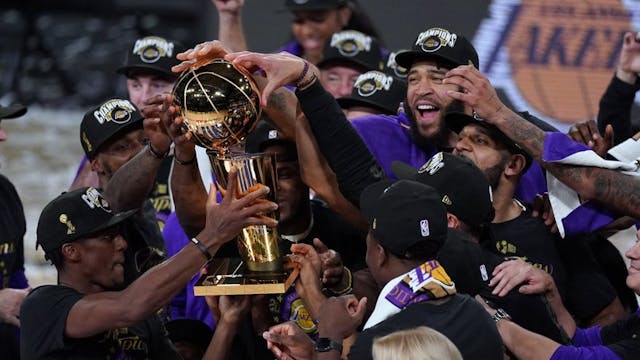 AP Photo/Mark J. Terrill
Listen to this episode of The GIST of IT here.
Ellen: What is up GISTers? Welcome to The GIST of It, I'm Ellen Hyslop.
Steph: And I'm Steph Rotz,
Ellen: And we're just two old pals and we're two gals and we're here to give you the gist of what's going on in the sports world. Let's get to it. Steph, how are you doing today? I'm feeling decently refreshed coming off of a long weekend here in Canada. How are you doing?
Steph: I desperately need to wash my hair and I feel like that sums up that I'm feeling a little tired, you know what I mean? Feeling a little tired, looking a little tired. But I'm happy that you feel rested. So I'm glad that perhaps you got outside.
Ellen: I got outside for a very quick run today. And I must tell you, I have not gone for a run in approximately six months. And for whatever reason today was the time to go out for a run. I've been cycling a lot and I've been playing soccer and been doing other workouts, but I just don't really enjoy running that much. But for whatever reason, today I put on Freakonomics actually, and I went for a run and I am so out of shape Steph. It's actually ridiculous the amount of times that I need to pause and catch a breath. I was like, what's going on with me? But it was actually good because now I feel like I just had to go over the hump and actually get up and run. And then maybe now I'll feel comfortable and doing it more and at least have some sort of time frame or distance in my mind or something like that.
Steph: I totally understand. I went out for a run this weekend too, and I haven't done it in a really long time. So we're synchronized this season, Ellen.
Ellen: It was also super fun to watch the L.A. Lakers beat the Miami Heat in Game six of the NBA Finals to win their seventeenth NBA championship in franchise history is pretty cool.
Steph: I was rooting for the Heat. I'm not going to lie to you, Ellen. So that Game five image of Jimmy Butler leaned over the sidelines, just exhausted. It has been haunting my brain a little bit. I'm obviously happy for the Lakers. LeBron is a legend. Anthony Davis had quite the series, so it was fun basketball. But I am a little sad that it didn't go to the full seven games.
Ellen: Yeah, I wish I went to the full seven. And I also wish, to be honest, that game six wasn't so embarrassing. It got to the point where the point spread was just so much forty points, thirty five points what have you, where when you were watching it, what's the point? Time to turn it off now? Obviously I didn't turn it off, but that was my rationale. Why do I need to watch this? I don't know. So it was too bad when you see a blowout like that, as much as it was in game six, was a good series, but it was too bad to see that blowout.
Steph: I'm sure there are some people who did turn it off, Ellen, if you did not, there are definitely people out there who did.
Ellen: Definitely. And, you know, it was kind of too bad to see Steph? OK, I shouldn't say it was too bad to see. But as I was watching all of these Lakers players celebrate on the court right after they had won, a few hours after they had won, when they were in their press conferences after the game, I kept on thinking that the way that they were celebrating would just not fly if this had been the WNBA and the Seattle storm. I was looking at all those guys just wipe off their shirt, take off their shirt. All of those guys are publicly smoking cigars and publicly indoors smoking cigars, publicly a little bit drunk and just kind of saying whatever they wanted. And to me, there is nothing wrong with that. I'm so glad that they partied. They truly deserve to party. But I just couldn't help but think, what if that was Sue Bird in the Seattle storm doing that? Would people be OK with it?
Steph: When you're attuned to these kinds of things, you can't unsee it, you know what I mean? And I have this same exact thing. There's a video of LeBron smoking a cigar during a press conference. And my mind immediately goes there too, Ellen. Imagine if this was a woman. I wonder what the comments would be saying. And we may not have seen attacks or people coming after the Seattle Storm for the way that they celebrated or anything like that. So not necessarily going too far here in a comparison. But we have seen in past people apply different rules and standards to women who celebrate. One of my ultimate favs and someone who I possibly could not stan more, Megan Rapinoe. To me, she celebrates like a man and I freaking love it. And people are so critical of her for that, too.
Ellen: Yeah. She got a lot of criticism at the FIFA Women's World Cup last summer for the way that she was celebrating, but also the way that the team was celebrating after their massive win against Thailand and also after the World Cup and seeing how they were partying. And I think that's probably part of the reason why we were like, wait a minute, could SUe Bird just be up there and a sports bra could Sue Bird just be up there smoking a cigar could Sue Bird be ok not being her eloquent, super polished self, who says all the right things in front of a bunch of folks in the media. Would that be OK to the rest of society if Sue Bird was like that? I don't know. I just had a lot of questions.
Steph: Oh my God. So, so many questions. And it's all very recent in our memory. Right like this, we're not talking about things that happened like five years ago, 10 years ago, so there's a lot to think about whenever you're comparing in your brain men celebrating and women celebrating. And, you know, Ellen it's something that we can't escape as well. That's always top of mind for me. Whenever we're thinking about the NBA bubble being over, you know, celebrating a trophy that is just so contextually different for them. The season was definitely bigger than basketball, too, outside of that double standard, too, that they did some really great work on the court, off the court. And we are still in the middle of a pandemic. And since it hit here in North America back in March, the NBA, NHL and WNBA held their seasons or playoffs in these bubbles that we've been talking about, however, the MLB and the NFL decided to go a different route for their seasons. So today, let's take a step back and give a recap of where the MLB and the NFL are when it comes to covid-19.
Ellen: All right, Steph, So, as always, let's start by giving some context to our conversation of everything that we're going to be talking about from the covid-19 perspective with the NFL and the MLB. So let's look at some covid-19 numbers as of today. Globally, there's been 37.8 Million cases with 1.08 Million deaths. And as of October 9th, there were over 350,000 new cases across the world. Now, looking at the U.S., because that's where we're mostly going to be focusing on today with the MLB and NFL games hosted in the states, the US has had 7.83 Million cases and 215,000 deaths. There were over 44,000 new cases on October 11th. So while the U.S. seems to still be riding this very bad first wave, a lot of other countries, including us here in Canada, have really begun their second wave.
Steph: And knee deep here in the second wave in Canada. And on a recent SNL Weekend Update, Ellen, they pleaded with NBA Commissioner Adam Silver to slowly expand the NBA bubble to encapsulate the whole country as opposed to stopping it after the end of the playoffs. And while I'm a Torontonian and entering the second wave here and I'm not an American, I truly felt that I was like, oh, can we please?
Ellen: That is actually a really great idea. Can you make that happen?
Steph: Please make it happen.
Ellen: So outside of this really sad second wave, let's switch gears over to providing some context on the baseball and the football side of things. Let's start with MLB first, because they started their season back in July and are almost through all of the playoffs. It's actually crazy to think that they're almost through their entire season. So as we've mentioned before, the MLB 60 game regular season had a regionalized and also limited travel schedule. There was no bubble and they were still traveling. Throughout the season, eighty five players and personnel tested positive for covid-19. It seemed like it was very front end loaded. And then baseball started to figure out things a little bit more in the back end. And now that the MLB is onto the third round of its playoffs, they're in the championship series. And, you know, the championship series is basically the same thing as the conference finals. But because the MLB is split into two leagues, the National League and the American League, it's called the Championship Series. So the NLCS for the National League side of things and then the ALCS for the American League side of things. In the second round of the playoffs, the MLB decided to go to what they call neutral sites or bubbles. So the teams from the division series onwards were played in either California or in Texas. So the NL was in Texas and the AL was in California and the World Series is going to be played in Texas. The good news throughout the playoffs, no players or personnel have tested positive for covid-19, which is just amazing and great to see. But the news that makes me really nervous Steph, is that for every game of the NLCS between the Atlanta Braves and the L.A. Dodgers, which is being hosted at Globe Life Field in Texas, ten thousand and seven hundred fans will be allowed in attendance.
Steph: Oh, yeah, according to ESPN, when the MLB was deciding on where to host these neutral sites, they decided on Texas as one of the sites because they would permit fans in the stadiums.
Ellen: As a great, great thing to have in your decision matrix. That's ridiculous.
Steph: They've had this in the works. They've been scheming. And this makes me super nervous. It's the first time all season that fans aren't just going to be cardboard cutouts of fans. And apparently the MLB is using this NLCS and the World Series as a trial run for the 2021 series and what the attendance policy might look like for the MLB season next year. So, again, they're scheming for sure. And our friends at Axios Sports have reported that there are, fortunately, safety guidelines and guidelines, including social distancing. Tickets are being sold in pods of four and those pods are separated by six feet. So the intention is you're buying it with three other people that you know and everyone over the age of two must wear a mask except when eating or drinking. Sinks are set up throughout the concourse to encourage people to wash their hands constantly and to reduce contact between fans and staff, bags are not allowed and they're going to forgo temperature checks in order to increase distance from staff and from fans.
Ellen: Yeah, I'm not really feeling the best about this. I'm not getting all the good juju from this on. On the one hand, I totally understand how we need to be flexible, how we need to try new things, how we have to think about things in a way that will be good for our economy. And I can also understand that players, after a super long season, are probably looking for some fans in the stands to give them the energy that they need in order to play those nine innings. But at the same time, we're now at the NLCS, we're in the semifinals, and then we have the World Series. And I'm like, what's the point? You've gone this far. You've basically gone the entire season without fans. Why now? Also, to your point, they just chose two specific teams in the NLCS. They didn't even look at the ALCS at all. And so from a fairness perspective, could you look at the Houston Astros or at the Tampa Bay Rays in the ALCS and be like, oh, maybe if fans were there, Tampa Bay would definitely win playing in California because everyone would be booing the Houston Astros for all of their sign stealing scandals. So I just don't get it.
Steph: It definitely doesn't seem fair. There's definitely an experiment that's being played on both the players as well as the fans in the stadiums. And that is probably why I also feel a little bit icky because of that unfair factor in addition to so many other things, at least compared to other leagues, the MLB, I mean other leagues who have fans in their stadiums or fans at their games. The MLB does seem to be trying to regulate distancing, masks and the resale of these pods of four. So they do seem to have quite a few rules in place. But with that said, the sports experience that we're all used to includes shouting, it includes constantly eating, it includes constantly drinking, singing. There's so much about the way that we're used to and want to enjoy a sports game that is going to encourage this virus to spread when you're at the stadium. Also, among all of that hoopla, too, like getting to the game isn't going to change. Like people are going to be traveling, people are going to probably be coming from out of state. As long as tickets are being sold to people, they're 100 percent going to have to resell them or want to resell them or potentially split their four person pod because they don't have two other people to go with or whatever it is. And there's just so many factors in here that could just spread the virus outside of the stadium and outside of the state. And the state of Texas is currently not doing so well, too. So there's a lot of factors here that make my stomach a little bit nervous when we think about this. Yeah, and the players may be getting tested currently and staff, but do fans have the same fair and equitable access to testing? That's something that also sticks into the back of my mind here.
Ellen: Yeah, no, totally. That's a really good thing to bring up. And, obviously, too, it's hard to blame people when they're at a stadium and trying to enjoy themselves and trying to enjoy the game if they don't have their bloody mask on for four hours, that's so hard to do that for the full four hours. So don't push people into a bad environment. But that's exactly what the MLB is doing in this situation.
Steph: They have implemented and ironically, a three strikes and you're out policy with wearing your mask. So if you're caught three times, not wearing your mask, if you're not eating or drinking, you're going to be kicked out of the stadium. And there's a lot of signage that's going to be posted to alert people to this. You've seen photos of people in the stands and they're not wearing their masks properly or they're not wearing them at all, or they're really like nursing whatever they're eating or drinking to avoid putting their mask back on. There's a lot going on with these rules. It seems very, very risky. And from a psychological perspective to Ellen, seeing fans at these games totally sends the wrong message to the rest of the country and the world who's enjoying the MLB. Visually it tells people that the pandemic is over now and it's time to go back to regular scheduled programming. We're putting so much responsibility on individuals and giving people so many opportunities to spread the virus and then in like a pre sanctioned pre-approved space and then wondering why the virus is getting worse.
Ellen: Yeah, it's very short sighted by the MLB. That's all I have to say. OK, so now that we've chatted about the MLB, let's get into the mess that is the NFL. So for some background on the NFL, generally the regular season is 17 weeks and each team plays 16 games within those 17 weeks. Because of the limited amount of games per week, the NFL decided to not have a bubble or neutral sites or regionalized travel schedule and just keep everything as is with respect to the schedule. And while they definitely set up protocols for covid-19 with players and staff and referees, you name it, they also allowed each stadium to figure things out for themselves. So there are some stadiums that will allow fans in attendance and upwards of thirteen thousand fans, while some stadiums just won't.
Steph: Keeping in mind that we're just through week five now in the NFL, the numbers are pretty staggering so far. Ninety nine players and personnel have tested positive for covid-19 with the majority of those cases coming from the Tennessee Titans. The Titans were the first team to experience a covid-19 outbreak and their number of positive tests between players and staff is twenty four. The most notable player to contract covid-19 so far this season was New England Patriots QB Cam Newton. And as a result of all of these tests, players and personnel are immediately isolated and must be quarantined at home. If they are asymptomatic, they are quarantined for 10 days since the initial positive test or quarantined for five days and receive two consecutive negative tests that are twenty four hours apart. From a league perspective, when a player or staff is found to have covid-19 most of the time the games are postponed, rescheduled and then rescheduled again.
Ellen: Yeah, and that's really the issue. It doesn't seem like the NFL has a "OK, this is what happens when a player or staff gets covid and boom. This is exactly how we know to fix it. This is exactly what's going to happen with the game. This is what's going on." They have really just shown no leadership. And in my humble opinion, they are completely mishandling these positive cases, for example, rather than implementing a bubble or a comprehensive response and appropriate isolation period like is five days is ten days still appropriate? Who knows? The NFL instead announced new penalties for all coaches who fail to wear masks when approaching officials. Again, this is great. Coaches should be wearing masks. And Bill Belichick, New England Patriots coach, should be wearing his mask properly. They're also penalizing players and personnel as opposed to looking at the higher level and getting less individualistic and putting the onus back on themselves. They haven't addressed the need for a bubble or for a higher level solution. And, you know, they've just created an environment where community spread is bound to happen.
Steph: You're frustrated and frustrated, and we're obviously not the only ones frustrated about this. Players are also not pleased with how this is being handled. New England Patriot Jason McCourty was critical of NFL leadership, saying, quote, for them, meaning the NFL and the NFLPA or the players association, it's not about our best interests or our health and safety. It's about how we can go out there and play games, end quote.
Ellen: It kind of gets into this question of profit over people or profit over the players. And similar to the MLB, I just think that this is so shortsighted from the NFL. Not only do we not know what's going to happen in 2021 with sports, they could end up in a bubble and having no fans in the stands again for the majority of these leagues. But we also don't know enough about covid-19 from a long term perspective. How could this impact a player, for example, like Cam Newton? Is it just going to be five to 14 days or could it be three months? Four months? We've heard of these horrible cases with healthy people coming down with covid and then not being able to leave their couch. Why are they risking this happening with some of the players that are bringing in all of their money?
Steph: Mm hmm. And with all of these cases, players frustration, schedule reworkings, I truly don't understand why they can't take a step back and self reflect and say, OK, here are two neutral sites. For example, play it similar to the NHL or to the MLB, who, of course, corrected at least and changed their strategy for the playoffs. It's not too late, guys.
Ellen: Yeah, no, I definitely love how you brought on that self reflection there, because it's almost an ego check. Check your ego for a minute. You didn't set this up the right way. Learn from what the MLB has done and take a minute to be like, shit, we messed up here, but we're going to act quickly and we're going to fix it. And I truly do believe not that I'm some operations guru, but I would think that we're heading into week six now. I would think that by week eleven or twelve, they should be able to find even two or three neutral sites.
Steph: Here's hoping that's a good point. There's always, always more than sports, Ellen. Ego check might be a little bit hard with all of these issues. I just hope that the leagues recognize that the help of these players and of the fans and of everyone involved in this league is at risk at this point. And that's on them.
Ellen: To close out our podcast, as always, we're going to feature a WTF moment slash story, submitted by you. And this week's submission comes from Lauren in Seattle. We have another Seattle gal sending us a WTF moment.
Steph: This week's WTF moment from our Seattle gal is going to be a positive exclamation. The abbreviation for her submission could possibly be like a well, that's fantastic. After we go through that positive exclamation, I'm going to bring us back to a true WTF moment from the Hockey Diversity Alliance. But let's first we've had some negative covid-19 talk. So let's first get into the positive one. On Sunday during the Seattle Seahawks postgame conference, quarterback Russell Wilson was asked about his ninety four yard game winning drive. In his response, he said he felt like Sue Bird in the clutch. I love that. And on top of this fabulous quote, he was wearing Sue Bird's Seattle Storm jersey as his pregame and postgame fit. And he also had the jersey on backwards so you could see her name and number, even though he had a jacket on top of the jersey itself. And that's dedication. That's innovation. I love seeing major stars like Russ supporting the WNBA.
Ellen: Yeah, it is so cool to see the WNBA get so much support from pro leagues around the world, from other women's leagues, from other men's leagues. It just seems like people are like hell yeah. And finally getting the recognition that they deserve as GOAT status, regardless of the sport, is just unreal, especially in a city like Seattle where people are like, when are we going to get the Seattle Sonics back? When is the NBA team going to come back? And I think Isaiah Thomas, who is a basketball player who has always, always, always supported the WNBA, brings his young sons to games. He tweeted back, being saying the Seattle Storm is Seattle basketball. You just love to see that.
Steph: It's so important. And Breanna Stewart, I think, also tweeted along the lines of saying Seattle does have a basketball team, look us up. So I love that energy. And speaking of energy.
Ellen: I know that you have some pent up energy that we need to discuss right now about hockey. As you're wearing your change hockey culture sweater. So you mean business whenever you bring this up.
Steph: I am wearing my change hockey sweater, which is from the Hockey Diversity Alliance. So this past week on October 7th, they put out a press release and the press release is entitled HD to operate independent of the NHL, which is huge. So part of that press release says, I just need to take a breath. We have waited for many months for a response to the common sense HDA pledge we propose. And it is clear that the NHL is not prepared to make any measurable commitments to end systemic racism in hockey. And so they're withdrawing their support or their integration with the NHL and they're going fully independent because the NHL is just not willing to step up.
Ellen: I don't even know what to say to that, it's just completely disappointing. I wish that it was more surprising, but at the same time, I am kind of surprised because I thought, OK, finally, I truly thought this is an organization that can help the NHL period. It's just really sad.
Steph: And the thing with hockey is it's only up from here. Like hockey has so many problems and so rampant with systemic racism. TO start something, you have so much room for improvement, which is kind of a backhanded compliment in this instance. So it's really disappointing to see the inaction. But I think that the HDA (Hockey Diversity Alliance) is doing the right thing here by calling them out and being public about it. And the press release was short. It's three very tiny paragraphs. So I'm excited to see and hear more of what they're going to do with this alliance.
Ellen: Yeah, I hope it wakes the NHL up. It's definitely needed. So those are our two WTF moments of this week. As always, we want to hear your WTF moment again from the pro sports world, it could be from the amateur sports world or even just a moment that you had in your own life. So over the next week, email Steph and I at pod@thegistsports.com with your WTF moment and you may be featured on next week's podcast.
Steph: All right, folks, that was the gist of it from Ellen and I. Thanks for joining us this week. If you want to help us get the word out, rate the pod, leave a review, and tell your sports pals to subscribe to The Gist of It on Apple Podcasts, Spotify, Google Play or Stitcher.
Ellen: And once you're done giving us a five star review, you have to sign up for our free twice weekly newsletter where every Monday and Thursday morning we give you the gist of what's going on in the sports world. You could subscribe at thegistsports.com. Otherwise, as we already said. Steph and I want to hear from you. Email us at pod@thegistsports.com or DM us on Instagram @thegistnews.ca Or @thegistusa with any feedback or ideas that you might have. Again, I'm Ellen Hyslop,
Steph: And I'm Steph Rotz,
Ellen: And this has been The Gist of It. Take care of yourselves and wish Steph a happy birthday on October 16th.