⛳
🏎
🏅
🏀
Sports Quick Hits: June 21st, 2021
June 21, 2021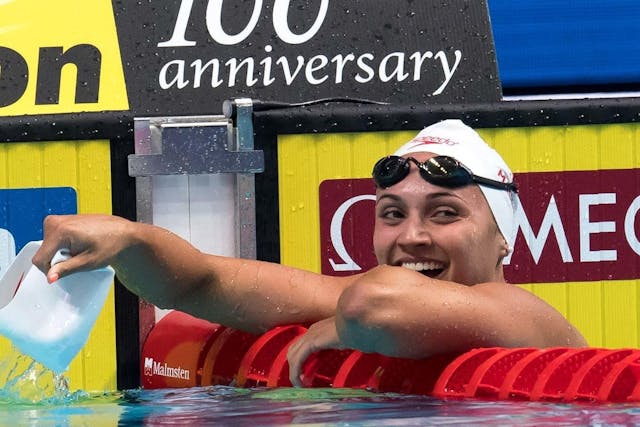 Source: Mike Lewis/Ola Vista Photography
🥇Olympics: With only a month before the first Olympic events begin, some athletes are still qualifying. The Canadian Olympic Swimming Trials began over the weekend — where current 100m backstroke world champion and mermaid, Kylie Masse, broke her own Canadian record — and .
⛳️Golf: It wasn't meant to be for Canadian and Mackenzie Hughes this weekend. He finished tied for 15th in the U.S. Open yesterday, 7 strokes behind winner, Spaniard Jon Rahm. Turns out, getting isn't great for your final score.
🏀NBA: Canada's basketball GOAT is out. Even though Kevin Durant , head coach Steve Nash and his Brooklyn Nets lost Game 7 to the Milwaukee Bucks in overtime on Saturday. The Bucks will now face the Atlanta Hawks in the Eastern Conference Finals while the Phoenix Suns lead the LA Clippers 1-0 in the west.
🏎F1: Red Bull Racing's Max Verstappen found his wings during the second-last lap of yesterday's French Grand Prix, when he passed reigning champ Lewis Hamilton and won his third race of the season. Next up is a double-header in Austria, where the W Series season is also set to start (more about that Saturday *wink wink*).
🏎
⛳
🎾
Sports Quick Hits: Monday May 24th, 2021
May 25, 2021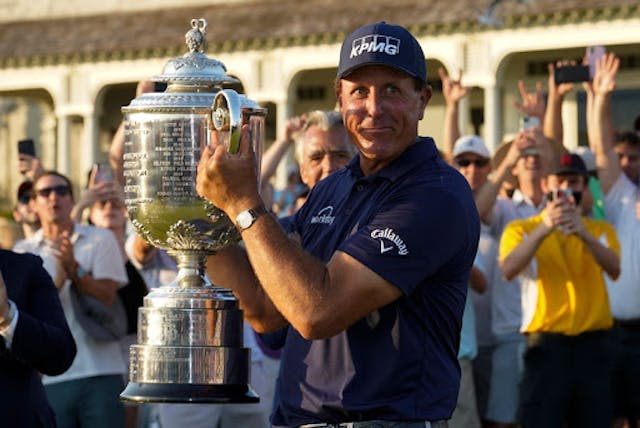 Source: Matt York/Associated Press
⛳️Golf: As we mentioned at the top, Phil Mickelson proved age is just a number yesterday with his second-career PGA Championship win. Not only is he the oldest player to win a major, he's just the fourth to win one in four separate decades. Congrats, Lefty! Now let's get you some .
🏎️F1: Red Bull's Max Verstappen won yesterday's Monaco Grand Prix to take his first-ever lead in the . Meanwhile, seven-time world champ Mercedes' Lewis Hamilton wasn't feeling it in Monaco, finishing in a disappointing seventh as he and Verstappen continue their for the title.
🎾Tennis: wasn't the only one showing out for Gen Z this weekend. On Saturday, 17-year-old Coco Gauff notched her first career singles title on clay while . Perfect timing before next week's French Open. Très bien.
What's not très bien? Fellow Gen Z Denis Shapovalov dropping out of Roland Garros (aka the French Open) with a . C'est dommage.
🏎

Monaco Grand Prix Preview

May 23, 2021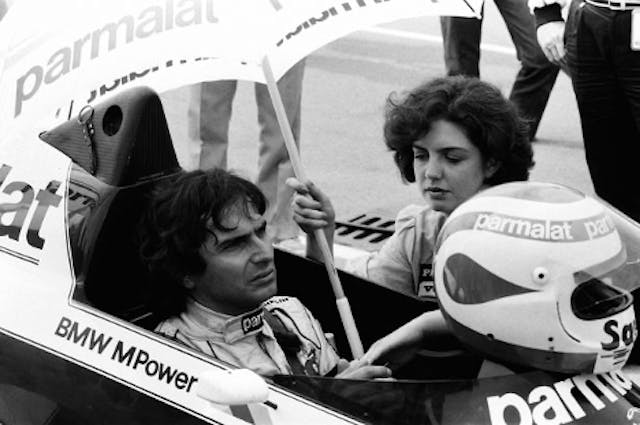 SOURCE: MIRRORPIX
QUOTE OF THE DAY
I hate Monaco. It's like riding a bicycle around your living room.
—Former Formula One (F1) driver and three-time World Champion, Nelson Piquet, on the challenges of one of the world's most difficult racing circuits. He was just mad to never have won the Monaco GP in his 14-year career.
🇲🇨 The backstory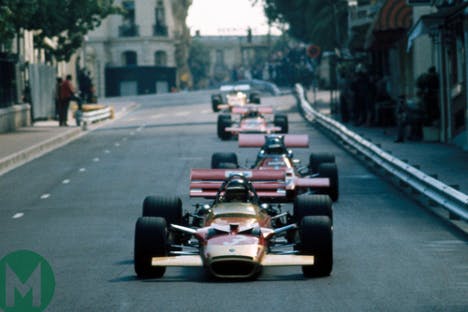 Nestled along France's Mediterranean coast, Monaco is the second-smallest country in the world (behind the Vatican) and covers less than one square-mile of land (the whole country could fit inside NYC's Central Park with room to spare). What it lacks in size, it more than makes up for in wealth and glamor.
F1's Monaco Grand Prix (GP) is one of the world's most prestigious sporting events. As one of three races that make up the unofficial Triple Crown of Motorsport — along with the Indy 500 and the 24 Hours of Le Mans — the Monaco GP actually predates F1 with the first race held in 1929. F1 was formed in 1950.
For a refresher on all things F1, check out our F1 Sunday Scroll from the beginning of the 2021 season here.
🏎 The race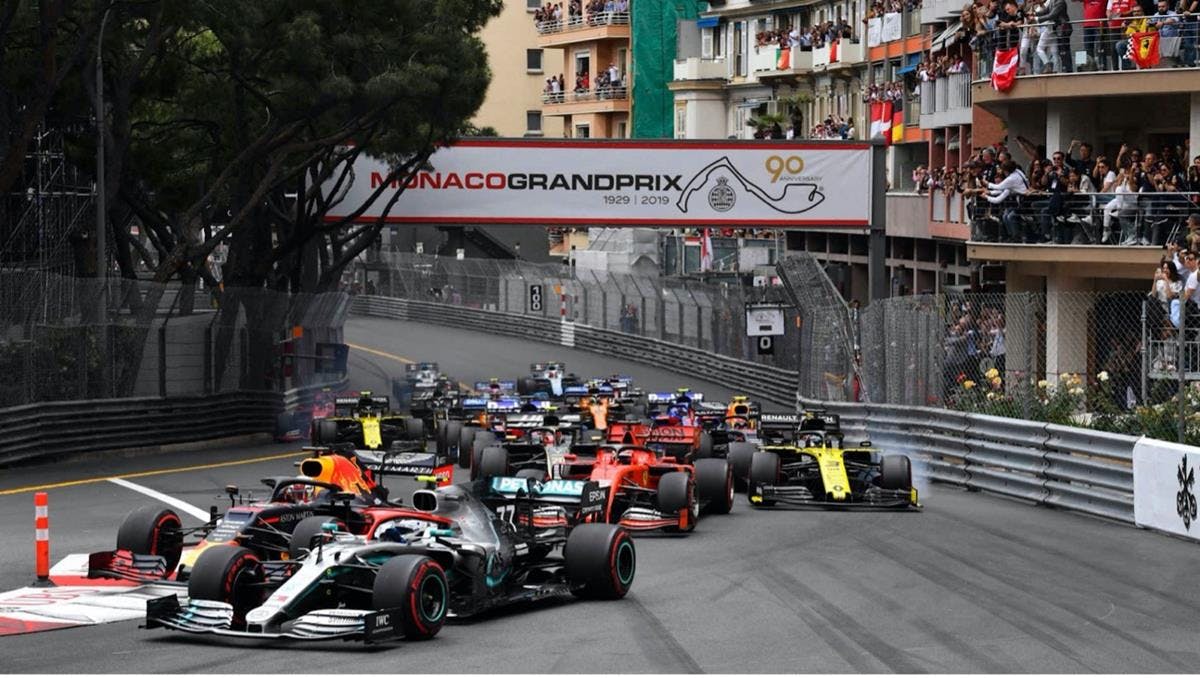 We know what you're thinking: "How can a country the size of my backyard fit an entire F1 race track?" And the answer is, it can't. Instead, the race takes place on the tight, winding roads of Monaco itself.
Before we get further into it, we should lay the cards on the table: the race itself can be incredibly boring. Because of Monaco's typically narrow European streets, there isn't a whole lot of room for passing or legitimate racing.
And the race doesn't have any special points or trophies up for grabs either. F1 drivers earn points collectively throughout the season, and winning the Monaco GP is worth just as many (25 to be exact) as any other race on the schedule.
What makes the Monaco GP so special?And what makes completing it one of the top accomplishments for any race car driver? It's the high level of technical skill needed to finish one of the most challenging circuits in all of motorsport.
F1 drivers are here for a personal challenge, a place in the history books and the ever-elusive bragging rights.
🏁 The circuit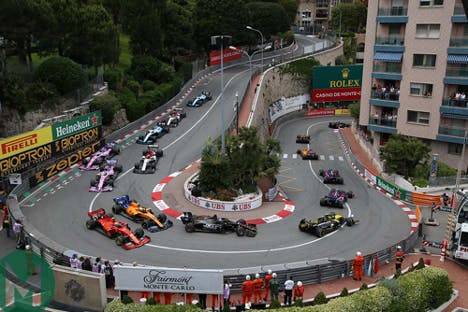 Every corner on the Monaco track has a name and a story. Here are a few of the most memorable ones:
Loews Hairpin: A tight 180° turn, also known as the Fairmont Hairpin because of its location by the hotel. It's the slowest corner in any F1 circuit, with drivers dropping to 30mph (50km/h)...but, uh, that's still fast.
Tabac: Named for a tobacco shop along the road (super original), this corner is the site of an infamous wave that covered the track and caused a multi-car pile up during the 1950 event.
Nouvelle Chicane: Formerly known as Chicane du Port, Italian driver Alberto Ascari entered this harborfront, two-corner combo a little too quickly during the 1955 Monaco GP and ended up...in the harbor.
👍 The highs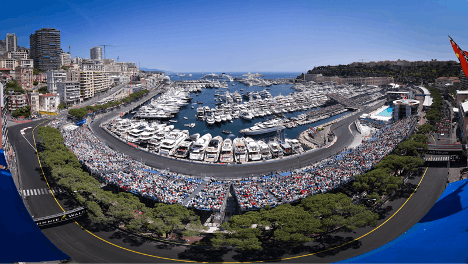 Some of F1's best moments came during the Monaco GP. One of F1's all-time greats, Graham Hill, earned the nickname "Mr. Monaco" in the 1960s after he won five Monaco GPs in seven years.
In 1982, the event was dubbed "The Race No One Wanted to Win," when the leader changed four times in the last three laps (exciting!). And the 1992 event, which saw Ayrton Senna battle Nigel Mansell right to the end, is still widely considered the best ever.
It was Senna who was able to top "Mr. Monaco's" win streak, with six wins in seven years before his tragic death during a racing accident in 1994.
👎 The lows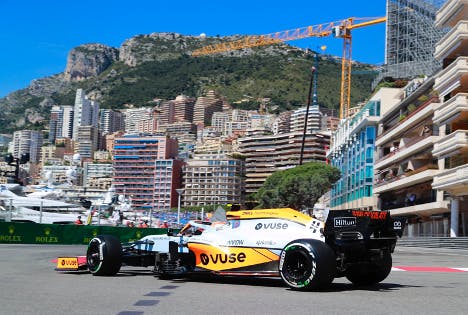 It's not always spectacularly glamorous. The Monaco GP has seen plenty of accidents and has claimed one life: Lorenzo Bandini's. He was killed after losing control of his car on the 82nd lap (of 100) in the 1967 event.
In 1966, only four cars finished the race after a string of accidents and mechanical failures, and in 1996, only three of 21 cars made it through the day's wet conditions to the finish line, marking the fewest finishers in an F1 race on record.
Alfa Romeo driver Kimi Räikkönen hit a personal low in 2006 when his car failed on his 50th lap. He made the most of it though, walking to his yacht in the marina instead of back to his team's paddock to watch the rest of the race with his friends. Power move.
🤩 The celebrities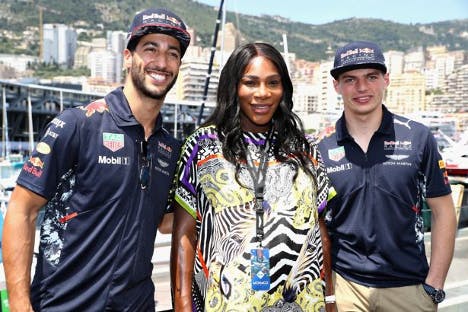 Formula One is one of those sports that non-F1 athletes, like Serena Williams, love to watch, and the Monaco GP is frequented by celebrities and royalty. Here are a few of our favorite celeb appearances over the years:
👀 How to watch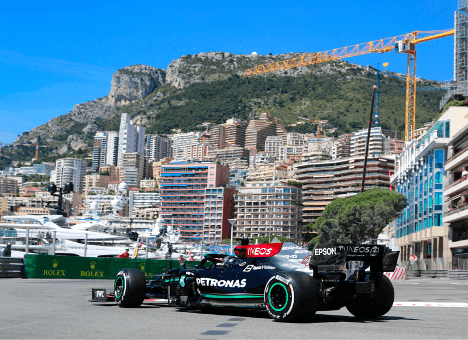 Mercedes' Lewis Hamilton will be lookingfor his fourth win of the season and 99th of his career when the Monaco GP starts today at 9 a.m. ET, but Red Bull Racing's Max Verstappen will be hot on his tail, chasing his first victory in Monaco. In case you miss it, we'll let you know who wins in tomorrow's newsletter.
⛳
🏎
🏆
Kentucky Derby winner fails drug test
May 10, 2021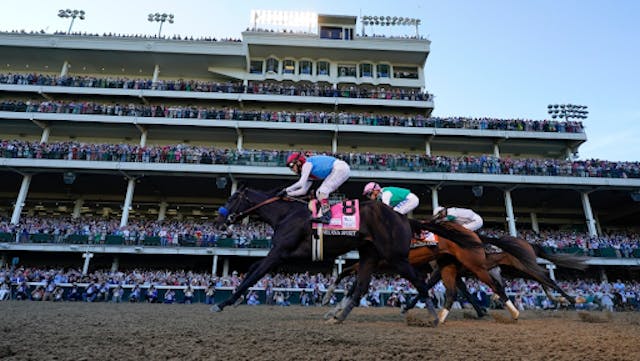 Source: Jeff Roberson/AP Photos
🏇Horse racing: Recent Kentucky Derby winner Medina Spirit failed his drug test. Yes, the horse. The American thoroughbred owned by Bob Baffert is at risk of having his title revoked, in what was Baffert's record seventh win. Baffert has been banned from Churchill Downs (the Derby's venue) while investigations continue.
This isn't the first time Baffert has been his winning horses, with at least 30 in his career. Maybe the regulators will go after him and the law can get involved about the animal abuse?
🏎 Formula One: To absolutely no one's surprise, Sir Lewis Hamilton won the Spanish Grand Prix yesterday, thanks to some sneaky strategy from his Mercedes team. F1 is on hiatus until the May 23rd Monaco Grand Prix, so while you wait, check out the latest podcast episode featuring the first-ever female F1 team principal, Monisha Kaltenborn.
🥌 Curling: Switzerland won the World Women's Curling Championship yesterday, earning a spot in next year's Olympics. Meanwhile, Team USA won the bronze and Team Canada earned an Olympic berth.
⛳️ Golf: A couple of longtime droughts ended in the golf world this weekend. Former world No. 1 Rory McIlroy yesterday, his first win since November 2019, while Ariya Jutanugarn in her home country. It marked her 11th career victory, but the first in 1,015 days (almost four years!).
⚽
🏀
🏅
🏎
The GIST's Quick Hits - CA (April 15, 2021)
April 15, 2021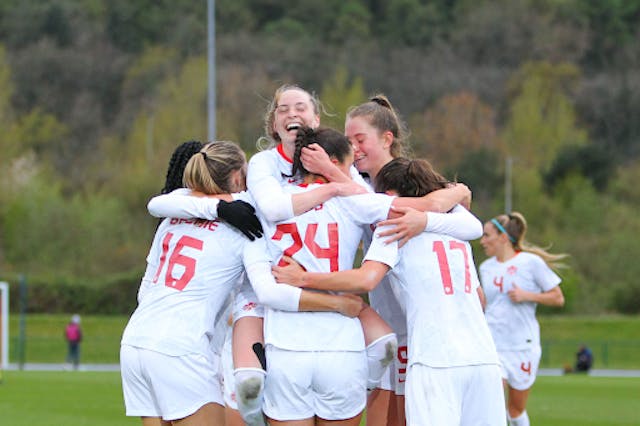 Source: CanadaSoccer/Twitter
🏀Basketball: Team Canada will be missing a big star at the Olympics this year after Denver Nugget superstar Jamal Murray on Monday. Awful. On the bright side, the Toronto Raptors beat former Rap and current San Antonio Spur DeMar DeRozan last night, so at least we've got that going for us.
⚽️Soccer: With just 99 days to the Tokyo Olympics (not like we're eagerly counting down or anything...), the CanWNT is Ready. To. Play. The world's eighth-ranked team shutout No. 6 England 2–0 on Tuesday in a friendly warm-up to the Games. July can't come soon enough.
🥇Olympics: Meanwhile, the City of Vancouver is looking ahead to the 2030 Winter Olympics (we haven't started that countdown yet!). John Furlong, the organizer behind the 2010 Olympics, will pitch for 2030 to the Vancouver Board of Trade tomorrow. Interesting.
🏎NASCAR: Watch out Ricky Bobby, Jennifer Jo Cobb is coming for you. The 47-year-old announced that she'll make at Talladega Speedway's GEICO 500 on April 25th. As long as she figures out , she'll do great.