🏈

Thanksgiving football: Buffalo Bills (6-4) vs. New Orleans Saints (5-5) — 8:20 p.m. ET

November 25, 2021

The GIST: Although New Orleans Saints QB Jameis Winston is sidelined for the season with a torn ACL, you'll still want to save room for this primetime matchup.

Bills: After a red-hot 4-1 start to the season, Buffalo has struggled of late, losing two of their last three with both losses coming to mediocre teams. Early MVP candidate QB Josh Allen will need a standout performance to squash the surfacing doubts about his squad.

Saints: Winston went down with a torn ACL then backup QB Taysom Hill suffered a concussion, ceding the starting role to third-string QB Trevor Siemian, who's 0-3 in his three starts under center. Not great.
That said, New Orleans will have an elite running game if RBs Alvin Kamara and Mark Ingram are available.
Prediction: With both squads coming off embarrassing losses in Week 11, it's hard to know which version of each team will show up tonight. But with the uncertainty surrounding the Saints' injuries, we have to go with the Bills and their top-ranked defense in this one. Just don't jump through your Thanksgiving table in celebration, Bills Mafia.
🏈

Thanksgiving football: Las Vegas Raiders (5-5) vs. Dallas Cowboys (7-3) — 4:30 p.m. ET

November 25, 2021

Cowboys: Despite boasting one of the NFL's best offenses, Dallas struggled in a disappointing loss to Kansas City last week. That said, QB Dak Prescott has otherwise looked strong all season. America's Team will certainly gobble up some big yardage today.

Raiders: Last Sunday's loss to the Cincinnati Bengals marked the third straight L for this up-and-down Las Vegas squad. But their offense — led by QB Derek Carr, who could surpass 30K career passing yards today — has kept them in games all season. He'll need to carve up a (master)piece to give the Raiders a chance today.

Prediction: The middling Las Vegas defense will stuff the Cowboys early on, but the pairing of Prescott and his best bud, running back (RB) Ezekiel Elliott, will be too much to contain. Expect Dallas to feast.
🏈

Thanksgiving football: Chicago Bears (3-7) vs. Detroit Lions (0-9-1) — 12:30 p.m. ET

November 25, 2021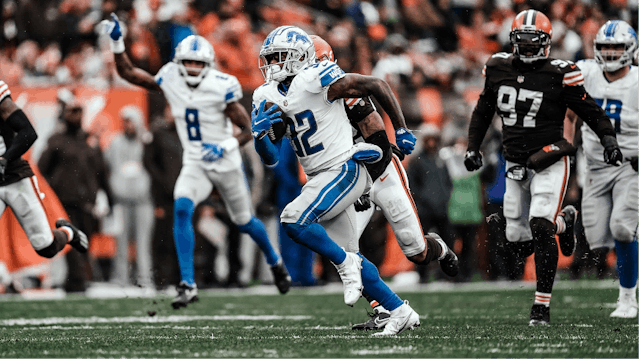 SOURCE: LIONS/TWITTER
Lions: While Detroit's Thanksgiving record is a dismal 37-42-2 (wins, losses, ties), they'll be hoping for some holiday magic today in the hunt for their first win of the year.
Much of their success will depend on the status of starting quarterback (QB) Jared Goff, who missed Sunday's game with an oblique injury that could leave him out of today's game, too.
Bears: Chicago looks like they've had a little too much turkey as of late, entering today on a five-game losing streak. QB Justin Fields suffered a rib injury last week, so veteran QB Andy Dalton is expected to start.
Also of note, this could be head coach Matt Nagy's final game at the helm, with reports swirling that he'll be fired later today. Awkward.
Prediction: Lions, Turkey and Bears...oh my — this NFC North rivalry game will probably be a rough one, but not as rough as listening to your uncle rant about his political opinions. Expect a low-scoring affair in which, we think, Detroit breaks through for their first win of the year.
🏒
⚽
Sports Quick Hits: November 24th, 2021
November 24, 2021
Presented with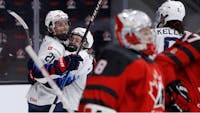 🏒Women's hockey: Thanks to yesterday's 2–0 win, Team USA is now tied with Team Canada in the Rivalry Series. Forward Hilary Knight (because who else?) opened up the scoring in the second period and fellow forward Amanda Kessel doubled the lead minutes later.
Just five more head-to-head games remain until a little thing called the Olympics.
⚽️MLS: The first round of the MLS Playoffs finished yesterday, and most notably No. 7 Real Salt Lake upset No. 2 Seattle Sounders FC in a dramatic shootout, winning 6–5 in penalty kicks. Didn't see that one coming.
Next up, conference semis kick off tomorrow at 4:30 p.m. ET with a Turkey Day battle between the Western Conference's top-seeded Colorado Rapids and No. 4 Portland Timbers. Nothing fowl about this matchup.
⚽️Soccer: The 2021 Best FIFA Football Award nominees were announced on Monday, and USWNT goalie Alyssa Naeher is holding it down as the lone U.S. candidate (women's and men's). No. 1 on the pitch, No. 1 in our hearts and No. 1 on our Best Women's Goalkeeper ballots.
🏈
🏀
⚽
College: We were on a break
November 24, 2021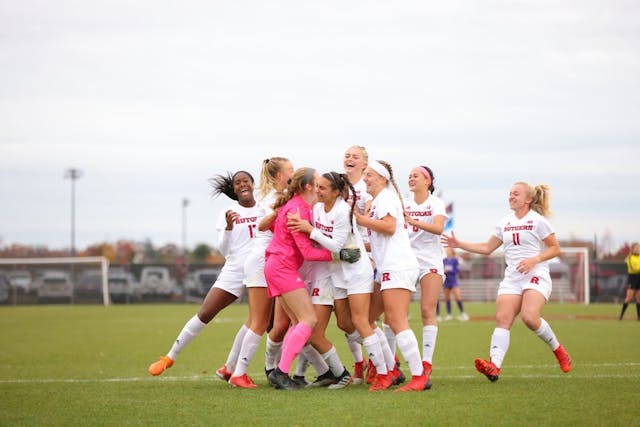 SOURCE: RUTGERS WOMEN'S SOCCER/TWITTER
⚽️Soccer: Eight teams remain in the hunt for the women's College Cup, including defending champs Santa Clara and three No. 1 seeds: Florida State, Duke and Rutgers. Quarter-final play kicks off Friday at 2 p.m. ET — the perfect way to recover from your food coma.
On the men's side, the Sweet Sixteen is set, with a double serving of quadruple header action slated for Saturday and Sunday. Here's the full bracket.
🏀Basketball: No. 1 South Carolina women's basketball defended their top ranking with a convincing 73–57 win over then-No. 2 UConn on Monday, a victory that dropped UConn down to No. 3 in yesterday's updated national poll. Undefeated Maryland seized the second spot.
And there could be some movement in the men's poll after No. 2 UCLA fell 83–63 to No.1 Gonzaga in yesterday's top-ranked showdown.
🏈Football: As expected, there was also a shakeup in yesterday's College Football Playoff (CFP) rankings. Undefeated No. 4 Cincinnati has entered the chat, becoming the first non–Power Five team to ever crack the top four of the CFP rankings. We're still not 100% sure what a Bearcat is, but we know they're celebrating.