64 NCAA Women's volleyball teams remain in the national championship hunt
November 30, 2022
Of the 340 Division I women's volleyball programs, only 64 remain in the natty hunt.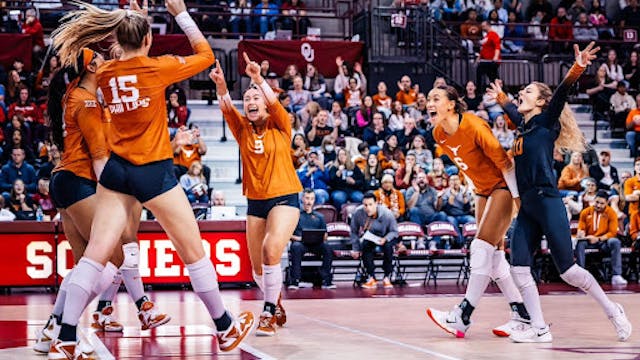 SOURCE: TWITTER/TEXASVOLLEYBALL
The GIST: Of the 340 Division I women's volleyball programs, only 64 remain in the natty hunt. With the bracket finally set and the tourney's first matches hitting courts tomorrow, here's everything you need to know about the road to Omaha, NE.
How it works: Half of the single-elimination tournament field earned seedings, and the first round will serve up only seeded vs. unseeded matchups. The pool will quickly be cut down to 16 squads after the first and second rounds — played either tomorrow and Friday or Friday and Saturday — come to a close.
The victors advance to next weekend's regionals (starting on December 8th), with the NCAA's final four teams heading to Omaha on December 15th.
The contenders: The teams most likely to see Santa stuff their stockings with confetti? The No. 1–seed Texas Longhorns and the defending champ No. 1 Wisconsin Badgers. Texas has reigned supreme nearly all year, finishing regular-season play with an impressive 22-1 record.
But the Badgers enter the tourney on an 18-game win streak and a fourth consecutive title in arguably the strongest volleyball conference in the country — the Big Ten.
The remaining No. 1 seeds? Louisville and nine-time champ dynasty Stanford, who each hope to ride some Cardinal magic all the way to trophy-town.
Other top dogs: While it's odd to consider them underdogs, the sell-out Cornhusker queens of No. 2 Nebraska lost their juice in their last regular season matches, including being swept by fellow No. 2–seeders Minnesota Golden Gophers.
Other teams with a chance to dig out a killer holiday season are the No. 2 San Diego Toreros (whose stellar 27-1 record only pales given that they mostly face unranked opponents), No. 2 Pitt and No. 3–seeds Ohio State and 2020 champs Kentucky.
Key first-round matchups: Of tomorrow's 12 matches, three are primed for potential upsets: Bowling Green vs. No. 6 Western Kentucky at 4:45 p.m. ET, Kansas vs. No. 7 Miami at 5:30 p.m. ET and Georgia vs. No. 8 Towson at 6 p.m. ET. Stack your screens for these overlapping hotcakes.