Olympics Preview: Team Canada athletes
February 03, 2022
TOBIAS SCHWARZ/AFP VIA GETTY IMAGES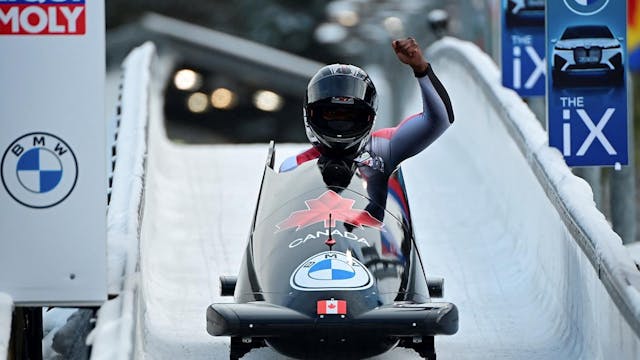 TOBIAS SCHWARZ/AFP VIA GETTY IMAGES
🛷 Cynthia Appiah, monobob: The former track & field athlete has been competing in bobsled since 2013, beginning as a brakewoman. After being named an alternate on the 2018 Olympic squad and ultimately not competing, Appiah was motivated to train harder and switched positions to become a pilot (a BFD). Her efforts clearly paid off.
She'll be her own one-woman show in Beijing in the Games' inaugural monobob event. As a Black athlete in a predominantly white sport, Appiah wants to "break down the mold of what [a] typical winter athlete can look like, and how successful we can be."
⛸️ Piper Gilles and Paul Poirier, ice dancing: The reigning Canadian national champions are vying for a spot on the podium (and to fill the Tessa-and-Scott–shaped hole in our hearts) in their second Games. Their "battle-hardened" 11-year partnership has seen Poirier's comeback from an ankle fracture and Gilles' journey to become a Canadian citizen.
⛷️ Mikaël Kingsbury, freestyle skiing: Putting the king in Kingsbury. The reigning Olympic gold medalist will look to further cement his legacy as one of the greatest moguls skiers of all time. But the road's been bumpier than the moguls slopes — Kingsbury broke his back in December 2020, only to return a few months later to win two world titles at the 2021 World Championships.
⛷️ Chloé and Justine Dufour-Lapointe, freestyle skiing: We haven't seen sisters this powerful since Twitches. The sœurs are headed to their third Games together — middle sister Chloé won silver in 2014, while youngest Justine won gold in 2014 and silver in 2018.