NFL Conference Championships Preview
January 21, 2021
The GIST: After 17 seasons in the NFL, Indianapolis Colts quarterback (QB) Philip Rivers is retiring. Twenty-year vet and New Orleans Saints QB Drew Brees isn't far off. Meanwhile, two of their old-timey contemporaries are just days away from the NFC Championship game. Guess you really are only as old as you feel.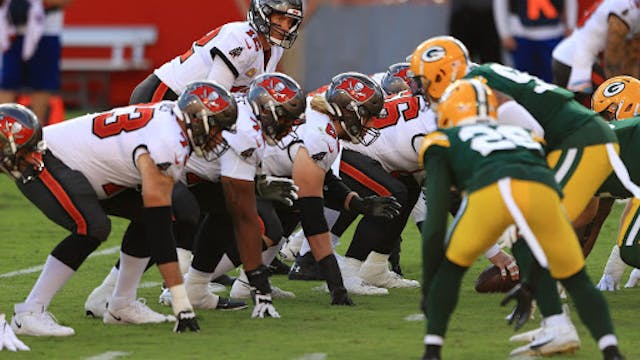 Source: Mike Ehrmann/Getty Images
Tampa Bay Buccaneers vs. Green Bay Packers: The Bucs have two big things going for them this weekend: history — the last time they made it to the conference championship in 2003, they won the Super Bowl — and six-time Super Bowl champ QB Tom Brady (who's competing in his record 14th conference championship, BTW) at the helm.
Buffalo Bills vs. Kansas City Chiefs: Considering their last AFC Championship appearance was in 1994, the Bills think the Bucs' 18-year drought is cute. But they're focusing on bigger things right now: namely, which QB will their face on Sunday?
KC QB and reigning Super Bowl MVP Patrick Mahomes left last Sunday's game with a concussion, leaving back-up Chad Henne to take over. Mahomes practiced yesterday, but given the nature of the injury, we're not betting on him playing just yet.
GISTer vs. GISTer: Want in on the football action, too? We thought you'd say yes. That's why we've partnered with for a super-easy, GISTer-exclusive NFL fantasy contest. Here's the deal:
Step 2: You have $60,000 to set your eight-player, one-defense roster. Each player has a price (the higher the price, the better the player) so budget wisely!
Step 3: That's it. Sit back and enjoy the games.
What's in it for you? Bragging rights and cash prizes. You pay $2 to play and $500 is up for grabs. The weekly winner takes home $100, and the top 20% of GISTers earn cash. .*