🏈

NFL Traditions We Love

September 12, 2021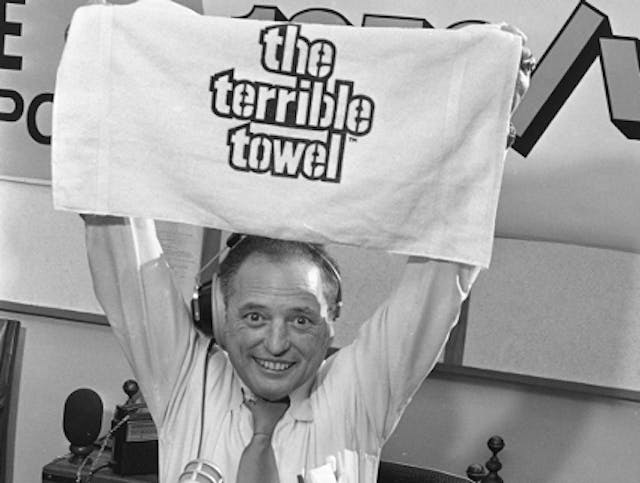 SOURCE: AP
QUOTE OF THE DAY
We could call it the Terrible Towel...Yes. And I can go on radio and television proclaiming, "The Terrible Towel is poised to strike!"
— The late Myron Cope, discussing his idea for the now iconic "Terrible Towel," a staple among Pittsburgh Steelers fans. Boy, did the radio host's idea strike.
💦 Gatorade showers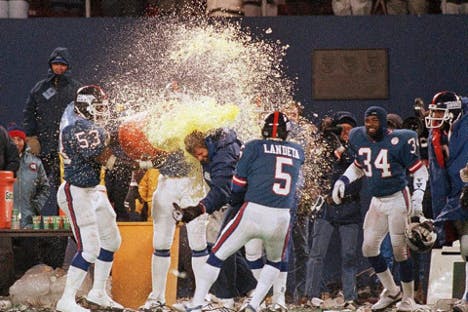 As a coach in the NFL, you haven't truly won a big game until you've been soaked in a bath of flavored electrolytes. Gatorade showers aren't unique to one particular team, and they aren't unique to football anymore either, but they remain a popular NFL tradition. The bigger the game, the bigger the bath.
While there are differing opinions about when the tradition began, the New York Giants popularized the trend in the '80s. It began in 1984, when defensive tackle Jim Burt received criticism from head coach Bill Parcells before one of their biggest games against the Washington Football Team.
After the squad pulled off a 37–13 victory, Burt surprised Parcells with a Gatorade shower in response to his harsh coaching leading up to the game, a gesture of cold revenge.
His teammate, Harry Carson, was his accomplice and continued the baths in celebration after each Giants win from that point on, including their Super Bowl XXI championship in 1987.
The tradition has been so cemented into football culture that gamers can even dunk their coach in some Madden video games. And we can't forget one of the most popular Super Bowl prop bets: the color of the Gatorade poured over the winning coach. Hint: orange is a good guess.
💛🖤 The Terrible Towel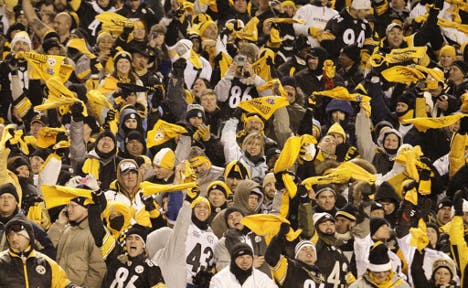 Possibly the best-known tradition in the NFL, the Pittsburgh Steelers' Terrible Towel, or the "luckiest towel in sports," first appeared in 1975 thanks to the aforementioned Cope.
In an effort to excite fans at Three Rivers Stadium and "soak up the competition," Cope waved a yellow dish towel from his radio booth during a playoff game against the Baltimore (now Indianapolis) Colts.
Cope encouraged fans to bring towels of their own to the game too, and when they all began waving their yellow rally rags, the Steelers produced big plays, resulting in a 28–10 victory. And thus, the magic of the towel began.
The Black and Gold had a great season that year, making it all the way to Super Bowl X, where the team provided fans with specially printed towels that read: "Myron Cope's Official Terrible Towel." Sure enough, the fans waved and the Steelers performed, securing a 21–17 victory over the Dallas Cowboys, all "thanks to the Towel."
Superstition soon followed as opposing teams or players that dared disrespect the towel become subject to its "curse." In 2008, the Tennessee Titans felt the wrath of the Terrible Towel after a group of players stomped on one after beating Pittsburgh.

Tennessee went on to lose their next two games, just barely missing a chance at playing in Super Bowl XLIII. Who did make it to the Super Bowl that year? You guessed it, the Steelers. Oh, and they won, no less. Spooky.
The towel's magic continues today. In 2010, Pittsburgh began inviting a celebrity to do a "Terrible Towel Twirl" before kickoff at each home game, and many recognizable names have had the honor, including Channing Tatum and Wiz Khalifa. Black and yellow, black and yellow.
🧀 Lambeau Leap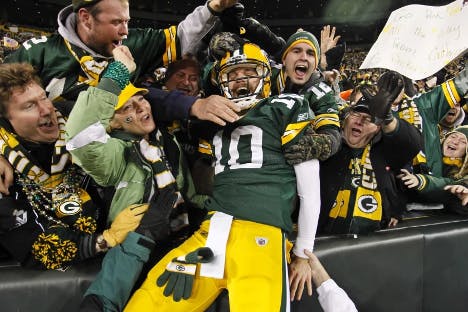 At Lambeau Field — home of the Green Bay Packers — there's only one appropriate touchdown celebration: the Lambeau Leap. It all began in 1993 when LeRoy Butler launched himself into the stands after he scored his first career NFL touchdown.
Today, seats in the "Jump Zone" are the most coveted in the stadium. But players who jump often have less than ideal experienceswith fans. Some have been covered in beer, ketchup, popcorn and in true Wisconsin fashion, even cheese curds.
Worst of all, there have been reports of inappropriate touching by unruly fans. Um, not okay.
Also, the leap is actually pretty high, with most of the wall around 6 feet tall. Imagine scoring a touchdown and then making a jump like that...
The NFL cracked down on excessive touchdown celebrations in the early 2000s and has consistently made changes to the rules since. But, lucky for Packers fans, the Lambeau Leap was grandfathered into the rules, allowing for the tradition to continue.
In light of the COVID-19 pandemic, however, the first six to eight rows of seating in every stadium were off limits to fans last year, making the leap at Lambeau Field impossible in order to protect players and fans alike.
NFL Commissioner Roger Goodell has said he expects stadiums to be at full capacity, but with the Delta variant and a handful of unvaccinated players on the roster, maybe this tradition can wait another year.
💙💚 The 12s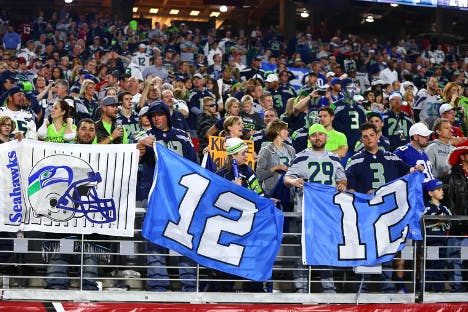 The Seattle Seahawks' first stadium in the late '70s was the Kingdome, a concrete-covered facility that echoed with the cheers of fans for the home team. In preparation, visiting teams trained with special noise systems in an attempt to mimic the loud rumble experienced during games.
Seattle fans quickly earned themselves a reputation as some of the loudest in the league.
In a tribute to the fans and their vocal support, in 1984 Seahawks president Mike McCormack retired the No. 12 jersey. The number symbolized the "extra player" (the fans in the stands) that contributed to every Seahawks win.
In a 2005 battle with the NY Giants at the Seahawks' new home, Qwest Field, the 12s created so much noise that the Giants' offense couldn't hear their play calls, forcing 11 false start penalties.
The Giants' kicker also seemed to be affected by the crowd, missing three game-winning field goal attempts, and the Giants lost in overtime. Oof.
In 2011, the 12s turned the volume even higher during a battle with the then-reigning Super Bowl champion New Orleans Saints. During a game-winning 67-yard touchdown run by Marshawn Lynch, eruptions from the stands registered as a 1-to-2 range magnitude earthquake. Can't make this sh!t up.
Before every home game, the Seahawks invite one person — a celebrity, beloved community member or former player — to hoist a number 12 flag. So special.
🦃 🍽 Thanksgiving Day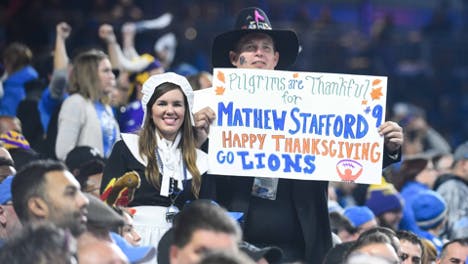 Dating all the way back to the league's inception in 1920, the oldest tradition in the NFL is the annual Thanksgiving Day game. Since 1934, the Detroit Lions have always played on the holiday in November, only missing the tradition due to World War II between 1939 and 1944.
The Turkey Day contest tradition for Detroit began as an effort to attract more fans and, with network ties at NBC, owner George A. Richards solidified the slot for the Lions.
Not long after, in 1966, the Dallas Cowboys joined the Thanksgiving Day club when general manager Tex Schramm took a page out of Richards' book and sought out a way to get more national attention and more fans in the stands for "America's Team."
Most NFL teams have now played on Thanksgiving against either the Lions or the Cowboys, but the two squads have become synonymous with Turkey Day. Gobble gobble.
🔵🔴 Bills Mafia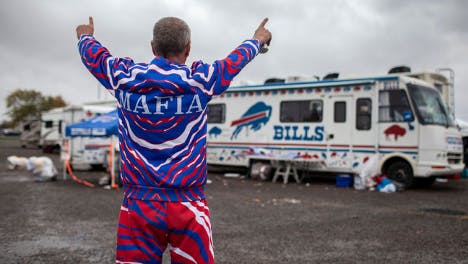 One of the newer traditions in the NFL, Bills Mafia has already made its mark. As some of the most committed fans in football, Bills supporters have endured a lot. After four consecutive Super Bowl appearances in the 1990's, the squad hasn't seen similar success for a while, but their support system has only gotten stronger.
The name may be misleading, but the "Mafia" has no relation to illegal activity. The term instead points to the lifelong commitment it is to be a fan of the Bills and their legacy of defending "the family."
In November 2010, Bills fans came to the defense of wide receiver Stevie Johnson after he dropped an important pass during a game against the Steelers. Stevie tweeted about the drop and received criticism from ESPN's Adam Schefter.
Crowds of online Bills fans, defending their family, responded to Schefter with criticism of their own. Thus the Mafia was born.
With this year looking bright for Buffalo, will the Mafia get the chance to cheer their beloved Bills on to a Super Bowl win?
🏈

NFL Season Preview

September 09, 2021
SOURCE: NFL/GIPHY
MOVE ASIDE, BASEBALL.
America's real pastime is here: the NFL season begins today! And we have everything you need to know before Opening Night kickoff...or before your GIST-exclusive FanDuel fantasy draft.
QUOTE OF THE DAY
They basically stole our chance to go to the Super Bowl. Stole it away from us. Hate you, Tom Brady.
— Green Bay Packers linebacker Za'Darius Smith, talking about the Tampa Bay Buccaneers' win over the Packers in the NFC Championship. You're not the only one, Za'Darius.
⚙️ Season setup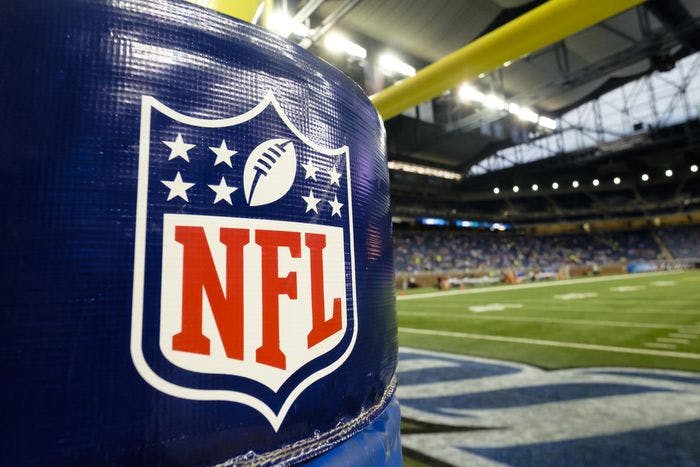 The NFL kicks off tonight — the Thursday after Labor Day, like clockwork — with a game hosted by the reigning Super Bowl champs. At 8:20 p.m. ET, the Tampa Bay Buccaneers will welcome the Dallas Cowboys to Raymond James Stadium.
A quick refresher on the league setup: the NFL has 32 teams split into two conferences, the National Football Conference (NFC) and the American Football Conference (AFC).
Those conferences are further divided into four divisions: North, South, East and West.
For the first time ever, each team will play 17 regular-season games — one more than last year — over 18 weeks (including a "bye" week), in which they play each divisional rival twice.
The top team in each division will move on to the postseason, as will the three next best teams from each conference — known as "wild cards" — for a total of 14 playoff teams.
And all of these teams are playing for one thing and one thing only: Super Bowl LVI (or 56), set for February 13th, 2022, at SoFi Stadium in Inglewood, California — home of the LA Rams and LA Chargers.
🏈 Last season's final four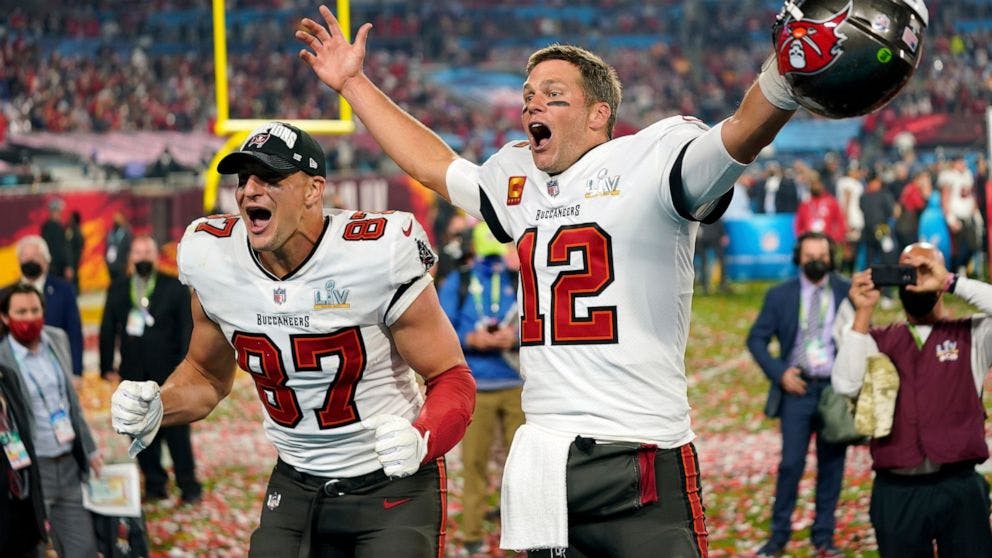 Tampa Bay Buccaneers: The reigning Super Bowl champs are ready to go back-to-back. Dream duo quarterback (QB) Tom Brady and tight end (TE) Rob Gronkowski are in prime positions to lead the Bucs to another championship, and with the fourth-easiest schedule in the league, they could become the second Florida team to record a perfect season.

Kansas City Chiefs: After losing the big one to the Bucs, KC is looking to get back to their 2019–20 Super Bowl–winning ways. Five of the NFL's Top 100 players — including No. 1, QB Patrick Mahomes — are on the squad and their core group hasn't changed much in the off-season. We wouldn't be surprised to see a Bucs vs. KC Super Bowl again.
Buffalo Bills: Ever since Josh Allen became starting QB in 2018, things have been looking up for the Bills. Last season, he led the team to their first AFC Championship Game since 1993 and first AFC East divisional title since 1995. We're predicting the Allen era will bring many more celebrations.
Green Bay Packers: Though things were looking shaky this offseason, with QB Aaron Rodgers reluctantly back at the helm, the Packers are looking primed to return to the NFC Championship Game this year. With Rodgers locked in for likely one more season, this could be the Pack's last good chance at a championship for a while.
🥊 The contenders
Baltimore Ravens: We're not going to let star running back (RB) J.K. Dobbins' season-ending knee injury stop us from including the Ravens here, because there's a back-up plan.
Gus Edwards has the size and force to break rushing records as the Ravens' starter this season, and rumor has it they're trying out RBs Le'Veon Bell and Devonta Freeman to make a pair.
Cleveland Browns: After ending a 17-year playoff drought last season, the Browns have almost everything they need to return to the postseason: an incredible roster, a steady coaching staff and a dog as their mascot.
The only uncertainty? QB Baker Mayfield. He's good, but this year, he'll need to be great.
Seattle Seahawks: The Seahawks are poised for greatness once again. Though their last Super Bowl win was in the 2013 season, they've consistently performed well in the regular season and haven't missed the postseason since 2017. If QB Russell Wilson is firing on all (or at least most) cylinders, they're in good shape.
San Francisco 49ers: This team is good. And it seems like QB Jimmy Garoppolo will be the leading man in SF this season. He led the team to a Super Bowl appearance in 2019 but was plagued with injuries last season. This should be interesting.
👀 Players to watch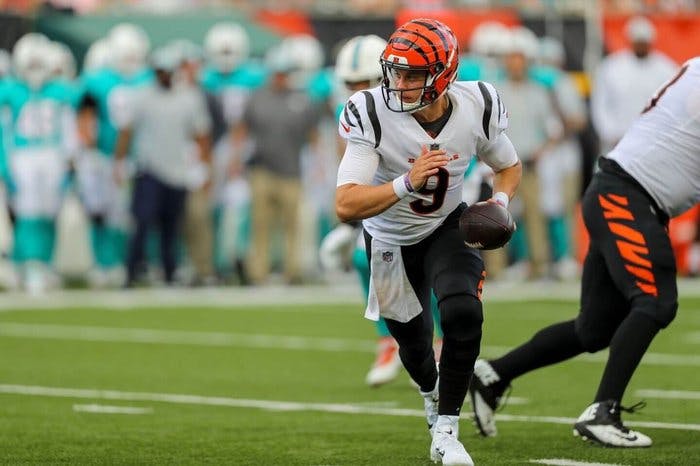 Joe Burrow, QB: The Cincinnati Bengals are probably not destined for the playoffs, but if anyone can prove us wrong, it's 2020 first overall draft pick Burrow. Before a Week 11 knee injury ended his rookie season, Burrow was breaking records like it was his job, and now that he's healthy again, he's already a favorite to win NFL Comeback Player of the Year.
Other QBs to watch: Lamar Jackson (Baltimore Ravens), Dak Prescott (Dallas Cowboys), Justin Herbert (LA Chargers)
Dalvin Cook, RB: The Minnesota Vikings aren't the most exciting team: if they were wings, they'd be honey garlic. But Cook is extra hot 'n' spicy, and he's poised to best his 1,557 rushing yards and 16 touchdowns (TDs) from last year. There's just one thing that could hold him back from recording another career-high season: he's not vaccinated.
Other RBs to watch: Derrick Henry (Tennessee Titans), Jonathan Taylor (Indianapolis Colts), Christian McCaffrey (Carolina Panthers)
Darren Waller, TE: The Las Vegas Raider has all the talent to be the best TE in the league...with none of the pressure. With Kansas City's Travis Kelce — aka No. 5 on the NFL Top 100 — stealing that spotlight, No. 35 Waller can flourish as QB Derek Carr's No. 1 receiver.
Other TEs to watch: Travis Kelce (Kansas City), Mark Andrews (Baltimore), George Kittle (San Francisco)
Stefon Diggs, WR: We give QB Josh Allen a lot of credit for the Bills success last year, but a QB is nothing without someone to pass to. Enter Diggs. Allen's top target hit career-highs in receiving yards and receptions last season — his first in Buffalo — and has everything in place to best his career TD record this year.
Other WRs to watch: DeAndre Hopkins (Arizona Cardinals), Terry McLaurin (Washington Football Team), Chase Claypool (Pittsburgh Steelers)
LA Rams, Defense: With defensive tackle Aaron Donald leading the D-line and cornerback Jalen Ramsey leading the secondary, the top defense in 2020 has high expectations to repeat. That said, they'll need to do it without former defensive coordinator Brandon Staley, who will share a stadium with the Rams as the Chargers' new head coach...awkward.
Other defenses to watch: Denver Broncos, Pittsburgh Steelers
📖 Season's storylines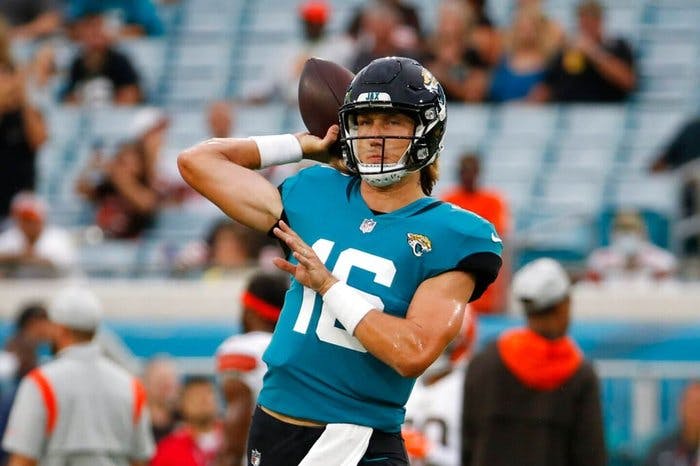 Rookie QBs: Every new season comes with a handful of bright-eyed young QBs ready to make their mark on the big league. Some will flourish, some will flounder, only time will tell. This year, we'll be watching Jacksonville Jaguars' Trevor Lawrence, New England Patriots' Mac Jones, Chicago Bears' Justin Fields and New York Jets' Zach Wilson.
Schedule changes: COVID-19 did a number on the NFL's schedule last season, so the league is cracking down this year, warning teams that outbreaks among unvaccinated players could lead to forfeited games.
Meanwhile, climate change is already shaking things up: the New Orleans Saints have had their first game moved to Florida due to recent damage from Hurricane Ida.
📺 How to watch
The fun starts now. Tune in to NBC in the U.S. and TSN in Canada at 7 p.m. ET tonight to catch Ed Sheeran ring in the new season (weird flex, but okay) before opening kickoff at 8:20 p.m. ET. And then check out the full schedule and TV coverage for your favorite teams and players here. Hut hut!
🏈
⚾
🏒
🏎
Sports Quick Hits: September 8th, 2021
September 08, 2021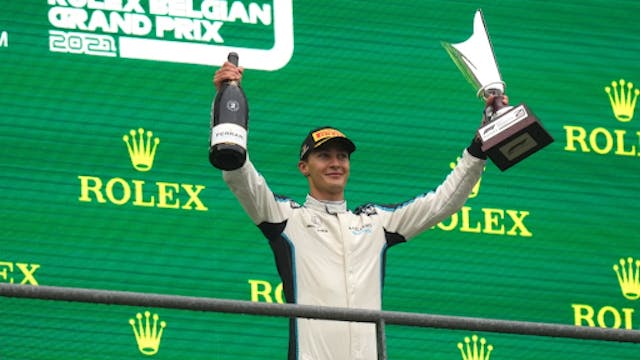 Source: Francisco Seco / AP
🏎F1: The worst kept secret in motorsport is finally out in the open. A day after Valtteri Bottas announced he was leaving his longtime team Mercedes to join Alfa Romeo next season, Mercedes and Lewis Hamilton's future teammate.
🏒Hockey: The NWHL got a facelift, and we have.... The league announced its rebrand yesterday, complete with a new name — the Premier Hockey Federation (PHF) — and a new logo, but they have yet to announce a change to its , a plan for increasing player salaries or a way to improve TV coverage. Plenty of work yet.
⚾️Baseball: Like father, like son. Toronto Blue Jay Vladimir Guerrero Jr. hit his 40th home run (HR) of the season on Monday, making him and his dad — former Montreal Expo Vladimir Guerrero Sr. — the second father-son pair in MLB history to hit the 40 HR mark. Apple meet tree.
🏈College: The first of the college football regular season (not including Week 0) was released yesterday, and Clemson is out of the top four for the first time since 2017, while Georgia jumped three spots to No. 2 behind No. 1 Alabama. Let the cupid shuffle begin.
⚾
🏈
🏎
Sports Quick Hits: August 30th, 2021
August 30, 2021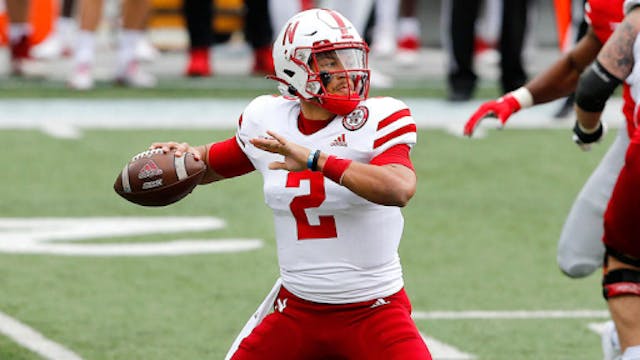 Source: USATSI
🏈Football: The new college football season began with its five-game "" opening weekend (check out our for more), and UCLA and Illinois, who defeated Hawaii and Nebraska, respectively, are the early winners. The rest of the 130 teams will be in action this weekend for Week 1.
⚾️Baseball: For the first time since 1959, a Michigan team won the Little League World Series (LLWS). Ohio loaded the bases in the final inning, but Michigan held on for the 5–1 win in yesterday's final.
Congrats to Taylor North Little League and all the young stars for 10 days of unforgettable play from Williamsport, PA.
⚾️MLB: The police investigation into LA Dodgers pitcher Trevor Bauer's alleged sexual assault of a California woman has been turned over to prosecutors, where LA's district attorney will decide whether or not to move the case forward. In the meantime, the MLB has extended Bauer's , yet again, to Friday. Ugh.
🏎Racing: What felt like the longest F1 broadcast ever resulted in the . After the start of yesterday's Belgian Grand Prix was postponed for over four hours due to rain, the eventual race lasted just two laps before being called off for unsafe conditions, with Max Verstappen winning it all.
🏈

Everything you need to know about College Football

August 28, 2021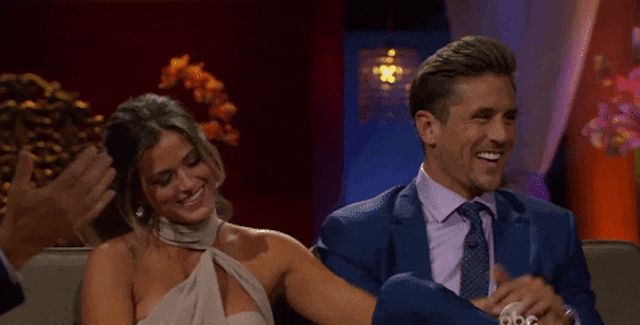 SOURCE: THE BACHELORETTE/GIPHY
HELLO HELLO!
School is starting, fall is in the air and pumpkin spice is back on the menu, which can only mean one thing: football season is upon us.
NCAA college football starts today, so we're here to give you "the gist" on the new season and a bit of background on why college football reigns supreme.
QUOTE OF THE DAY
There is very little in my life I enjoy more than college football.
—Former Vanderbilt Commodores quarterback (QB) Jordan Rodgers. We're assuming he didn't use this line on his application for The Bachelorette.
🎉 College football's popularity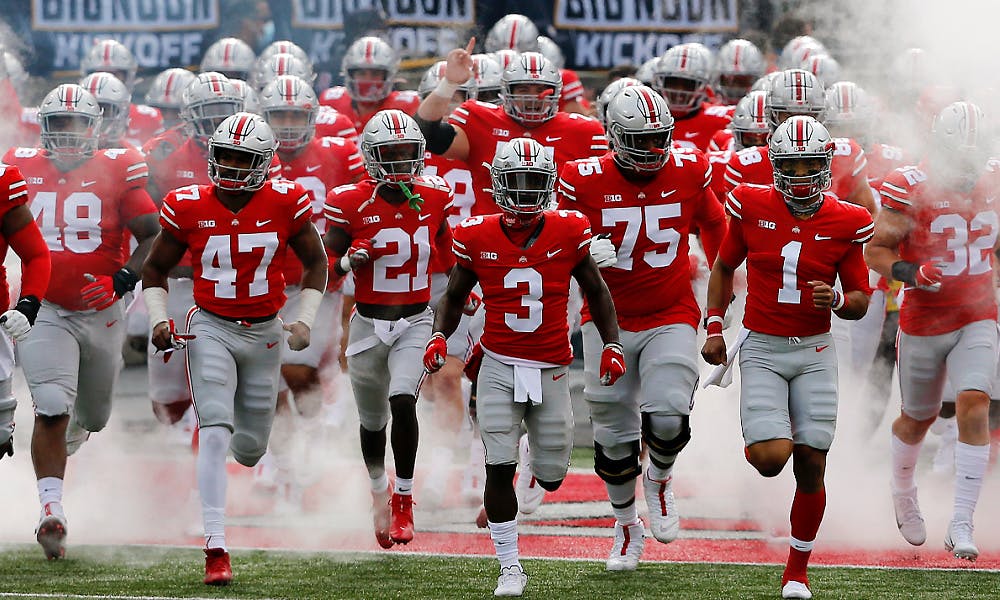 For the uninitiated, college football is a BFD in the U.S. While the NFL has 32 teams across 22 states (23 if you count New Jersey), the NCAA's Division I Football Bowl Subdivision (FBS) — the top level of college football — has 130 teams across all but nine states, giving football fans around the country a local team to support.
With many folks feeling highly connected to their alma mater, over 56 percent of Americans consider themselves college football fans, making it the second most popular game — behind the NFL — in the country.
And because nearly all pro players make their way through the college system before making it to the big leagues, Div I football is the perfect place to get to know the future stars of the NFL.
⚙️ The setup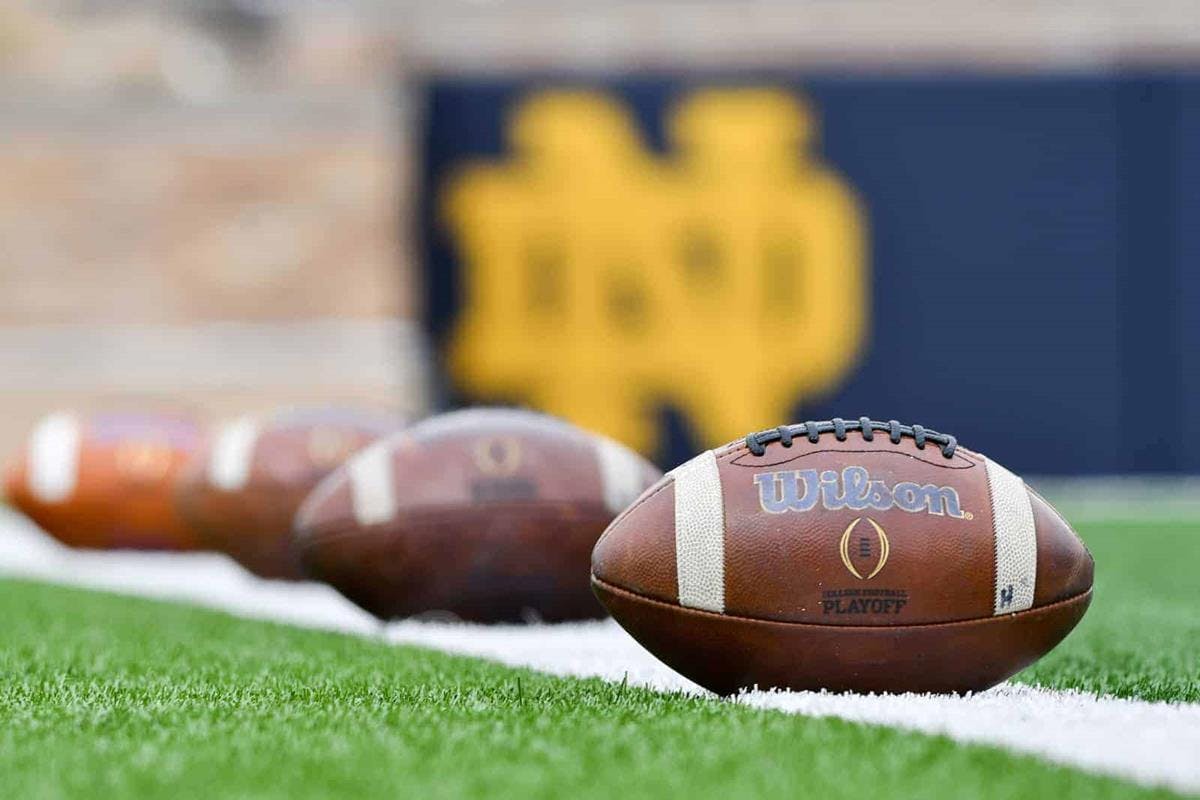 Things can get a bit unruly with 130 teams, so to keep things structured, most teams belong to one of 10 conferences. The most elite conferences to know belong to the "Power Five": the Atlantic Coast Conference (ACC), Big Ten, Big 12, Pac-12 and Southeastern Conference (SEC). The rest make up the Group of Five.
Each conference is made up of 10 to 15 teams and are further divided into divisions. Along with a few out-of-conference games, most teams face their divisional rivals and non-divisional conference opponents once per season.
As with pro football, games are usually played once a week. But unlike the NFL's Sunday domination, college football is usually played on Saturdays, with occasional weeknight games. The season runs from August through December.
There are also seven "independent" teams — including the well-known Notre Dame — who are not affiliated with a conference, and therefore aren't required to play specific teams each year, but are still eligible for the national championship.
🏆 The reason for the season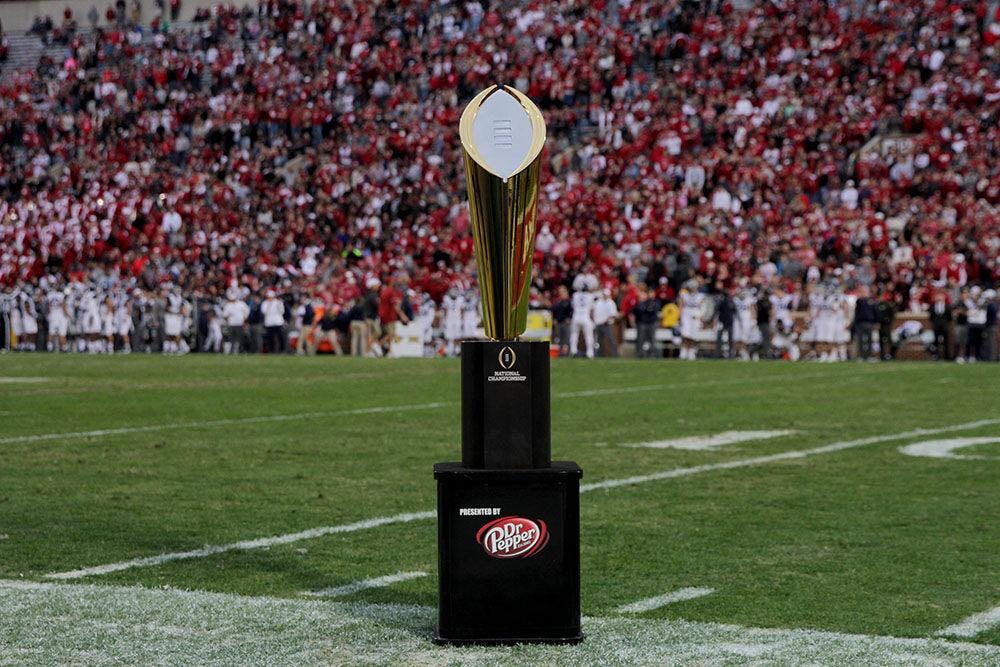 Everyone's playing for one thing: the College Football Playoff (CFP) trophy, aka the National Championship. With so many teams, conference structures and varying levels of competition, the NCAA adopted a new system in 2014 in which a 13-person selection committee determines the best four teams from the regular season.
Beginning in the second half of the season, the committee releases weekly rankings, based on teams' records, strength of schedule, game performances and head-to-head records.
The top four in the final ranking move on to the knockout playoff tournament, and it's almost always controversial.
⭐️ The favorites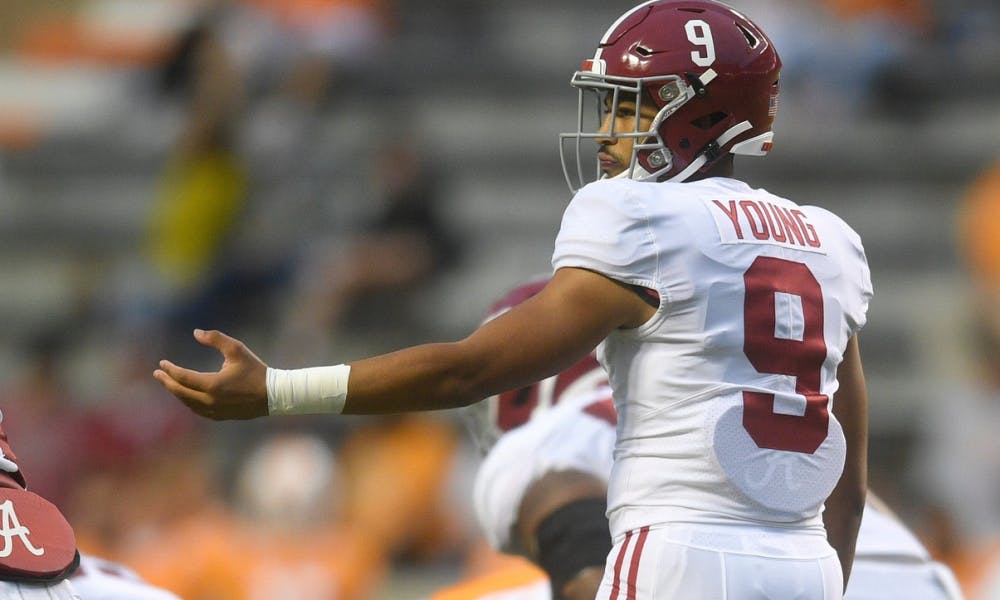 Alabama: With QB Mac Jones, running back (RB) Najee Harris and Heisman Trophy–winning wide receiver (WR) DeVonta Smith being drafted to the NFL in April and former offensive coordinator Steve Sarkisian taking the head coaching job at Texas, the reigning national champs are basically starting from scratch this season.
But don't fret, the Crimson — with sophomore star QB Bryce Young, tight end (TE) Jahleel Billingsley, Canadian WR John Metchie III and five-time SEC Coach of the Year Nick Saban returning — are still favorites to repeat. Roll tide.
THE Ohio State: The Buckeyes haven't won a national title since 2014, but we think they're the best bet to upset 'Bama. Though QB Justin Fields has gone to the big leagues, new starter redshirt freshman C.J. Stroud has the power and poise to fill the void.
He also has a stellar offense to play with, including WRs Chris Olave and Garrett Wilson, RB Master Teague III and TE Jeremy Ruckert. Hey FanDuel, we're putting our money on these guys.
Clemson: The Tigers have been trading national titles with Alabama for years, and like their familiar foes, Clemson's without last year's star QB too, as Trevor Lawrence was taken first overall by the Jacksonville Jaguars in the NFL Draft.
But when Lawrence tested positive for COVID-19 last season, QB DJ Uiagalelei (pronounced oo-ee-AHNG-guh-luh-lay) started two games, throwing for five touchdowns and no interceptions. Impressive.
Oklahoma: Without a CFP national title to their name, the Sooners are the underdogs on our list. That said, QB Spencer Rattler (of QB1 fame) is already a favorite for the Heisman and WR Austin Stogner is back and "better than ever" after a life-threatening infection.
👀 Players to watch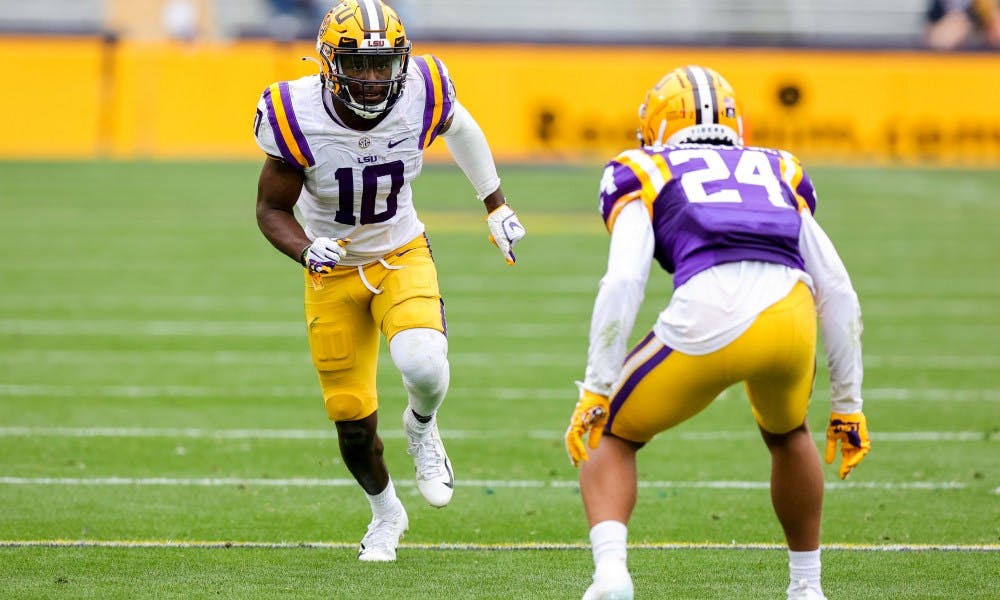 Derek Stingley Jr., LSU: The All-American cornerback led LSU's defensive powerhouse on the way to the 2019 national championship, and as a potential No. 1 pick in next year's NFL Draft, he's looking to get back on top before leaving Louisiana.
Sam Howell, North Carolina: If any other QB can give Spencer Rattler a run for his money, it's Howell. The sophomore has already set a number of North Carolina records and is primed to break the school's all-time passing yards record this season. If he can keep it up in 2021, he could be the top QB in the 2022 NFL Draft.
🥊 Can't-miss rivalries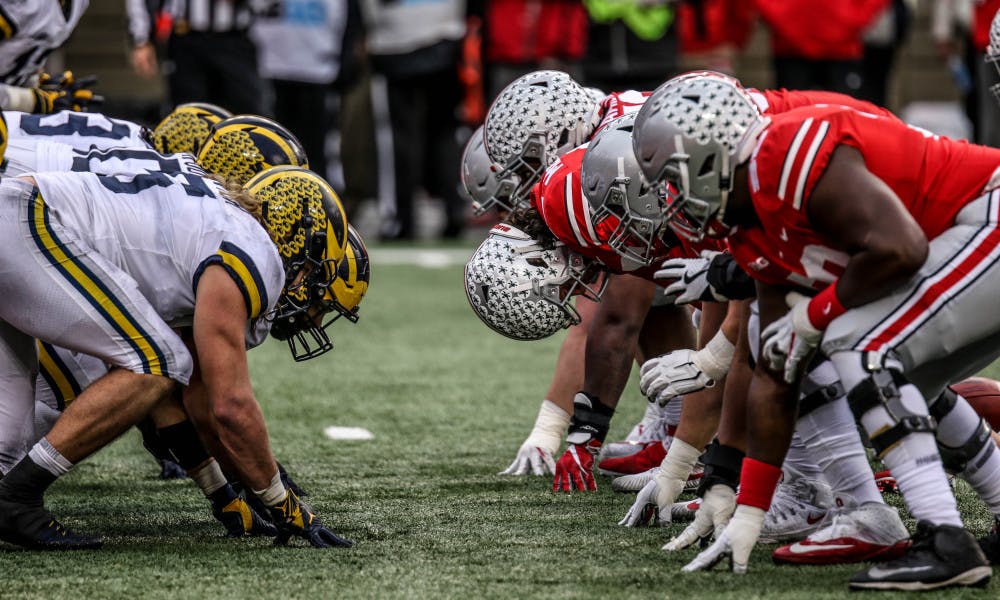 College football is steeped in tradition, and with that comes decades-old rivalries. Here are a few that we're especially excited for this season:
Michigan–Ohio State: Once called "the greatest rivalry in North American sports, "The Game" is back for its 117th (!!!) edition after last year's was canceled.
Michigan leads the series 58–51–6, and will look to break Ohio State's eight-game winning streak when they meet on November 27th.
Notre Dame–USC: This rivalry game, which has been played 91 times, doesn't have a name, but the trophy does: the Jeweled Shillelagh(pronounced she-LAY-lee) is a wooden club bejeweled based on the most recent winner: emeralds for the Notre Dame Fighting Irish or rubies for the USC Trojans. They'll meet again on October 23rd.
Minnesota–Wisconsin: The oldest rivalry in Division I football, these two Midwest powerhouses will play each other for the 131st time on November 27th. Wisconsin leads 62–60–8 and is on a two-season winning streak. It's not just pride on the line: they're playing for Paul Bunyan's Axe.
Alabama–Auburn: Another Thanksgiving weekend staple, the intrastate matchup known as the Iron Bowl has seen Auburn and Alabama face off for the Foy–ODK Trophy 85 times since 1893, with the Crimson Tide holding a 47-37-1 lead in the series.
👀 How to watch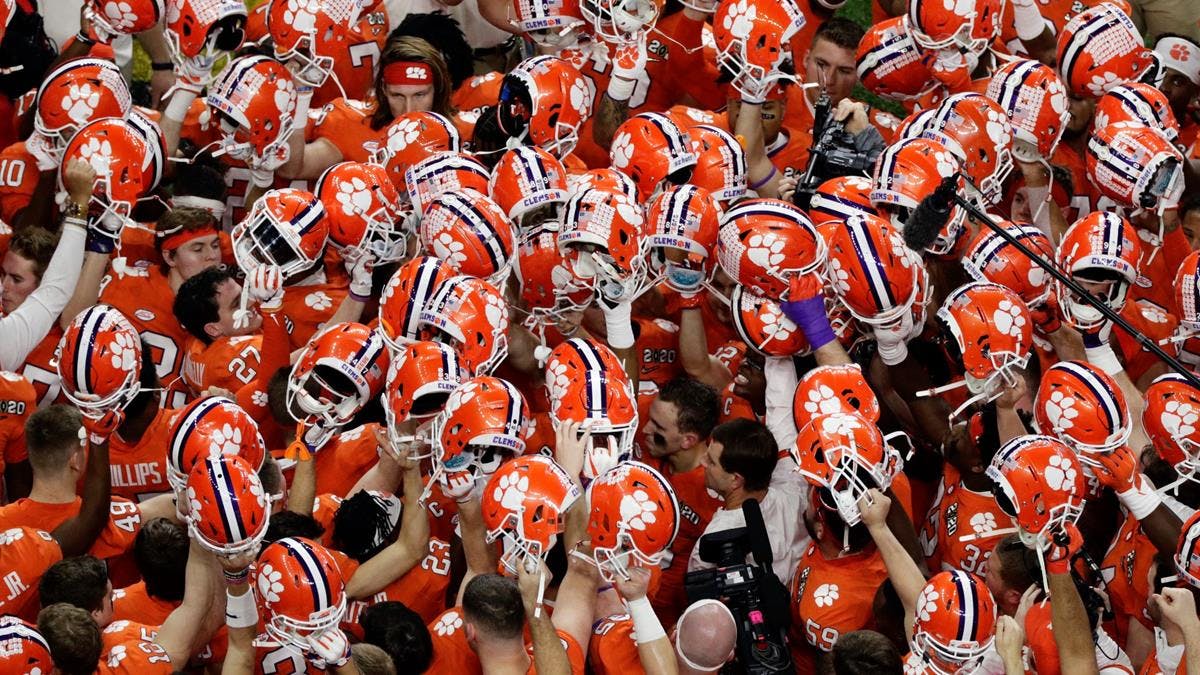 With just five regular-season games on the schedule, Week 0 kicks off today with Nebraska at Illinois at 1 p.m. ET. Week 1 will see nearly everyone else in action, beginning Wednesday and running through next weekend. Check out the full schedule here.