🏆

Bits & Bites: This Week in Sports

December 03, 2020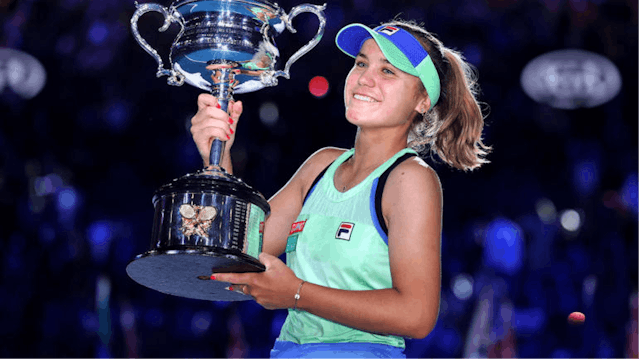 🎾Tennis: First it was the wildfires in 2020, now the pandemic in 2021...who's taking a murder hornet infestation to threaten the 2022 Australian Open? The first tennis major of the year, usually set to start at the end of January, will likely be pushed back by three weeks to February 8th to better accommodate a mandatory two-week quarantine. We can wait.
Speaking of next season, the Women's Tennis Association (WTA) is adopting a new naming system for their 2021 tournaments to better align with the men's Association of Tennis Professionals (ATP). Just one more step towards the WTA-ATP merger we've all been waiting for.
🏈NFL: This one's a head scratcher. Commissioner Roger Goodell stated that the NFL probably won't proceed with bubble environments for the playoffs after all, saying, "We feel strongly our protocols are working."
Goodell said this yesterday, the same day that the Pittsburgh Steelers and Baltimore Ravens finally played their Thanksgiving game after it was postponed three times due to COVID-19 outbreaks. The league also announced that there were 156 positive cases among players and personnel in the last two weeks of November. The irony.
🏀NBA: Christmas came early for LeBron James. The almost 36-year-old superstar signed a two-year, $85 million extension with the NBA champion LA Lakers yesterday. The new contract will take him into 2023, which is the same year his son Bronny could enter the league.
Russell Westbrook got his Christmas wish already, too. After asking for a trade from the Houston Rockets, where he spent one season, Russ is heading to the Washington Wizards in exchange for John Wall and a first-round pick. He must've been on Santa's nice list.
For the rest of us, the NBA gave us something to look forward to...five somethings, actually. The tentative Christmas Day schedule was released this week with five games scheduled over 12 hours. Deck the halls balls!
⚽
🏆
Kristie Mewis, USWNT End 2020 With Win
November 30, 2020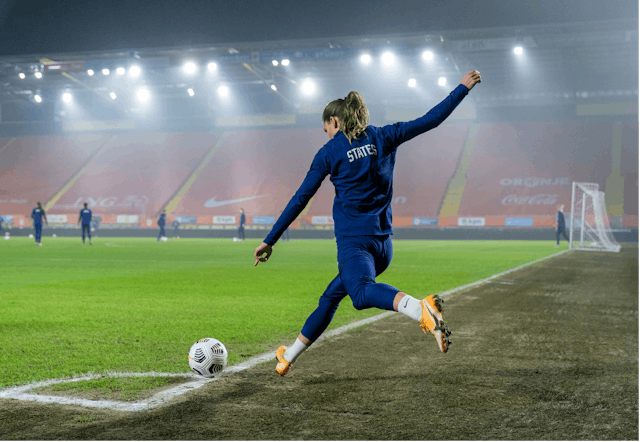 SOURCE: USWNT/TWITTER
🏎Formula One: French racecar driver Romain Grosjean is counting his lucky stars today. During the opening lap of yesterday's Bahrain Grand Prix, Grosjean's car crashed into a metal barricade, split in two and burst into flames. While crashes are pretty common in F1, accidents of this magnitude are once in a lifetime: this was the first F1 crash to involve fire since 1989.
⚽️Soccer: The Netherlands women's national soccer team never stood a chance against the U.S. women's national soccer team's (USWNT) star-studded lineup. The American aces beat their Dutch hosts 2–0 in Friday's friendly, thanks to goals from Kristie Mewis (her first since 2013!) and Rose Lavelle. The USWNT will get together next in January for a three-week training camp.
In other soccer news, the MLS is down to six teams. The New England Revolution continued their underdog journey with a win over Orlando City SC yesterday, and will face Columbus Crew SC in the Eastern Conference finals. The Western Conference semis are set for tomorrow and Wednesday. Keep up with the action here.
🏆
⚽
⛷️
Ain't no mountain high enough
November 23, 2020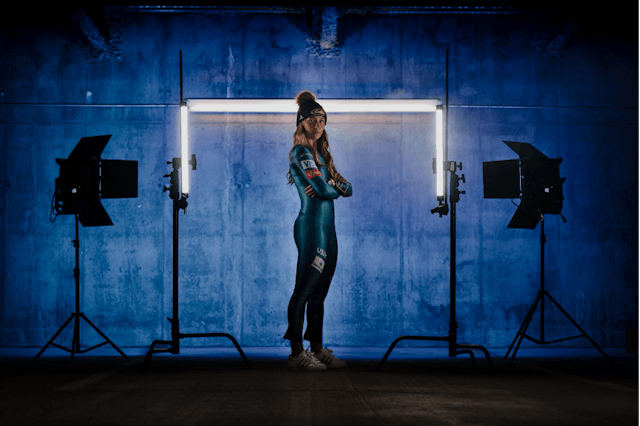 SOURCE:US SKI TEAM/TWITTER
🎿Skiing: American Mikaela Shiffrin is back on the slopes...and the podium. The two-time Olympic gold medalist hadn't competed in 300 days since her father's death in February, marking her longest-ever break from the sport, but she returned to the World Cup circuit this weekend, finishing second place in Saturday's slalom event in Finland, and fifth in yesterday's run.
💪UFC: Talk about a sister act. Valentina and Antonina Shevchenko became the first sisters to compete on the same card (meaning they both had fights in Saturday night's event) at UFC 255. The Russian-Peruvian sisters from Kyrgyzstan each won their fights, too, with younger sister Valentina defending her UFC Women's Flyweight title. Their parents must be so proud!
⚽️MLS: Our favorite soccer news from this weekend wasn't that the New England Revolution and Nashville SC made it through the MLS play-in round, or that Sporting KC beat the San Jose Earthquakes in dramatic penalties, or that the Orlando City SC–NYC FC referee crew was sidelined after some poor (but kind of entertaining) officiating.
Nope, our favorite news was hearing that Kathryn Nesbitt was named the MLS Assistant Referee of the Year, the first woman to ever earn the recognition. Nesbitt also made herstory in the MLS Is Back tournament earlier this year when she became the first woman to officiate an MLS final. It can't be an easy job, but she does it so well.
🏆

Caster Semenya is taking her legal battle to the European Court of Human Rights

November 19, 2020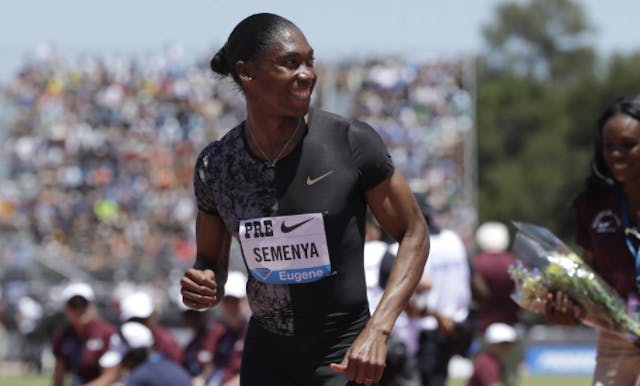 Source: Jeff Ciu/AP Photo
The GIST: Caster Semenya is not giving up. The 29-year-old middle-distance runner from South Africa is taking her long-suffering legal battle to the .
What's the deal?: Semenya, a two-time Olympic gold medalist, has a medical condition called , meaning her body produces higher than normal levels of testosterone. Due to her classification as and resulting perceived biological advantage, her eligibility to compete amongst her female peers has frequently been challenged.
Horrible. So what now?: Although Semenya and her team have successfully blocked multiple attempts to prevent her from competing, in 2019 they lost their fight against the new regulations in front of the Court of Arbitration for Sport and, most recently, their . Taking the case to the European Court of Human Rights is likely in this ongoing battle.
In the meantime, Semenya has found something of a loophole: she's switching to the 200m event in hopes of qualifying for next summer's Olympics. Run, baby, run!
🏀
🏆
Oops, he did it again
November 16, 2020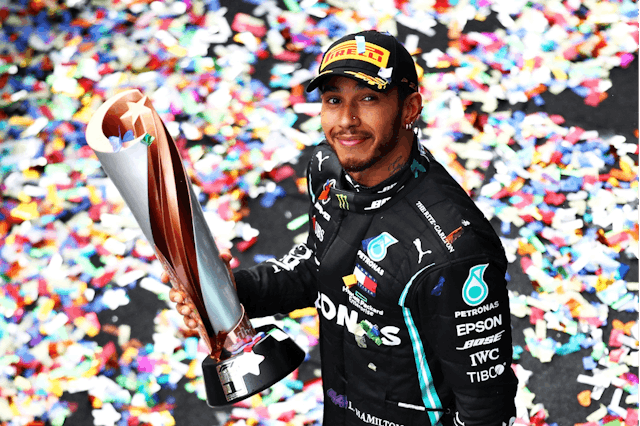 SOURCE: LEWIS HAMILTON/TWITTER
🏎Formula One: Another weekend, another win for Lewis Hamilton...and this time, it was a biggie. Not only was yesterday's wet-and-wild Turkish Grand Prix the 94th win of his career and 10th of this F1 season, but it also meant that Hamilton clinched the F1 Drivers' Championship for a historic seventh time, tying him with Michael Schumacher for the all-time record. #GOAT.
With just three races left in the season, Hamilton still hasn't signed a contract with his long-time team Mercedes for next year. Rumor has it that Lewis might retire from F1 to focus on activism and his new Extreme E team. That said, after yesterday's win, Lewis stated, "I feel like I'm only just getting started," so your guess is as good as ours.
🏀NBA: It's beginning to look a lot like...basketball season! Yesterday the NBA announced a tentative schedule, giving us — and the players, of course — just about five weeks to get into game shape. The regular season is set to tip off December 22nd and run until May 16th, with the postseason (which includes the fan-favorite play-in tournament!) running May 17th to mid-July.
Other changes include playing a 72-game season (instead of the regular 82) and no All-Star Game. The super-soon start date also means the trading window will start today at noon ET, so follow our Twitter and Instagram for all the big-name signings.