🏆

Highlighting HBCU Sports

October 17, 2021
SOURCE: NFL/GIPHY
It's college homecoming season, and no one does the annual return of alumni quite like Historically Black Colleges and Universities (HBCUs) across the U.S. So today, we're highlighting the Black institutions often excluded by the sports world.
We're buzzing about today's newsletter like the swarm of hornets that nearly sabotaged former NBAer JR Smith's college golf debut, so let's get scrolling!
QUOTE OF THE DAY
"That's the thing that I think HBCUs taught me, inclusion...There's so much culture. There's so much energy. There's so much love at HBCUs."
— Good Morning America host and former pro football player Michael Strahan, reflecting on his decision to attend Texas Southern.
🎓 Background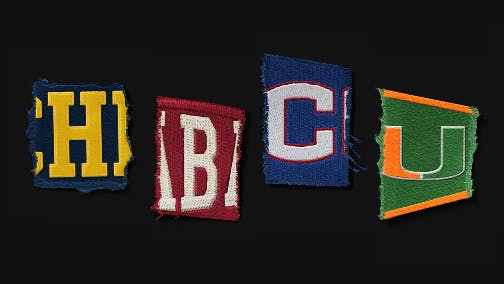 The first Black colleges and universities were created in Pennsylvania, D.C. and Ohio prior to the Civil War in order to provide basic education and training opportunities for the Black community, which was prevented from attending most established institutions and, in the case of those that were enslaved, was prohibited from learning to read or write altogether.
After the war and the abolition of slavery, a handful of HBCUs — including Howard University and Morehouse College — were established throughout the late 1860s in an effort to help former slaves adjust to a life of freedom.
Most HBCUs that began throughout this period were created by white founders, many of whom had problematic beliefs regarding the intellectual capabilities of Black people, sparking skepticism within Black communities.
Before desegregation in the South, however, most Black students that wanted to study at the university level were offered no choice other than Black institutions, increasing demand for more throughout the region.
By the early 21st century, over 100 Black colleges and universities had been established, mostly in the South, offering students a range of opportunities from research institutions to vocational schools.
The Higher Education Act of 1965 officially defined the group of schools created prior to 1964 as HBCUs — all with a common mission focused on the education and advancement of Black Americans.
Today, most HBCUs are primarily run and operated by members of the Black community and have recently seen an increase in financing and attention. The Biden-Harris administration has also focused on increasing HBCU funding and resources.
HBCUs make up roughly 3% of all colleges and universities in the U.S. and are, on average, 30% less expensive than comparable schools, offering more affordable, safe spaces for young Black students to pursue degrees.
🏈 The athletic divide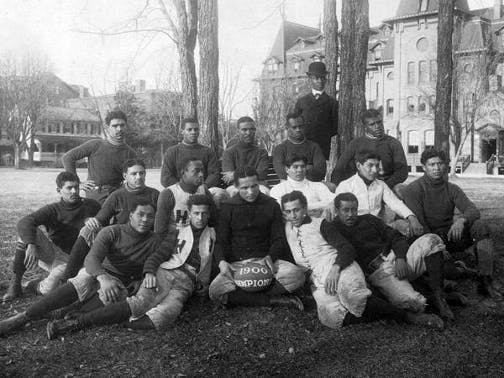 In 1912, the Central Intercollegiate Athletic Association (CIAA)was formed to create an organized system for Black colleges to compete against one another. The first members of the group included Howard University, Hampton University, Virginia Union University, Shaw University and Lincoln University.
Although many schools, primarily in the North, had become desegregated, Black student-athletes still found HBCUs to be safer places to play, devoid of positional segregation and racial discrimination.
In particular, HBCU football programs helped to develop elite athletes. In 1963, Grambling State defensive tackle Buck Buchanan became the first HBCU player to be drafted No. 1 when Kansas City selected him in the AFL draft.
By the mid-1970s, predominantly white institutions (PWIs) began heavily recruiting young Black athletes to play at their schools. Among other factors, the increased media exposure and nicer facilities offered by PWIs created a recruiting gap that is still prevalent today.
A handful of HBCU athletic programs have garnered more attention and revenue recently. North Carolina A&T (N.C. A&T), Norfolk State and Texas Southern are estimated to have earned nearly $750 million in combined exposure revenue last year.
N.C. A&T's track & field program received national recognition for NCAA victories and for sending four athletes to the Olympics, two of whom won medals — the first earned by N.C. A&T athletes. A BFD.
Texas Southern and Norfolk State played in March Madness this year, both winning contests in the First Four games (and busting brackets in the process).
✨ Black women athletes and HBCUs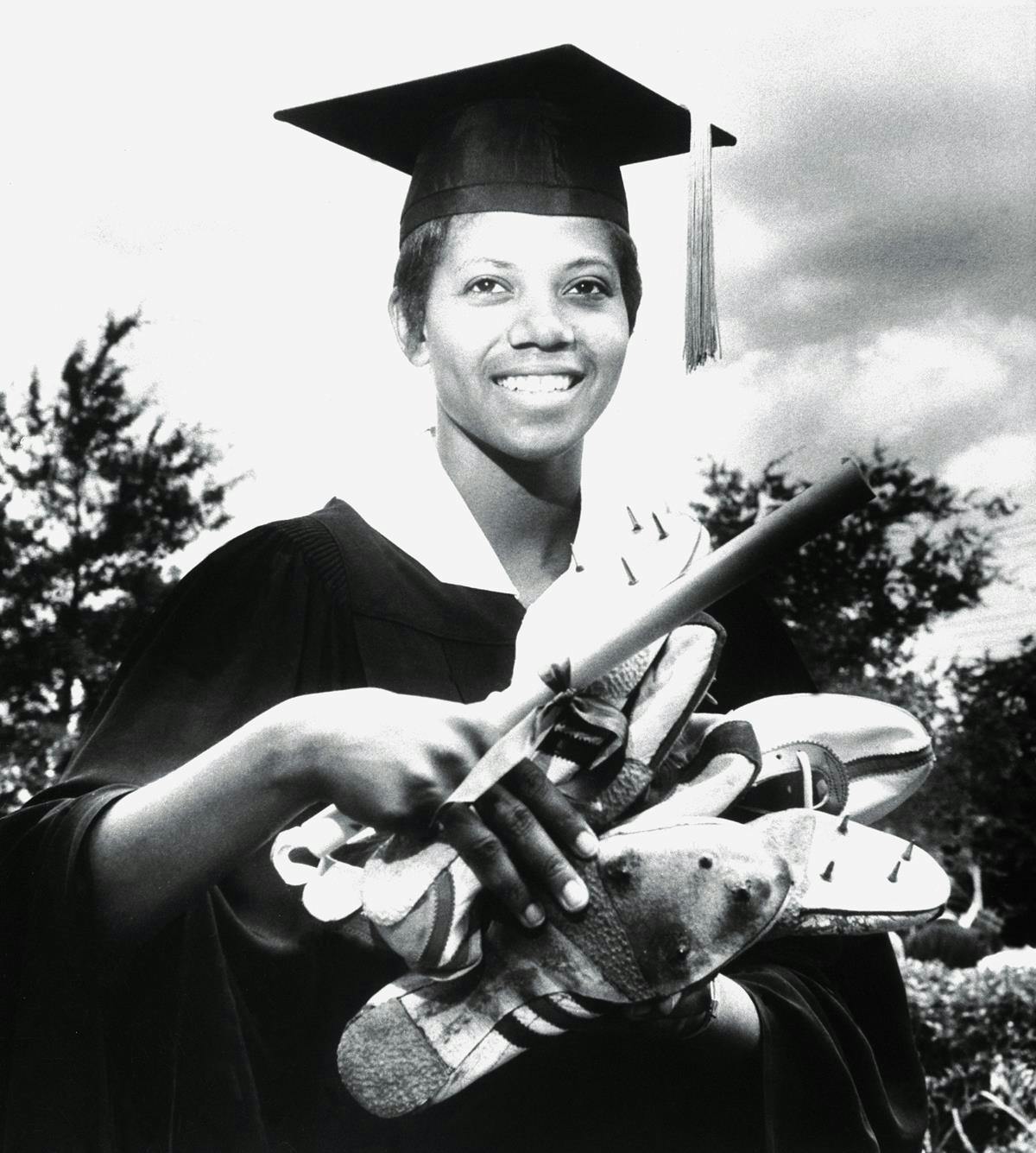 For Black women, HBCUs provided an opportunity to compete long before Title IX was implemented. Althea Gibson entered Florida A&M University (FAMU) on a full athletic scholarship in 1949 and became the first Black tennis player to win a Grand Slam, doing so at the 1956 French Open. Gibson went on to win 11 majors in her eight-year career.
Sprinter Wilma Rudolph attended Tennessee State University (TSU) and, between her sophomore and junior years, ran in the 1960 Rome Olympics, where she became the first American woman to win three gold medals in a single Games.
In basketball, Yolanda Laney is still arguably one of the best college players ever, and she helped highlight HBCU women's basketball talent. Laney led the Cheyney University squad to the first NCAA-sanctioned women's title game in 1982.
⭐ Alum on the gridiron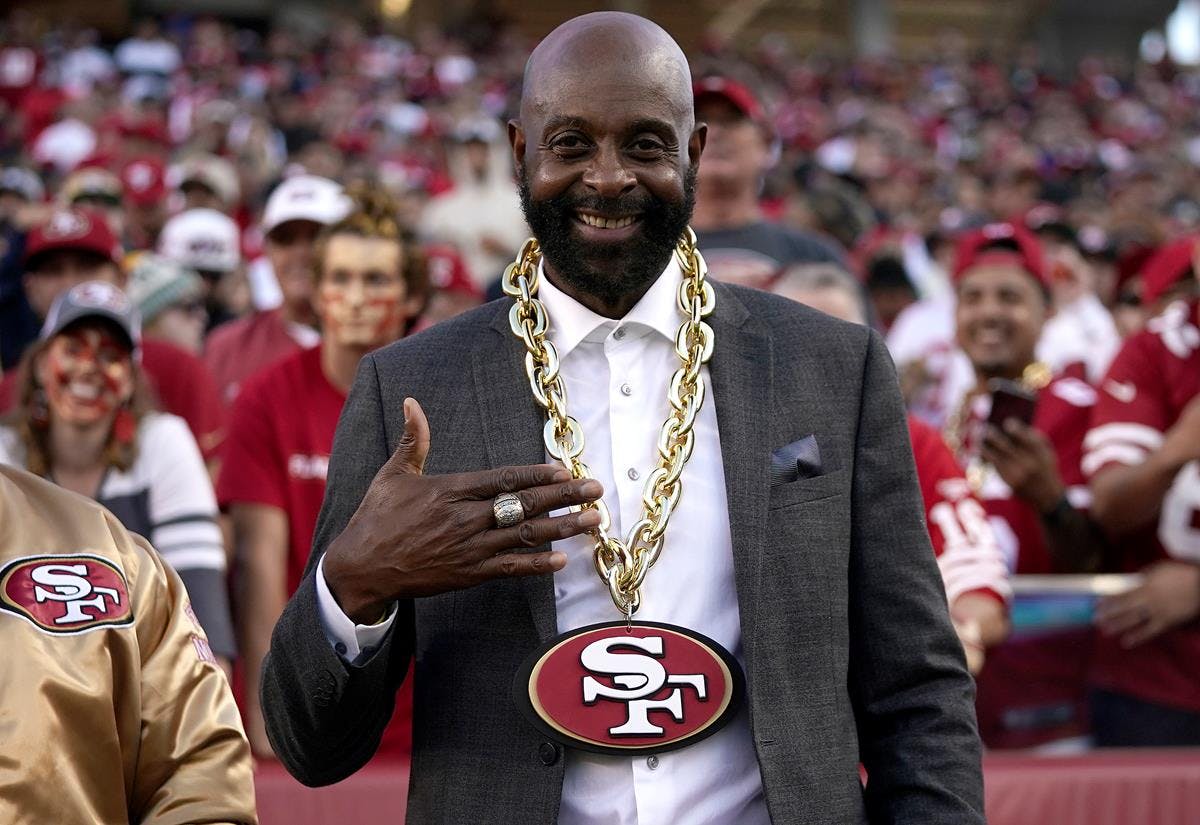 Some of the NFL's biggest names came out of HBCU programs, such as the aforementioned Strahan as well as wide receiver Bob Hayes, who competed in both football and track during his time at FAMU before winning gold in the 100m sprint at the 1964 Tokyo Olympics, the same year he was drafted by the Dallas Cowboys. No biggie.
Doug Williams had his beginnings at Grambling State and, in 1988, made history with the NFL's Washington Football Team when he became the first Black quarterback to win the Super Bowl and be named Super Bowl MVP.
Mississippi Valley State alum Jerry Rice is well-known for his success as a wide receiver with the San Francisco 49ers, leading the squad to three Super Bowl championships in the late '80s and '90s.
The Chicago Bears' Walter Payton spent his college years at Jackson State before breaking records as an NFL running back in the '70s and '80s. And Alcorn State alum Steve McNair set an FCS record in passing yards before playing for the Tennessee Titans in Super Bowl XXXIV.
📚 Current Students & Staff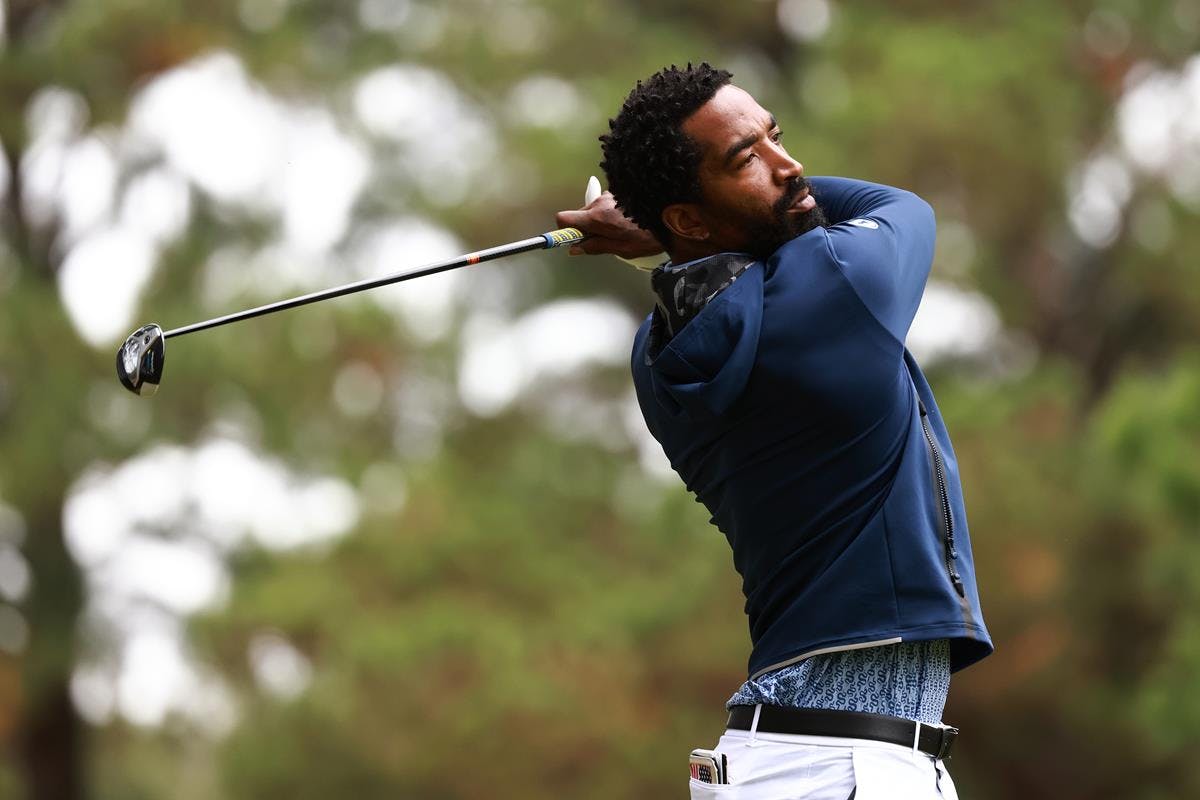 There are also some prominent names currently leading and competing at HBCUs. The aforementioned former NBAer JR Smith enrolled at North Carolina A&T earlier this year to pursue a degree in liberal studies. After enrolling, Smith also petitioned the NCAA to allow him to compete on the university's golf team.
Smith went straight to the NBA out of high school, so, like all college athletes, he's eligible to play a sport he has not professionally played for four years within a five-year window.
Tracking down his high school records in order to validate his eligibility proved to be a challenge, but his petition was approved. While his first outing last week stung a bit, he's certainly bringing new energy to the game.
Last year, former NFL star and TV personality Deion Sanders took the head football coaching job at Jackson State and has made a mark on the program ever since. Investing in new uniforms and upgraded training facilities, Sanders has been vocal about his intention to improve HBCU football as a whole.
The Tigers currently have a winning record and recently stomped on reigning conference champ Alabama A&M. It seems as though Sanders has already made a positive impact on the program, even if he has to lead the squad on one leg.
Former Tennessee Titan, Heisman winner and Renaissance man Eddie George took the head coaching position at Tennessee State earlier this year. What can't he do?
👏 Traditions
We can't write about HBCUs and not highlight the rich traditions that set them apart. From Homecoming celebrations to iconic Battle of the Bands moments, HBCU sporting events feature many iconic customs.
Homecoming: There's a reason Beyoncé named her 2019 documentary Homecoming and dedicated the Beychella performance to HBCU culture. While most U.S. institutions host a homecoming weekend, many HBCUs host week-long celebrations, often leading up to a rivalry football game.
And while sports are key, homecoming is about more than the game. It's an opportunity for alumni to return for philanthropic events and a joyous celebration of culture.
Marching bands: Prepare to be blown away. While HBCU marching bands do perform at halftime, their impact goes well beyond the gridiron.
Strolling and stepping: Greek life is a large part of the university experience for many students at schools across the country, but at HBCUs, the sororities and fraternities have some distinctive characteristics.
Black Greek Letter Organizations (BGLOs,) also known as the "Divine Nine" or "D9," all have their own unique style, and there's no better evidence of this than during step and stroll shows — think Stomp the Yard.
A stroll is a choreographed group routine that represents a particular organization. The dances can include passed-down hand signals, unique calls and whistles and so on. These routines make TikTok dance trends look easy.
➡️ The future of HBCUs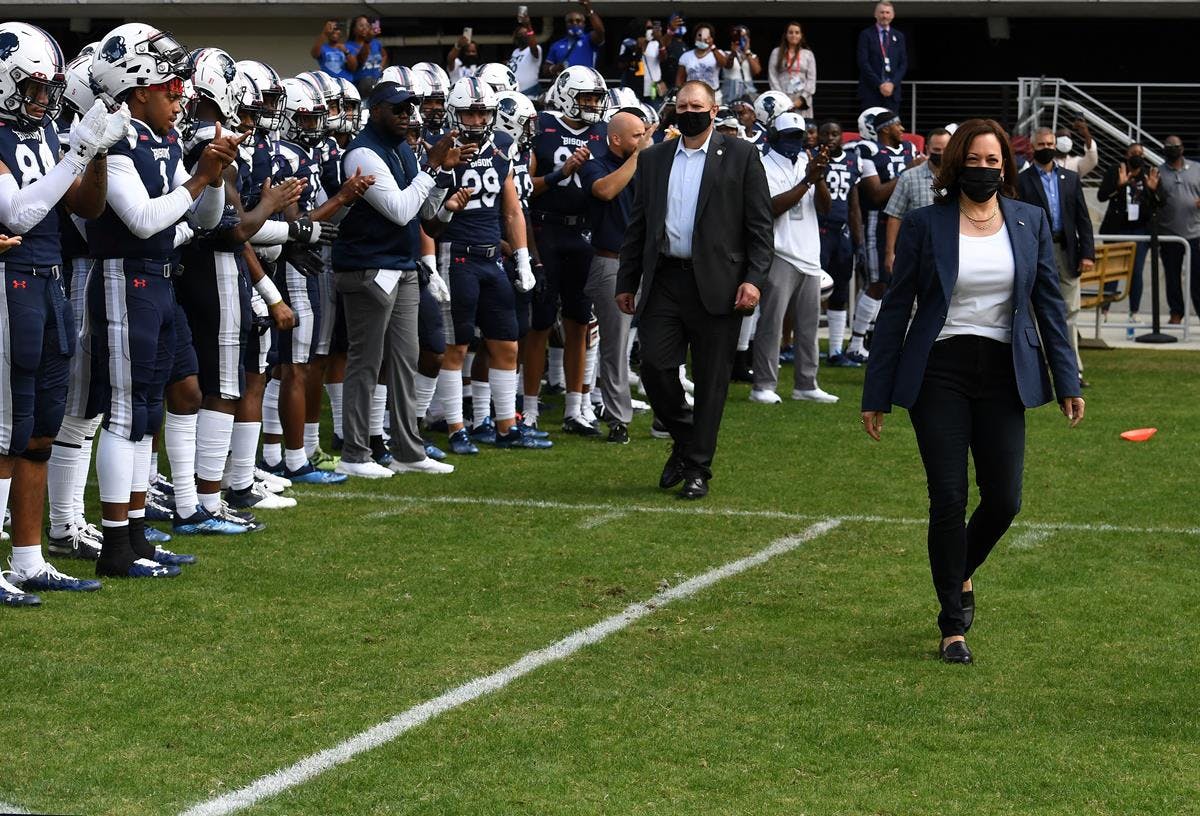 With a long list of prominent alumni in politics, pop culture and beyond — including Dr. Martin Luther King, Jr. (Morehouse College), Oprah Winfrey (Tennessee State University) and Vice President Kamala Harris (Howard University) — the impact of HBCUs is clear.
And when it comes to sports, the historical and contemporary importance of HBCUs in providing a safe place to play cannot be overstated.
As the collegiate sports landscape continues to evolve, the rich traditions, rivalries and culture of HBCUs marches on.
🏆

International Day of the Girl

October 10, 2021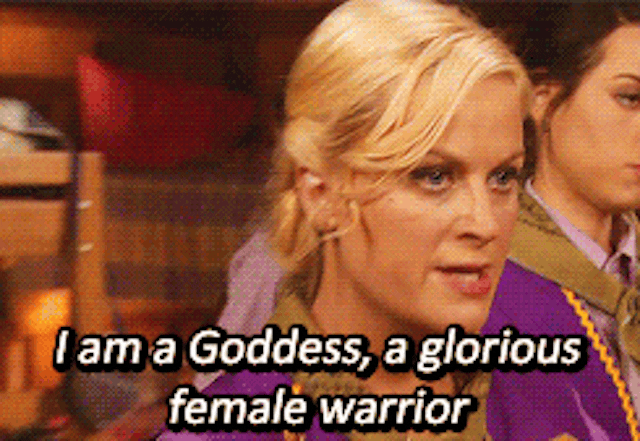 SOURCE: GIPHY
In honor of tomorrow's International Day of the Girl, we're highlighting the importance of girls' participation in sports by taking a close look at the barriers they face and the benefits when they're given the chance to play.
QUOTE OF THE DAY
If you ever want to see heaven, watch a bunch of young girls play. They are all sweat and skinned knees. Energy and open faces.
— Parks and Recreation queen Amy Poehler, in her book Yes Please,discussing the confidence that girls have at a young age while doing nothing more than being themselves.
🤝 What it's all about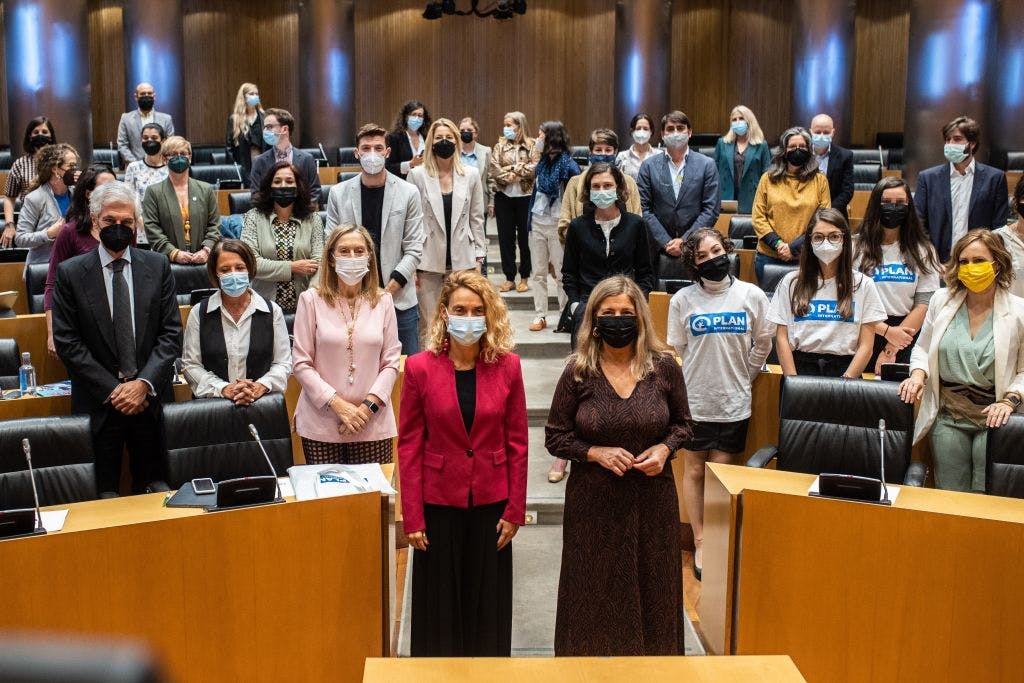 International Day of the Girl had its beginnings at the 1995 World Conference on Women in Beijing, where the Beijing Declaration and Platform for Action — a global blueprint for advancing the rights of women and girls — was created.
In 2011, the United Nations General Assembly declared October 11th to be the International Day of the Girl Child to raise awareness about the unique challenges girls face around the world and to inspire change.
With a focus on human rights and equality, the day highlights the rights that girls are entitled to, including education, safety, access to sexual and reproductive healthcare and information, economic opportunity and representation.
With a goal of bettering and improving the lives of girls and women everywhere, it's important to recognize the role that sports play in creating a safe and inclusive environment for young girls and to understand the impact that sports have on the lives of girls long after their adolescence.
🔢 What's the score?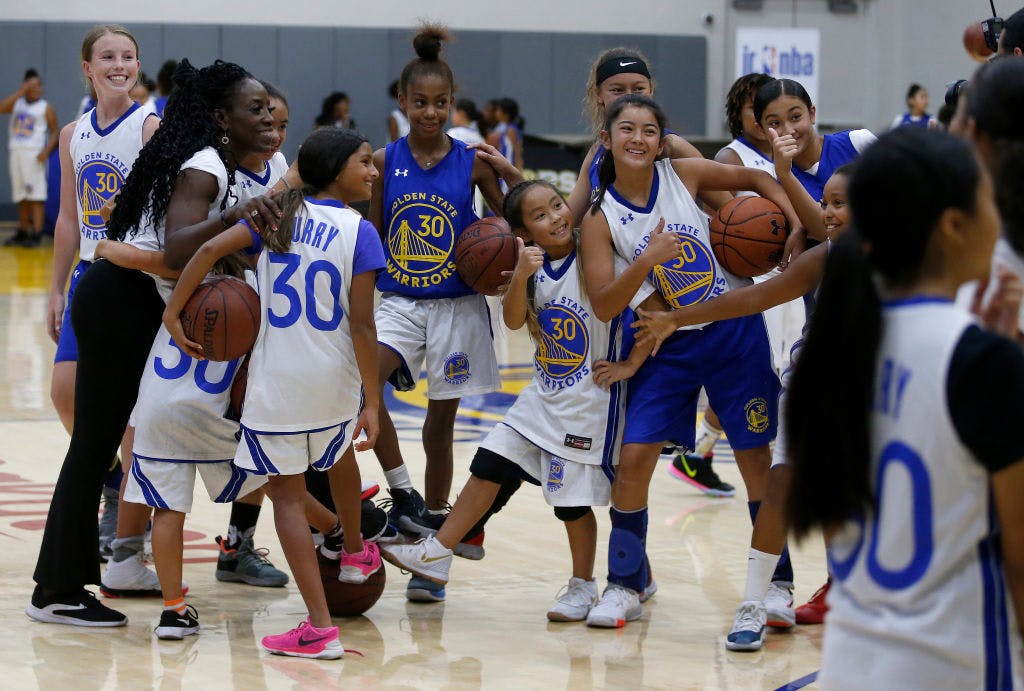 Although progress has certainly been made for women in sports, there's still quite a lot of work to be done to ensure young girls get involved and stay in the game.
In the U.S., about one in three girls between the ages of six and 12 participates in sports on a regular basis, but participation drops as girls enter their teenage years.
Teen girls are around 10% less likely to play sports than their male counterparts. Why's this the case? Research points to factors like cost barriers, family expectations and cultural messages suggesting that sports are "for the boys." *eye roll*
Another factor in the decrease in participation is the disproportionate number of opportunities. In the U.S., boys get 1.3 million more high school sports opportunities than girls.
The difference in opportunity is due, in large part, to the popularity of football for boys and the huge proportion of resources that schools pour into those programs.
Where does Title IX come into all of this? Well, the pivotal American law that prohibits sex-based discrimination for public schools has a broad set of guidelines, and compliance is often left unchecked and uncontested at the high school level. Big sigh.
When schools can't or won't provide enough resources for girls' sports, they often pivot to pay-to-play models, offering more opportunities...at a price. Girls in lower-income communities then miss out on the chance to play at competitive levels, disproportionately affecting young women of color.
👩‍💼 The rewards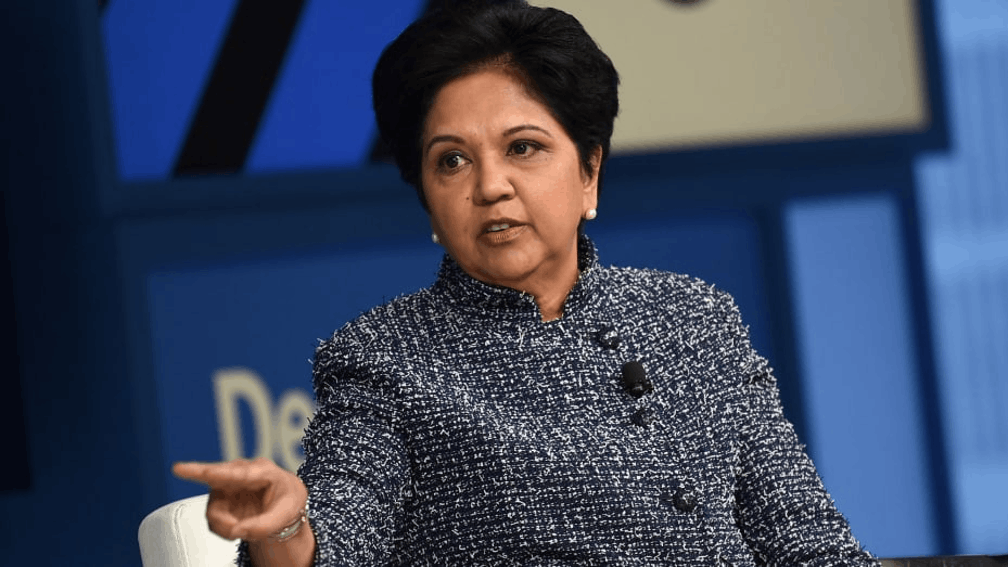 There are many obvious benefits for girls participating in sports. Not only is regular activity good for overall health, but girls that are active in their early years into young adulthood are less likely to develop chronic illnesses and even breast cancer.
Of course, there are numerous mental health benefits as well. Girls that play sports often are more confident and have higher self-esteem.
There's a growing amount of data that suggests playing sports is beneficial for their professional lives too, as most working women who play believe sports participation enhances their overall self-image.
And studies have also shown that girls who play team sports are more likely to graduate from college, find a job and be employed in male-dominated industries.
The majority of C-suite executives today played sports in their youth, and that is especially true for women in upper-level positions.
🚨 The pitfalls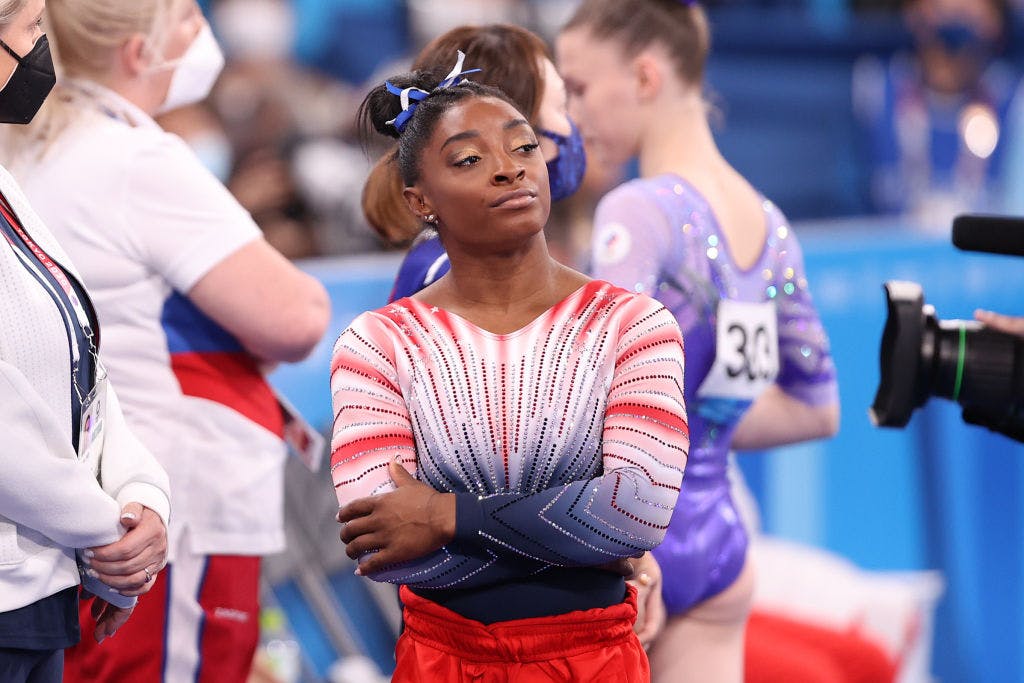 While there are many benefits, there are also a handful of unique risks that girls and women take when participating in athletics.
Overall, girls are more prone to sports-related injuries than boys. Specifically, girls are two to eight times more likely to suffer an ACL tear — a serious knee injury — than their male counterparts.
There's also concern regarding the effects of overtraining on girls, known as the "female athlete triad" — a combination of disordered eating, menstrual cycle irregularities (amenorrhea) and weakened bone health (osteoporosis).
Most troubling, however, are the safety concerns for girls in competitive sports. As more cases of abuse and harassment come to light from within some of the largest women's sports organizations, girls and their parents may weigh the risks associated with participating and choose to opt out.
USA Gymnastics failed its athletes, allowing a known abuser to prey on hundreds of vulnerable girls for years. And the NWSL's most recent bombshell of abuse allegations and failure to act, both paint a dim picture.
And with a trans exclusion movement ongoing in the U.S., safety for trans girls in sports is paramount. In a growing number of states, anti-trans bills have been passed to ban trans athletes from participating in sports that align with their gender identities, with a specific focus on trans girls.
These bills target a young group of athletes who are already susceptible to high rates of depression and suicide and who should be able to benefit from the positives of sports and, frankly, just focus on being kids.
💪 Breaking the mold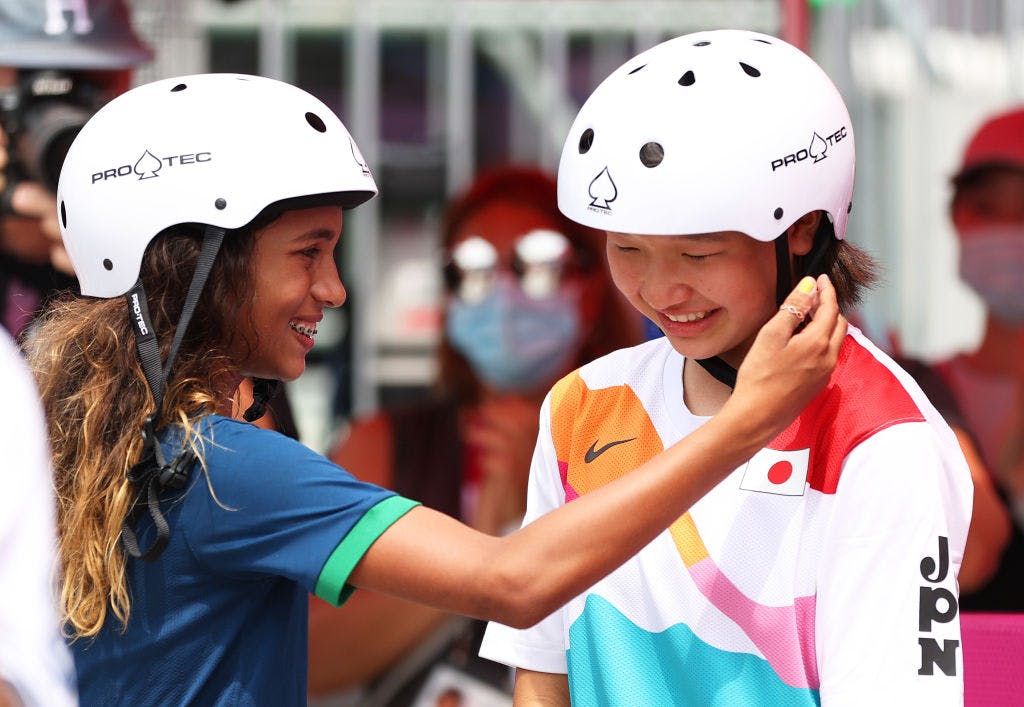 Despite the obstacles and risks involved, we've recently seen inspiring examples of girls paving the way for others to participate in traditionally masculine sports like skateboarding and football.
At the Tokyo Olympics, 13-year-olds Momiji Nishiya of Japan and Rayssa Leal of Brazil won the inaugural gold and silver medals, respectively, in the women's street skateboarding event.
Nishiya's win made her the third-youngest gold medalist in Olympic history.
And early this year, Nike partnered with the NFL to invest a total of $5 million in product, including gear and training material, to grow girls flag football across the U.S. in an effort to equalize the number of opportunities for high school girls and boys.
The NY Jets were quick to launch a pilot league in New Jersey and even created an eight-part documentary series called "EmpowHER." Um, more of this, please!
✨ The future for girls in sport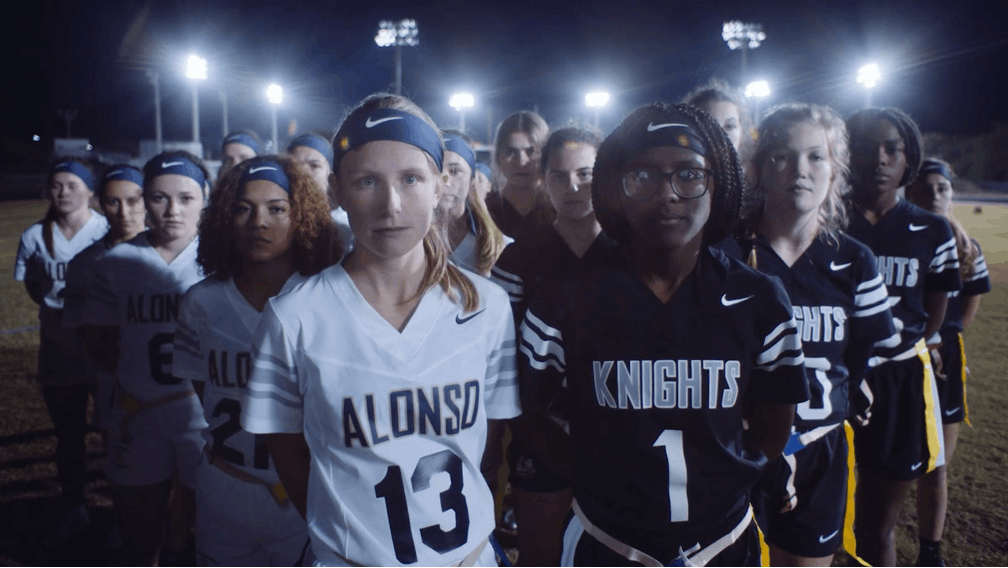 While there have been steps in the right direction, it's clear there's still a long way to go to make sports safer, more inclusive and more accessible for girls. With long-term impacts on their health, wellness and careers, the opportunity to play sports safely should be a fundamental right for girls everywhere.
Creating more opportunities for girls to get involved in sports is crucial, and programs like Nike's partnership with the NFL inspire hope for more like them to follow.
How do we help young women begin and continue to play sports? One focus is representation. Apologies if we sound like a broken record here, but the stats speak volumes.
In 2020, only 4% of sports media coverage was given to women's sports, and while we've seen some all-female broadcast squads kill the game this year, only 14 percent of sports journalists are women (BTW, we're 100% at The GIST).
On the field, only 27% of youth sports head coaches are female. More women in leadership positions, both on the sidelines and in front offices, will help to inspire female leadership at all levels.
In an industry that clearly has an influence on society, it's important that we hold the sports world to the highest standard of equity and inclusion and, most importantly, that we create a safe space for girls.
🏀
🏆
🏈
Sports Quick Hits: October 6th, 2021
October 06, 2021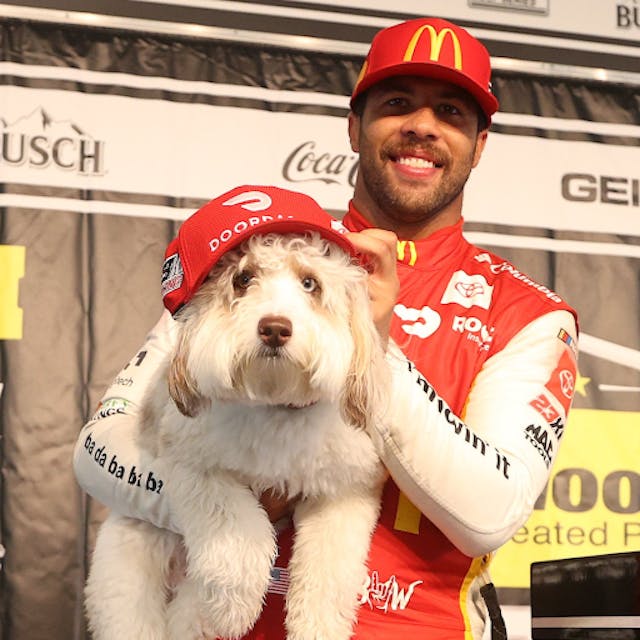 Source: NASCAR on NBC/Twitter
🏁NASCAR: With his win at the YellaWood 500 on Monday, Bubba Wallace became the second Black driver — after Wendell Scott in 1963 — to win a NASCAR Cup Series race. And to celebrate the historic moment, Wallace had his , join him for pictures. S'cute.
🏀NBA: Preseason is underway — shoutout to the Toronto Raptors, who finally made it home after 19 months and won their first game — but the Brooklyn Nets are without a key player to start. The unvaccinated Kyrie Irving can't practice with the team due to and if he doesn't smarten up.
Despite that, the annual predicts the Nets will win the championship, and Irving's teammate Kevin Durant is already a favorite for the real MVP.
🏈NFL: Jacksonville Jaguars new head coach Urban Meyer is in trouble. After losing again on Sunday, Meyer was caught on video getting disgustingly close with a woman who is not his wife in a bar.
🏀
🏒
⚾
🏆
🏈
The biggest trades in sport history
October 03, 2021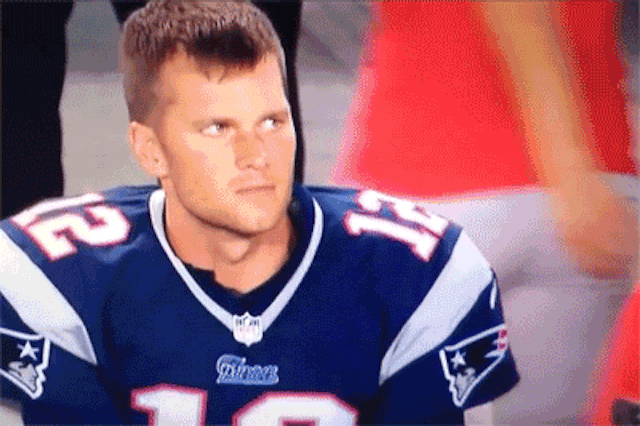 SOURCE: GIPHY
Not only is today October 3rd (hi, Aaron Samuels), it's also the day Tampa Bay Buccaneers quarterback (QB) Tom Brady makes his highly anticipated return to Foxboro after leaving the New England Patriots for the Bucs...and then winning the Super Bowl with his new team.
So today we're highlighting some of the biggest and most shocking trades and free agency signings that still haunt loyal fanbases to this day. Let's scroll.
QUOTE OF THE DAY
It's like when your high school friends meet your college friends 😬
— Brady's response on Twitter when the NFL announced tonight's game earlier this year. Yeah, it'll be something like that...
🏀 The Decision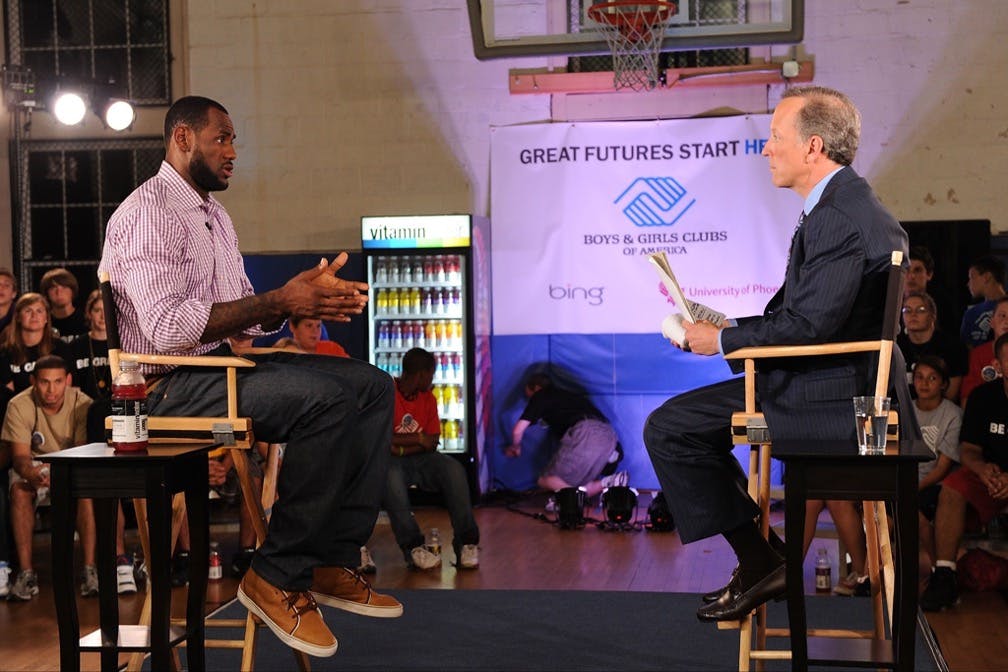 Perhaps the most infamous free agency signing occured back in 2010 when NBA star LeBron James signed with the Miami Heat instead of returning to his hometown team, the Cleveland Cavaliers. His announcement was met with fanfare, fury and even flames.
In 2003, the Cavs selected the Akron, Ohio native with the No. 1 overall draft pick. James won plenty of hardware in Cleveland (like Rookie of the Year, MVP and NBA All-Star), but never a championship title.
So, in 2010 he controversially decided to "take [his] talents to South Beach," joining forces with superstars Dwyane Wade and (former Toronto Raptor) Chris Bosh to form one of the game's most elite Big Threes.
The Heat went on to make three NBA Finals appearances in four years, winning back-to-back titles in 2012 and 2013. But in 2014, after losing in the Finals, James was a free agent once again and decided to move back to Cleveland, bringing one title home to the Cavs in 2016.
Of course, James changed teams once again, joining the LA Lakers in 2018 and leading them to the NBA "bubble" title in 2020.
And while James turning his 2010 free agency decision into a 75-minute TV spectacle is often made fun of, what's lost is that he raised over $2 million for the Boys & Girls Clubs of America during the program. Now that's why he's the King.
🏠 Who says you can't go home?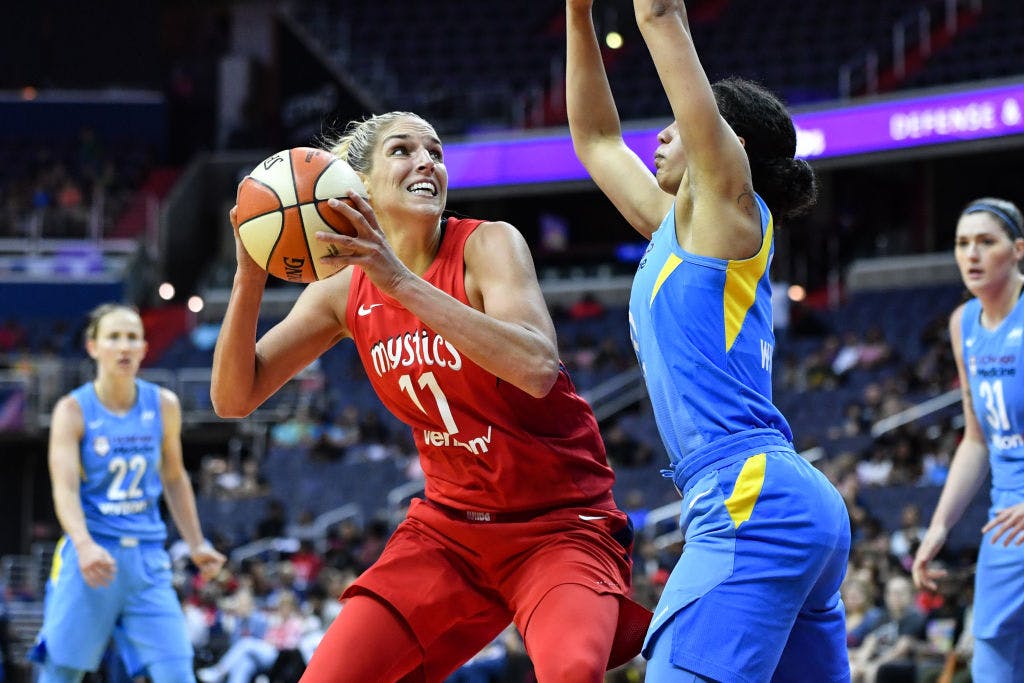 There's been no shortage of blockbuster moves in the WNBA's 25-year history, and the 2017 trade which sent Elena Delle Donne (EDD) from the Chicago Sky to the Washington Mystics is certainly one of the biggest.
The Sky selected EDD No. 2 overall in the 2013 draft. She won Rookie of the Year, three consecutive All-Star nods from 2013 to 2015 and her first MVP award in 2015.
But EDD reportedly grew unhappy playing in ChiTown. So, in exchange for Stefanie Dolson, Kahleah Copper and the No. 2 pick in 2017, the Sky sent their star to the Mystics, closer to her home state of Delaware.
In Washington, EDD led the Mystics to their first franchise semifinals appearance in 2017, first finals appearance in 2018 and first title in 2019. Oh yeah, and she was named the league MVP in 2019. What a homecoming.
Speaking of, former LA Sparks star Candace Parker's move to the Sky earlier this year was the latest major W move. A Chicago native, Parker is currently on the hunt for her second WNBA title and first with her hometown team. There's no place like home.
⚾️ The Curse of the Bambino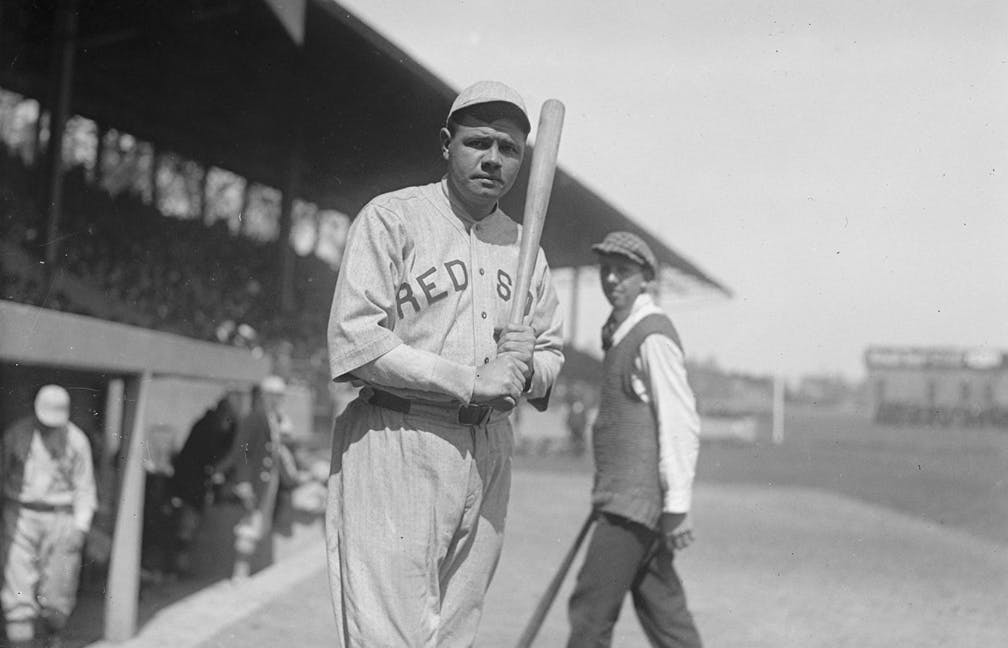 For baseball's biggest trade, we have to go all the way back to 1920. Last week, we covered the comeback that broke "the Curse," so this week, we're diving into its origin story.
Before LA Angel Shohei Ohtani, Babe Ruth was baseball's original two-way star. Led by the young Babe, the Boston Red Sox won three World Series titles in four years, hoisting the trophy in 1915, 1916 and 1918. Ruth continued to dazzle during the 1919 season, leading the league in RBI all while pitching for the team, too.
Despite their success with Ruth, Red Sox team owner Harry Frazee shockingly announced in January 1920 that the Babe would be traded to Boston's archrival, the NY Yankees. *gasps*
You might be thinking, surely the Sox received a great trade for the superstar. Nope. Boston sold Ruth to NY for a mere $100K (about $1.3 million today), which Frazee reportedly used to finance a Broadway play. How's that for a curtain call?
The trade's aftermath still haunts Sox fans to this day. Ruth went on to win four World Series titles with the Yankees and set countless baseball records before retiring as one of the greatest players the game had ever seen.
Meanwhile, Boston experienced an 86-year World Series title drought post-Ruth, which is commonly referred to as "the Curse of the Bambino." Spooky.
🏒 The Trade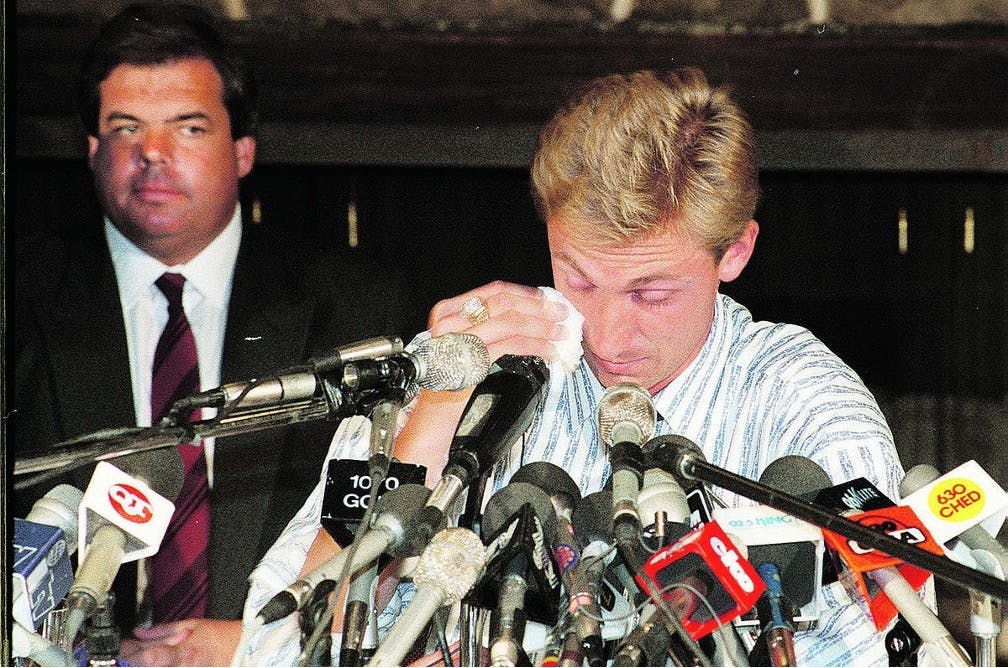 No list of league-altering sports transactions is complete without the NHL deal known simply as "The Trade," which sent "the Great One" Wayne Gretzky to the LA Kings just three months after he won the 1988 Stanley Cup with the Edmonton Oilers.
Gretzky's status as a hockey legend was already solidified. He had won the Hart Trophy (NHL's MVP award) in eight consecutive seasons, the Conn Smythe trophy (playoff MVP) twice and four Stanley Cups.
Naturally, LA wanted in. In August 1988, it was announced that Gretzky and two of his Oilers teammates were California-bound in exchange for two Kings players, draft picks and $15 million.
While Kings fans celebrated, Canadians mourned. One member of Parliament proposed that the government pass legislation to block the trade. Ahead of Gretzky's tearful goodbye press conference, the Oilers owners even offered to call off the trade, but he refused.
While he didn't lift another Stanley Cup, Gretzky did go on to win his unprecedented ninth Hart Trophy in his first year with the Kings. He's also largely credited with popularizing hockey in California.
As for the Oilers, they did win the 1990 Cup without Gretzky, but fans will never forgive GM Peter Pocklington for letting "the Great One" become the one that got away.
🏈 The Return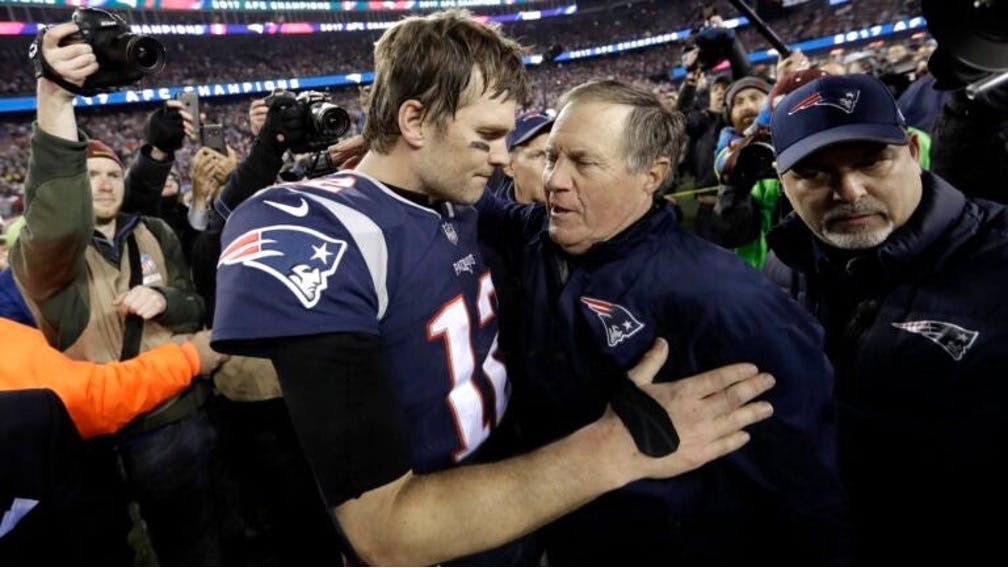 Of course we have to end things with the man of the hour, GOAT Tom Brady. After being drafted 199th overall (during the second to last round, still shocking) in the 2000 NFL Draft, Brady made his Patriots debut in November 2000.
He went on to lead the Pats to nine Super Bowl appearances, winning six times. It was a dynasty.
But after losing in the 2020 AFC Wild Card game, Brady had a marvelous time ruinin' everything decided it was time for a change. In March 2020, the GOAT signed with the Buccaneers, ending an epic 20-year career with the Pats and breaking the hearts of New Englanders everywhere.
Their hearts were further shattered when another former Pat — tight end Rob Gronkowski — came out of retirement to join forces with TB12 in Tampa Bay. The duo poured extra salt in the wound when they won the Super Bowl in February.
So how will New England fans welcome their beloved QB when he makes his first return to Foxboro tonight? Tune in at 8:20 p.m. ET on NBC in the U.S. or CTV2, TSN and RDS in Canada to find out. Getcha popcorn (and your tissues) ready.
⚾
🏆
Sports Quick Hits: October 1st, 2021
October 01, 2021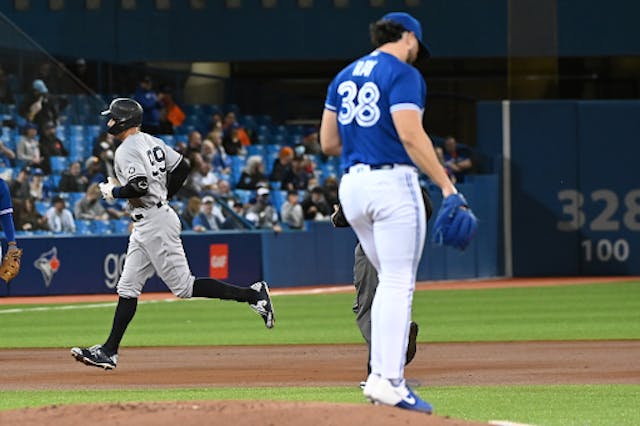 Source: CityNews Toronto/Twitter
⚾️MLB: The Toronto Blue Jays still have a at the postseason, but it's going to take a lot of luck to get there. With last night's 6–2 loss to the New York Yankees and the Boston Red Sox's 6–2 loss to the Baltimore Orioles, the Jays now sit one game behind Boston and Seattle in the second Wild Card spot, with three games — all against the lowly Orioles — to go.
😷COVID-19: The five percent of unvaccinated NBA players if they miss games due to non-compliance of local vaccine mandates. For example, New York City and San Francisco have banned unvaccinated people from attending (and playing in) indoor sporting events, meaning at least three teams' players are affected by the rule.
Meanwhile, the MLB has new postseason vaccine rules: no unvaccinated coaches will be allowed on the field during games. Good on them.