🏎

W Series: ESPN lands partnership deal

May 09, 2022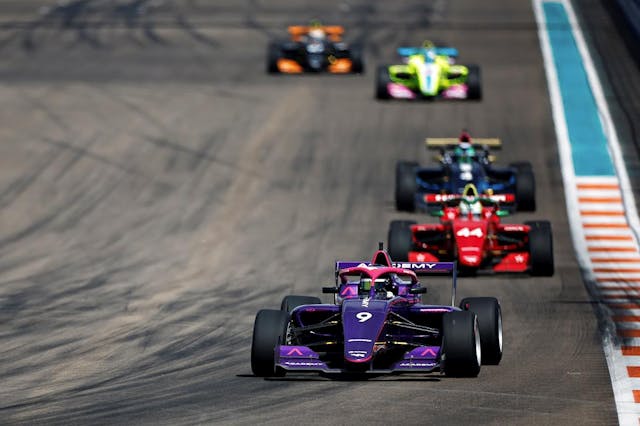 SOURCE: CHRIS GRAYTHEN/GETTY IMAGES
The GIST: The W Series' motor is officially running. The race car championship kicked off its 2022 season this weekend in Miami with a brand-new U.S. media partner — ESPN. On the heels of its new deals with British broadcaster Sky and Miami title sponsor Hard Rock International, the W Series announced the agreement with ESPN on Thursday.
The details: ESPN, which overtook premium channel beIN SPORTS to land the W Series' rights, will air all 10 races — races that were strategically scheduled at eight of the 2022 Formula One Grand Prix weekends. W Series coverage will appear across ESPN's platforms, including ESPN2, ESPNU and ESPNEWS.
Zooming out: With F1 and auto racing fandom on the rise stateside, this broadcast deal couldn't come at a better time. The W Series now has an opportunity few women's sports properties are afforded — the chance to grow alongside its male equivalent, versus as a secondary phase of expansion.
🏎

W Series: Racing to the screen

April 27, 2022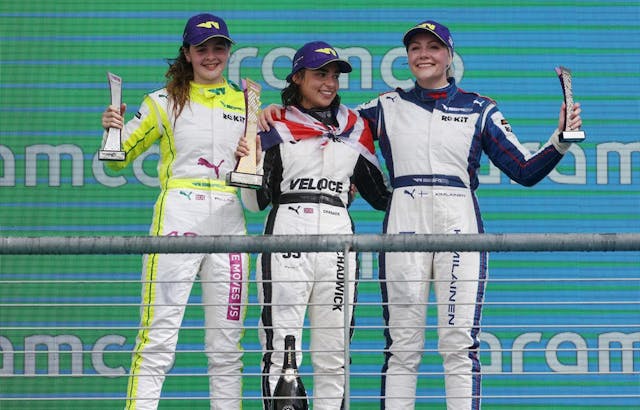 CHRIS GRAYTHEN/GETTY IMAGES
The GIST: Ahead of next week's season-start double-header in Miami, the W Series booked a brand new partner in British broadcaster Sky. The parties announced a three-year deal yesterday, the largest media agreement in the W Series' history. It's time to rev those engines…and fire up those remotes.
The details: Sky will offer live coverage of all 10 qualifying and race sessions across the W Series' eight weekends. Notably, each race weekend aligns with a Grand Prix of the W Series' male counterpart, Formula One (F1). Motorsport fans, rejoice.
The broadcaster will share W Series and F1 content across its linear, digital and social channels. The deal, which includes Sky Italia and Sky Deutschland, also encompasses joint initiatives promoting women in motorsport.
Zooming out: F1 is cruising after Netflix's Drive to Survive increased the sport's viewership, and the added attention could lead more eyeballs to the W Series. Per SponsorPulse,* 64.39 million Americans engaged with the W Series in the last year, not far from the 71.49 million who engaged with F1 in the same time frame.
*P.S. SponsorPulse is a launching partner of The GIST Sports Biz.
🏎

Formula One: Drama to the Max

December 13, 2021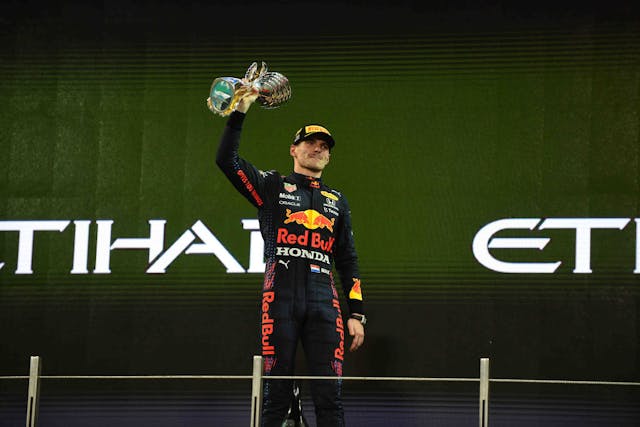 ANDREA DIODATO/NURPHOTO VIA GETTY IMAGES
The GIST: The 2021 Drivers' World Championship came down to the final lap and ended with a controversial first-ever title for Red Bull's Max Verstappen.
The race: Mercedes' Lewis Hamilton was poised to claim a record-breaking eighth world title…until a Williams' Nicholas Latifi crash resulted in a safety car on the 53rd lap (of 58).
From there, the race director's controversial call led to a restart on the final lap, allowing Verstappen (and his fresh tires) to overtake Hamilton to claim the win. Absolutely wild.
The aftermath: Despite the bitter loss, Hamilton classily congratulated Verstappen after the race. Meanwhile, Team Mercedes launched two (now dismissed) protests of the race director's ruling.
The bigger picture: Zooming out, Verstappen and Hamilton both had incredible seasons. Verstappen's victory made him the first Dutch driver to win an F1 World Championship and snapped Hamilton's streak of four consecutive title victories. Can't wait to relive all of it when Netflix's Drive to Survive comes out early next year.
🏎

Formula One: Red lights, stop signs

December 10, 2021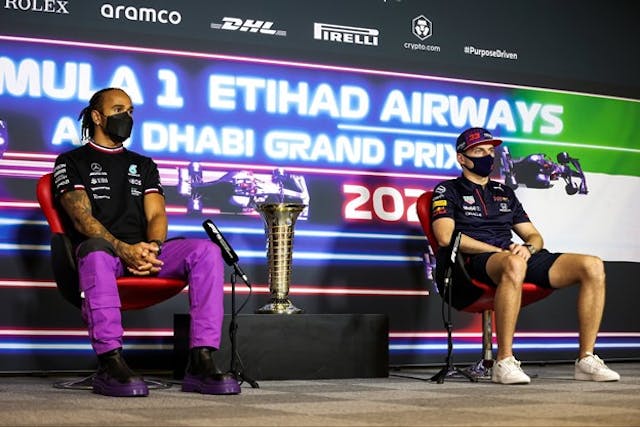 SOURCE: F1/TWITTER
The GIST: An intense feud will finally be settled on Sunday. No, we're not talking about Olivia Rodrigo and what's his name, we're talking about Mercedes' Lewis Hamilton and Red Bull's Max Verstappen.
The context: Sunday's Abu Dhabi Grand Prix (GP) is the final F1 race of the year, and Hamilton and Verstappen enter the weekend tied atop the Drivers' World Championship standings.
For most of the season, it seemed like Verstappen would earn his first-ever title, but seven-time champ Hamilton recently rattled off three straight GP wins, giving us the first finale since 1974 in which two drivers are tied for first. TYSM.
The rivalry: To say things have been tense would be an understatement — they've hurled insults at each other all season. Most notably, Verstappen called Hamilton a "stupid idiot" during practice for the U.S. GP in October. Creative.
But their dissension goes beyond words. The drivers have combined for three penalties in the last three races and have collided on three separate occasions this year.
How to watch: The race begins Sunday at 8 a.m. ET (ESPN in the U.S., TSN in Canada), but it'll be well worth the early wake-up call. And if you just can't wait to see these two competitors go head-to-head, tune in to tomorrow's qualifying race at 8 a.m. ET. Vroom, vroom.
🏎
⚽
🏈
Sports Quick Hits: December 6th 2021
December 06, 2021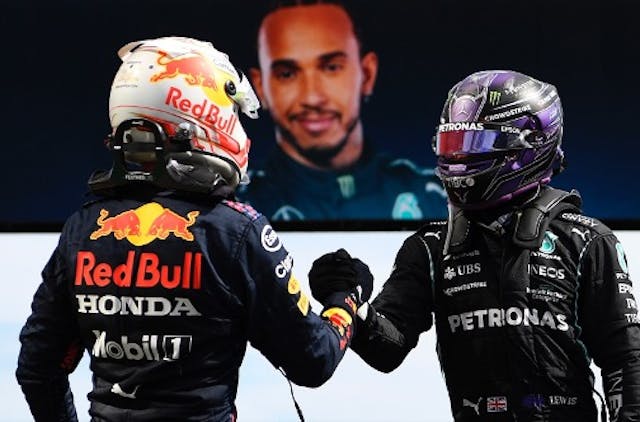 SOURCE: SPORF/TWITTER
🏎️F1: Mercedes' Lewis Hamilton won yesterday's controversy-filled Saudi Arabian Grand Prix (GP), his 103rd GP victory and a win that ties him with his rival, Red Bull's Max Verstappen, atop the leaderboard. With just one race remaining on the calendar, the Drive to Survive producers couldn't have written it better.
⚽️MLS playoffs: And then there were two. Saturday's 3 p.m. ET title game will feature a battle of No. 4 seeds when the Western Conference champion Portland Timbers face the Eastern Conference–winning NYCFC.
Portland has dominated on defense, conceding just one goal through the playoffs, while NYCFC has relied on a well-balanced offense. This is going to be good.
🏈NFL: If you're looking for some motivation on this Monday morning, just know that the Detroit Lions finally won yesterday, after going winless through their first 11 games. They defeated the Minnesota Vikings 29–27, thanks to an incredible touchdown as time expired. Anything is possible.