🏒
⚽
Sports Quick Hits: November 24th, 2021
November 24, 2021
Presented with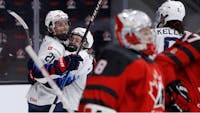 🏒Women's hockey: Thanks to yesterday's 2–0 win, Team USA is now tied with Team Canada in the Rivalry Series. Forward Hilary Knight (because who else?) opened up the scoring in the second period and fellow forward Amanda Kessel doubled the lead minutes later.
Just five more head-to-head games remain until a little thing called the Olympics.
⚽️MLS: The first round of the MLS Playoffs finished yesterday, and most notably No. 7 Real Salt Lake upset No. 2 Seattle Sounders FC in a dramatic shootout, winning 6–5 in penalty kicks. Didn't see that one coming.
Next up, conference semis kick off tomorrow at 4:30 p.m. ET with a Turkey Day battle between the Western Conference's top-seeded Colorado Rapids and No. 4 Portland Timbers. Nothing fowl about this matchup.
⚽️Soccer: The 2021 Best FIFA Football Award nominees were announced on Monday, and USWNT goalie Alyssa Naeher is holding it down as the lone U.S. candidate (women's and men's). No. 1 on the pitch, No. 1 in our hearts and No. 1 on our Best Women's Goalkeeper ballots.
🏒
⚽
Sports Quick Hits: November 24th, 2021
November 24, 2021
Presented with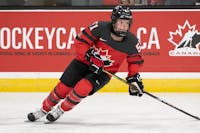 🏒Women's hockey: It was another doozy of a game for Team Canada last night, as they fell to the U.S. for the second time in just three days. Ugh. Fortunately, there's five more head-to-head games until a little thing called the Olympics.
⚽Soccer: Riding that Olympic gold medal high, CanWNT's Christine Sinclair, Stephanie Labbé and Bev Priestman have been nominated as The Best FIFA Women's Player, The Best FIFA Women's Goalkeeper and The Best FIFA Women's Coach, respectively. As Shania would say: "Let's go girls!"
🏒NHL: Love watching history happen? Tune in to watch the Edmonton Oilers take on the Arizona Coyotes tonight at 10 p.m. ET, where Connor McDavid could become the fourth-fastest player in NHL history to reach the 400 assists milestone. Hope we didn't jinx it.
🏒
⚽
🏎
Sports Quick Hits: November 22nd, 2021
November 22, 2021
🏒NHL: The Sens are back, alright! After postponing their last three games due to a COVID-19 outbreak, Ottawa will be returning to the ice against the Colorado Avalanche tonight at 8:30 p.m. ET. Given their rough 4-10-1 (wins, losses, overtime losses) start to the season, hopefully this one ain't a heartache.
🏒Women's hockey: Someone call Drake because the Premier Hockey Federation's (PHF, formerly NWHL) Toronto Six have gone back-to-back. After Saturday's 5–1 victory (in front of a sold out crowd!) against the Connecticut Whale, the Six struck again on Sunday in a 3–2 win to complete the weekend sweep.
Moving along to international hockey, the third stop of the My Why Tour took place in Kingston on Sunday. While Canada was victorious in the first two games of the tour, Team USA took a 3–2 overtime win over Canada in the third.
⚽MLS: The Vancouver Whitecaps — Canada's lone MLS team in the playoffs — were eliminated this weekend with a rough 3–1 loss to Sporting Kansas City. Womp.
🏎F1: The F1 season is going to come down to the wire, with Mercedes' Lewis Hamilton notching another dominant win in Qatar yesterday. Following last week's win in Brazil, Hamilton is now just eight points behind Red Bull's Max Verstappen in the overall standings with two races to go. The drama.
⚾
🏒
🏀
Sports Quick Hits: November 19th, 2021
November 19, 2021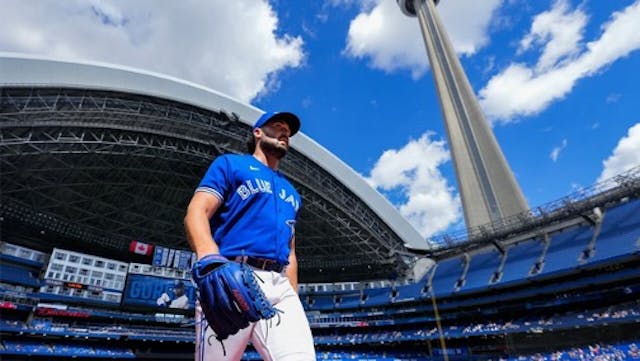 ⚾️MLB: LA Angel Shohei Ohtani might have bested Toronto Blue Jay Vladimir Guerrero Jr. to win the American League (AL) MVP, but the Jays still notched a win with Robbie Ray winning the AL Cy Young Award (given to the best pitcher in each league).
🏒NHL: Don't look now but the Toronto Maple Leafs are back to their winning ways, rattling off five straight after last night's 2–1 win over the NY Rangers. You already know the 6ix needs a sixth, and they'll have a shot tomorrow at 7 p.m. ET against the (soon-to-be sold?) Pittsburgh Penguins.
Meanwhile, Edmonton Oilers star Connor McDavid helped his squad down the Winnipeg Jets in a 2–1 shootout victory last night. That's one way to silence the haters.
🎓🏀College basketball: We're a little more than a week into the NCAA college basketball season, and a couple of Canadians are making us proud south of the border. No. 2 UConn's Aaliyah Edwards contributed nine points in just 17 minutes during the Huskies' season-opening win. And she'll be back in action tomorrow at 12 p.m. ET against Minnesota.
Elsewhere, No. 1 Gonzaga's Andrew Nembhard (who hails from Aurora, ON) played every minute of the Bulldogs' big win over then-No. 5 Texas last week. Talk about dependable.
⚽
🏒
⚾
Sports Quick Hits: November 17th, 2021
November 17, 2021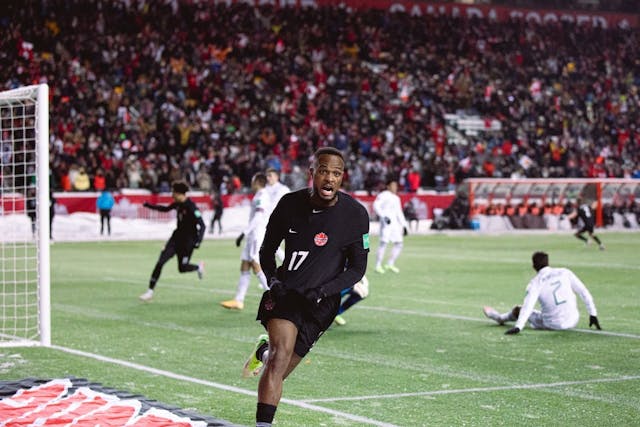 SOURCE: CANADA SOCCER/TWITTER
⚽️CanMNT: As soon as we saw the snowflakes falling ahead of yesterday's World Cup qualifier hosted in Edmonton, we knew the CanMNT would pull out the win. The home team topped Mexico 2–1, helping them move up to first place in the CONCACAF standings.
Quick refresher: the top three teams automatically advance to next year's World Cup in Qatar, and there are only six qualifying games to go. Keep your fingers crossed.
🏒NHL: It's been a terrible, horrible, no good, very bad stretch for the 4-10-1 (wins, losses, overtime losses) Ottawa Senators, and now their season is on pause for at least three games as they struggle with a COVID-19 outbreak that's landed 10 players on the COVID-19 list. Yikes.
⚾️MLB: The MLB season may be long gone, but Toronto Blue Jays ace pitcher Robbie Ray still has a chance to win big. Ray is one of three candidates for the American League Cy Young Award, given to the league's best pitcher. The winner will be announced tonight at 6 p.m. ET, and we're thinking it'll be Ray all the way, eh?