⛳
⚽
🏀
Sports Quick Hits: June 24th, 2021
June 24, 2021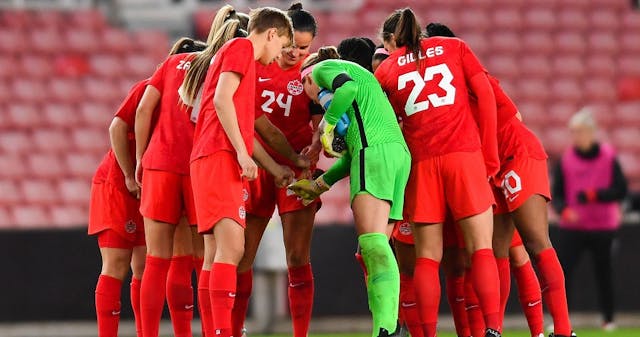 Source: Canada Soccer
⚽️Soccer: The CanWNT's Olympic , and it's no surprise that the GOAT Christine Sinclair will lead the team for her fourth Games, alongside 2020 Canadian Player of the Year Kadeisha Buchanan, Jessie Fleming, Quinn, Janine Beckie, Desiree Scott and goalkeepers Stephanie Labbé and (warning: grab a tissue before you click that link).
There were a few surprises though: vet Sophie Schmidt and up-and-comer Jordyn Huitema (pronounced HIGH-teh-ma) were included as alternates.
⛳️Golf: Another weekend, another major. This time, it's the Women's PGA Championship, the fourth of five LPGA majors. Reigning champ Sei Young Kim will be back in contention, alongside past winners Brooke Henderson (Canadian!) and Danielle Kang, and 2021 LPGA tour event winners Nelly and Jessica Korda, who are each looking for their first major. Follow along .
🏀Basketball: Move over, The Last Dance. Michael Jordan made his greatest contribution yet when he announced the Jordan Brand's "" campaign, featuring 11 WNBA players. .
⚽

CanWNT Scoreless in Latest Set of Friendlies

June 17, 2021
Source: Canada Soccer/Twitter
Euros: It's been a wild few days in Europe. Tuesday's matches saw a into Germany's stadium, injuring fans during Germany's 1–0 loss to France, and Portugal's 3–0 win over Hungary made Cristiano Ronaldo (who we , BTW) the Euros' .
Yesterday was a touch tamer, with wins for Wales, Italy and Russia, and three more matches are on deck today. Check out all the results and the full schedule .
CanWNT: Both of CanWNT's latest friendlies ended in scoreless draws, and though we're a bit nervous about their offense, the games proved the team's defense is solid as a rock. Let's hope in futbol too.
Speaking of, stay tuned for head coach Bev Priestman's Olympic roster announcement, expected over the next couple of weeks.
CanMNT: The guys can hang, too. They're riding a six-game winning streak, including , and for the first time in forever 24 years, they made it to the final round of World Cup qualifiers ahead of the Qatar 2022 World Cup.
🏀
⚾
⚽
Sports Quick Hits: Monday June 14th, 2021
June 14, 2021
Source: Darren Abate/AP
🏀NBA: Sure, , but the NBA action we're excited about is behind the bench. The Portland Trail Blazers and Orlando Magic are both searching for new head coaches, and not one, but two women — San Antonio Spurs assistant Becky Hammon and University of South Carolina head coach Dawn Staley — . About damn time.
⚽️Soccer: Though world No. 8 CanWNT delivered a disappointing 0–0 performance against No. 27 Czech Republic on Friday (just a day before what should be a national holiday: Christine Sinclair's birthday, who's now 38), coach Bev Priestman against a tough No .7 Brazilian squad today at 3 p.m. ET.
⚾️MLB: The Toronto Blue Jays 18-4 win over the Boston Red Sox yesterday looked more like a football score than baseball, with the Jays hitting eight home runs, the most ever by any visiting team at the Sox' 109-year-old Fenway Park. Watch them close out the series at 7:10 p.m. ET tonight. Do we hear nine?
⚽

Exciting Action Continues for Day 4 of Euros

June 14, 2021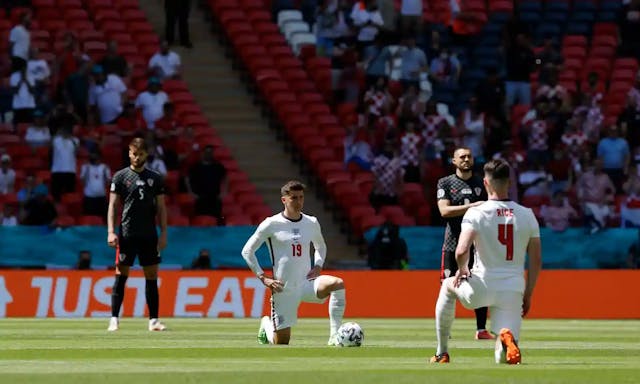 Source: Tom Jenkins/The Guardian
❤️Christian Eriksen is stable: In a very scary moment in Denmark's first match against Finland on Saturday, Danish footballer Eriksen collapsed on the field due to a now-confirmed cardiac arrest, requiring trainers to use a defibrillator and while on the pitch.
🏴󠁧󠁢󠁥󠁮󠁧󠁿England gets booed: Despite and players, the team was still booed by their home crowd when they took a knee ahead of yesterday's first match against Croatia (which England won 1–0). Disgusting. For more on this continuing act of racism, check out of The GIST of It.
🗓On the schedule: There are today, but only one is a can't-miss: Spain vs. Sweden at 3 p.m. ET. With both teams dealing with COVID-19 woes, some youngsters will be in the spotlight.
⚽

Euros Preview

June 11, 2021
SOURCE: ILNAPOLISTA.IT
QUOTE OF THE DAY
There are two possibilities from this tournament. Either I shall be kissed all over my bald head or I will have tomatoes thrown at it.
—Arrigo Sacchi, coach of the 1996 Italian national team, on the occupational hazards of playing in the Euros. His team lost in the group stage that year, so we'll let you imagine which outcome he faced…
⚽️ The set-up
The UEFA European Football Championship, a mouthful better known as the Euros, brings together Europe's top men's national soccer teams once every four years to duke it out for continental glory (and a lot of money, naturally).
After two years of qualification rounds, Europe's 55 eligible teams are whittled down to 24 nations that move on to month-long Euros, which begins today.
The tournament consists of two stages: First, the three-game round robin group stage, which splits the 24 teams into six groups (more on them in a bit). The top two teams from each, along with the next four best teams overall, based on points during the round robin — three for a win, one for a draw — advance to the knockout stage.
The knockout stage includes the round of 16, quarterfinals, semifinals and final that's set for July 11th.
While most Euros are hosted in one or two countries, this year's tournament is pan-European, with 11 countries playing host during the group stage and first two knockout rounds before London takes over for the semis and final. Jolly good.
Second only to the FIFA World Cup, the Euros are an international BFD, even for us North Americans. So if you don't have a nation to cheer for yet, here's "the gist" on every group to help you pick.
🇹🇷🇮🇹🏴󠁧󠁢󠁷󠁬󠁳󠁿🇨🇭 Group A - Turkey, Italy, Wales, Switzerland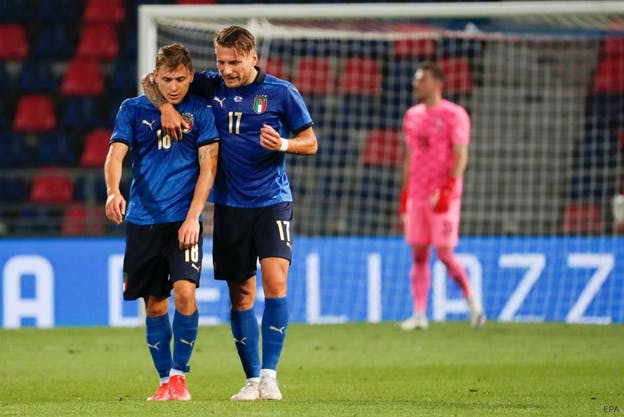 The favorite: Italy. Riding a 27-game unbeaten streak, the Azzurri, as they're known, are playing all three of their group stage matches in front of a home crowd in Rome. The world-ranked No. 7 team won't have an easy run, but with one of the tournament's best defenses, they have what it takes to go far.
The dark horse: Turkey could give Italy a run for their money, but to be fair, any of the three in the group could. We'll get a good sense of things right off the bat though, when Italy and Turkey kick off the whole tournament today at 3 p.m. ET. We're calling it: the winner of today's match will win the group.
Who to watch: Gareth Bale, Wales. He's the best thing to come out of the country since singer Tom Jones, but this tournament will show if the 31-year-old superstar still has it. If he sets the right tone, the rest of his team should follow, and they could surprise us all.
🇩🇰🇫🇮🇧🇪🇷🇺 Group B - Denmark, Finland, Belgium, Russia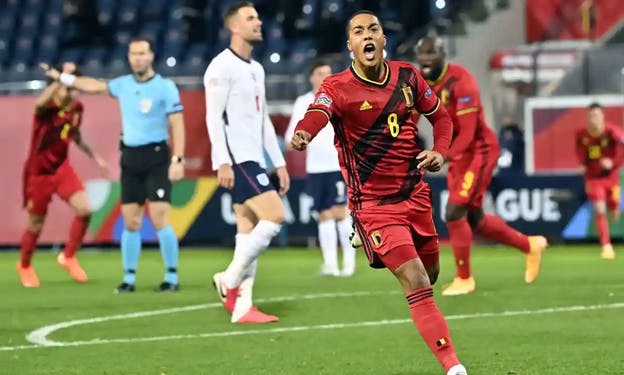 The favorite: Belgium. They're calling this the golden generation of Belgian soccer. The roster is strong, experienced, and like Daphne Bridgerton and the Duke of Hastings, has undeniable chemistry. This tourney is the moment of truth for stars like Eden Hazard, Romelu Lukaku and Kevin de Bruyne to finally seal the deal.
The dark horse: Denmark. They may not have a ton of starpower, but their midfield is reliable, their defense is solid, and their goalie Kasper Schmeichel (whose father Peter, also a goaltender, led Denmark to their 1992 Euro win) is one of the top in the tournament.
Who to watch: As previously mentioned, Lukaku, Belgium. An early prediction for "Player of the Tournament," Lukaku is Belgium's all-time highest goal-scorer and is only expected to add to his record and grow his lead, especially if Belgium can make it all the way.
🇳🇱🇺🇦🇦🇹🇲🇰 Group C - Netherlands, Ukraine, Austria, North Macedonia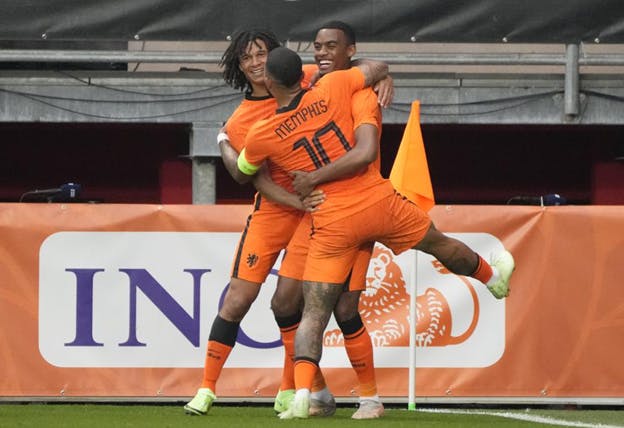 The favorite: Netherlands. This shouldn't be too hard for them. Though the Dutch team missed the last Euros, they have a light schedule, a solid squad and a new-but-knowledgeable coach in Frank de Boer this time. They'll also play all of their group stage matches at home, which helps.
The dark horse: Though we heavily debated Ukraine, we're going with Austria, final answer. They've played in two Euros before but never made it past the group stage. We think third time's a charm for the world's 23rd ranked team. Time to make the von Trapp family proud.
Who to watch: Memphis Depay, Netherlands. Aside from having a burgeoning music career, he's also a pretty great soccer player. He'll likely be the main Dutch goal scorer during the Euros, and given the relatively easy matchups he'll be facing, could be a top contender for the Golden Boot (awarded to the tournament's highest goal scorer).
🏴󠁧󠁢󠁥󠁮󠁧󠁿🇭🇷🏴󠁧󠁢󠁳󠁣󠁴󠁿🇨🇿 Group D - England, Croatia, Scotland, Czech Republic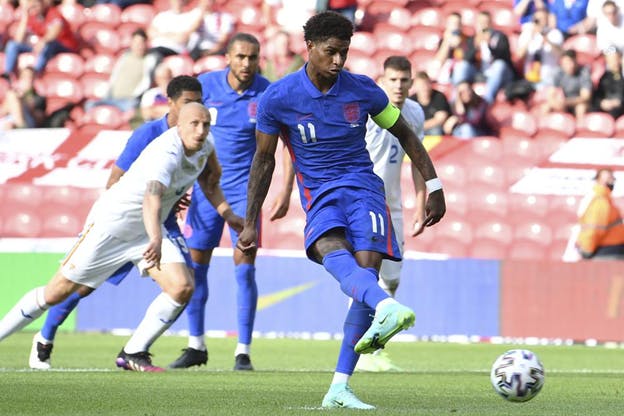 The favorite: England. The team that consistently underperforms has one of its strongest rosters in decades, and they have a lot to prove. They'll face their longtime rivals Scotland and the team who ousted them from the last FIFA World Cup, Croatia, in the group stage; the quest for revenge should help boost their gameplay.
The dark horse: Croatia. They surprised many as the runners-up in the 2018 FIFA World Cup, and though they've lost a few big names since then, they're still scrappy contenders. The Czech team will be their biggest challenge, though.
Who to watch: Harry Kane, England. He's the biggest name in English soccer these days, and as the captain, all eyes will be on him to lead The Three Lions (Lannister vibes, anyone?) to their first national championship since the 1966 World Cup, and their first ever Euros win.
🇪🇸🇸🇪🇵🇱🇸🇰 Group E - Spain, Sweden, Poland, Slovakia
The favorite: Spain. A perennial favorite who won back-to-back Euros in 2008 and 2012. And though the roster has changed from that experienced squad to a fresher, younger group of top talent, high expectations remain. The only problem? Two players, including captain Sergio Busquets, just tested positive for COVID-19.
The dark horse: Poland, but we're going out on a limb here. Sweden might be everyone's second favorite Group E team, but Poland has one of the all-time best goal scorers in their arsenal: captain Robert Lewandowski. He's the reigning UEFA Men's Player of the Year, and we think his leadership is powerful enough to get Poland through to the round of 16.
Who to watch: Alexander Isak, Sweden. With Swedish superstar Zlatan Ibrahimovic (pronounced ee-brah-HEE-moh-vich) out of the Euros, Isak is the next big thing. He scored 17 goals in 34 games for his Spanish league team Real Sociedad, and he's the youngest-ever goal scorer for his national team.
🇭🇺🇵🇹🇫🇷🇩🇪 Group F - Hungary, Portugal, France, Germany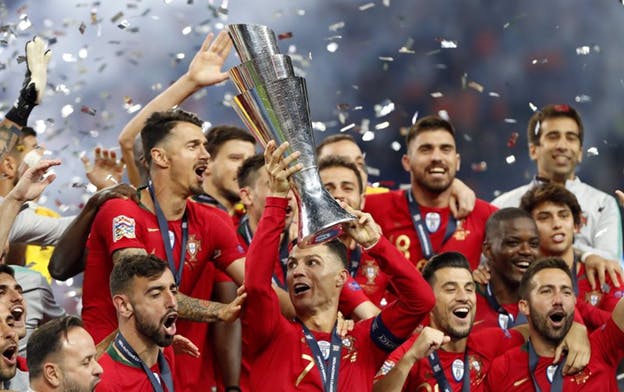 The favorite: Portugal. The reigning champs are looking for a second Euros title, and with top talent like Cristiano Ronaldo, Bruno Fernandes and up-and-comer Nuno Mendes, they have most of the tools on hand to repeat their 2016 success.
The dark horse: Not Hungary. In this "Group of Death," three teams are powerhouses in international soccer, with Germany co-leading alongside Spain for most Euros titles (three), and France, the most recent FIFA World Cup winners. Sorry, Hungary.
Who to watch: Kylian Mbappé (pronounced mm-BAP-eh), France. At the age of 19 (and during his first senior international tournament with France, no less), he became the second-youngest goal scorer in a FIFA World Cup final, and is often compared to the GOAT Pelé. Now 22, he's quick, controlled, experienced, and ready to win again.
👀 How to watch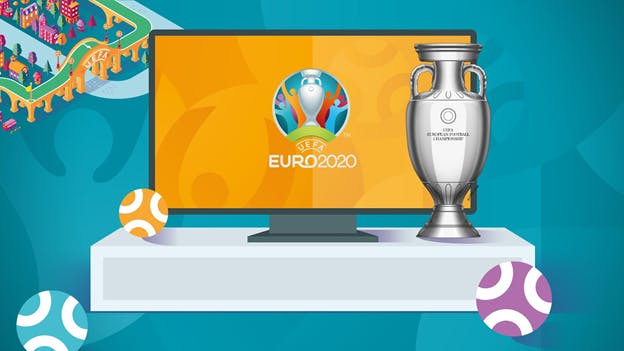 Buckle up, we're in for a heck of a month. The group stage starts today and continues until June 23rd, then two rest days before the knockout stage begins. Check out the full schedule here, download the UEFA EURO 2020 app to keep up-to-date and watch all the games live on TSN in Canada and ESPN in the U.S. Olé!