🏀

Liberty, Mercury nab final WNBA playoff spots

August 15, 2022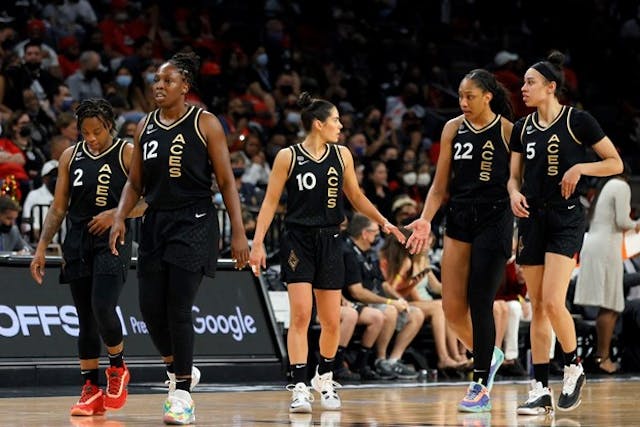 SOURCE: SPORTSXENTRAL/TWITTER
The GIST: In solidarity with procrastinators everywhere, the WNBA playoff picture was finalized yesterday, the last day of the regular season, as the final two squads punched their tickets ahead of Wednesday's postseason start. What a finish.
Who clinched: The No. 7 NY Liberty are headed to their second straight postseason after eliminating the Atlanta Dream with two clutch weekend wins, including yesterday's 87–83 thriller.
And the No. 8 Phoenix Mercury (notably without Diana Taurasi, Skylar Diggins-Smith and Brittney Griner) are the last team in thanks to a gutsy 86–74 victory over the Dallas Wings on Friday and a little help from the Connecticut Sun on Sunday. True resilience.
As for the final seeding, the Las Vegas Aces nabbed No. 1 with yesterday's 109–100 win against the Seattle Storm. Lucky for Storm fans, Seattle had already locked up No. 4 (and crucial home court advantage) after downing the Minnesota Lynx 96–69 on Friday.
Sylvia Fowles: Speaking of, with the Lynx eliminated, the aforementioned two-time Finals MVP and eight-time All-Star's career has reached its end. Fowles added an exclamation point to her storied career yesterday, extending her double-doubles record and grabbing her 4,000th (!!!) career rebound, making her the first W player to reach the mark.
The records speak for themselves, but what her peers have to say about her certainly speak the loudest. "Mama Syl," "Sweet Syl," "probably the kindest, nicest superstar that there's ever been" — thanks for everything, legend.
🏀

WNBA: Four teams still fighting for two playoff berths in final weekend of regular season

August 12, 2022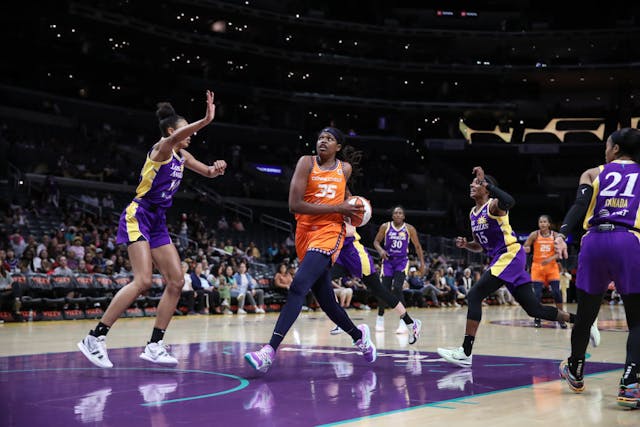 SOURCE: JEVONE MOORE/ICON SPORTSWIRE VIA GETTY IMAGES
The GIST: With four teams fighting for two remaining playoff berths, the WNBA chose chaos heading into the final weekend of regular season play. Here's a live look at us trying to decipher how it'll all shake out.
Where things stand: The LA Sparks were eliminated from postseason contention following last night's 93–69 loss to the Connecticut Sun, but that's just about all that's confirmed with only two game days remaining.
As for the already clinched squads, the Chicago Sky and Las Vegas Aces are duking it out for the No. 1 seed while the Seattle Storm and Washington Mystics fight for No. 4 (and crucial home-court advantage).
Meanwhile, the Minnesota Lynx, NY Liberty, Atlanta Dream and Phoenix Mercury (now playing without Brittney Griner, Diana Taurasi and Skylar Diggins-Smith) all have the same record and are in the hunt for two open playoff spots. Couldn't have written it better.
What to watch: Everything, TBH. But if you have to choose, tonight's 7:30 p.m. ET and Sunday's 2 p.m. ET matchups between the Liberty and Dream. If one squad wins both games, they'll punch their playoff ticket. And if they split? Well, that opens up a whole can of worms.
And grab your tissues for tonight's 9 p.m. ET meeting between the Storm and Lynx. Not only does it have major playoff implications, it also features two retiring legends, Seattle's Sue Bird and Minnesota's Sylvia Fowles.
🏀

Kevin Durant gives Nets owner an ultimatum

August 10, 2022

The GIST: After requesting a trade in June, Kevin Durant celebrated the anniversary of his contract extension with the Brooklyn Nets on Monday by giving owner Joe Tsai an ultimatum: trade him or fire general manager Sean Marks and head coach Steve Nash. The audacity.

The why: Since Durant joined the squad three years ago, no banners have been raised and the Nets "super team" suffered two disappointing playoff exits following Durant's return from a ruptured Achilles in 2020.

The demands: The ultimatum is just another in a long list of orders from the 12-time All-Star who was instrumental in strong-arming big names like James Harden to come to the Big Apple and who asked former teams Oklahoma City Thunder and Golden State Warriors to retire his jersey. Yes, seriously.
As for his requested trade, the two-time NBA champion (and two-time Finals MVP) apparently has a list of teams he wants to play for in the 2022–23 season.
What's next: With training camp looming, will Durant forfeit a slice of his $44 million salary to follow in the footsteps of teammate Ben Simmons and sit out until he gets what he wants?
One thing's for sure. Nets (and New York Liberty) owner Joe Tsai made it very clear that his team's front office and coaching staff have his support. Turn on those Twitter notifications for KD's response.
🏀

WNBA: six teams in contention for three playoff spots

August 08, 2022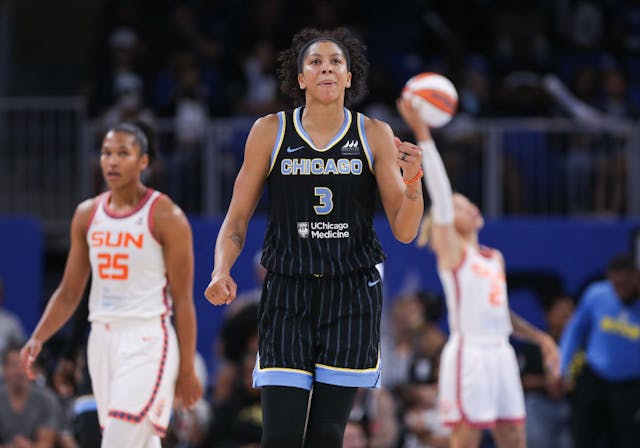 SOURCE: MELISSA TAMEZ/ICON SPORTSWIRE VIA GETTY IMAGES
The GIST: Like an extreme game of musical chairs, six teams are still in contention for three playoff spots, with less than a week to go in the WNBA regular season. Let the games begin.
Who's clinched: The defending champion Chicago Sky, Commissioner's Cup–winning Las Vegas Aces, Connecticut Sun, Seattle Storm and Washington Mystics have already punched their postseason tickets, accounting for five of the eight berths. Show offs.
On the bubble: With the Indiana Fever eliminated, the Dallas Wings, Atlanta Dream, Phoenix Mercury, NY Liberty, Minnesota Lynx (including Napheesa Collier, who returned to the court yesterday, less than three months after giving birth) and LA Sparks are left to battle it out.
And this race is close. The 11th-place Sparks are just 1 game behind the eighth-place Mercury.
Key matchups: Needless to say, there's a lot riding on tonight's 8 p.m. ET tilt between the No. 6 Wings and No. 9 Liberty. Dallas can clinch with a dub, but maybe NY superstar Sabrina Ionescu (pronounced yo-NESS-coo) will make more history?
Meanwhile, the squads who've clinched are still jockeying for crucial playoff seeding. The No. 1 Sky will look to retain their top spot cushion when they host the No. 4 Storm tomorrow at 8 p.m. ET. This one's shaping up to be a true force of nature.
🏀

Brittney Griner sentenced to nine years in Russian prison

August 05, 2022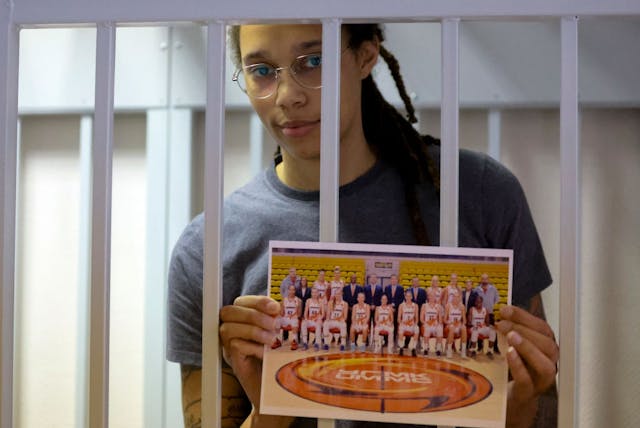 SOURCE: EVGENIA NOVOZHENINA/POOL/AFP VIA GETTY IMAGES
The GIST: Six months after her arrest, wrongfully detained Phoenix Mercury star Brittney Griner (BG) was found guilty of bringing drugs into Russia and sentenced to nine years in a Russian penal colony yesterday. Gutting, but a crucial step in the efforts to bring her home.
The context: BG's sentencing, which also included a fine of $1M rubles (~$16.4K US), was widely expected as Russia wraps up their largely performative legal proceedings. Russia publicly stated that they would not discuss a prisoner swap (such as the one proposed by President Biden last week) until after BG's trial was over.
The response: Biden deemed the sentencing "unacceptable" and called on Russia to release her immediately. Meanwhile, the basketball world continues to rally around BG, with countless athletes tweeting their sympathies and sharing words of support.
Noticeably quiet? Former Baylor and now LSU women's basketball coach Kim Mulkey, who coached Griner for four years. The silence is deafening, but not surprising.
What's next: BG's lawyers plan to appeal the decision, but attention now turns to the aforementioned reported prisoner swap to exchange Griner and American Paul Whelan for Russian arms dealer Viktor Bout. It's a much-needed glimmer of hope in an unimaginable reality. Free BG.