🎾

13 Grand Slam Winners to Compete at U.S. Open, Nadal and Federer Sit Out

August 06, 2020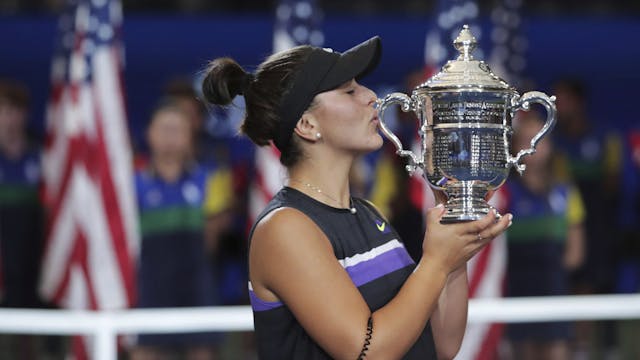 Charles Krupa/AP
The GIST: When the U.S. Open begins on August 31st (with a smaller paycheck than normal), only one of last year's champs will be there to defend their title: Bianca Andreescu is in, Rafael Nadal is out.
But why?: On Tuesday, World No. 2 Nadal announced that he would not try to repeat his 2019 U.S. Open win due to his reluctance to travel during the pandemic. Nadal thanked organizers for their efforts but has decided to join his bestie Roger Federer — who is recovering from knee surgery — as at-home spectators this year.
Nadal has been a strong voice against tennis' rush to return to play, so his opt-out isn't shocking. What is shocking is that this will be the first time since 1999 that the U.S. Open will not feature Nadal or Federer. Is this the end of an era?
Similar to Nadal, top-ranked Ashleigh Barty has also opted out of the Grand Slam, with the Aussie citing travel concerns as her reason. Fair.
So who is playing?: Andreescu, who last year became the first Canadian to ever win a Grand Slam, will be back to defend her title (and we're hoping she brings her mom and dog, too). Last year's runner up is confirmed to play, too: Serena "The GOAT" Williams, who's looking for her record-breaking 24th Grand Slam title.
The women's side will feature 13 Grand Slam winners, including this year's Australian Open champ Sofia Kenin and World No. 2 Simona Halep. On the men's side, World No. 1 Novak Djokovic (pronounced JOKE-OH-VITCH) is hoping for an easy run without his two greatest rivals in the field.
🤸

🎾

🏈

🏆

Australian Gymnastics Addresses Abuse in the Sport, Halep Opts Out of Palermo Open, Tyson to Return the the Ring In Exhibition Match

July 27, 2020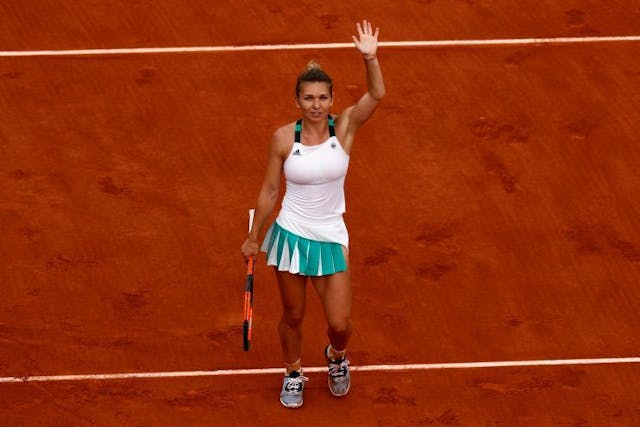 GETTY IMAGES
Gymnastics: Following the lead of their British and American counterparts, several Australian gymnasts recently publicized their personal accounts of abuse and harassment during their time with Gymnastics Australia.
Former gymnast and Commonwealth Games gold medalist Chloe Gilliland released a series of Facebook messages describing some of the abuse she faced and revealing that it led to bulimia, anxiety and suicidal ideations. Horrible.

In response, Gymnastics Australia CEO Kitty Chiller released an open letter, saying the organization applauds its athletes for speaking out and acknowledging that it has plenty of work to do. Damn right.
Tennis: World No. 2 Simona Halep is caught in a sticky situation. The 2019 Wimbledon champ was supposed to headline the Palermo Open, the first WTA International series tournament scheduled since the pandemic began, but pulled out after Italy's health ministry announced a mandatory 14-day quarantine for anyone entering the country from Romania (where Halep lives).
The Open's organizers are v. upset, arguing Halep could skip the mandatory quarantine as a pro athlete. But citing "the recent rise in COVID-19 cases in Romania and [her] anxieties around international air travel at this time," Halep withdrew anyway. We were excited to see her play, but we're much happier to see her stay healthy. Safety first!
Boxing: In this week's "but why though?" news, Mike Tyson is getting back in the ring. The former heavyweight world champion, who just turned 54, will take on another former world champ, 51-year-old Roy Jones Jr., in an exhibition match on September 12th.
Tyson, who's best known for his appearance in The Hangover films and for biting a part of Evander Holyfield's ear off during a 1997 fight (yes, that actually happened), hasn't boxed professionally in 15 years, but is still favored to win. TBH, we're not really sure what to make of this. Just protect your ears, Roy.
NFL: In our continuing quest to "look for the helpers," we've found our first opt-out of the upcoming NFL season. Kansas City Chiefs guard Laurent Duvernay-Tardif, who last year became the first M.D. to ever win a Super Bowl, has decided to forgo the 2020 season so he can continue helping those in need. Good guys do exist!
🏈

🎾

⛳

🏀

⚾

Around and around and around we go

June 18, 2020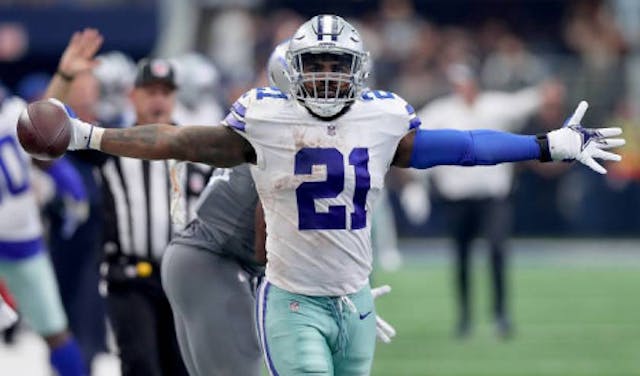 TOM PENNINGTON/GETTY IMAGES
The GIST: Sports are coming back. But, unfortunately, so are some athletes' positive COVID-19 test results.
Oh no. Who?: Most recently, several players from the Houston Texans and Dallas Cowboys have tested positive, including Cowboys star running back Ezekiel Elliott. Elliott is the third NFL player, and arguably one of the biggest stars in sports, to be publicly named.
Despite this, the NFL still seems to be planning for a normal regular season with fans (!!!) and for training camps to start in late July. Does this seem dangerously (in a literal sense) optimistic to you or is it just us?
Yikes. What about college football?: Many of the most prolific NCAA football teams — including Auburn, Mississippi State, Texas A&M and Alabama — have reported coronavirus cases among their players recently as well. Not good. Oklahoma State linebacker Amen Ogbongbemiga said he tested positive after attending a protest in Tulsa.
The NCAA is continuing to monitor the situation before making any drastic decisions, but yesterday, the Southern Heritage Classic — an annual matchup between Tennessee State and Jackson State played in Memphis in September — became the first NCAA football event to be canceled because of coronavirus. And we're thinking it won't be the last.
Wow. Can you give me some good news?: For sure! The PGA Tour tested all players, caddies and staff ahead of today's RBC Heritage tournament (the second event since the season restart), and for the second week in a row, there wasn't a single positive test. Let's polite golf clap to that.
Speaking of golf, the LPGA is returning on July 31st. The women's tour has added a new tournament called the LPGA Drive On Championship, which will kick off the season with back-to-back events in Ohio. Mark your calendars.
Amazing! Keep it rolling: Despite rumors that the WTA and ATP's US Open would be canceled, it's now officially scheduled to start on August 31st, thanks to New York governor Andrew Cuomo giving it the go ahead. Thanks, man! While not everyone is happy about the announcement, Serena Williams is stoked so we're stoked too.
And on Monday, the WNBA officially confirmed that the regular season will start in late July and will feature 22 games followed by a traditional postseason. Untraditionally, there won't be any fans, and all teams will play, practice and live at the IMG Academy in Florida. Quite the destination these days.
And...I'm afraid to ask...what's up with the MLB?: Don't be afraid — we have progress! The MLB and the players union are talking again, and they seem to have come to an agreement on a "jointly developed framework." The new plan would have the season start on July 19th with players receiving their full salaries for the amount of games played (as they wished).
The number of games is a sticking point, though. The suggested number was 60, but there seems to be some flip flopping on that. The league and union still have work to do (someone call these guys a couples' counselor), but one thing's for sure: the players are ready.
🎾

⚾

🏀

🏒

⛳

🏉

A gong show

June 15, 2020
SHAUN BOTTERILL/GETTY IMAGES
The GIST: The NBA season isn't the only one in doubt. Due to COVID-19, the tennis season is hanging on by a thread, while the MLB situation is the literal definition of a gong show. The WNBA and NHL are looking good, though...well, kind of.
WTA & ATP: The good news is that the US Open will not move from its forever home in NYC to Florida as previously reported. The bad news is that the tournament might not happen at all. The US Tennis Association (USTA), which hosts the tournament, is currently considering three options, one of which is canceling the event altogether. Say it ain't so.
Another option includes holding the event with a ton of previously announced restrictions, even though many top players have said they will opt out if the restrictions are enforced.
The USTA stands to lose a lot of money regardless of what they decide to do, as the event doesn't have cancelation insurance. Rookie mistake.
MLB: Take a deep breath (or have a strong drink) before getting into this one. Quick refresher: the MLB and MLB Players Association (MLBPA) can't agree on the season restart. They've been punting proposals back and forth to no avail, mostly because the players want their full earned salary, while the MLB wants to pay them on a sliding scale.
On Saturday, the MLBPA rejected the MLB's latest offer, and now they're asking the MLB to just order them back to work for however many games the league wants (which might work out to around 50). Sorry, what TF?
While this seems very counterproductive to what the players have been fighting for, it might actually make sense. Here's why: if the players are ordered back to work, they can then file a grievance against the league for their equivalent salaries and monetary damages...which means the players could end up with more money than they asked for. Cheeky.
WNBA: The WNBA is also still negotiating their season restart, but it looks like the league wants to pay players their full salaries (up from the 60% they initially proposed) for 22 games (the 2020 regular season was set to be 36 games). The girls are getting paid!
This is great news, especially in light of what's happening in the MLB. WNBA players voted on this proposal over the weekend and results should be announced today. If the proposal's approved, we'll have basketball back on July 24th. Fingers (and toes and eyes) crossed!
NHL: Don't look now, but it looks like Las Vegas is going to be one of the two hub cities hosting the NHL's super weird postseason. Cue: "Waking Up in Vegas." The league has also decided that training camps will begin July 10th. So soon!
The NHL hasn't decided, however, what they're going to do if a player, coach or other essential team staff gets COVID-19 during the playoffs. This weekend, a Boston Bruin tested positive for the virus, so the league better make some quick decisions.
Everything else: The PGA returned this weekend, with Daniel Berger winning the Charles Schwab Challenge after going to a playoff with Collin Morikawa. The tournament was played without fans, which was a little strange without the polite golf claps, but still — live sports!
And New Zealand hosted their nation's first Super Rugby match since March, with over 20,000 fans (!!!) in attendance after the country declared themselves virus-free last week. See, this is the reward you get for wearing a mask and washing your hands!
⚽

⛳

🎾

⚾

Baby come back

June 11, 2020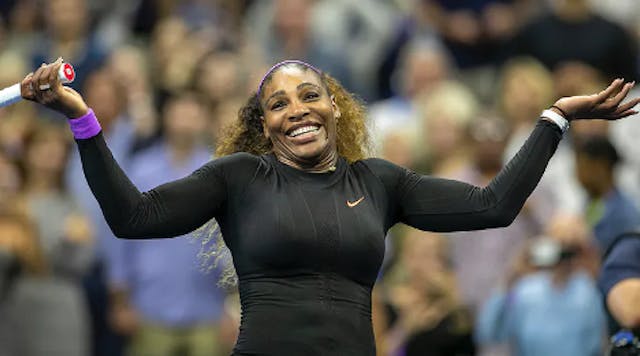 TIM CLAYTON/GETTY IMAGES
The GIST: Like we said, sports are coming back...but not all sports...yet! This week has seen some positive steps forward, a few setbacks and yet another proposal to salvage the baseball season (spoiler alert: it's not looking promising).
Start with the good news: Will do. The MLS confirmed their plans for a tournament to start the season. The month-long "MLS Is Back" tournament, clearly inspired by the Backstreet Boys, will begin on July 8th in Orlando, Florida, and will feature all 26 teams. The winning team will earn a 2021 CONCACAF Champions League berth, and the regular season will continue with a revised schedule that is TBA.
And the setbacks?: Speaking of golf, the LPGA has lost one of its five majors. The Evian Championship, held annually in France and originally set to start on August 6th, has been canceled, with officials citing travel concerns during the COVID-19 pandemic as the main reason.
The US Open (the tennis one, not golf) is considering moving the tournament from NYC to California or Florida (even though Florida's COVID-19 numbers are rising) and most Canadian fall semester varsity sports have been canceled. Meanwhile, the NCAA is trying to adapt.
Okay, I'm ready. Tell me about the MLB: Oh boy. In an attempt to start the 2020 season, the MLB and the MLB Players Association (MLBPA) have been lobbing proposals and counter-proposals back and forth for the last month with little success.
While back in the MLBPA's court (sorry for the mixed sports metaphors), on Tuesday they proposed an 89-game regular season, an expanded 16-team postseason and "broadcast enhancements," including having players mic'd up during games. Are you not entertained?

But the issue is, and always has been, the players' salaries. The players are proposing prorated salaries, but the teams say they don't have the money (each game without fans can lose a team about $640,000). Moral of the story: we don't feel good about this counter-counter-counter-proposal's chances.