🏆

🎾

Changing of the guard

May 28, 2020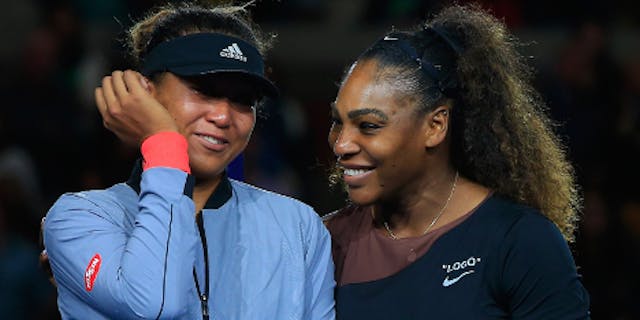 GETTY IMAGES
Making money moves: Forbes released some jaw dropping figures this week, confirming that the queen of tennis, Serena Williams, has been dethroned...on the money list. She's still the GOAT (in our humble opinion), but 22-year-old tennis phenom Naomi Osaka is now the highest paid female athlete in history. Let that one sink in.
Over the past 12 months, Osaka raked in $37.4 million — $1.4 million more than Serena, who has been the highest paid female athlete for the past four years — making most of her hard-earned dough through sponsorships.

When Forbes releases their top 100 highest-paid athletes list next week, it will be the first time since 2016 that two female athletes will make the list. Two out of 100 — let that one sink in.
Like a boss: Vanderbilt University has made herstory, hiring Candice Storey Lee as the school's athletic director (AD). Lee is the first woman and first Black woman to run an athletic department in the SEC (Southeastern Conference, one of the most accomplished sports conferences in the NCAA) and is only one of five female ADs in the NCAA's Power Five (the top five conferences). Enough acronyms for you?
Lee has a good history with Vanderbilt, too, having served as the interim AD since February and as captain of the basketball team in the late '90s.
Dream team: The ESPYs, ESPN's annual multi-sport award show, will have a different look and feel this year, and we couldn't be more excited. The show plans to focus on heroism and humanitarian aid and will be hosted by our favorite power couple, soccer superstar Megan Rapinoe and basketball legend Sue Bird. ESPN must've noticed the pair's stellar hosting skills on A Touch More.
🏒

⚾

🎾

⚽

So tell me what you want, what you really, really want

May 21, 2020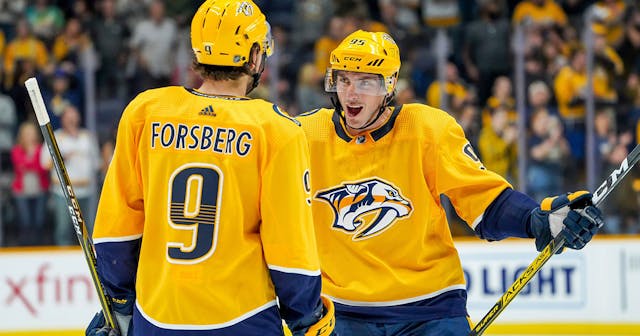 ASSOCIATED PRESS
The GIST: There has been a lot of talk over the past few months about the leagues and teams working hard to get their players back in action, which makes us think: what do the players (really, really) want?
NHL: According to Nashville Predator Matt Duchene, most NHLers just want to stay healthy. In an interview this week, Duchene was adamant that the business side of the game isn't more important than the health and safety of its players, a sentiment that seems to be felt across the board. Preach, baby.
Duchene is also hopeful for a traditional playoff format, saying, "You don't want to have a COVID Cup," alluding to the idea that the team who wins this season's Stanley Cup — if the season can't be played out in full — will forever have an asterisk beside it. He's totally right: nobody likes an asterisk.
MLB: The league has come out with a 67-page health and safety "return to play" rulebook, and according to Colorado Rockies outfielder and four-time All-Star Charlie Blackmon, he and his fellow players want to get back on the diamond and are ready to follow those rules. He argues that America needs baseball in the summer (not, not true) and he's confident that the MLB will do the right thing.
Blackmon's exact words were: "I think I can trust our guys...I think we can be trusted not to go to the mall and lick other people's faces." We guess they're lucky Brad Marchand doesn't play baseball.
WTA: Doing her best Kevin McCallister impression, Canadian tennis doubles phenom Gabriela Dabrowski said in an interview this week that she's not afraid of contracting the virus, saying, "I don't live my life in fear," but doesn't want to put her fellow tennis players at risk. She's happy to wait until the WTA gives the all-clear to get back in the game. Respect.
EPL: The English Premier League's (EPL) "Project Restart" has at least one vocal opponent: Watford FC captain Troy Deeney. He decided that he wouldn't be practicing with his team, saying, "I don't want to put my son in danger," referencing his five-month-old who has breathing problems. Very, very fair.
And Deeney's a trendsetter. This week, the EPL conducted 750 COVID-19 tests and six tests came back positive, including three from Watford. Now some of Deeney's teammates are skipping practice too, and if Watford can't field enough players, it could halt the EPL's entire plan.
🎾

Silver linings playbook

April 23, 2020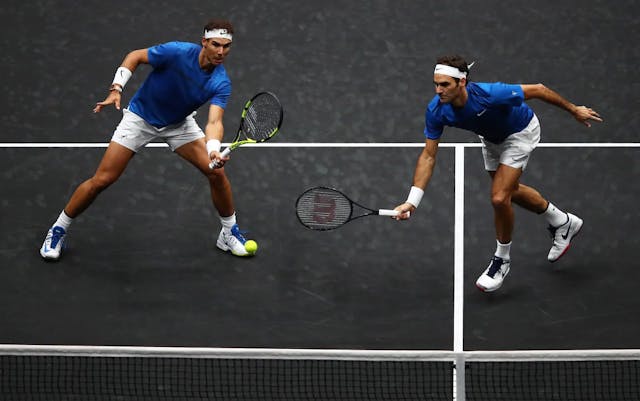 SOURCE: TELEGRAPH/GETTY IMAGES
The GIST: Something good has to come out of this awful pandemic, and tennis legend Roger Federer has the perfect idea: merge two professional tennis associations to make one supreme powerhouse.
Sweet. What's the current setup?: Professional tennis currently has two governing bodies: the Association of Tennis Professionals (ATP) for the men and the Women's Tennis Association (WTA) for the women. These two organizations run pretty differently, with different ranking systems, regulations, schedules and, of course, revenue (we'll let you guess who makes more…).
So what does Federer propose?: One governing body to oversee all professional competition. In a series of tweets, Federer explained that merging the two organizations would help fans better follow and understand pro tennis.
By merging, men's and women's tennis would follow the same schedule and ranking systems, and would allow for a more balanced marketing and media presence for each. For a sport that's already leading the way in gender equality, this sounds like a no-brainer.
Could this actually happen?: We certainly hope so. Federer has apparently already spoken to his best friend/rival Rafael Nadal about this, and their idea quickly gained backing from fellow players Garbiñe Muguruza, Simona Halep and the legend herself, Billie Jean King (who's been calling for this since forever).
Not only are Federer and Nadal two of the greatest players of all time, but they're also members of the ATP Players Council and have very powerful voices in the tennis world. If anyone can make it happen, it's these two...and probably Serena Williams.
🎾

Goodbye yellow brick road

April 02, 2020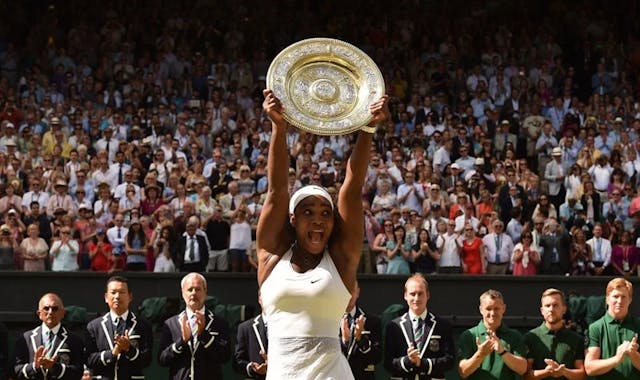 SOURCE: LEON NEAL/GETTY IMAGES
The GIST: The Brits have broken our hearts. Around the same time we learned that social distancing measures may last until summer (welp), we got the news that Wimbledon, the most prestigious tennis tournament in the world, has been officially cancelled for the first time since World War II (double welp).
Say it ain't so!: Oh, but it is so. With the extension of government mandated stay-at-home orders, organizers of the two-week Grand Slam tournament realized that there just wouldn't be enough planning and preparation time before the June 29th start date.
Because Wimbledon is a grass-court tournament, it's very weather dependent. Add that to the fact that there was no room to reschedule the tournament, as the French Open was already pushed from May to September, there was no choice but to cancel.
Jeez. So when could tennis be back again?: With the cancellation, the ATP and WTA jointly decided to extend the season's suspension from June 7th to July 13th, meaning a total of 20 men and women's tournaments have been canceled this year. Ugh.
What a bummer: Tell us about it. Wimbledon is one of those classic steadfasts in the sports world. Like the Masters in golf or the Kentucky Derby in horse racing, it's steeped in history and tradition, and it consistently brings the best of the best together. And it's the only sporting event that the Queen frequents, so you know it's classy.
We're going to miss some great tennis, aren't we?: We sure are. Wimbledon constantly spoils us with epic tennis. It gave us the single greatest match of all time — between Rafael Nadal and Roger Federer — and the longest match in history (three days long!).
It gave us seven singles wins for Serena, five for Venus, and six shared doubles for the sisters. And it gave us our favorite bad-ass press conference answer ever from Johanna Konta. Oh Wimbledon, summer 2020 just won't be the same without you.
🎾

Sharon Fichman

March 13, 2020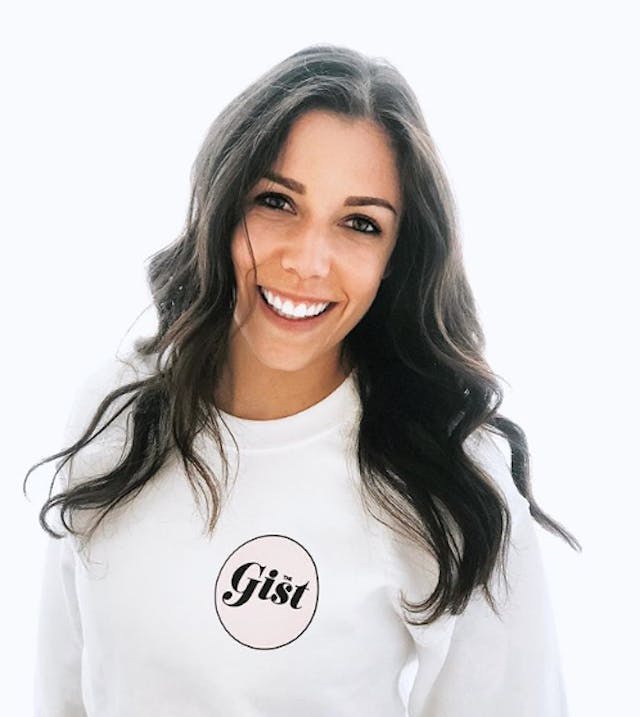 Sharon Fichman is the 87th ranked doubles tennis player in the world and a GIST athlete ambassador. After hanging up the racquet for two years from 2016-2018 after suffering some serious injuries, she decided to get back on the court and now has a new perspective and appreciation for the sport.
Prior to going back on tour in 2018, Sharon dedicated the majority of her time to coaching tennis, and feels it's her responsibility to inspire and share her love for the sport with the next generation of female athletes. Can we get a hell yeah?
Let's get into our interview with Sharon:
Ellen, at The GIST (TG): Let's go back to the beginning *Hilary Duff's plays in the background*: how did you first get into tennis?
Sharon Fichman (SF): My family is actually a big tennis family. My dad loved the sport and played nationally in Romania where my parents are originally from. My mom was a big fan and would literally watch it at any opportunity she could. So when my parents moved to Canada, the first thing they looked up was the closest tennis court to our house.
When I was about four-years-old I found a racquet and an old tennis ball in my basement and went to play with my mom. After about 30 minutes, I figured out how to have a rally against the wall. She rushed us home after and said to my dad, "you have to see this!" Needless to say, my Dad was so excited at my game at the age of 4, we basically decided then and there that I would be a tennis player.
c/o of Sharon's Instagram @shazzzzy
TG: Did you grow up in Romania as well?
SF: No, I was actually born in Toronto. My parents escaped the Iron Curtain, fled to Israel, then came to Canada around 1989. Pretty crazy story.
TG: Wow, that sounds wild. We'll have to save that story for another day. Now, tennis is a very different, independent sport compared to other team sports. Can you speak to that?
SF: It is a different sport, for sure. You're alone... except for when playing doubles, and unlike other sports where the coaches are on the sidelines, you can't get any help from coaches. You're out there alone for a long time and you get so physically and mentally tired. It's also a sport that can be affected by the weather and the different types of surfaces. In basketball, for example, there's one type of court, but in tennis there's grass, clay, hard, indoor, outdoor…
You have to be really good at being comfortable being uncomfortable in tennis.
TG: I've only ever played on hardcourts and can't even imagine how the game must change on surfaces like clay and grass. Speaking of changes...do you like singles or doubles better?
SF: Right now, I like doubles better. It's more of like a fun, reaction game and it's a lot easier on my Achilles...I had a 9mm Achilles tear in 2013 that wasn't fully understood for a while. It was misdiagnosed; I didn't have surgery, and then eventually it built up scar tissue. I just played through it for a few years but unfortunately it's become a chronic issue at this point. I love playing singles now, but if I play too long or play too many days in a row, my Achilles really hurts.
TG: Yikes, that sounds horrible. With that injury in mind, was there a time when you didn't love tennis?
SF: I stopped in 2016 mostly because of my ongoing Achilles injury and recurring injuries which stemmed from a bad ankle sprain. I also had a major knee surgery in summer 2014, shortly after Wimbledon. I was basically falling apart. I thought I would be healthy, would start playing again, and then a month or two later I'd re-injure myself. My rankings continued to drop and I went from main draw of Grand Slams to the qualifying draws of some of the smallest professional tournaments, which was super frustrating.
There was so much pain physically, and it took a toll on me mentally, to the point where I was no longer enjoying my time on the tennis court and the fight to grind through injuries was gone. It's so hard to build yourself back up and build your ranking, and then see it drop...and then repeat the cycle each time I had another injury. My love for tennis just wasn't there anymore.
I thought I needed a break and then the break just turned into, "I'm loving life right now without tennis and I'm happy to put the racquet down." So, to be totally honest, I never really thought I would come back to it.
TG: That must have been super tough for you, but happy to hear that when you stopped playing, there were no regrets. What did you do between 2016-2018 while you weren't playing tennis?
SF: It's an interesting story. When I first stopped playing, I was living in Vancouver. That's where I had been training and I absolutely loved it there. I didn't do much for five or six months and then I started seeing someone. I've always had this passion for food. I've seen every episode of Chef's Table…twice *laughs*. 90% of my Instagram is food or chefs. I have a restaurant bucket list of places I want to go to and eat around the world.
Anyway, I had never had a job outside of tennis, but I thought maybe I'd want to open a restaurant — I actually got the idea from Chef's Table. I knew nothing, but I wanted to learn as much as I could so naturally, I thought I needed to learn all of this from the best restaurants in Vancouver and see if it was actually something I'd like and something I could do. I started working at a restaurant for a few months and I loved that place. I had such a good experience. It was so fun to do something completely different, in an environment where no one knows you (Editor's note: since starting The GIST we've learned the tennis world in Canada is really small. It seems as though everyone knows everyone!). I really loved it, but I realized that industry wasn't going to be my schtick. There are such crazy hours and everyone's sleeping while you're awake and vice versa. It was cool, glad I did it, but I prefer to see the sun.
TG: The restaurant industry is very gruelling!
SF: It is so demanding! Both physically and socially. I actually learned a lot, in social aspects, and it helped me learn how to lead, and to be cool and calm.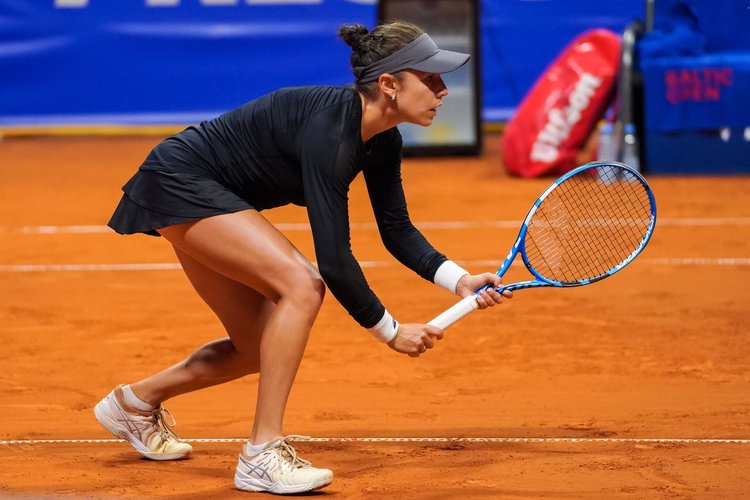 TG: So, how did you end up playing tennis again?
SF: So this is a bit of a complicated one. What sparked my comeback was my fiancé Dylan (Editor's note: is a pairs figure skater, winning a silver medal at the 2014 Olympics).
Unfortunately, back in December 2017 Dylan had a serious but fluke accident. While he was taking a break between workouts, he gave me a call while he was relaxing on a stretching mat. While we were on the phone together, a 200 pound mirrored door next time him unhinged and fell on him.
He was knocked unconscious and suffered multiple facial lacerations, a cracked bone in his hand, multiple stitches in his right hand and was concussed for two months. What was horrible, is that I heard everything on the other end of the phone, not knowing whether or not he was dead or alive, and this was as I was about to board a three hour flight back to Toronto.
So, on the plane ride home, I literally sat there in radio silence, not knowing what news I would receive when I got off the plane. It was honestly the scariest three hours of my life. Fortunately, he obviously came out the other side, and was seriously injured. Him talking on the phone with me saved him some serious head damage as otherwise, he would have likely been meditating with his eyes closed, and wouldn't have been able to react with his hand to help stop the majority of the impact.
Because of this, Dylan couldn't go to the PyeongChang 2018 Winter Olympics, which was just so sad. The Olympics were always Dylan's goal. This injury was also how he ultimately ended his career...it was a devastating time. His dream and goal was to go to two Olympic Games and he was unable to fulfill that.
So, long story short, this was the "spark" for me to make it to Tokyo...I wanted to return to tennis and build my ranking high enough to go to the Tokyo 2020 Olympic Games and have Dylan come with me so that his goal of going to two Olympic Games would somewhat come true. I know it's not the same as competing but at least it's something. This is why I returned to professional tennis and work as hard as I do.
TG: Wow. We had no idea that happened to Dylan that is so horrible. He must have been so devastated. It's amazing to see how you both have found a silver lining from that injury and we think it's so awesome seeing you back out there.
We know you've had a bit of a roller coaster with tennis, but what's your favourite memory playing the sport?
SF: That's really hard. The biggest tournament I won in singles was in Cannes, France, and that was one of my best memories. Also, my most recent time playing in Fed Cup. I actually cried at the end of the match. It was so overwhelming and incredible. I don't know if I'm ever going to play Fed Cup again. I hope I will, but there's a lot of depth in Canada right now. I appreciate every moment so much more at this point in my career. In the past, I took it for granted. I didn't understand the honour as much because it was just 'what I did'.
Now, I'm back with a different perspective. Everything is a celebration for me, because I might never have the chance to play on whatever court I'm playing on again.
I'm shooting for Tokyo 2020 Olympics and after that I don't know what will happen, how my body is going to be. Until then, I'll just love every second. Every moment will be the best moment.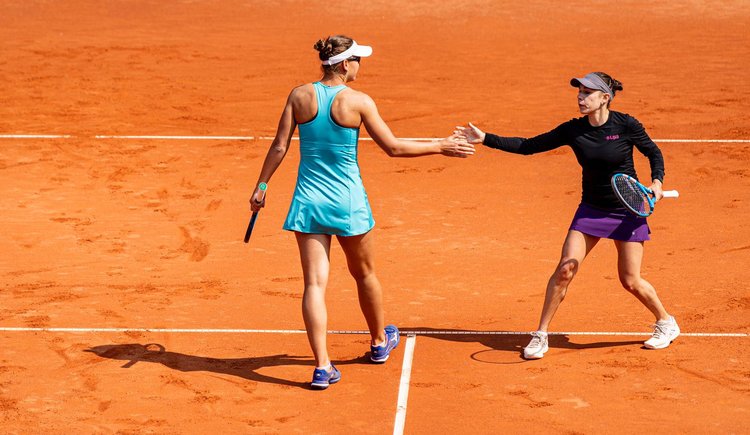 TG: Amazing, we'll be rooting for you! We know that young girls drop out of sport at double the rate of their male counterparts by the age of 14. How do you think we can combat this?
SF: Really, really good question.
Having more role models and more women in sport that the younger generation can look up to is important. And also, coaches. I'm a big believer that when you're finished as an elite athlete, it's your responsibility to give back to the sport in some way. Somebody, or numerous people, helped you achieve what you did, and it's your turn to do that for someone else. So I feel that it's important to have athletes, especially female athletes, be involved and inspire the younger generation.
Investing in coach education is super important. It's really important for coaches to be more sensitive to different players' needs and not be in a rigid, cookie-cutter box. The best coaches in the world are able to adapt to different types of athletes including different genders. You'll hear that kids will stop because of a poor coaching experience or training environment, or that a person who should have been in a role model position turned them off the sport. As a coach, you are in such an influential position, and having more women and people who have the skills to grow that passion in kids is so important.
TG: Absolutely! And that's actually a really interesting point as there's been a lot of research about the differences in coaching styles.
Totally. It's really sad to see the amount of athletes who leave the sport with a lot of potential.
Tennis and sport made me who I am and has had such a positive impact in my life, and that's what I want for other people.
TG: Now to end our time together, I want to ask you some really fun, rapid fire questions. Let's do it:
TG: What is your mantra?
SF: The biggest thing that I say before a match is, "If you want it you have to go get it". No one is ever going to give you anything. You have to earn it and go get it yourself. If I ever have the mindset where I just hope my opponent is going to screw up then I've already lost. The best chance you have of being successful is to be brave.
TG: What did you want to be when you were growing up?
SF: In kindergarten, I wanted to be a fire truck haha. Then, I wanted to be a veterinarian. Then, that quickly changed to being a professional tennis player. I still love animals though!
TG: What's your favourite TV show?
SF: Right now, I'm very sucked into this show on Netflix called Fauda. I've also been on a Blacklist binge. Dexter is one of my favourite shows of all time. Oh, and I really like New Girl. There were points when I had to pause episodes because I was laughing too loudly.
TG: If you could be a character from Harry Potter who would you be?
SF: Hermione, for sure. Not even a question.
TG: Who's your role model?
SF: My partner Dylan. In tennis, I've always loved . For a period, I was also obsessed with . I read her book and even took up boxing.
TG: What's your guilty pleasure?
SF: Playing video games. Pokemon video games.
That's #thegistofit
Don't get The GIST's free twice-weekly newsletter yet? Let's .