⚾
🏒
🏀
Sports Quick Hits: November 19th, 2021
November 19, 2021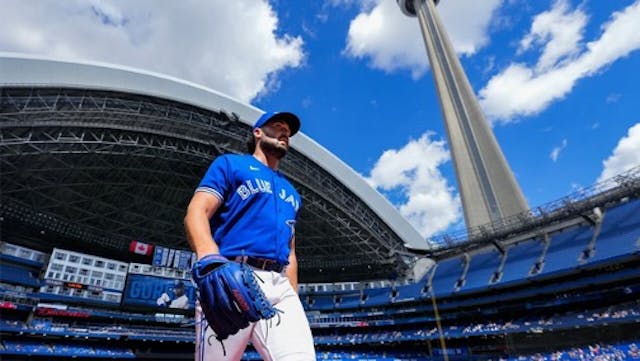 ⚾️MLB: LA Angel Shohei Ohtani might have bested Toronto Blue Jay Vladimir Guerrero Jr. to win the American League (AL) MVP, but the Jays still notched a win with Robbie Ray winning the AL Cy Young Award (given to the best pitcher in each league).
🏒NHL: Don't look now but the Toronto Maple Leafs are back to their winning ways, rattling off five straight after last night's 2–1 win over the NY Rangers. You already know the 6ix needs a sixth, and they'll have a shot tomorrow at 7 p.m. ET against the (soon-to-be sold?) Pittsburgh Penguins.
Meanwhile, Edmonton Oilers star Connor McDavid helped his squad down the Winnipeg Jets in a 2–1 shootout victory last night. That's one way to silence the haters.
🎓🏀College basketball: We're a little more than a week into the NCAA college basketball season, and a couple of Canadians are making us proud south of the border. No. 2 UConn's Aaliyah Edwards contributed nine points in just 17 minutes during the Huskies' season-opening win. And she'll be back in action tomorrow at 12 p.m. ET against Minnesota.
Elsewhere, No. 1 Gonzaga's Andrew Nembhard (who hails from Aurora, ON) played every minute of the Bulldogs' big win over then-No. 5 Texas last week. Talk about dependable.
⚽
🏒
⚾
Sports Quick Hits: November 17th, 2021
November 17, 2021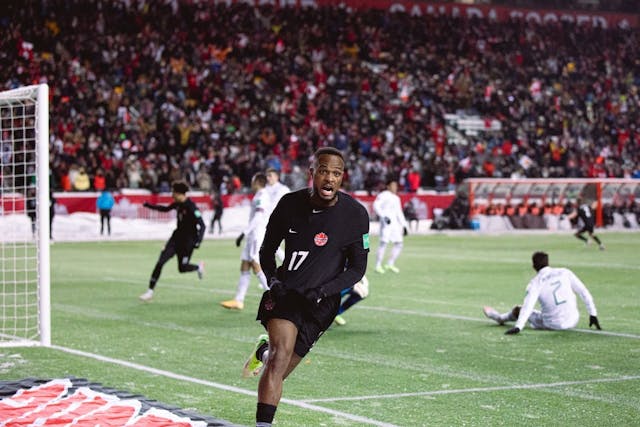 SOURCE: CANADA SOCCER/TWITTER
⚽️CanMNT: As soon as we saw the snowflakes falling ahead of yesterday's World Cup qualifier hosted in Edmonton, we knew the CanMNT would pull out the win. The home team topped Mexico 2–1, helping them move up to first place in the CONCACAF standings.
Quick refresher: the top three teams automatically advance to next year's World Cup in Qatar, and there are only six qualifying games to go. Keep your fingers crossed.
🏒NHL: It's been a terrible, horrible, no good, very bad stretch for the 4-10-1 (wins, losses, overtime losses) Ottawa Senators, and now their season is on pause for at least three games as they struggle with a COVID-19 outbreak that's landed 10 players on the COVID-19 list. Yikes.
⚾️MLB: The MLB season may be long gone, but Toronto Blue Jays ace pitcher Robbie Ray still has a chance to win big. Ray is one of three candidates for the American League Cy Young Award, given to the league's best pitcher. The winner will be announced tonight at 6 p.m. ET, and we're thinking it'll be Ray all the way, eh?
⚽
🏒
⚾
🏈
Sports Quick Hits: November 10th, 2021
November 10, 2021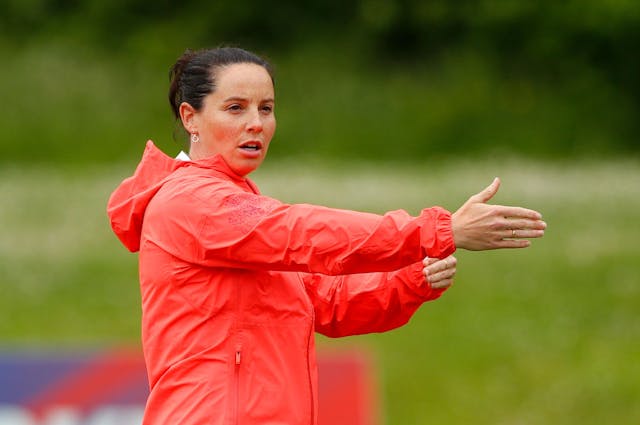 SOURCE: LYNNE CAMERON - THE FA/THE FA VIA GETTY IMAGES
⚽️NWSL: While we wait for a Canadian team, we're claiming the Portland Thorns as The North's unofficial squad. Christine Sinclair is the captain, former CanWNT goalkeeper Karina LeBlanc became their general manager last week and news broke yesterday that CanWNT defender Rhian Wilkinson will be hired as their new head coach. #SheTheNorth.
🏒NHL: More good news from the hockey world? Is that hope we feel? After being traded to the Vegas Golden Knights last week, center Jack Eichel is finally set to have disk replacement surgery — which his former team, the Buffalo Sabres, wouldn't allow — on Friday and hopes to return to the ice in three months' time.
⚾️MLB: What's better than one MVP candidate? Two MVP candidates! Blue Jays infielders Vladimir Guerrero Jr. and Marcus Semien are two of the three American League (AL) MVP finalists.
And star pitcher Robbie Ray is a finalist for the AL Cy Young Award. The winners will be announced next week, but we already have Drake's "Trophies" queued up.
🏈NFL: With (former) head coach Jon Gruden ousted in October and 2020 first-round pick wide receiver Henry Ruggs III released from the team after killing a 23-year-old woman during a horrific drunk driving accident earlier this month, the Las Vegas Raiders are facing another scandal.
The team cut 2020 first-round pick and cornerback Damon Arnette yesterday, after videos surfaced of Arnette wielding guns and making death threats. Just awful.
🏃‍♀️
🏒
🏀
⚾
Sports Quick Hits: November 8th, 2021
November 08, 2021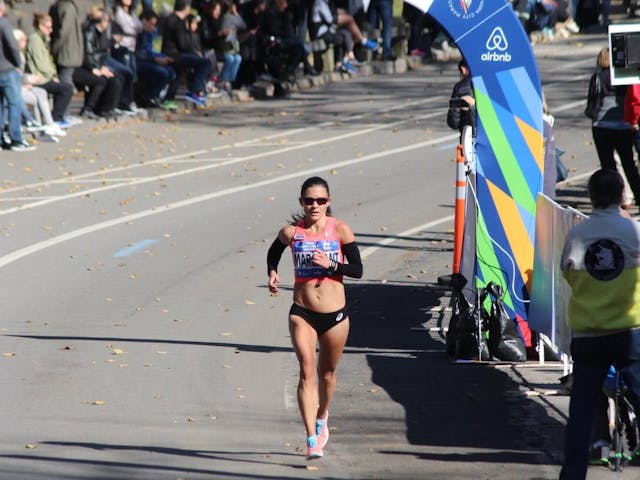 SOURCE: CANADIAN RUNNING/TWITTER
🏃‍♀️Running: Canadian Lanni Marchant finished 11th at yesterday's NYC Marathon, crossing the line in two hours 32 minutes 54 seconds. The former Canadian women's marathon record-holder battled back from multiple injuries and surgeries to participate in her first official marathon in five years. Don't call it a comeback.
🏒Hockey: Hey Google, play "Hot N Cold" by Katy Perry. After losing four in a row last month, the Toronto Maple Leafs have now rattled off five straight wins. They face the LA Kings — who are on a four-game win streak of their own — tonight at 7:30 p.m. ET. The 6ix jokes write themselves.
🏀Raptors: Though Pascal Siakam returned from a shoulder injury to make his season debut yesterday, the Raps still fell 116–103 to the Brooklyn Nets, two days after having their win-streak snapped by the Cleveland Cavaliers.
The good news? Toronto has yet to lose on the road, and they're traveling to face the Boston Celtics on Wednesday at 7:30 p.m. ET. Pack the snacks.
⚾️Blue Jays: We changed the clocks, but Blue Jays second baseman Marcus Semien still had his golden hour, winning his first career Gold Glove Award last night. We have a feeling there'll be many more where that came from.
⚾

Who Won the MLB World Series?

November 03, 2021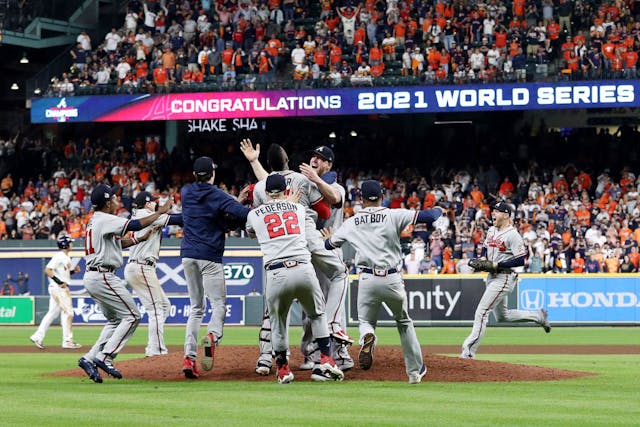 SOURCE: CARMEN MANDATO/GETTY IMAGES
How they did it: Designated hitter and World Series MVP Jorge Soler blasted a three-run homer (that probably still hasn't landed) in the third inning, then Dansby Swanson (USWNT star Mallory Pugh's boyfriend) hit a two-run shot of his own in the fifth.
And Mr. Brave himself, first baseman Freddie Freeman delivered the final blow, a solo home run in the seventh, lifting Atlanta to a dominant 7–0 win over the Houston Astros — a victory for rule followers everywhere.
After losing star outfielder Ronald Acuña Jr. to a season-ending ACL tear in July and having ace pitcher Charlie Morton go down with a broken leg in Game 1 of the World Series, Atlanta battled through the adversity to claim this title.
What's next: With the 2021 season in the books, all eyes now turn to December's Collective Bargaining Agreement (CBA) expiration date. Spoiler alert: there's no new CBA in sight and a work stoppage is "almost certain." Stay tuned…