⚾

The history of women's baseball

August 14, 2022
📗 The original girls of summer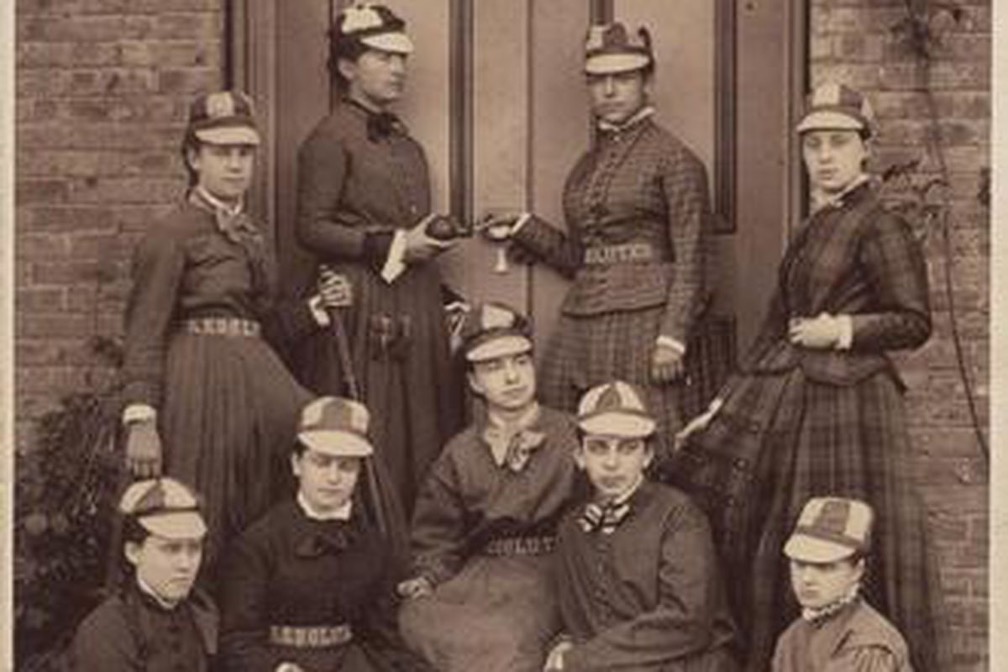 Women have been involved in baseball from the very beginning, with one of the earliest examples of ladies competing in the organized game dating back to the mid-19th century, when Vassar College, an all-women's school, formed its first squad.
In 1866, the Vassar Resolutes took the field in ankle-length wool dresses (women were required to wear dresses at all times…imagine!) and inspired more women's teams to pop up across the country in the following years. Dirt in the skirt, indeed.
Although 19th-century women's baseball wasn't explicitly connected to the women's rights movement (playing was simply a woman's right to physical activity), one squad from Peterboro, New York drew the praise of activist Elizabeth Cady Stanton.
The women's rights leader once wrote of the team, "It was a pretty sight to see the girls…in full possession of the public square…while the boys were quiet spectators." Truly love to see it.
💃 A league of their own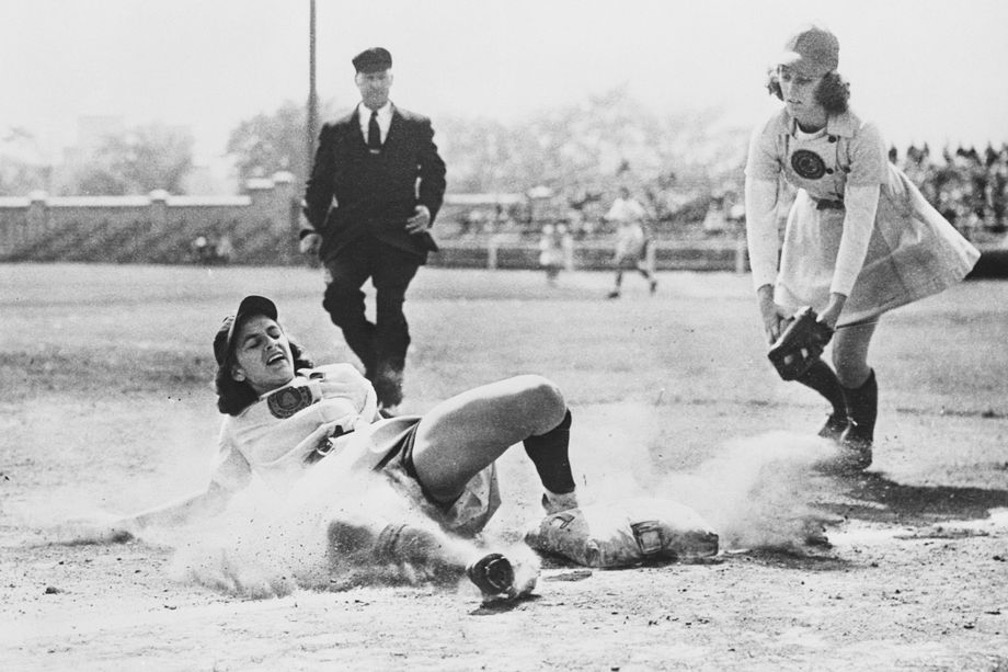 Perhaps the most well-known diamond gals are the ladies of the aforementioned AAGPBL, which was popularized in Penny Marshall's 1992 film A League of Their Own. With minor league teams disbanding and major leaguers serving overseas in World War II, Philip K. Wrigley (yes, that Wrigley) founded the league in 1943 to fill the baseball void.
AAGPBL rules evolved over the years. The early seasons were more of a hybrid between softball and baseball, but overhand pitching was allowed by 1948.
That year was also notable for league attendance, with a whopping peak of 900K spectators filling the stands. If you build it…
MLBers eventually returned from war, and in 1954 the AAGPBL was dissolved. But its legacy as the first women's pro sports league in the U.S. lives on well beyond the film's iconic line: "There's no crying in baseball."
💪 Leading (off) ladies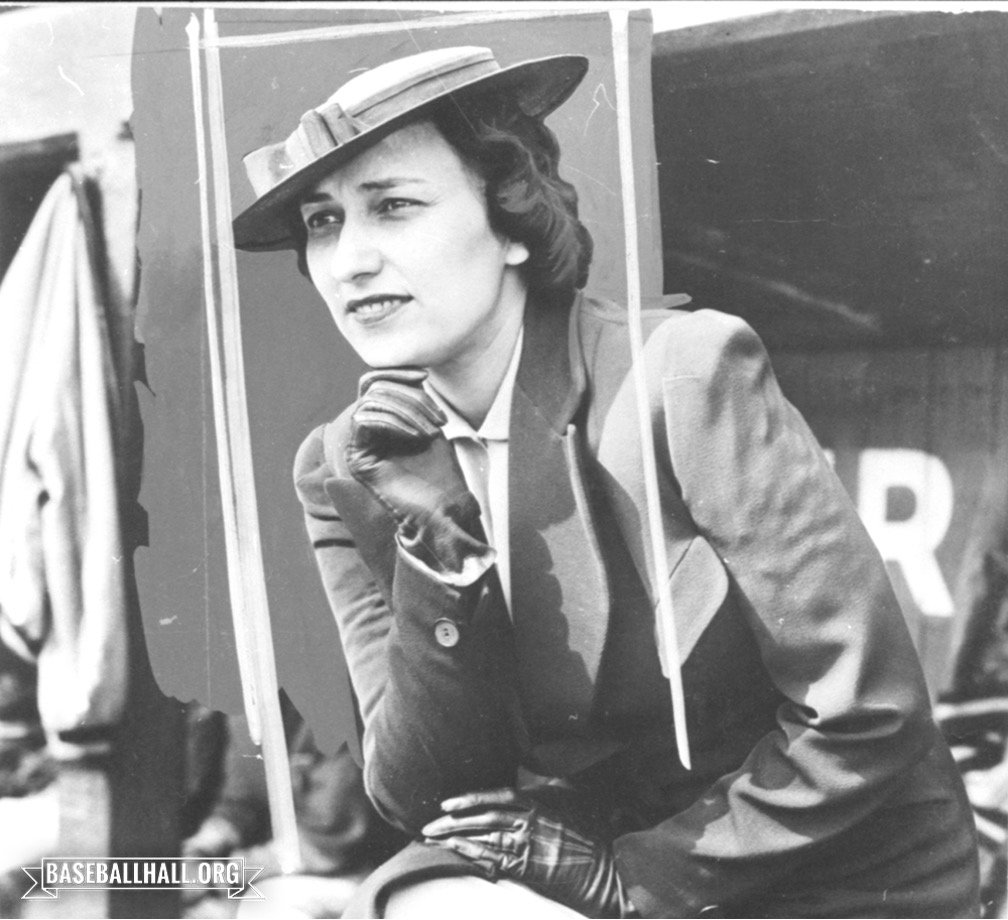 So many trailblazers, so little time. From the mound to the owner's box, women have changed the game. Let's give a few of these legends their flowers.
Known as "The Queen of Baseball," Lizzie Murphy became the first woman to compete against a Major League team when she took the field for the American League All-Stars in a 1922 exhibition game against the Boston Red Sox. And she knew her worth.
After not being paid for a game with her semi-pro team, Murphy refused to board the bus for an upcoming contest that the owner had specifically advertised around her appearance. "No money, no Newport," she said, and he was forced to fork over her fair share. Iconic.
The only woman (so far) elected to the Baseball Hall of Fame, Effa Manley was a sports exec in the 1930s and '40s — a time when the playing field was even less level and more male-dominated than today.
Manley was an innovative, player-first owner, praised for her ability to promote her team (the Negro leagues' Newark Eagles) and prioritize athlete support, often assisting them with personal care. MLB could learn a thing or two.
But her greatest contribution came after Jackie Robinson moved to MLB from the Negro leagues, sending baseball's color barrier out of the park in 1947. Manley advocated for recognition of Negro leagues contracts, staying true to her player-first commitment.
Sticking with the Negro leagues, Black players like Toni Stone, Mamie "Peanut" Johnson and Connie Morgan were barred from competing in the aforementioned AAGPBL, but that didn't stop them from playing the game.
Throughout the 1950s, they competed in the previously all-male Negro leagues, making them the first women to play professionally full-time.
"A woman has her dreams, too," Stone once said to a teammate. Now, thanks to her, countless women and girls can dream big.
🎙️ Women in the broadcast booth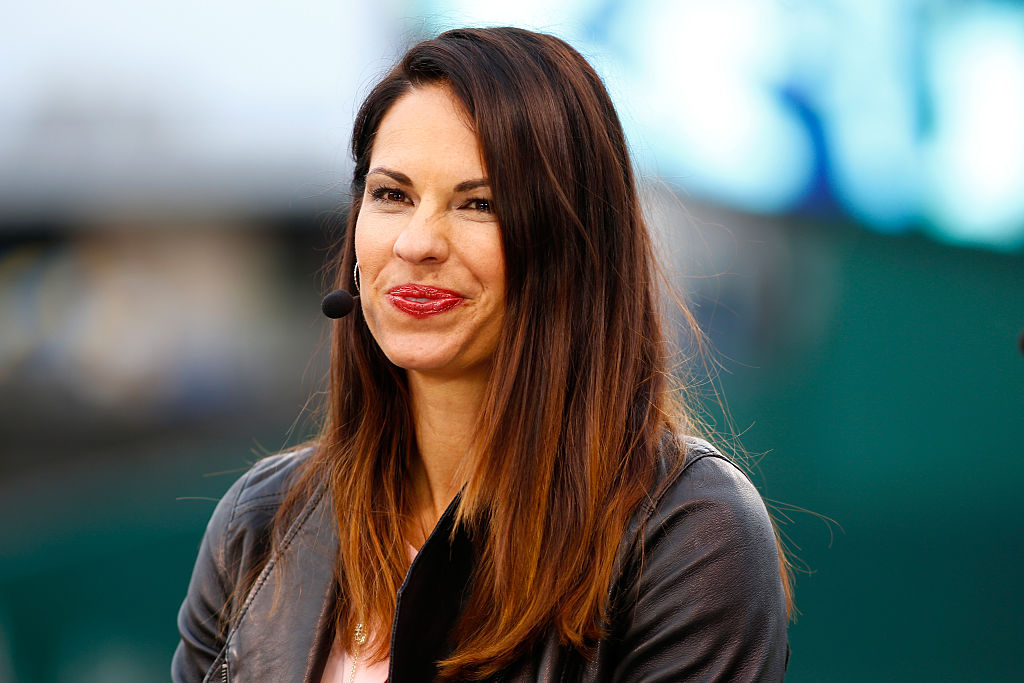 Given the lengthy season and near-daily action, baseball broadcasters form a uniquely special relationship with their audiences. The forerunner of women's baseball broadcasting history? Mary Shane, the first-ever full-time female MLB play-by-play announcer who covered the Chicago White Sox in 1977.
Shane's contract was sadly not renewed after that initial season, with her broadcast partner Jimmy Piersall citing audiences' "in-bred prejudice against a woman covering a baseball team." *eye roll*
Despite those prejudices, women have continued to make their mark in the booth. Former NCAA and U.S. Olympic softball star Jessica Mendoza's voice is one of the most recognizable in baseball.
In 2015, she became the first female analyst for a nationally-televised MLB game, notching another of her many barrier-breaking accomplishments.
Plus, Mendoza's insight carried onto the field of play. In 2019, the NY Mets hired her as a senior advisor to their general manager. What can't she do?
All of that progress culminated with last year's first-ever all-female MLB broadcast featuring Baltimore Orioles play-by-play announcer Melanie Newman, MLB.com writer Sarah Langs and MLB Network reporters Alanna Rizzo, Heidi Watney and Lauren Gardner. Hey MLB, when's the next one?
📈 Growing the game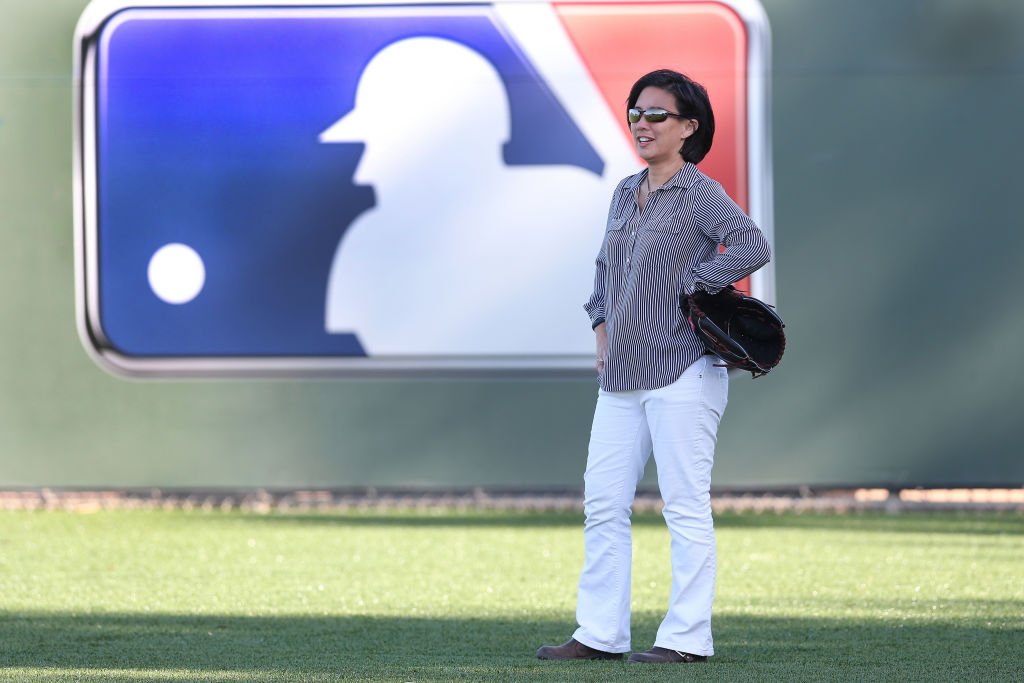 The last three years have seen countless baseball glass ceilings come crashing down. In 2020, the San Francisco Giants hired Alyssa Nakken as an on-field coach, making her the first woman to serve in the role.
And this past April, Nakken was officially tagged in as the first woman to coach on an MLB field after the Giants' first base coach was ejected from the game. History.
Also in 2020 (hey, it wasn't all bad), the Miami Marlins named Kim Ng (pronounced ANG) as their general manager (GM), making her the first-ever woman GM in any of the major men's North American pro leagues.
Since then, there's been a steady stream of further progress. In 2021, Bianca Smith became the first Black female pro baseball coach and, earlier this year, Rachel Balkovec became the first woman to manage a major league-affiliated team, the Tampa Tarpons.
This spring, Kelsie Whitmore became both the first woman to play in an MLB–affiliated league and the first to start and pitch in the Atlantic League. Talk about leading off.
👊 Fair ball for all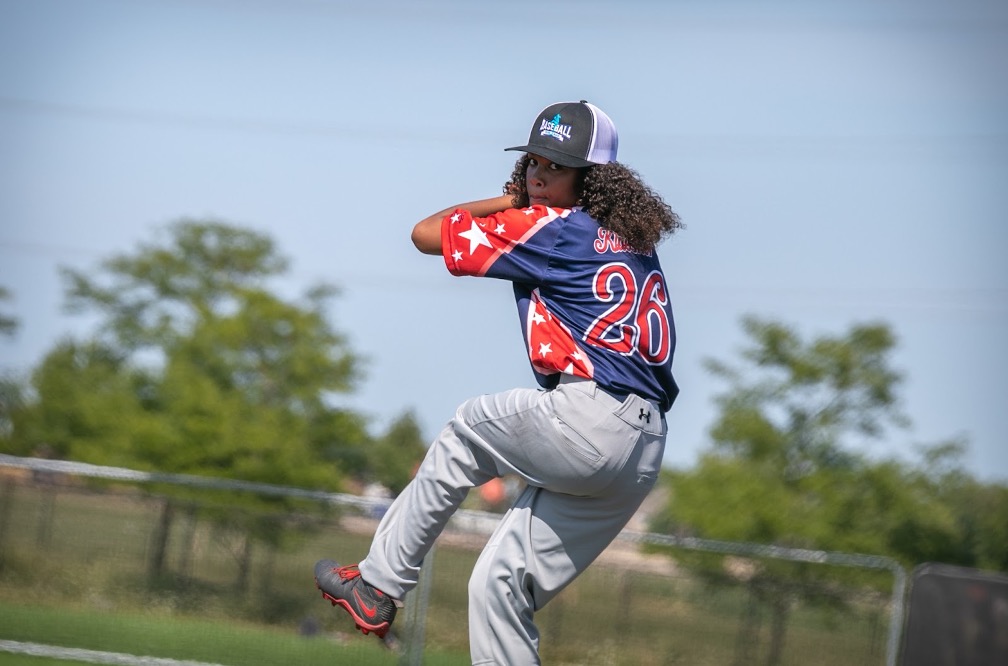 There's clearly momentum, but women still have a long way to go to bridge the baseball gender gap. Among the barriers to entry? Beyond centuries of bias, adequate family leave policies and low wages plague the industry.
Luckily, along with the aforementioned trailblazers, there are orgs dedicated to growing opportunities in the game for women. The AAGPBL now functions as a nonprofit dedicated to supporting women and girls in baseball.
Baseball For All is another. They host the largest girls baseball tourney in the U.S. — welcoming girls from around the world to compete against each other every year.
We'll continue celebrating the milestones and highlighting those leading the way. Women have been taking the field since the game's inception, they're rewriting the record books in the present, and they'll no doubt be part of the future — women belong in the ballgame.
⚾

MLB season reaches halfway mark

July 20, 2022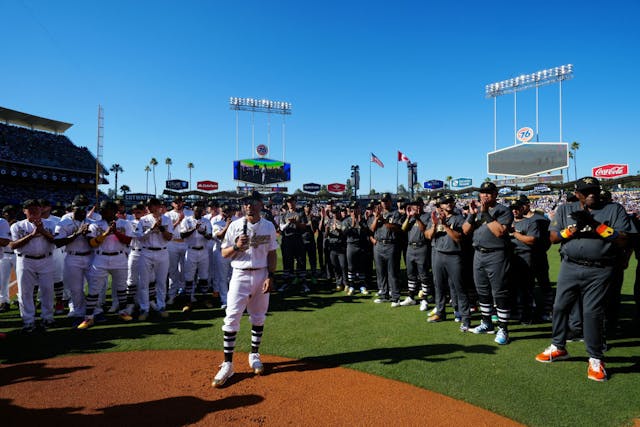 SOURCE: DANIEL SHIREY/MLB PHOTOS VIA GETTY IMAGES
The GIST: After (current) Washington Nationals star Juan Soto won Monday's Home Run Derby and the American League (AL) defeated the National League (NL) 3–2 in last night's All-Star Game, the real fun is just beginning. The second half of the MLB season gets underway tomorrow, featuring more teams than ever in the playoff mix. Batter up.
American League: The NY Yankees have been living up to their Bronx Bombers nickname, blasting a league-leading 157 home runs en route to baseball's best record and likely an AL East title. But the race is close in the league's most competitive division, despite the Toronto Blue Jays and Boston Red Sox sputtering into the break.
It'll likely be a three-way race for the pennant in the Central Division, with the Minnesota Twins, Cleveland Guardians and Chicago White Sox all in contention.
And over in the West, they who must not be named the Houston Astros are top dogs (by a lot), but the real story is the Seattle Mariners, who won 14 straight games heading into the All-Star break. Better believe it.
National League: For the first time in a long time, the NY Mets are giving New York baseball fans double to cheer about, riding their hot start to the No. 1 spot in the NL East. That said, the defending champ Atlanta Braves have slowly closed the gap thanks to their stellar pitching. Defense does win titles, after all.
As for the Central, the St. Louis Cardinals trail the Milwaukee Brewers by just half a game as they look to send future Hall of Famer (and our winner for most adorable Home Run Derby moment) Albert Pujols out with another World Series title.
Rounding out the West, the LA Dodgers are still good at baseball and continue to dominate the atypically uncompetitive NL West.
⚾

MLB: Bauer suspended for two seasons

May 02, 2022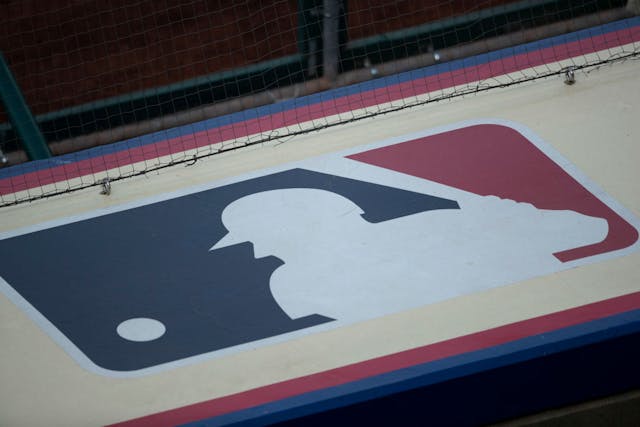 SOURCE: MITCHELL LEFF/GETTY IMAGES
Content warning: This section contains mention of sexual assault.
The GIST: After spending nearly 10 months on paid administrative leave, LA Dodgers pitcher and 2020 National League Cy Young winner Trevor Bauer — who is facing sexual assault allegations — was handed a 324-game (aka two season) suspension by MLB on Friday. Good riddance.
The background: Bauer was first placed on administrative leave in July 2021 after a woman accused him of sexual assault and requested a restraining order against him. She was denied a permanent restraining order in August and the LA County District Attorney's Office declined to file criminal charges against Bauer this past February.
But MLB can suspend players even in the absence of criminal charges and decided to exercise that power after speaking with other women — including one woman who came forward last week — who said they had been assaulted by Bauer.
Zooming out: Since the introduction of the MLB and MLB Players Association's joint domestic violence policy in 2015 (yes, that recently), Bauer's suspension is by far the longest. In a sport where top players are often welcomed back despite their off-field behavior, it's a major (and long overdue) shift to see a big-time pitcher face actual consequences.
⚾

MLB: Baseball's back, alright

March 11, 2022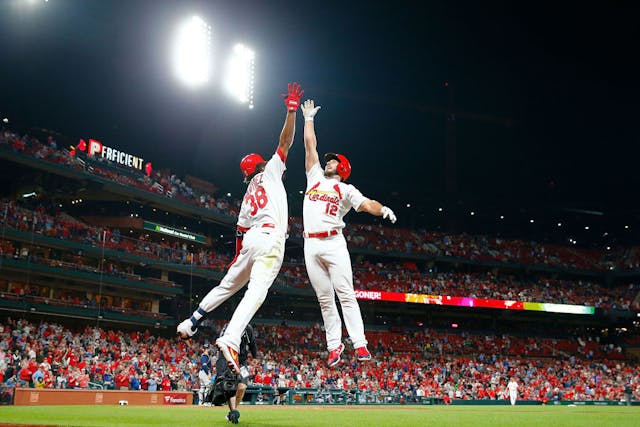 DILIP VISHWANAT/GETTY IMAGES
The GIST: Eighty-four years 99 days later, MLB and the MLB Players Association (MLBPA) finally agreed to a new collective bargaining agreement (CBA) yesterday, ending the second-longest work stoppage in baseball history. Mark your calendar for April 7th, the new Opening Day. Play ball, baby!
The details: It took some compromise to get this deal done. The league acquiesced when it came to minimum player salary, increasing it from $570.5K to $700K, while the MLBPA notably dropped their grievance against the league for wages lost during the 2020 COVID-19–shortened season.
As for key rule changes, the National League will align with the American League and implement a designated hitter rule — meaning we won't have to watch (most) pitchers struggle through at-bats anymore.
And there'll also be an increase from 10 playoff teams to 12. More teams, more party.
What's next: No time to waste. Players can start reporting to Spring Training as soon as today, and Spring Training games will begin on March 18th. Meanwhile, with no transactions allowed during the lockout, the free agency market is officially open, and a flurry of activity is expected.
Major names who might be on the move include 2021 World Series champion Freddie Freeman, four-time All Star Kris Bryant and Carlos "Cheater" Correa. Buckle up.
⚾

MLB: Swing and a miss

February 28, 2022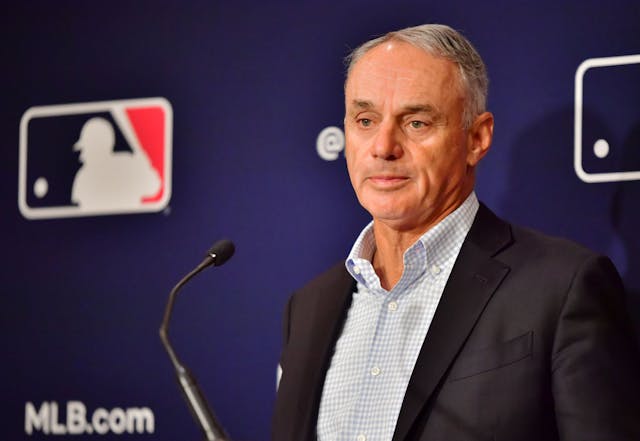 JULIO AGUILAR/GETTY IMAGES
The GIST: Bottom of the ninth, two outs, two strikes — today's the MLB's self-imposed deadline to reach a new Collective Bargaining Agreement (CBA) before some regular season games are canceled…and it's not looking good.
How we got here: Let's take it back to 2021. The owners and players met just once (and for only 10 minutes) before the CBA's December 1st expiration date, failing to avoid a lockout.
Since then, negotiations between the league and the Players' Association have remained, in a word, brutal. The sides have exchanged multiple proposals but are still far apart on key issues, including salaries.
Amid the negotiations, over a week of Spring Training games have already been canceled, and even more are in jeopardy. Can't we just play ball?
The latest: Players and owners met for seven consecutive days to no avail last week. Of note, commissioner and procrastinator-in-chief Rob Manfred showed up to negotiations on Friday for the first time, then players nearly walked out on Saturday after being angered by the owners' proposal. Jeez.
What's next: If there's no deal by the end of the day, the league will begin canceling regular season games, as they claim there won't be enough training time to play a full 162-game schedule (Spring Training typically lasts four weeks). Put on those rally caps.