⚽
🏀
🎾
⛸️
CanWNT's Olympic opponents were announced yesterday
April 22, 2021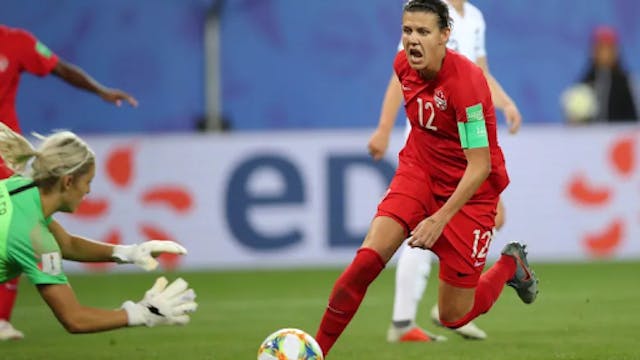 Source: Francisco Seco/Canadian Press
⚽️Soccer: CanWNT's Olympic opponents were announced yesterday, and to say we're fired up is an understatement. Team Canada will face host nation Japan, newcomers Chile and the amalgamated Britain (which features players from all U.K. nations). Should the world No. 8 emerge from the group stage, we could see a Canada-USA quarter or semifinal. Fingers crossed.
🏀Basketball: The Toronto Raptors are on a winning streak. They notched their fourth W in a row last night, with a 114–103 victory over the Brooklyn Nets. The Raps' only recent loss came from over the weekend for "failing to comply with league policies governing player rest and injury reporting." Oops.
🎾Tennis: The clay court season is underway ( starts next month!) and it's already proving fruitful for the Canadians. Denis Shapovalov and Felix Auger-Aliassime are (bummer) in today's third round of the Barcelona Open. Follow along .
⛸Figure skating: Retiring at 36 just isn't for everyone. Yesterday, Olympic medalist Eric Radford announced that he's to make a last-minute push for an Olympic spot with new partner Vanessa James, a world medallist who previously competed for France. The news was very well-received...except by Radford's . Awkward.
🏎
🏒
⛸️
⚽
The GIST's Quick Hits - CA (March 29, 2021)
March 29, 2021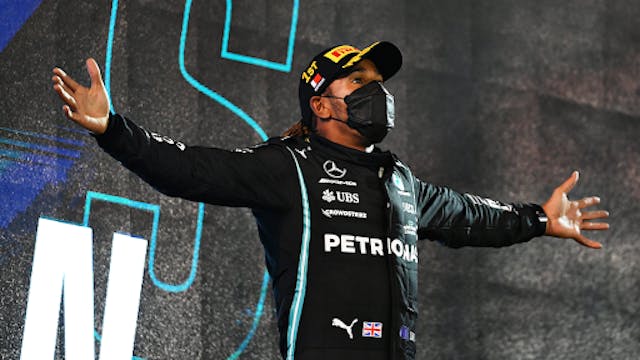 Source: Formula One/Twitter
🏎Formula One: Lewis Hamilton is back on top...just as we expected. The reigning F1 world champ held off a pushy Max Verstappen to open the season with a win at the Bahrain Grand Prix yesterday.
🏒NHL: The Montreal Canadiens are back. After some COVID-19 protocol hiccups, they'll get back to playing tomorrow night against the Edmonton Oilers before a two-game spread against the Ottawa Senators. But newest Hab won't take to the ice just yet though, because — surprise, surprise — .
⛸Figure skating: left us in good hands. Canadian ice dancing pair won the bronze medal in this weekend's ISU World Figure Skating Championships, marking the pair's first ever World's podium finish.
⚽️Soccer: Yesterday wasn't a great day for Canadian men's soccer. Canada's under-23 team played against Mexico in an Olympic qualifier, where they sadly (but expectedly) lost their last chance at an Olympic berth.
Canada's senior team was also set to play in a FIFA World Cup qualifier yesterday, but the match was rescheduled for today at 6 p.m. ET after their opponents, the Cayman Islands, had some .
🏀
🏂
⛸️
🏒
Bits & Bites - Canada
January 11, 2021
SOURCE: JACOB KUPFERMAN/AP
🏀NBA: As the youngest of the infamous Ball brothers, Charlotte Hornets' LaMelo Ball has spent his life trying to keep up with the older guys. All that practice paid off on Saturday night when he became the youngest NBA player to ever score a triple-double. Not bad for just his 10th career game.
Maybe the Toronto Raptors can take notes? They're now 2-7 following yet another loss. After Saturday night's spark of hope, in which they set a franchise record for most points scored in a game (144, for those counting), they lost to the Golden State Warriors by one point last night. Nick has some work to do.
🏂Snowboarding: If this weekend's FIS Snowboard World Cup Big Air competition is any indication of what February's World Championships will be like, Canadians should be pumped. Olympic silver medalist Max Parrot won the event with a technically perfect showing, while Liam Brearley finished seventh.
On the women's side, Jasmine Baird and Laurie Blouin finished 15th and 16th, respectively. Solid results, but still some work to do.
⛸Figure skating: Kudos to Skate Canada for adapting to the new world of virtual *waves hands* everything. Over the weekend, they held the first half of their first ever Skate Canada Challenge, a completely virtual event which allowed skaters to participate via livestream from their empty home arenas. Check out the results here.
🏒Hockey: The Toronto Maple Leafs organization made herstory when they hired the first female equipment manager in North American men's pro hockey for their AHL team, the Toronto Marlies. Love it!
⛸️
⚽
🎾
🏒
Skate Canada International, CANWNT Travel Plans Canceled
October 15, 2020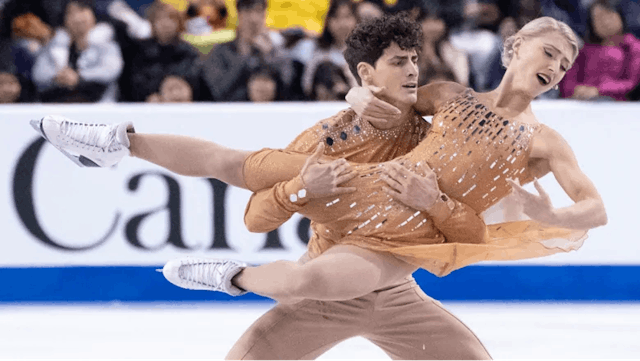 SOURCE: PAUL CHIASSON/CANADIAN PRESS
⛸⚽️Stop right there: It's not just football, folks. The pandemic is now putting a stop to even more of our national pastimes. Skate Canada International, which was set for October 30th–31st in Ottawa, has officially been canceled. The event was supposed to be one of six international Grand Prix of the skating season, but now our skating stars must look ahead to January's nationals event.
In other relatable news, our women's national soccer team had their travel plans kiboshed. The still-coachless team was set to head over to jolly old England this month for a pre-planned training camp, but the World No. 8 squad decided to cancel on the advice of public health officials. Way to set a good example, queens!
🎾Keep it rolling: Denis Shapovalov and Milos Raonic (pronounced MEE-LOSH RAUNITCH) missed the memo. Canada's top tennis stars are still on the road, having traveled from the French and Italian Opens, respectively, to the St. Petersburg Open in Russia, and it seems (knock on wood) to be worth the trip. Both players are through to the round of 16 in the ATP 500 event and will play for a spot in the quarter-finals today. Follow along here.
🏒Here, there and everywhere: A few big names have found new homes since NHL free agency began last week, but luckily, some of our favorites are staying put. The Montreal Canadiens signed Brendan Gallagher to a six-year contract extension and Jake Allen to a two-year extension, and Nick Paul is sticking with the Ottawa Senators for another two years.
The Toronto Maple Leafs have a new backup goalie in Aaron Dell and picked up Joey Anderson in a trade, and the Winnipeg Jets, Calgary Flames and Vancouver Canucks all re-signed players over the past few days. Guess a four-day work week really can be productive in Canada!
⛸️

I can show you the world

March 23, 2020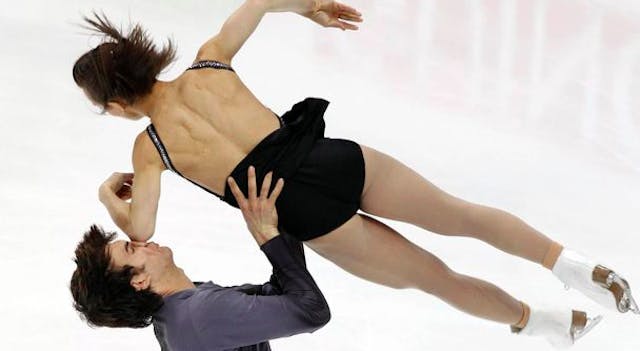 The GIST: Thanks to COVID-19, we missed out on the 2020 World Figure Skating Championships that were set to take place last week in Montreal, Quebec. So, in honor of the shining, shimmering and splendid sport, we're profiling our top five figure skating moments from women's singles, pairs and ice dance past.
5. Sometimes figure skaters get a bad rap for not being tough. Well, Canadian pairs figure skater Eric Radford proved the haters wrong at the 2011 World Championships in Moscow, after his partner, Meagan Duhamel, elbowed him in the face during a triple twist that went awry early in their short program.
The elbow broke Eric's nose and blood immediately streamed down his face, but he kept going despite the pain. Needless to say, Meagan kept her elbows nice and tucked after that incident.
4. After winning the ice dance gold medal by the skin of their teeth at the 2018 PyeongChang Winter Olympics (thanks to one of the best programs of all time), Canadians Tessa Virtue and Scott Moir became the most decorated figure skaters (with five medals) in Olympic history. And, no, despite the world's pleas, the two are not a couple.
3. Our number three spot is dedicated to American singles skater Nancy Kerrigan, who stunned the world with a silver-medal performance at the 1994 Lillehammer Winter Olympics, just seven weeks after suffering a clubbing to her right knee from a brutal attack planned by rival Tonya Harding's ex-hubby Jeff Gillooly. If you haven't watched I, Tonya yet, you need to (and even if you have, watch it again, because let's face it, you have the time).
2. We can't have a figure-skating list and not talk about American sweethearts Michelle Kwan and Tara Lipinski. At the 1998 Nagano Olympics, 15-year-old Tara just edged out Michelle to win the women's singles gold, becoming the youngest figure skater to win an Olympic gold medal at the time.
1. To cap off our list, we're throwing it back to the 2002 Salt Lake City Olympics, where one of the biggest judging scandals in figure skating history initially deprived Canadian pair (and former IRL couple) Jamie Salé and David Pelletier of a gold medal.
After performing our all-time favorite program "Love Story" (no, not the Taylor Swift kind) to perfection, literally everyone thought they would be taking home gold. But in a sick twist of fate, they ended up with silver while Russians Elena Berezhnaya and Anton Sikharulidze won the gold.
The Olympic world was up in arms, and after nearly a week of investigation, it was determined that Salé and Pelletier were snubbed by a vote-trading scheme involving a French judge. As a result, both the Canadians and Russians won the gold.
The scheme made the figure skating powers-at-be rethink the scoring for the sport, and pushed them to leave the judge-ranked 6.0 scale in favor of the more complex points system we see today. A silver lining, one could say.