⛳
🏀
🏎
🏆
Sports Quick Hits: Winners Edition - June 19th, 2021
July 19, 2021
Source: Keyur Khamar/PGA TOUR
⛳️Golf: Collin Morikawa made his Open Championship debut on Thursday and won the whole darn thing by Sunday. The oldest of the , and last of the men's golf season, the Open is challenging for North American golfers because of the , but the 24-year-old, who won the 2020 PGA Championship, won handily with a 15-under-par final score.
🏎F1: Less than a lap into yesterday's British Grand Prix, a between eventual race winner Lewis Hamilton (who recorded his 99th grand prix title) and rival Max Verstappen, who crashed into a tire wall and after a brief hospitalization. Hamilton was dealt a penalty and suffered following the race.
🏀NBA: The Milwaukee Bucks are one win away from their first NBA title since 1971. They beat the Phoenix Suns 123–119 on Saturday night to put them up 3-2 in the series. Game 6 is tomorrow at 9 p.m. ET and a possible Game 7 Thursday, just in time for Suns' Devin Booker and Bucks' Jrue Holiday and Khris Middleton to hop on a plane .
🚲Tour de France: The most grueling race in men's cycling is complete, and for the second straight year, 22-year-old Slovenian claimed the . The youngest two-time winner in Tour de France's 118-year history, Pogacar is also headed to Tokyo and is obviously a gold medal favorite in the men's road race.
⛳

Guide to Golf

July 18, 2021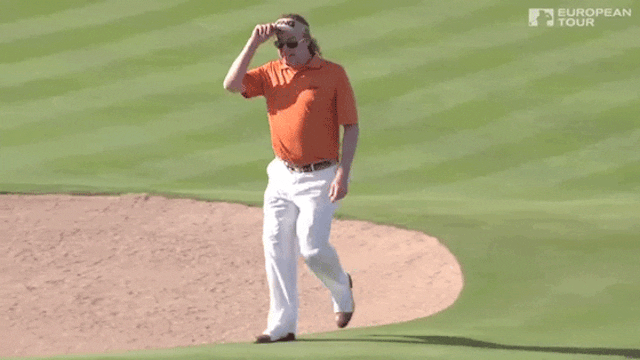 SOURCE: GIPHY.COM
The GIST
A full round of golf is 18 holes. Holes generally range from 100 to 500 yards. Unlike most other sports, the goal is to have the lowest score (counted by strokes) at the end of the game — meaning take the least amount of swings or putts to get the ball in the hole. Each hole on the course is given a number of strokes that it should take for a person to get the ball in the hole (this is called par) and typical championship courses have a full par value of 72.
How is it organized?
Similar to tennis, men's professional golf players play in PGA (Professional Golf Association) Tour and women play in LPGA (Ladies' Professional Golf Association) tournaments. A tournament consists of four rounds of golf (one per day from Thursday until Sunday). The biggest tournaments are called majors. The PGA hosts four majors each year: the Masters, the US Open, the British Open and the PGA Championship. The ladies have one additional major on the LPGA circuit. Their five majors are the ANA Inspiration, U.S. Women's Open, Women's PGA Championship, Women's British Open and the Evian Championship.
Outside of the majors, there are various other tourneys the pros can partake in. A player's world ranking is based on how they do in each tournament. The most well-known tournament is the Masters, played in Augusta, Georgia. In addition to winning copious amounts of cash money, players also receive the green jacket (super cool to win, super impractical to wear). But, while the Masters is known for the coveted jacket and its prestige, the tournament also has a disturbing . Change is long overdue.
Golfin' greats
This isn't just your grandparents' game anymore! While golf is a sport where experience is incredibly important, the past decade has shown that you can be young and still be at the top of your game. The best golfers today include Dustin Johnson (American who is married to Wayne Gretzky's daughter, ), Rory McIlroy (Irish sweetheart), Brooks Koepka (American who won back-to-back US Open and PGA Championship tourneys) and Jordan Spieth (young American stud).
And then there's Tiger Woods. Tiger dominated the game for over a decade, winning 14 major tournaments. That rapid rise was followed by a sudden fall from grace, when Tiger was caught cheating on his wife and Swedish model Elin in 2009. While the golf legend had been mounting a spectacular comeback, he was injured in a scary single car crash in February 2021. Here's to a speedy recovery.
Gals who golf
It's a myth that 'golf' stands for "Gentlemen Only Ladies Forbidden", but only just barely. For decades, golf has been seen almost exclusively as a man's game, but thankfully ladies have continued to break down those barriers. Professional women play in the LPGA (Ladies PGA) which is organized similarly to the men's. And Canadian sensation Brooke Henderson is one of the best in the world — she holds the record as the youngest woman to ever win an LPGA tournament AND is the in Canadian history (male or female) with nine career titles. Just unreal.
In 2019, the LPGA awarded its largest ever prize ($1.5M USD) to South Korea's Sei Young Kim at the CME Group Tour Championship. That's $500k more than the previous record prize. And, even though the overall prize money handed out in the LPGA pales in comparison to the PGA, there's reason for optimism. After the pandemic disrupted much of the 2020 season, the 2021 LPGA schedule features a record 34 events with over $75 million (USD) in prize money on the line. Keep making moves, ladies!
Prep for your next trivia night by making sure you know these facts:
A hole-in-one means you took just one stroke to get the ball all the way into the hole. Tradition says that that golfer must then buy a drink for each person in the clubhouse. But fear not, most courses have hole-in-one insurance so that you actually don't have to pay. Hilarious.
Jack Nicklaus is strongly considered the best golfer of all-time winning 18 majors, which remains the record for most ever.
Have you ever sipped on an Arnold Palmer, that delicious blend of iced tea and lemonade? Well, the drink is named after a very successful pro golfer who was known to request the combination! The late Arnold Palmer won four (!!!) Masters tournaments and seven majors over his career.
Don't get The GIST's free twice-weekly newsletter yet? Let's make it email official.
⚾
⛳
🏎
Sports Quick Hits: June 28th, 2021
June 28, 2021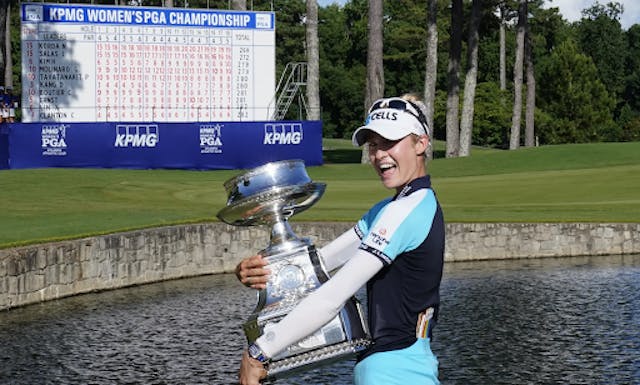 Source: John Bazemore/AP
⛳️Golf: Whoa, Nelly! The 22-year-old American won her first major yesterday, the Women's PGA Championship, with a 19-under-par final score, three strokes ahead of runner-up Lizette Salas. With the win, Korda also claims the World No. 1 spot previously held by Jin Young Ko who won two majors in 2019.
⚾️Baseball: Five Toronto Blue Jays have been named MLB All-Star finalists, including MLB home runs and leader (!!!), first baseman Vladimir Guerrero Jr., and Marcus Semien, who's leading the vote for second base.
🏎Racing: The W Series kicked off on Saturday at the Red Bull Ring in Austria (check out our for all the details) and Alice Powell of England took the season's first win. A day later, Max Verstappen won F1's Styrian Grand Prix.
The W Series and F1 return to the Red Bull Ring for the second of a double-header this weekend.
⛳
⚽
🏀
Sports Quick Hits: June 24th, 2021
June 24, 2021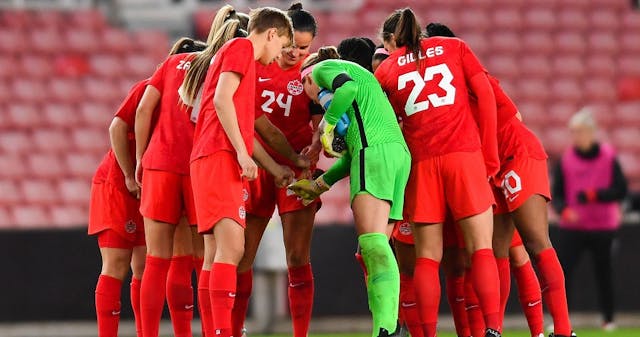 Source: Canada Soccer
⚽️Soccer: The CanWNT's Olympic , and it's no surprise that the GOAT Christine Sinclair will lead the team for her fourth Games, alongside 2020 Canadian Player of the Year Kadeisha Buchanan, Jessie Fleming, Quinn, Janine Beckie, Desiree Scott and goalkeepers Stephanie Labbé and (warning: grab a tissue before you click that link).
There were a few surprises though: vet Sophie Schmidt and up-and-comer Jordyn Huitema (pronounced HIGH-teh-ma) were included as alternates.
⛳️Golf: Another weekend, another major. This time, it's the Women's PGA Championship, the fourth of five LPGA majors. Reigning champ Sei Young Kim will be back in contention, alongside past winners Brooke Henderson (Canadian!) and Danielle Kang, and 2021 LPGA tour event winners Nelly and Jessica Korda, who are each looking for their first major. Follow along .
🏀Basketball: Move over, The Last Dance. Michael Jordan made his greatest contribution yet when he announced the Jordan Brand's "" campaign, featuring 11 WNBA players. .
⛳
🏎
🏅
🏀
Sports Quick Hits: June 21st, 2021
June 21, 2021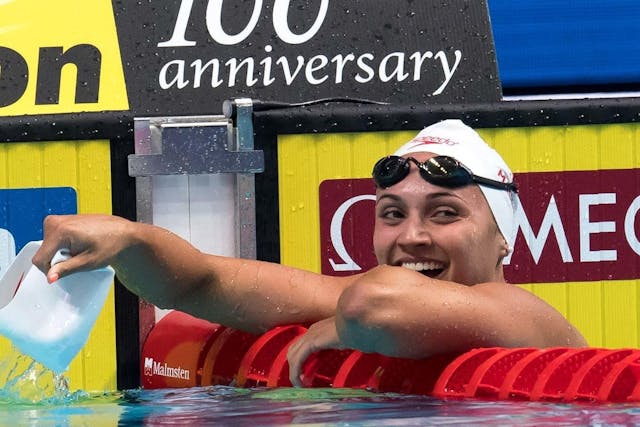 Source: Mike Lewis/Ola Vista Photography
🥇Olympics: With only a month before the first Olympic events begin, some athletes are still qualifying. The Canadian Olympic Swimming Trials began over the weekend — where current 100m backstroke world champion and mermaid, Kylie Masse, broke her own Canadian record — and .
⛳️Golf: It wasn't meant to be for Canadian and Mackenzie Hughes this weekend. He finished tied for 15th in the U.S. Open yesterday, 7 strokes behind winner, Spaniard Jon Rahm. Turns out, getting isn't great for your final score.
🏀NBA: Canada's basketball GOAT is out. Even though Kevin Durant , head coach Steve Nash and his Brooklyn Nets lost Game 7 to the Milwaukee Bucks in overtime on Saturday. The Bucks will now face the Atlanta Hawks in the Eastern Conference Finals while the Phoenix Suns lead the LA Clippers 1-0 in the west.
🏎F1: Red Bull Racing's Max Verstappen found his wings during the second-last lap of yesterday's French Grand Prix, when he passed reigning champ Lewis Hamilton and won his third race of the season. Next up is a double-header in Austria, where the W Series season is also set to start (more about that Saturday *wink wink*).