🎾
⛳
🏆
This Week in Golf, Cycling, Tennis
September 21, 2020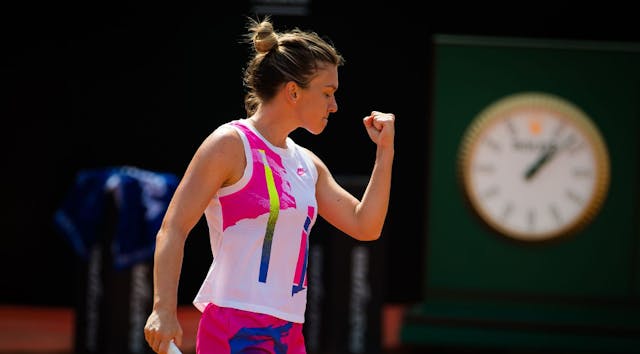 SOURCE: JIMMIE48/WTA
Tennis: Mondays aren't all bad. In a warm up to next week's French Open (aka Roland-Garros) major, the Italian Open is giving us not one, but two rare Monday finals to look forward to. First up, the tournament's top two seeds, Simona Halep and Karolína Plíšková, will face off in the women's final at 8:30 a.m. ET.
Golf: Yesterday, Bryson DeChambeau won the U.S. Open (the second of three PGA majors this season) and in the end, it wasn't even close. DeChambeau finished with a six-under-par score, six strokes ahead of runner-up Matthew Wolff, and was the only player to finish under par. Yeesh.
This was the first major win for the newly jacked and quirky golfer, who uses brain-training, advanced algebra and equal length clubs to perfect his game. He also wears an ivy cap, loves Fortnite and signs his autograph backwards with his non-dominant hand, so this is a true win for the nerds.
Cycling: There were quite a few changes to this year's iconic Tour de France. First, it was postponed from its usual July start to late August. Then they did away with the "podium girls" (damn right!). And finally, in a race usually dominated by steroids, er, we mean experience, a very fresh face was crowned the winner.
Tadej Pogačar of Slovenia won the three-week race yesterday, just a day ahead of his 22nd birthday, making him the youngest winner since 1904 and the first rookie to win since 1983. Generation Z is making its mark.
🎾
⛳
Lee Wins ANA Inspiration; Osaka, Thiem win U.S. Open
September 14, 2020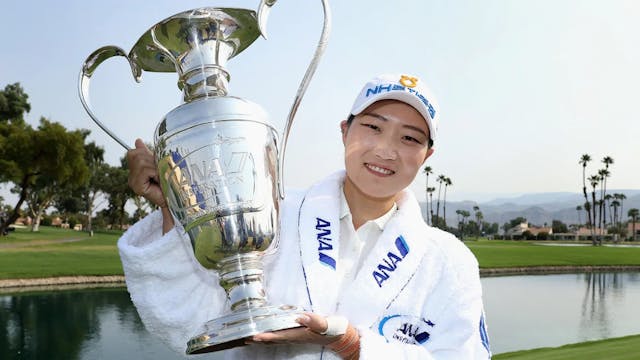 SOURCE: GOLF CHANNEL VIA GETTY IMAGES
The GIST: On top of all of the big league fun, two major tournaments in golf and tennis also finished up this weekend, giving us three new major winner winner chicken dinners.
Golf: The ANA Inspiration is our favorite major on the LPGA schedule, based solely on the fact that the winner has to jump into a pond after their round. This year, South Korea's Mirim Lee continued the tradition, along with her belly-flopping caddie.
Lee came from behind to force a three-way playoff between her, American Nelly Korda and Canadian Brooke Henderson before ultimately winning with a 15 under par score.
Not only did Lee win a cool $465,000 (which is nowhere close to the men's $15 million check from last week...ugh), she also took home the brand-new champions' robe. Let's be real, bathrobes are better than green jackets anyway.
Tennis: After two glorious weeks, the U.S. Open ended with two finals for the ages. On Saturday, Naomi Osaka earned her second U.S. Open and third career Grand Slam with a win over Victoria Azarenka. We loved watching Osaka win, but we loved watching her rally call for social justice even more.
On the men's side, on-court rivals and off-court besties Dominic Thiem (pronounced TEEM) and Alexander Zverev (pronounced SVAIR-EV) took it to a full five sets in yesterday's final. Thiem rallied from two sets down and intense muscle cramping to win the championship in a fifth set tiebreaker, marking his first-ever Grand Slam.
⛳
🏀
World No. 304 Wins AIG Women's Open, Taurasi Receives Foul for Inappropriate Language
August 24, 2020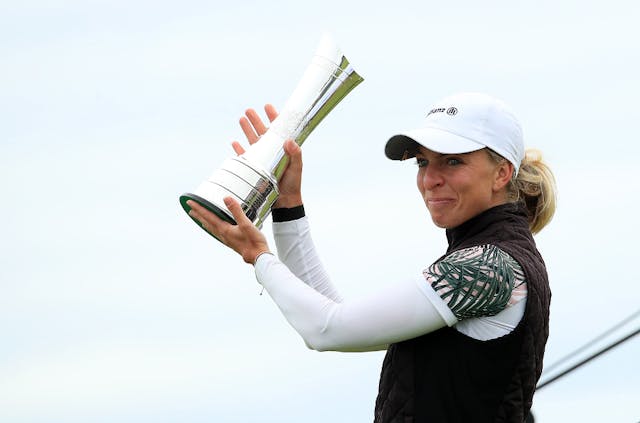 AIG WOMEN'S OPEN/TWITTER
LPGA: You should always expect the unexpected in golf...but we did not expect this. Yesterday, No. 304 world-ranked Sophia Popov made history herstory when she won the first LPGA major of the season, the AIG Women's Open (aka the British Open), making her the first female golfer (and second ever) to win a major from outside of the top 300.
Not only was it Popov's first major title, but it was her first ever Tour win too. And it gets better: she entered the tournament on a special-event qualifying pass, and just three weeks ago, Popov caddied in an LPGA event. Now, she's winning them. Maybe there's hope for our golf game too.
WNBA: Things are getting heated in the Wubble. WNBA GOAT Phoenix Mercury star Diana Taurasi has been caught using some unsavory language on the court lately, but she may have crossed a line on Friday.
After a particularly bad call in the Mercury's loss to the Minnesota Lynx, Taurasi was caught saying, "I'll see you in the lobby later," to an official. Not the best look. Of course, she picked up a technical foul for the threat.
⛳
🏀
🏆
Women's British Open Begins Today, Seattle Storm en Route to League Record, Athletes Unlimited to Introduce Women's Lacrosse
August 20, 2020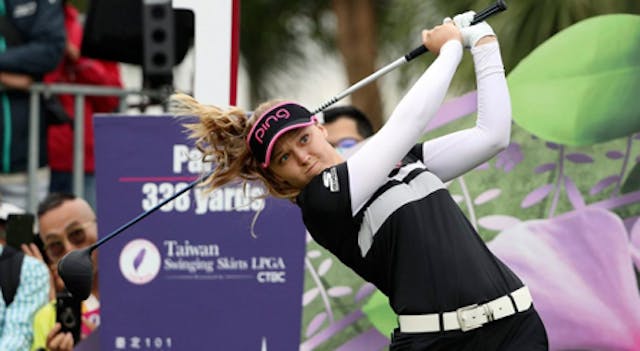 CHIANG YING-YING/AP
LPGA: This weekend belongs to women's golf, as the first major of the season gets underway today. The Women's British Open teed off early this morning at the legendary Royal Troon in Scotland, where most of the top golfers in the world are facing off once again.
While Americans Danielle Kang and Stacy Lewis have already notched wins in this stunted new season, this will be the first LPGA tournament since January for the Canadian phenom Brooke Henderson, a top contender who's looking to win her second major.

Unfortunately, world No. 1 Jin Young Ko and No. 3 Sung Hyun Park, both South Korean superstars, have opted out of the major, so it won't truly be the battle of the best we've been waiting for.
WNBA: Don't look now, but the league-leading Seattle Storm have won nine games in a row in the Wubble. Led not only by the legend that is Sue Bird, but also 2018 WNBA MVP Breanna Stewart, the Storm are halfway to setting a new league record.
The Storm can beat the 2001 Los Angeles Sparks' record of 18 consecutive wins if they win their next nine games, which actually seems feasible. Their 10th win should come tonight against the ho-hum Indiana Fever, but the real test will be the No. 2 Las Vegas Aces on Saturday. Follow their run here.
Lacrosse: We have some good news and some bad news. The bad news? The Women's Professional Lacrosse League (WPLL) has folded after just two seasons. The league, which also acted as a national development program, had to cancel its 2020 season due to the COVID-19 pandemic and wasn't able to recover. Sad.
The good news? Athletes Unlimited, a new organization of underrepresented sports leagues, is planning to introduce women's lacrosse as its latest venture (adding to softball and volleyball, which are already on the way), giving the WPLL players a chance to continue their careers on a national stage.
⛳
🎾
🏀
Lewis Wins Ladies Scottish Open, Andreescu Pulls Out of U.S. Open, The GIST Predicts a Western Conference Team to Win WNBA Championships
August 17, 2020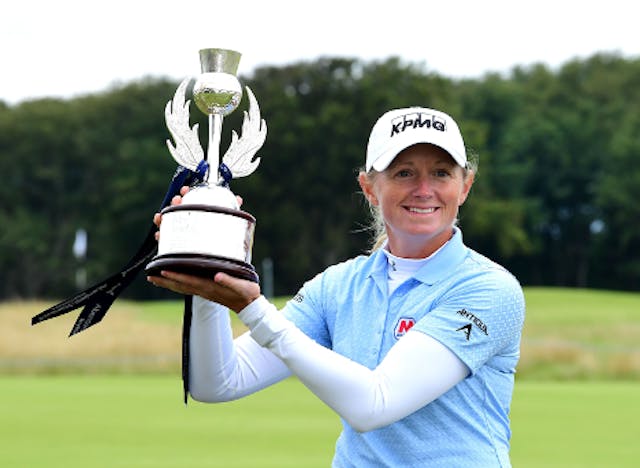 STACY LEWIS/TWITTER
LPGA: Yesterday's Ladies Scottish Open was decided by a four-way playoff (on brand for this overtime obsessed August) that saw new mom Stacy Lewis win her first LPGA tournament since giving birth to her daughter, Chesnee, in 2018. What a badass momma.
Tennis: Another player dropped out of the U.S. Open, and this one really broke our hearts. Last year's winner, Bianca Andreescu, has pulled out of the Grand Slam, which starts August 31st, meaning that neither of the 2019 champs will be there to defend their title this year. Classic 2020.
Last year's runner-up, the GOAT Serena Williams, is still in contention though, and we're desperately hoping it stays that way. She'll be looking for some sort of redemption after a super unexpected loss to world No. 116 Shelby Rogers in the Top Seed Open's quarter-final on Friday. Shake off the rust, queen!
WNBA: We're coming up to the midway point of the WNBA season (yes, already!) so we'd like to make a bold prediction right now: a Western Conference team will win the WNBA Championship.
You want proof? Of the six teams in the West, five have winning records, and the top four, led by the Seattle Storm, are also the top four teams in the league. The Storm are probably the top contenders, having lost just one game in 11, and also have the legendary Sue Bird leading them.

By contrast, only one of six Eastern Conference teams, the Chicago Sky — currently ranked 5th overall — have a winning record (7-4). Looks like the West Coast really is the best coast.