⛳

The 85th Masters Tournament

April 08, 2021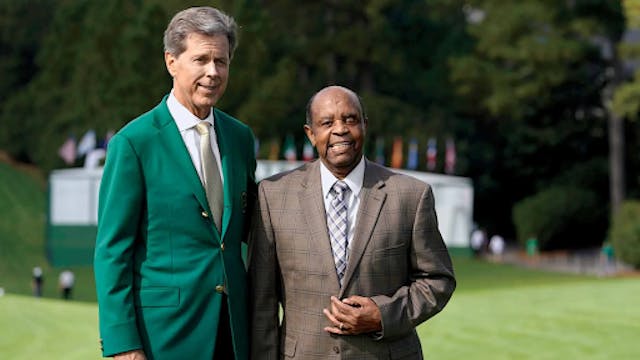 Source: Golf.com
⛳

Masters of none

April 07, 2021
Source: Augusta National
QUOTE OF THE DAY
"If the Masters offered no money at all, I would be here trying just as hard."
—Two-time Masters champion Ben Hogan, summing up the pricelessness of Masters glory.
⛳️ How it works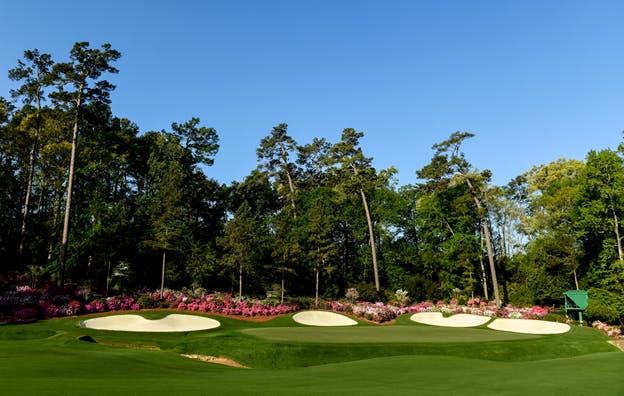 The Masters Tournament is the first of four majors in men's golf, and is held annually during the first full week of April (with the exception of last year when it was held in November because, well, 2020).
Unlike other majors that are held at different courses each year, the Augusta National Golf Club in Augusta, Georgia is the permanent host of the Masters, and has been since its inception in 1934.
Augusta National was born out of a plant nursery and is famous for its lush landscapes and rolling hills. Flowers like magnolias and azaleas are so synonymous with the course that 2017 Masters winner Sergio Garcia named his daughter Azalea after the 13th hole.
There are 19 ways players qualify for the Masters, including winning other majors, being a previous Masters champ, winning Olympic gold and qualifying for the season-ending Tour Championship. This year, 88 golfers are expected to participate.
💚 The traditions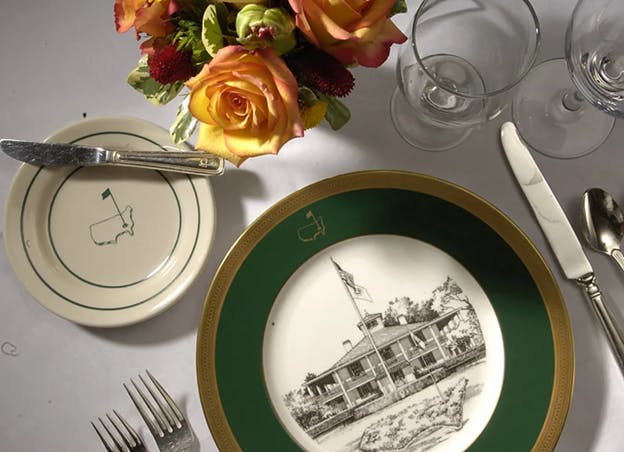 The Masters maintains some of the most steadfast traditions of any global sporting event. For example, Augusta National is so committed to keeping things status quo that they haven't changed concession menu items or prices in ages: an egg salad or pimento cheese sandwich will still only set you back $1.50. 'Bout it.
The green jacket, awarded to the tournament champ (alongside a $2-million check), is a Masters icon. The winner also walks away with a lifetime invitation to play in the event and an honorary membership at the super-exclusive club.
Wednesday's Par-3 contest typically happens before the tournament kicks off, with players participating on Augusta's nine-hole course with kids as caddies, but the fun round was canceled yet again due to COVID-19.
Considering the Masters were created by an amateur, the legendary Bobby Jones, the tournament continues to highlight amateur golf. Typically five amateurs are invited to lodge at the course's Crow's Nest while competing at the Masters, and the lowest scoring amateur is awarded the Silver Cup.
The reigning U.S. Amateur champ also gets to play his first two rounds with the defending Masters champ, meaning the 2020 U.S. Amateur Tyler Strafaci will tee off tomorrow with 2020 Masters winner Dustin Johnson. Lucky!
Finally, the Champions Dinner, which is held on the Tuesday night of Masters week. All past Masters champs — and only past Masters champs — gather at the course for a dinner chosen by the most recent winner.
This year, Johnson chose a feast of pigs in a blanket, lobster, filet mignon and peach cobbler. It's no haggis (served to everyone's chagrin in 1989 by Sandy Lyle), but it'll do.
🏆 Returning champions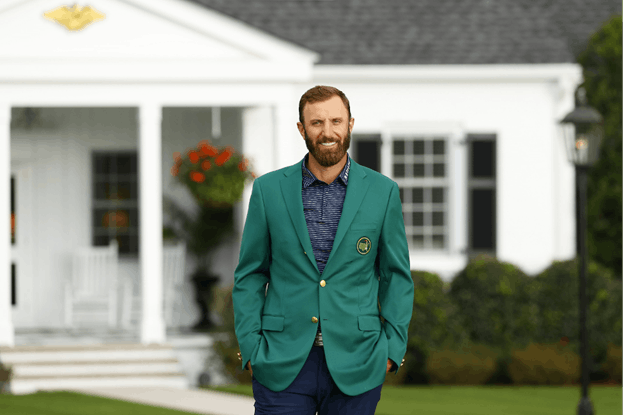 Because Masters winners are invited to play in every future Masters tournament, nearly every living past champion will tee off tomorrow. And while it might just be "a good walk spoiled" for some older players like Lyle or Larry Mize who both won in the '80s, others, like 63-year-old Bernhard Langer, could actually be in contention to win again.
The aforementioned Garcia missed last year's event due to a COVID-19 diagnosis but will be in it to win it again this year, as will defending champ Johnson, and Phil Mickelson, Adam Scott, Bubba Watson, and golf's favorite villainPatrick Reed.
A surprise contender is 2015 champ Jordan Speith, a former wunderkind without a PGA tournament win in four years until Sunday, when he won the Valero Texas Open.
One notable omission from this year's field is Tiger Woods, who last won in 2019. Though the five-time champ had big plans to return to Augusta after back surgery in December, he's still recovering from injuries sustained in February's car accident. We'll miss him.
☝️ The contenders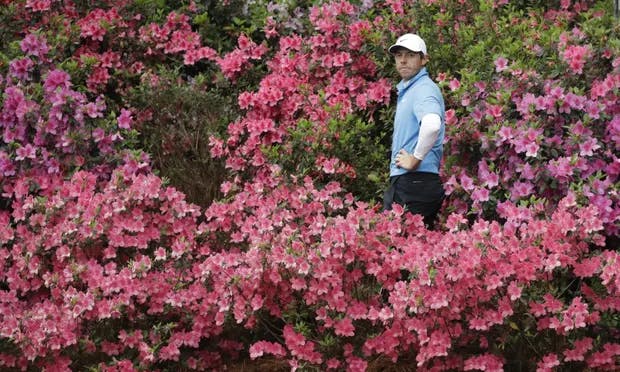 The green jacket has proven elusive for some of golf's greats. Brooks Koepka (pronounced KEPKA) has won both the U.S. Open and PGA Championship twice, but has only ever come in second at the Masters. Despite having knee surgery just three weeks ago, Koepka feels confident this could be his year.
Rory McIlroy has won all three of the other majors, but has never placed better than fourth at the Masters. And there are other major winners — Justin Thomas, Bryson DeChambeau and Collin Morikawa — who are also looking for their first wins at Augusta.
Watch out for the new kids on the block, though. The 2019 low amateur Silver Cup winner Viktor Hovland, last year's runner-up Cameron Smith and new dad Jon Rahm (who said he'd pull out of the tournament immediately if his wife went into labor) are all PGA Tour winners who have solid chances at becoming major winners this weekend.
💪 Canadian contenders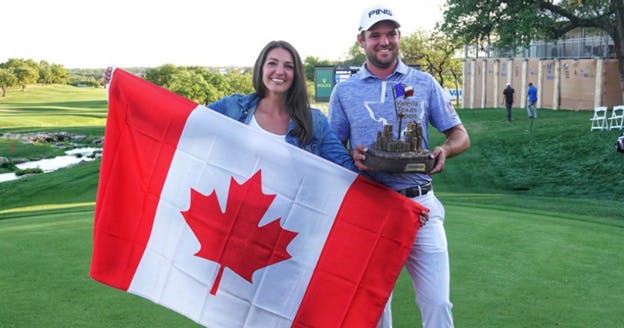 Only one Canadian has ever won the Masters: Mike Weir in 2003. And his win spurred a golf boom. Kids across Canada took up the sport in droves and that catalyst is finally paying off.
Corey Conners and Mackenzie Hughes, who both cite Weir as their childhood idol, will join him at the Masters once again this year. Last year, Conners broke Weir's record by shooting the lowest round ever recorded by a Canadian.
Conners finished seventh at the recent Players Championship and Hughes made it to the round of 16 at the World Golf Championships. Both are heading into this event with strong seasons so far.
😒 The good, the bad and the ugly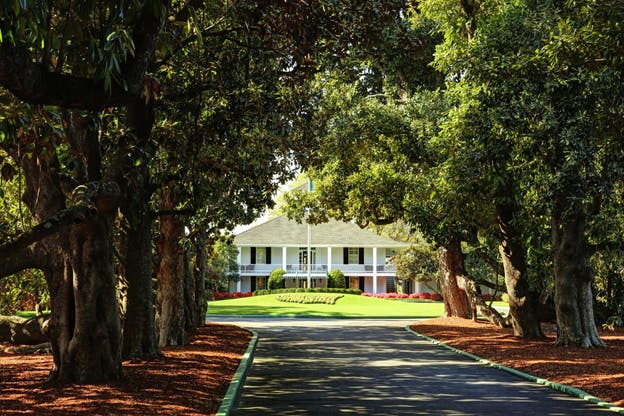 The history of the Masters is steeped in racism, sexism and classism. We actually covered some of Augusta National's major issues in today's episode of our podcast: The GIST of It.Organizers of the Masters plan to use this year's event to address the tournament's racist history and make some important first steps for reconciliation.
Tomorrow's opening ceremony is dedicated to Lee Elder, the first Black man to ever play in the Masters in 1975 (back when caddies still had to be Black) and Augusta National will fund two Lee Elder scholarships.
Augusta National chairman Fred Ridley also announced a fully-funded women's golf program at Paine College, a HBCU in Georgia.
But in light of recent legislative changes to voting rights and processes — reminiscent of Jim Crow era voting laws — in the state of Georgia, the Masters are once again in the hot seat.
In response to the controversial rulings, the MLB announced last week that they would move the upcoming All-Star game and amateur draft out of its planned location in Atlanta, with many expecting golf to take similar action.
But because the tournament is organized by the Augusta National Golf Club and run by three international golf tours, it's not as easy as moving the event to another course out-of-state. Instead, many have called for a complete boycott of the tournament.
The PGA Tour has remained silent so far, and TBH, we don't see the Masters going anywhere but Georgia. And like politician and voting rights activist Stacey Abrams says, boycotts will only do harm. Instead, we hope the world's biggest golfers use the sport's biggest platform to call for change.
🏌️‍♂️ The first tee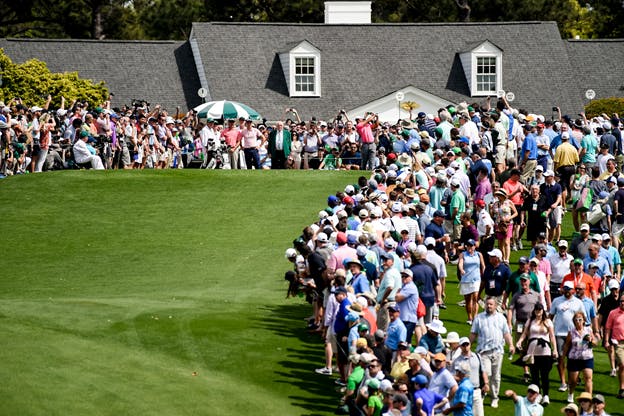 The Masters officially starts tomorrow morning and coverage on CTV in Canada and CBS and ESPN in the US begins at 3 p.m. ET. TSN will also have bonus coverage starting at 11 a.m. ET. Check out all the tee times and groupings here, and follow the full leaderboard here. Get your cushions fluffled.
⛳

Patty Tavatanakit is the 2021 ANA Inspiration champion

April 05, 2021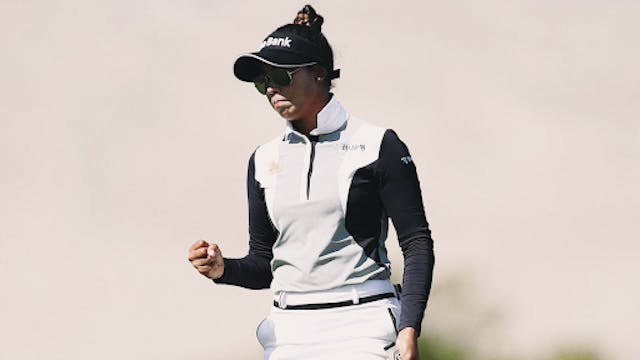 Source: ANA Inspiration/Twitter
The champ: The 21-year-old rookie led the tournament from day one. With her 18-under final score, she was just one stroke off the all-time record for the lowest score on this course, and managed to hold off former world No. 1 Lydia Ko's .
With the win, Tavatanakit became just the second golfer (of any gender) from Thailand to win a major. Something special.
The future stars: While the pros were playing in California, some pretty amazing amateurs made their mark in Georgia ahead of this week's Masters PGA tournament. Japan's Tsubasa Kajitani won the on Saturday in a .
And in the Drive, Chip & Putt Championship, two Canadian kids proved they're stars in the making, too. Alexis Card won the 7-9 age group and Anna Wu — who — came in second. Love to see it.
⛳

Major key alert

April 01, 2021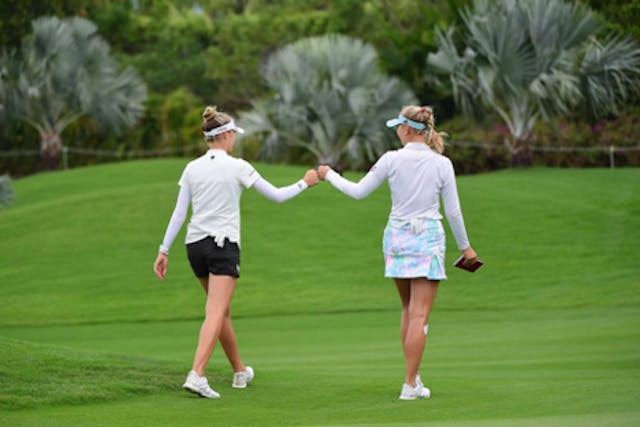 Source: Zhe Ji/Golf Digest
The GIST: The LPGA season kicks into high gear today with the first of five majors of the year: the ANA Inspiration. Time for us to wax poetic about one of our favorite traditions in sports.
How it works: Held annually at Mission Hills Country Club in California, the ANA Inspiration winner (and sometimes her caddie) traditionally takes a post-round dip in the course's 18th hole pond, called Poppie's Pond, and is then presented with a plush robe and a trophy. It's too cute!
Most of the world's top golfers are participating this weekend, including last year's champ Mirim Lee (whose belly-flopping caddie joined her in the water).
Who to watch: Along with Lee, American Nelly Korda and Canadian Brooke Henderson — who Lee beat in a three-way playoff last year — are back to try again. The defending champs from last season's other three majors are in contention, too: Sophia Popov, Kim A-lim and 2020 LPGA Player of the Year Kim Sei-young.
Jessica Korda (Nelly's sister and recent tour winner) is also playing, making it a busy weekend for the Korda family: their tennis pro brother Sebastian is playing in tonight's Miami Open quarterfinal. How do you like them genes?
And if that's not enough golf, you can also watch future ANA Inspiration winners take part in the Augusta National Women's Amateur, which starts today too.
⛳

Guide to Golf

March 22, 2021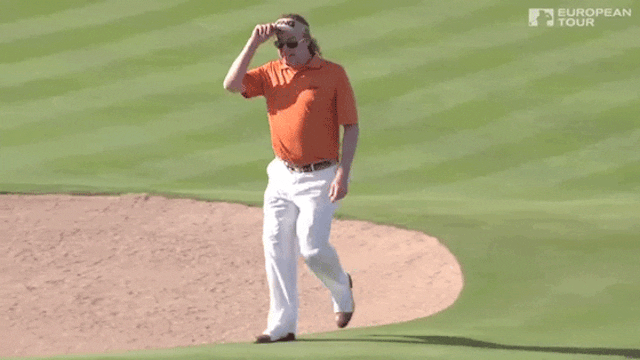 SOURCE: GIPHY.COM
The GIST
A full round of golf is 18 holes. Holes generally range from 100 to 500 yards. Unlike most other sports, the goal is to have the lowest score (counted by strokes) at the end of the game — meaning take the least amount of swings or putts to get the ball in the hole. Each hole on the course is given a number of strokes that it should take for a person to get the ball in the hole (this is called par) and typical championship courses have a full par value of 72.
How is it organized?
Similar to tennis, men's professional golf players play in PGA (Professional Golf Association) Tour and women play in LPGA (Ladies' Professional Golf Association) tournaments. A tournament consists of four rounds of golf (one per day from Thursday until Sunday). The biggest tournaments are called majors. The PGA hosts four majors each year: the Masters, the US Open, the British Open and the PGA Championship. The ladies have one additional major on the LPGA circuit. Their five majors are the ANA Inspiration, U.S. Women's Open, Women's PGA Championship, Women's British Open and the Evian Championship.
Outside of the majors, there are various other tourneys the pros can partake in. A player's world ranking is based on how they do in each tournament. The most well-known tournament is the Masters, played in Augusta, Georgia. In addition to winning copious amounts of cash money, players also receive the green jacket (super cool to win, super impractical to wear). But, while the Masters is known for the coveted jacket and its prestige, the tournament also has a disturbing . Change is long overdue.
Golfin' greats
This isn't just your grandparents' game anymore! While golf is a sport where experience is incredibly important, the past decade has shown that you can be young and still be at the top of your game. The best golfers today include Dustin Johnson (American who is married to Wayne Gretzky's daughter, ), Rory McIlroy (Irish sweetheart), Brooks Koepka (American who won back-to-back US Open and PGA Championship tourneys) and Jordan Spieth (young American stud).
And then there's Tiger Woods. Tiger dominated the game for over a decade, winning 14 major tournaments. That rapid rise was followed by a sudden fall from grace, when Tiger was caught cheating on his wife and Swedish model Elin in 2009. While the golf legend had been mounting a spectacular comeback, he was injured in a scary single car crash in February 2021. Here's to a speedy recovery.
Gals who golf
It's a myth that 'golf' stands for "Gentlemen Only Ladies Forbidden", but only just barely. For decades, golf has been seen almost exclusively as a man's game, but thankfully ladies have continued to break down those barriers. Professional women play in the LPGA (Ladies PGA) which is organized similarly to the men's. And Canadian sensation Brooke Henderson is one of the best in the world — she holds the record as the youngest woman to ever win an LPGA tournament AND is the in Canadian history (male or female) with nine career titles. Just unreal.
In 2019, the LPGA awarded its largest ever prize ($1.5M USD) to South Korea's Sei Young Kim at the CME Group Tour Championship. That's $500k more than the previous record prize. And, even though the overall prize money handed out in the LPGA pales in comparison to the PGA, there's reason for optimism. After the pandemic disrupted much of the 2020 season, the 2021 LPGA schedule features a record 34 events with over $75 million (USD) in prize money on the line. Keep making moves, ladies!
Prep for your next trivia night by making sure you know these facts:
A hole-in-one means you took just one stroke to get the ball all the way into the hole. Tradition says that that golfer must then buy a drink for each person in the clubhouse. But fear not, most courses have hole-in-one insurance so that you actually don't have to pay. Hilarious.
Jack Nicklaus is strongly considered the best golfer of all-time winning 18 majors, which remains the record for most ever.
Have you ever sipped on an Arnold Palmer, that delicious blend of iced tea and lemonade? Well, the drink is named after a very successful pro golfer who was known to request the combination! The late Arnold Palmer won four (!!!) Masters tournaments and seven majors over his career.
Don't get The GIST's free twice-weekly newsletter yet? Let's make it email official.