🎾
🏀
🏒
🏆
Let's get down to business
April 29, 2021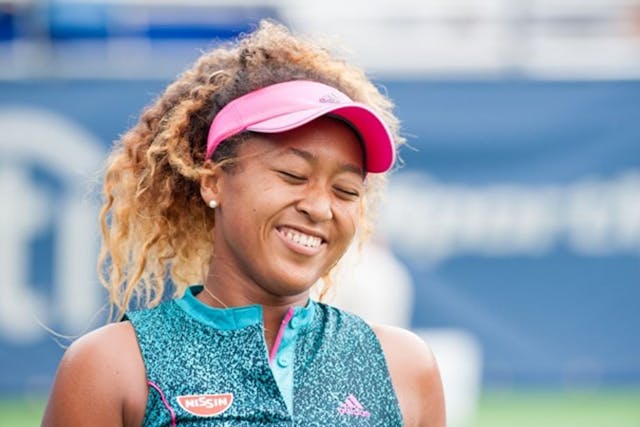 Source: Rena Schild/Shutterstock
🎾Naomi Osaka: The four-time grand slam champion is expanding her empire. Osaka announced yesterday that she's collaborating with Frankies Bikinis on a brand new bathing suit line set to launch in May, and she is also launching a new SPF-loaded skincare line for melanated skin tones. #StayGolden
🐊Gatorade: Sports drink companies are picking up what we've been laying down for years: Bet. On. Women. Gatorade recently created a (very stacked) women's advisory board to help deepen their connection with female athletes, while also holding them accountable in delivering against their guiding pillars. HYFR.
🏀NBA: TIME revealed their first-ever TIME100 list of the most influential companies on Tuesday, and the NBA was named as the top "Leaders" brand, thanks to their global growth. Eight sports-related brands made the list, but only one other sports league was featured: the English Premier League, highlighted for its exemplary broadcasting rights. Jolly good!
🏒NHL: They might not be NBA-level yet, but the NHL is working on growth, too, starting with broadcasting. After 16 years, they've cut ties with NBC to triple their revenue in a new seven-year deal with Turner Sports, and have already signed a deal with ESPN. It'll mark the first time since 1999 that the NHL has two American broadcast partners. Double rainbow.
🎾
⚽
🏆
Bianca Andreescu just can't catch a break
April 26, 2021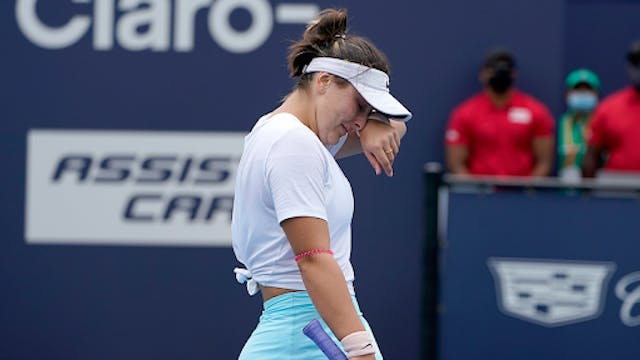 Source: Lynne Sladky/AP
🎾Tennis: Poor Bianca Andreescu just can't catch a break. After battling back from numerous injuries over the past two years, Queen B that she tested positive for COVID-19 and had to pull out of the Madrid Open (which starts Tuesday). Fortunately, she's feeling well and has plenty of time to recover before the : the French Open, starting May 24th.
⚽️Soccer: Christine Sinclair is still amazing, if you were wondering. After suffering a lower body injury during the recent CanWNT friendlies, the all-time leading international goal scorer returned to the NWSL at full strength, captaining her Portland Thorns FC to their third win in the Challenge Cup group stage last week and a spot in the Cup final, set for May 8th.
⚽️SoccerFootball: Switching gears to the of the UEFA Women's Champions League semifinals, Paris St-Germain (PSG) — including Canada's own Ashley Lawrence — drew FC Barcelona 1–1 yesterday, while Bayern Munich beat Chelsea FC 2–1 in the other matchup. The second leg is set for Sunday, so follow along .
💪UFC: Though much of this weekend's UFC 261 hoopla centered around Chris Weidman's awful leg injury (if you haven't seen it already, ), "Thug Rose" Namajunas and Valentina "Bullet" Shevchenko owned the night. Both MMA stars dominated their respective title fights with , proving that Saturdays are, in fact, for the girls.
⚽
🏀
🎾
⛸️
CanWNT's Olympic opponents were announced yesterday
April 22, 2021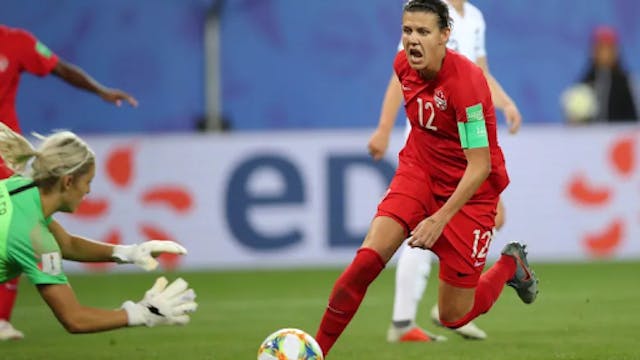 Source: Francisco Seco/Canadian Press
⚽️Soccer: CanWNT's Olympic opponents were announced yesterday, and to say we're fired up is an understatement. Team Canada will face host nation Japan, newcomers Chile and the amalgamated Britain (which features players from all U.K. nations). Should the world No. 8 emerge from the group stage, we could see a Canada-USA quarter or semifinal. Fingers crossed.
🏀Basketball: The Toronto Raptors are on a winning streak. They notched their fourth W in a row last night, with a 114–103 victory over the Brooklyn Nets. The Raps' only recent loss came from over the weekend for "failing to comply with league policies governing player rest and injury reporting." Oops.
🎾Tennis: The clay court season is underway ( starts next month!) and it's already proving fruitful for the Canadians. Denis Shapovalov and Felix Auger-Aliassime are (bummer) in today's third round of the Barcelona Open. Follow along .
⛸Figure skating: Retiring at 36 just isn't for everyone. Yesterday, Olympic medalist Eric Radford announced that he's to make a last-minute push for an Olympic spot with new partner Vanessa James, a world medallist who previously competed for France. The news was very well-received...except by Radford's . Awkward.
🏀
🏒
⚾
🎾
We The North
April 19, 2021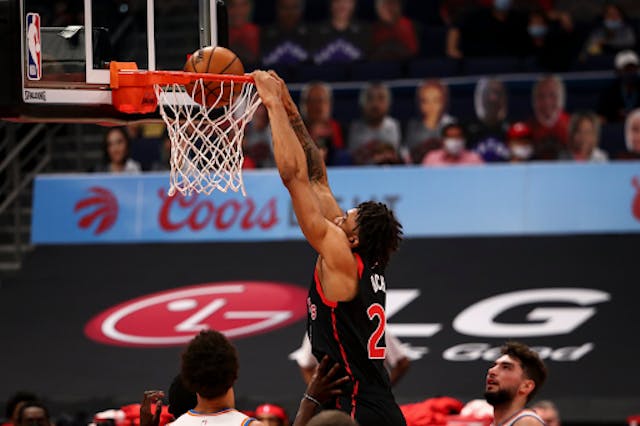 Source: Toronto Raptors/Twitter
🏀NBA: After last night's 112–106 win over the Oklahoma City Thunder, the Toronto Raptors jumped up to 10th in the Eastern Conference, making the postseason look possible. With just 14 games left to go, the injury-riddled Raps are in a spot...for now.
🏒NHL: After dealing with a COVID-19 outbreak, the Vancouver Canucks played their first game in almost four weeks last night against the Toronto Maple Leafs. And for a team that only restarted practicing less than a week ago, they more than held their own, winning 3–2 in overtime. Practice schmactice.
⚾️MLB: After losing three of their last four to the Kansas City Royals, the Toronto Blue Jays are rocking a 7-9 record. Unfortunately, that record isn't likely to improve as they head into a two-game series against the league's best Boston Red Sox tomorrow at 7:10 p.m. ET.
🎾Tennis: On a brighter note, Leylah Annie Fernandez filled big shoes in , leading Team Canada to a win over Serbia and advance to tennis' top international team tournament: the 2022 Billie Jean King (BJK) Cup (previously known as the Fed Cup) .
🎾
🏉
🏒
The GIST's Quick Hits - CA (April 5, 2021)
April 05, 2021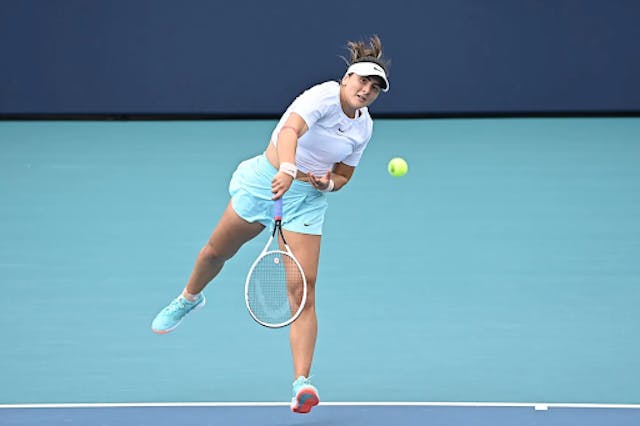 Source: Peter Staples/Miami Open
🎾Tennis: Saturday's Miami Open final against world No. 1 Ashleigh Barty didn't go as Bianca Andreescu hoped. After losing the first set, Andreescu was forced to pull out of the match after rolling her ankle in the second set. Her tearful match was a heartbreaker, but "runner-up" is a still solid title for a player returning from a year-long injury and rehab.
🏉Rugby: Team Canada's rugby women's 7s team is ready to roll into Tokyo. After more than a year off the pitch, they won the on Saturday in Dubai — the first of the team's two warm-up tournaments before the Summer Olympics. They'll go for two in a row in Dubai this weekend. yeah!
🏒Hockey: The Vancouver Canucks' COVID-19 list is . According to TSN, have tested positive for the virus, most with the . And while no one's been hospitalized, a few players have required IV treatment.
On the other side of the country, the Quebec Major Junior Hockey League () of the 2021 President Cup playoffs after five teams had players test positive for COVID-19. Scary.