⚽

NWSL: District of champions

November 22, 2021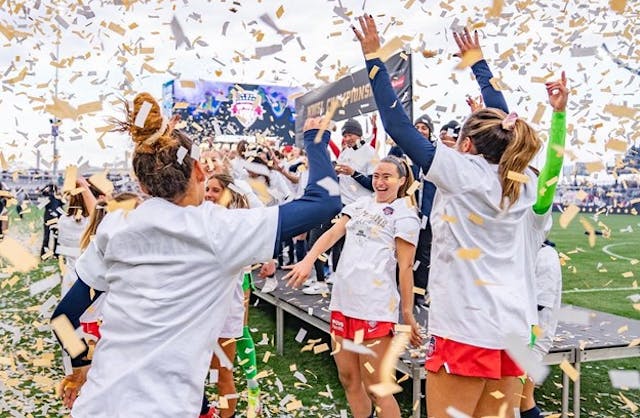 SOURCE: WASHINGTON SPIRIT/TWITTER
How it happened: Saturday's first half was nearly scoreless until Chicago Red Stars forward Rachel Hill found the back of the net in stoppage time to give Chicago a 1–0 lead at the break.
The bigger picture: The victory caps off a rollercoaster second half of the season for the Spirit. In August, (former) head coach Richie Burke was suspended amid verbal abuse allegations.
Then in September, the team was forced to forfeit two games due to breach of COVID-19 protocols. Oh yeah, and there's still an ongoing power struggle in the front office.
But Washington battled through it all, going unbeaten in 12 (!!!) consecutive matches en route to the championship win. Incredible.
What's next: After a tumultuous year, it's set to be a productive and impactful NWSL offseason. There'll be an Expansion Draft on December 16th for new California clubs Angel City FC and San Diego Wave FC, and negotiations are set to continue for the league's first-ever Collective Bargaining Agreement (CBA). Pay and protect the players, please.
⚽

NWSL Championship Preview

November 20, 2021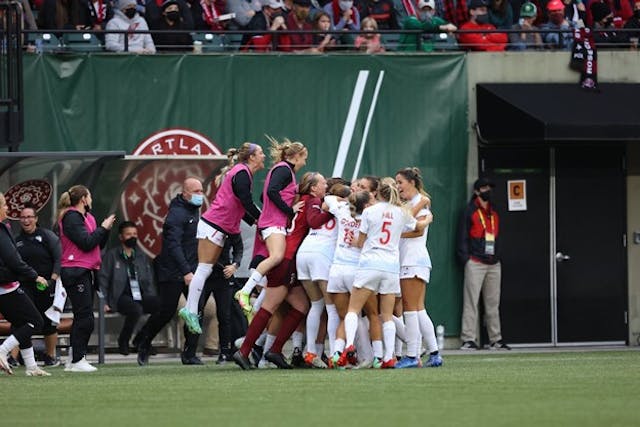 SOURCE: CHICAGO RED STARS/TWITTER
QUOTE OF THE DAY
Resiliency is actually one of our words for the year. One of the main words we built the culture here off of.
— Red Stars head coach Rory Dames, indicating perhaps the word of the year for the entire league (more on that later) after his squad's upset victory in last Sunday's semifinals.
⬅️ How we got here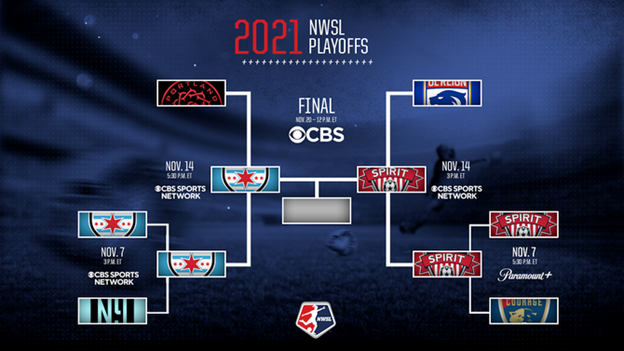 As a refresher, the NWSL playoffs kicked off on November 7th with six of the league's 10 teams. In the quarter-finals, the No. 3 Spirit eliminated the No. 6 North Carolina Courage and the No. 4 Red Stars topped No. 5 NJ/NY Gotham FC.
Then last week's semis were all about the underdogs, with Washington downing the high-flying No. 2 OL Reign and the Red Stars besting the No. 1 seed and NWSL Shield winner (given to the best regular season team) Portland Thorns. Any given Sunday, eh?
So that brings us to today: 90 (regulation) minutes to decide who will hoist the NWSL Championship trophy. Baby, this is what we came for.
📖 The history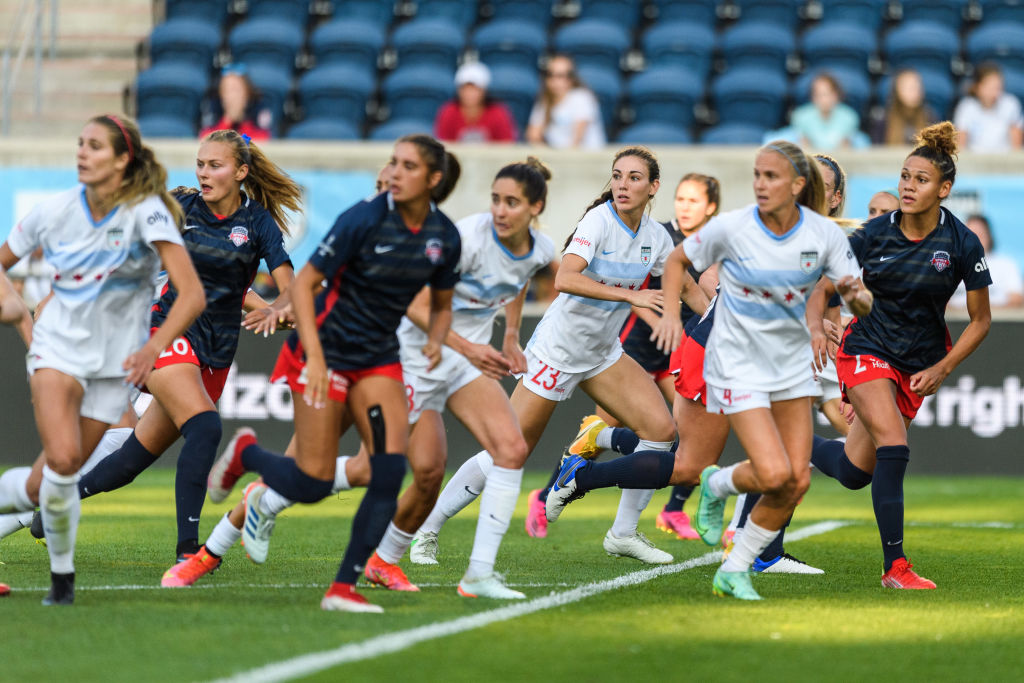 Making their fourth and sixth respective playoff appearances, the Spirit and Red Stars both boast plenty of postseason experience, but neither side has been able to break through and win it all.
Chicago has come the closest, as they're making their second championship game appearance.
Head-to-head: As for their regular season history, the Red Stars hold the edge, having won two of the three matches. Their first meeting back in June ended in a 1–1 draw.
Chicago convincingly claimed their most recent showdown 3–1, but Washington has all the momentum, unbeaten in 11 consecutive on-field contests. Feeling hot, hot, hot.
🔑 Keys to success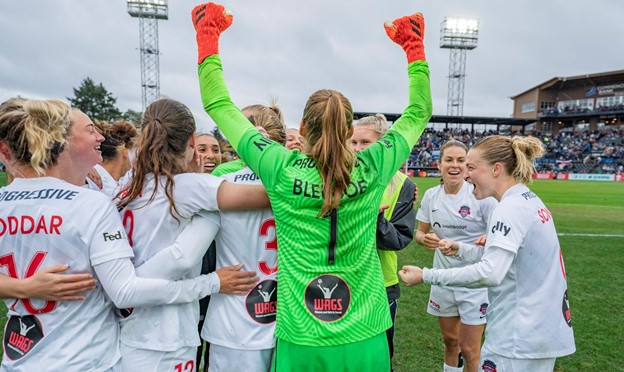 Chicago Red Stars: Score fast. With momentum on the Spirit's side, the Red Stars must take control early. If they can strike first, they can ride their experience all the way to the title.
Washington Spirit: If it ain't broke, don't fix it. Undefeated for the last 11 on-field matches, the Spirit simply need to stay the course. They're a young squad, so keeping their composure in this high pressure match will be essential.
The winner?: Anyone's guess. There's winning energy in the Windy City after the Chicago Sky won the WNBA title, but the Spirit could start a new string of championships for D.C.
💪 Players to watch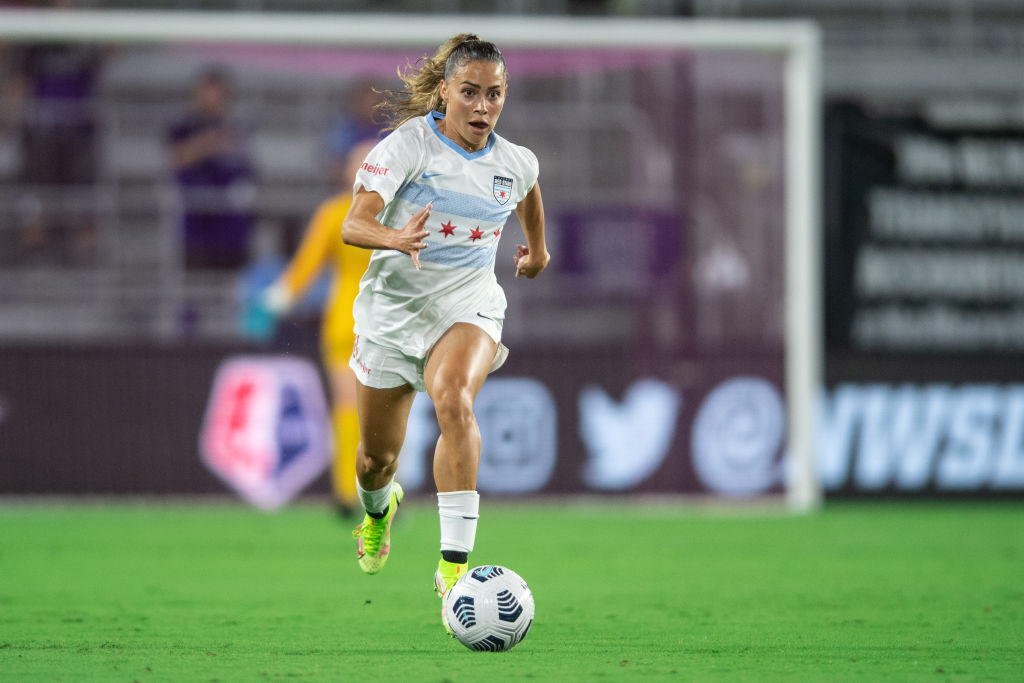 Sarah Gorden, Defender, Red Stars: It was no surprise when Gorden was named to the league's Best XI. She's helped Chicago shut out their opponents in four of their last five games, but she'll need to be at her very best to stifle the elite Washington offense.
Ashley Hatch, Forward, Spirit: The Golden Boot winner scored Washington's lone goal in their quarter-final extra time win over the Courage. Will she come in clutch again today?
Mal Pugh, Forward, Red Stars: The league's MVP runner-up and quarter-final goal scorer missed the semifinals due to COVID-19 protocols. Expect Pugh to be a force when she returns to the pitch this afternoon.
Trinity Rodman, Forward, Spirit: Rookie of the Year Rodman packs a lethal 1-2 punch with the aforementioned Hatch on Washington's front line. She became the youngest player to score in the NWSL playoffs when she evened things against OL Reign in the semis. She'll likely be a difference maker again in this one.
Cassie Miller, Goalkeeper, Red Stars: Miller had big cleats to fill when star USWNT keeper Alyssa Naeher went down with a knee injury in the Olympics, but she rose to the challenge and posted shutouts in both of Chicago's playoff games. She's a brick...wall.
Emily Sonnett, Defender, Spirit: The USWNT defender was instrumental in the Spirit's semifinal win over OL Reign, helping the back line block 12 (!!!) shots from a high-powered Reign offense last week. Can she prove that defense really does win championships?
❤️ The bigger picture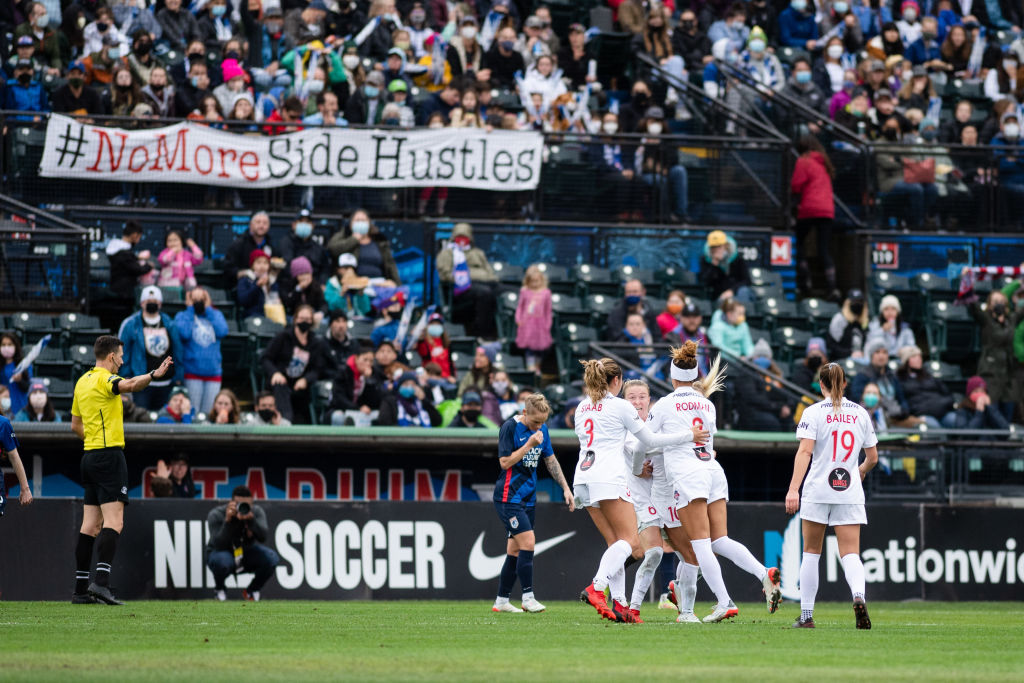 It'd be an understatement to say that it's been a tumultuous NWSL season. Chicago's season began with Red Stars defender Sarah Gorden being racially profiled after the team's first match, leading the NWSL community at-large to rally behind her, condemn racism in the league and call for change.
In the months that followed, four of the league's 10 head coaches (and one general manager) were fired or forced to resign due to racist remarks, sexual misconduct, verbal abuse and/or toxic workplace culture allegations.
And one of those coaches was the Spirit's Richie Burke, who was fired in September after the NWSL investigated allegations of verbal abuse and a toxic workplace culture under Burke. There's also been an ongoing power struggle in the front office, with players calling for owner Steve Baldwin to sell the team to co-owner Michele Kang.
Overall, there's been a lengthy timeline of events leading up to this moment of reckoning across the league. As we await today's championship, we're looking forward to real change and accountability in the months ahead.
But today, let's focus on the finals and celebrate these incredible players. As a reminder, you can tune in at 12 p.m. ET on CBS in the U.S. and Twitch in Canada. Happy soccer Saturday!
⚽

MLS Playoffs

November 19, 2021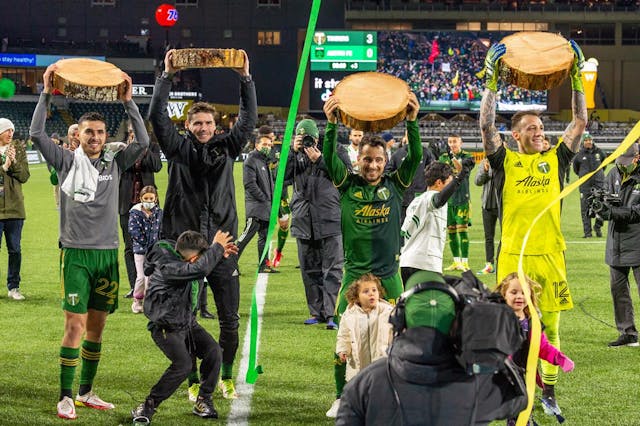 DIEGO DIAZ/ICON SPORTSWIRE VIA GETTY IMAGES
✍️ Decisions, decisions
Because MLS loves to keep us on our toes, everything came down to November 7th's "Decision Day". Eleven teams competed for six final playoff spots (three in the Eastern Conference and three in the Western Conference), and when the dust settled, seven teams from each conference clinched a spot.
Over in the Eastern Conference, the New England Revolution secured the top seed and a first-round bye. In the Western Conference, the Colorado Rapids claimed No. 1 for the first time in franchise history and will also be sailing onto the second round.
On the flip side, last year's champions, the Columbus Crew, didn't make the postseason, and no California- or Texas-based team made the cut either.
The action kicks off with two first-round games tomorrow — the Philadelphia Union vs. NY Red Bulls at 2:30 p.m. ET, and Sporting Kansas City vs. Vancouver Whitecaps FC at 5 p.m. ET.
⚽️ The teams: Eastern Conference
No. 1 New England Revolution: The Revs are in it to win it, having won this year's Supporters' Shield (awarded to the team with the best regular-season record) in spectacular fashion. Their head coach, Bruce Arena, is tied for the winningest coach in MLS history. Bonkers.
No. 2 Philadelphia Union: The Union won the Supporters' Shield back in 2020 but were then unceremoniously ousted in the first round of the playoffs by the Revs. They've only had one postseason victory as a franchise, so they'll be leaning heavily on their ever-dependable goalkeeper, Andre Blake, to expand their W column.
No. 3 Nashville SC: Nashville is strutting into the playoffs behind one of the league's most trustworthy defenses. They also have a star in MVP candidate and midfielder Hany Mukhtar, but the playoffs will test whether Mukhtar can shine in the postseason.
No. 4 New York City FC: NYCFC are one of the statistically superior teams in the league. Perhaps most convincingly, they boast 2021 Golden Boot winner (i.e. the league's leading goal scorer), Taty Castellanos, who'll look to fire his team to the top.
No. 5 Atlanta United FC: There was a time we were unsure Atlanta would even make it to the playoffs, but here they are. After a few mid-season coaching switches — from Gabriel Heinze to Rob Valentino to Gonzalo Pineda — the Five Stripes will try to make a deep run this postseason.
No. 6 Orlando City SC: Orlando pushed hard in the waning games of the regular season to earn a playoff bid. Yes, they've been quite good at times, but their star forward, Nani, hasn't been playing up to his usual standards lately. Only time will tell.
No. 7 NY Red Bulls: The Red Bulls barely squeaked into the playoffs after being virtually written off just months ago. They went 7-1-4 (wins, losses, draws) in the final games of the season and, in their 12th consecutive playoff appearance, they'll be looking to prove why they deserve to be there.
⚽️ The teams: Western Conference
No. 1 Colorado Rapids: As mentioned, the Rapids executed a club-record 61 points in the regular season to rise to the top of the Western Conference for the first time in franchise history. They boast depth in all their positions, and we expect their offensive core — forwards Michael Barrios, Diego Rubio, Dom Badji or midfielder Jonathan Lewis — to score some golazos in the playoffs. Choose your fighter.
No. 2 Seattle Sounders FC: The Sounders are a perennial powerhouse, but they were winless in their last six regular-season games. It's not a great look to be on the decline as the playoffs are starting, but we'll be the last to count the Sounders out.
No. 3 Sporting KC: Sporting KC (SKC) were in the hunt for the West's top spot until the very end, and for good reason. While they did lose their final regular-season game to Real (reh-AHL) Salt Lake 1–0, SKC are consistently excellent with strikers MVP finalist Dániel Sallóiand Johnny Russell leading the way.
No. 4 Portland Timbers: The Timbers are all-in behind midfielder Sebastián Blanco. And while Blanco has only recently returned from injury, the Argentine maestro will look to propel Portland to the top. Let's just hope their defense pulls through as well.
No. 5 Minnesota United FC: Though Minnesota is the lowest-scoring Western Conference playoff team, they still have brilliant midfielder Emanuel Reynoso. Minnesota's hopes essentially rest on his shoulders, but hopefully come December we'll be singing some Loon-y Tunes.
No. 6 Vancouver Whitecaps FC: Sparked by a transition to interim head coach Vanni Sartini in August, Vancouver — the only Canadian-based team in the playoffs — was red-hot in the tail-end of the regular season, unbeaten in their last six games. Who's to say the 'Caps can't pull off more upsets?
No. 7 Real Salt Lake: RSL produced perhaps one of the most dramatic moments of Decision Day, thanks to a 95th-minute extra-time goal from midfielder Damir Kreilach to send them to the playoffs. (And with a bicycle kick assist, no less.) But highlight reels aside, Utah isn't expected to make it very far. Sorry, not sorry.
🏆 Picks and predictions
The teams at the top are there for a reason. Namely, the New England Revolution are coasting behind a high-powered offense led by the likes of forward Adam Buksa.
They've been raising the bar all season, most notably by breaking the league's single-season points record needing just 33 of the 34-match season to finish with a remarkable 73 points. All revved up.
Then again, the Colorado Rapids are feeling confident, too — as they should. Head coach Robin Fraser is a finalist for the Coach of the Year award, and we'll see if he can help the team conquer another summit.
All this to say, expect drama this postseason. Our picks — the Revs and the Rapids — might not be the most original, but expert predictions run the gamut. Some have Nashville in the final, others Portland, Seattle, and even Atlanta.
⚽
🏒
⚾
Sports Quick Hits: November 17th, 2021
November 17, 2021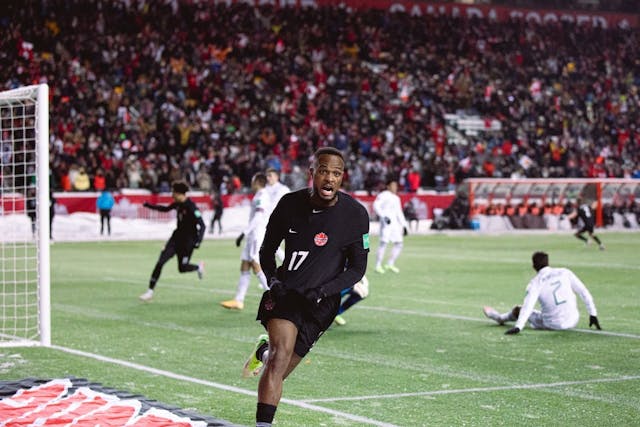 SOURCE: CANADA SOCCER/TWITTER
⚽️CanMNT: As soon as we saw the snowflakes falling ahead of yesterday's World Cup qualifier hosted in Edmonton, we knew the CanMNT would pull out the win. The home team topped Mexico 2–1, helping them move up to first place in the CONCACAF standings.
Quick refresher: the top three teams automatically advance to next year's World Cup in Qatar, and there are only six qualifying games to go. Keep your fingers crossed.
🏒NHL: It's been a terrible, horrible, no good, very bad stretch for the 4-10-1 (wins, losses, overtime losses) Ottawa Senators, and now their season is on pause for at least three games as they struggle with a COVID-19 outbreak that's landed 10 players on the COVID-19 list. Yikes.
⚾️MLB: The MLB season may be long gone, but Toronto Blue Jays ace pitcher Robbie Ray still has a chance to win big. Ray is one of three candidates for the American League Cy Young Award, given to the league's best pitcher. The winner will be announced tonight at 6 p.m. ET, and we're thinking it'll be Ray all the way, eh?
⚽
🏒
🏎
⛳
Sports Quick Hits: November 15th, 2021
November 16, 2021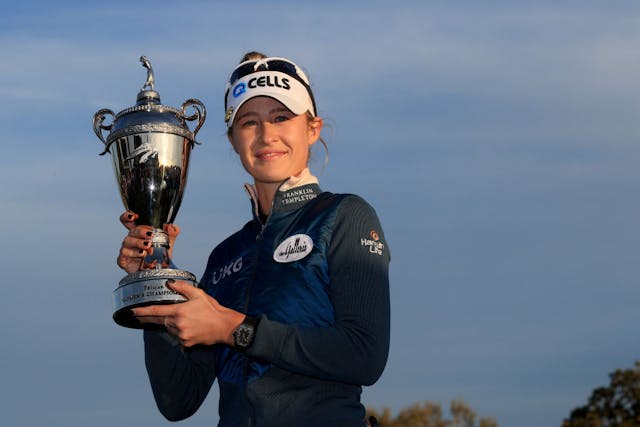 ⛳️LPGA: As if Sundays weren't scary enough, yesterday's LPGA Pelican Women's Championship went to a four-player playoff. American and World No. 1 Nelly Korda birdied the first playoff hole to claim her fourth LPGA title win of the season.
And we have to shout-out Canadian Brooke Henderson, who came in fifth, her seventh top-10 finish of the season. Proud.
🏎️F1: Mercedes' Lewis Hamilton kept his repeat world champion title hopes alive thanks to a thrilling win during yesterday's São Paulo Grand Prix. Three races remain, and Hamilton trails his archrival, Red Bull's Max Verstappen, by just 14 points. Couldn't write a better ending.
🏒Hockey: While some of the game's best women were showing out here at home, Team Canada took their talents abroad, defeating world No. 3 Finland 5–1 yesterday to sweep the three-game exhibition series. Bust out those brooms.
⚽️Soccer: Paris Saint-Germain (PSG) Féminine forward Aminata Diallo is speaking out following a disturbing attack on her PSG teammate Kheira Hamraoui (pronounced AHM-row-wee) last week. ICYMI: Diallo was arrested in connection with the attack but was later released from police custody without charge.