🥌
🏈
⚽
⚾
Sports Quick Hits: November 29th, 2021
November 29, 2021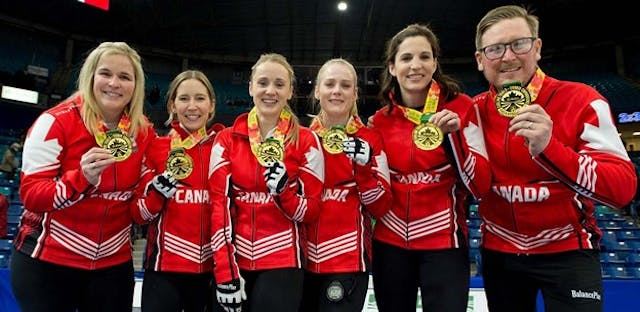 SOURCE: CURLING CANADA/TWITTER
🥌Curling: Canada's Olympic curling teams are set. After a tight competition, women's Team Jones and men's Team Gushue — both Olympic gold medalists — will be representing the red and white in Beijing in February. Rock on.
🏈CFL: Round one = done. Playing at home, the Hamilton Tiger-Cats defeated the Montreal Alouettes 23–12 yesterday to advance to the East Division final against the Toronto Argonauts. Oskee wee wee.
Meanwhile, in the West, the Saskatchewan Roughriders secured a wild three-point overtime win over the Calgary Stampeders to punch their ticket to the division finals against the Winnipeg Blue Bombers.
⚽Soccer: While MLS Playoff action continues, the CanWNT is also playing some soccer of their own — namely, international friendlies against Mexico. After a 2–1 loss on Saturday — shoutout to Jordyn Huitema (pronounced HIGH-tah-mah) for Canada's goal — the teams will take the pitch again tomorrow at 5:30 p.m. ET. Time to bring our "eh" game.
⚾️MLB: While we were sad to see (now former) Toronto Blue Jays Gold Glove second baseman Marcus Semien sign with the Texas Rangers yesterday, the Jays' own big move in signing All-Star pitcher Kevin Gausman helped to ease the pain.
🏒
⚽
Sports Quick Hits: November 24th, 2021
November 24, 2021
Presented with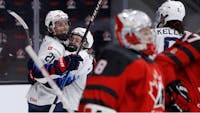 🏒Women's hockey: Thanks to yesterday's 2–0 win, Team USA is now tied with Team Canada in the Rivalry Series. Forward Hilary Knight (because who else?) opened up the scoring in the second period and fellow forward Amanda Kessel doubled the lead minutes later.
Just five more head-to-head games remain until a little thing called the Olympics.
⚽️MLS: The first round of the MLS Playoffs finished yesterday, and most notably No. 7 Real Salt Lake upset No. 2 Seattle Sounders FC in a dramatic shootout, winning 6–5 in penalty kicks. Didn't see that one coming.
Next up, conference semis kick off tomorrow at 4:30 p.m. ET with a Turkey Day battle between the Western Conference's top-seeded Colorado Rapids and No. 4 Portland Timbers. Nothing fowl about this matchup.
⚽️Soccer: The 2021 Best FIFA Football Award nominees were announced on Monday, and USWNT goalie Alyssa Naeher is holding it down as the lone U.S. candidate (women's and men's). No. 1 on the pitch, No. 1 in our hearts and No. 1 on our Best Women's Goalkeeper ballots.
🏈
🏀
⚽
College: We were on a break
November 24, 2021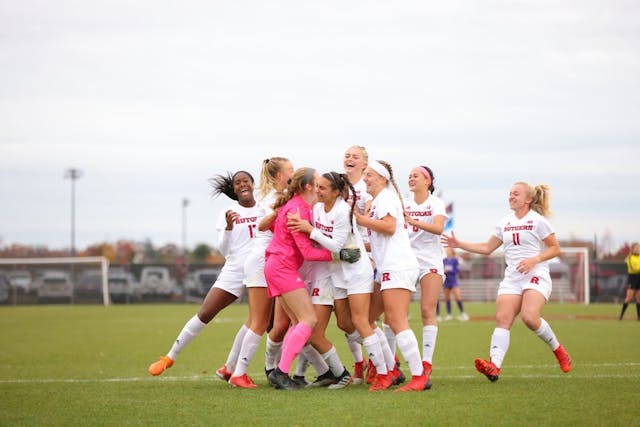 SOURCE: RUTGERS WOMEN'S SOCCER/TWITTER
⚽️Soccer: Eight teams remain in the hunt for the women's College Cup, including defending champs Santa Clara and three No. 1 seeds: Florida State, Duke and Rutgers. Quarter-final play kicks off Friday at 2 p.m. ET — the perfect way to recover from your food coma.
On the men's side, the Sweet Sixteen is set, with a double serving of quadruple header action slated for Saturday and Sunday. Here's the full bracket.
🏀Basketball: No. 1 South Carolina women's basketball defended their top ranking with a convincing 73–57 win over then-No. 2 UConn on Monday, a victory that dropped UConn down to No. 3 in yesterday's updated national poll. Undefeated Maryland seized the second spot.
And there could be some movement in the men's poll after No. 2 UCLA fell 83–63 to No.1 Gonzaga in yesterday's top-ranked showdown.
🏈Football: As expected, there was also a shakeup in yesterday's College Football Playoff (CFP) rankings. Undefeated No. 4 Cincinnati has entered the chat, becoming the first non–Power Five team to ever crack the top four of the CFP rankings. We're still not 100% sure what a Bearcat is, but we know they're celebrating.
🏒
⚽
Sports Quick Hits: November 24th, 2021
November 24, 2021
Presented with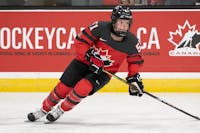 🏒Women's hockey: It was another doozy of a game for Team Canada last night, as they fell to the U.S. for the second time in just three days. Ugh. Fortunately, there's five more head-to-head games until a little thing called the Olympics.
⚽Soccer: Riding that Olympic gold medal high, CanWNT's Christine Sinclair, Stephanie Labbé and Bev Priestman have been nominated as The Best FIFA Women's Player, The Best FIFA Women's Goalkeeper and The Best FIFA Women's Coach, respectively. As Shania would say: "Let's go girls!"
🏒NHL: Love watching history happen? Tune in to watch the Edmonton Oilers take on the Arizona Coyotes tonight at 10 p.m. ET, where Connor McDavid could become the fourth-fastest player in NHL history to reach the 400 assists milestone. Hope we didn't jinx it.
⚽

NWSL: Another one...

November 24, 2021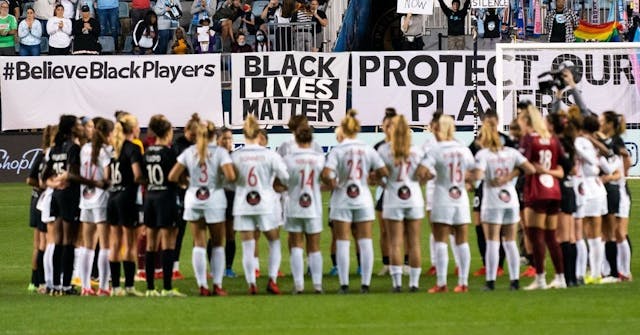 The latest: One day removed from leading the Chicago Red Stars to the NWSL championship game, head coach Rory Dames resigned late Sunday, citing a desire to focus on his family.
But the real reason broke the next day when The Washington Post's Molly Hensley-Clancy reported that former Red Stars players went to U.S. Soccer (who managed the league up until this year) as early as 2014 with complaints of emotional abuse by Dames.
USWNT star Christen Press, who was among the seven players who spoke to The Post for the story, even filed a formal complaint against Dames in 2018, but U.S. Soccer failed to address her accusations. Truly unacceptable.
The response: The NWSL Players Association released a powerful statement in the wake of the allegations, notably writing "nothing short of a complete transformation of our league will suffice."
Mana Shim, the former Portland Thorns player who came forward with sexual coercion allegations against former Thorns coach Paul Riley, said part of the healing process should include free therapy for current and former players.
And many former Red Stars players (including active NWSL players) have come forward with their own stories in response to Monday's report. Needless to say, it's going to be a busy offseason.