No COVID Postponements in NFL This Week
October 20, 2020
NFL highlights from a week without any last-minute positive COVID-19 tests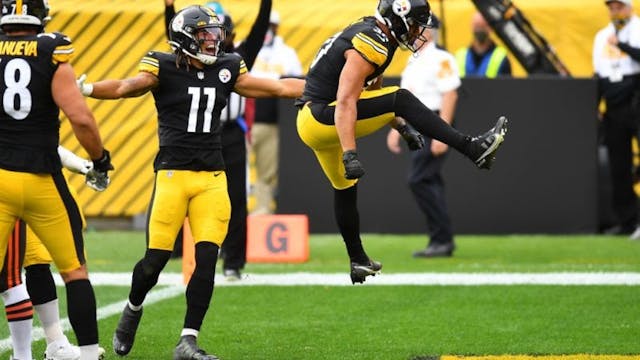 SOURCE: JOE SARGENT/GETTY IMAGES
The GIST: It's certainly been a bumpy ride, but the NFL might have things (somewhat) under control. *knocks on wood* For the first time in three weeks, the NFL played on without any last minute COVID-19 postponements. *knocks on wood again* Let's celebrate with some highlights!
On the money: Pittsburgh Steelers quarterback (QB) Ben Roethlisberger tossed a perfect 36-yard pass to wide receiver (WR) Chase Claypool during the Steelers' 38–7 rout of the Cleveland Browns.
The Steelers remain undefeated and Canadian Claypool's rushing touchdown (TD) on Sunday gives him six TDs through five games, tying a rookie WR record. Damn, Canada!
Don't stop me now: Tennessee Titans running back (RB) Derrick Henry could not be stopped on Sunday. Henry opened up the fourth quarter with this 94-yard (!!!) TD run. The King (move over LeBron) called "game" with this sneaky TD to lift the undefeated Titans to a 42–36 overtime (OT) victory over the Houston Texans.
For the mems: Future hall-of-fame QBs Tom Brady and Aaron Rodgers met for just the third time in their storied careers on Sunday. Brady's Tampa Bay Buccaneers easily took the win in this hyped up matchup, scoring 38 unanswered points to defeat Rodgers' Green Bay Packers 38–10.
Our favorite play was this throwback TD connection from Brady to tight end (TE) Rob Gronkowski, Brady's former New England Patriots teammate who came out of retirement to reunite with Brady in Tampa Bay. A bromance for the ages.