NFL Division Playoffs
January 14, 2021
The GIST: Is there anything better than football in January? Now that we've finished celebrating Alabama's College Football Playoff National Championship, it's time to look ahead to the weekend's Divisional Round of the NFL playoffs.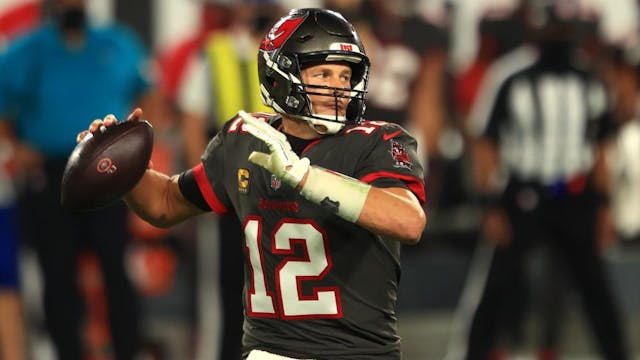 SOURCE: FORBES
LA Rams vs. Green Bay Packers, 4:35 p.m. ET: What happens to the old adage "defense wins championships" when both teams have stacked Ds? That's where the offense comes in, and considering LA's injury woes, Packers quarterback (QB) Aaron Rodgers should be the difference maker in this game.
Baltimore Ravens vs. Buffalo Bills, 8:15 p.m. ET: Here's the deal: it's supposed to snow in Buffalo on Saturday. The issue? Ravens QB Lamar Jackson has never played football in the snow. So while the cold never bothered the Bills anyway, the Ravens will likely have to rely on running back (RB) J.K. Dobbins.
Cleveland Browns vs. Kansas City Chiefs, 3:05 p.m. ET: The Browns are still flying high after embarrassing the Pittsburgh Steelers last week, but they better get focused. Kansas City is coming off a bye, and a well-rested duo of tight end (TE) Travis Kelce and wide receiver (WR) Tyreek Hill is terrifying for any team.
Tampa Bay Buccaneers vs. New Orleans Saints, 6:40 p.m. ET: It's the battle of the boomers (okay, not quite!), with 43-year-old QB Tom Brady's Bucs visiting 41-year-old QB Drew Brees' Saints. The Bucs are 0-2 against the Saints this season...but something tells us the Saints won't earn the sweep.
You vs. other GISTers: As the Wild Card winners prep for the Divisional Round of the playoffs, you can prep for the second week of FanDuel's GISTer-exclusive weekly fantasy contest.
Fortunately, it's pretty easy (and so fun!). All you have to do is select nine players to be part of your ideal NFL playoff team, and info about each player is accessible through FanDuel's platform.