Bigger than ball: Mulkey's deafening silence
September 28, 2022
In a press conference on Monday, LSU head coach (HC) Kim Mulkey cut off a reporter, who said he hadn't "seen anything" from her on WNBA star Brittney Griner's wrongful detention in Russia, with a curt "and you won't."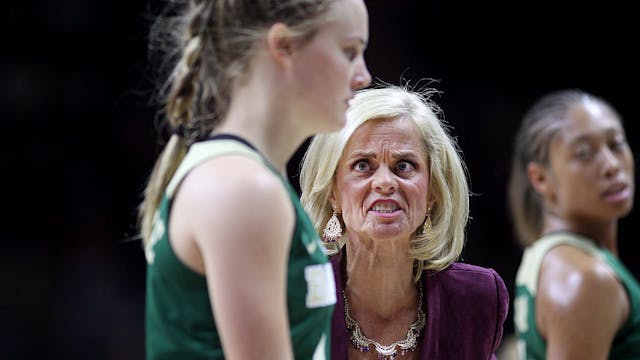 SOURCE: TIM CLAYTON/CORBIS VIA GETTY IMAGES
The GIST: In a press conference on Monday, LSU head coach (HC) Kim Mulkey cut off a reporter, who said he hadn't "seen anything" from her on WNBA star Brittney Griner's wrongful detention in Russia, with a curt "and you won't."
The history: Before taking the job at LSU, Mulkey was near synonymous with Baylor women's basketball, having led the Lady Bears from 2001 to 2021, including three national championship wins.
The backlash: Mulkey's silence on Griner's 223-day detention has deservedly sparked outrage. Indiana Fever rookie and member of Baylor's 2019 championship team, Queen Egbo (pronounced EGG-bo), tweeted, "A player that built Baylor…Yet her former coach refuses to say anything or simply just show any kind of support…"
Louder than words: It's not the first time Mulkey's worrisome beliefs have been exposed by her silence. The coach has notoriously remained mute when confronted with racial and LGBTQIA+ issues, creating an environment where non-heterosexual athletes, including Griner, were encouraged to hide their sexuality.
The new coach: Though horrifying, Mulkey's lack of comment aligns with her problematic attitudes. But current Baylor HC Nicki Collen, who never coached Griner, proved what leadership should look like.