May 13, 2022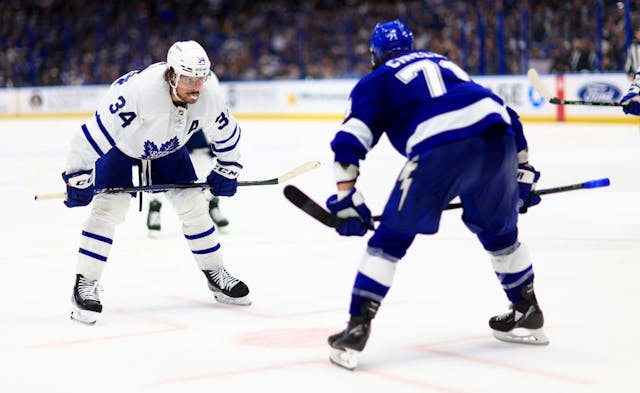 SOURCE: MIKE EHRMANN/GETTY IMAGES
The GIST: While some teams clinched their spot in the second round, others forced Game 7 and some were eliminated altogether. Let's bring some order to the mayhem, shall we?
Toronto Maple Leafs: Hello, Game 7, the Leafs' old friend nemesis. The two-time defending champions struck often as Toronto fell 4–3 in overtime (OT) to the Tampa Bay Lightning in last night's Game 6. While the Leafs had a strong performance and were piling on shots, Tampa's Brayden Point fired in the game-winning goal with two minutes remaining in OT. Heartbreaking.
Puck drops for the winner-take-all final game of the series tomorrow at 7 p.m. ET in front of the hometown Toronto crowd. The 6ix is shaking like a…leaf.
Edmonton Oilers: It was do or die for the Oilers in last night's Game 6 vs. the LA Kings, and even without star defenseman Darnell Nurse (suspension), Edmonton was able to notch a 4–2 win, pushing a Game 7 in Edmonton tomorrow at 10 p.m. ET. Tune in to see if the Connor McDavid and Leon Draisaitl top-line pairing is here to stay.
Calgary Flames: Wednesday's Game 5 saw Calgary complete a 3–1 comeback victory (featuring the winning goal by Andrew Mangiapane) over the Dallas Stars to claim a 3-2 series lead. The Bread is rising. The Flames will have a chance to punch their ticket to the second round in tonight's 9:30 p.m. ET Game 6 matchup in Dallas.
Elsewhere: Amidst last night's Game 6 action, the St. Louis Blues topped the Minnesota Wild 5–1 to advance to the second round, while the Boston Bruins notched a 5–2 win over the Carolina Hurricanes to push a Game 7 tomorrow at 4:30 p.m. ET. Crazy.
Next up: the Pittsburgh Penguins and Florida Panthers will aim to close out their series against the NY Rangers (at 7 p.m. ET) and Washington Capitals (at 7:30 p.m. ET), respectively.