Just over halfway to NCAA March Madness, this season's collegiate ballers haven't held back
January 11, 2023
Here's who's rising over the midseason hill and whose year isn't the same as it was.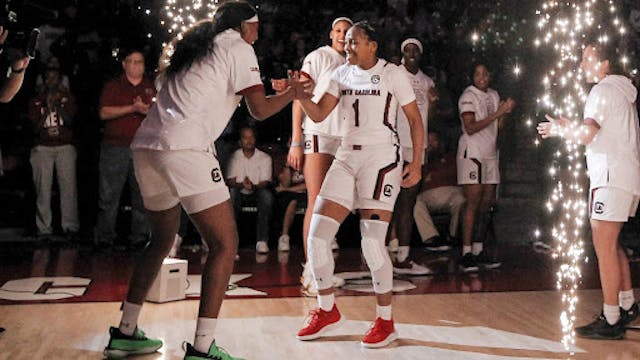 SOURCE: TWITTER/GAMECOCKWBB
The GIST: Just over halfway to March Madness, this season's collegiate ballers haven't held back, bringing chaos every week. Here's who's rising over the midseason hill and whose year isn't the same as it was.
The gals: Unsurprisingly, last season's champs South Carolina have reigned at No. 1 for 29 straight polls. Not only that, but the Gamecocks are one of just three undefeated teams (men's or women's) in Division I hoops, joining No. 3 Ohio State and No. 5 LSU, both of whom are defying preseason expectations.
The No. 5 LSU Tigers have earned the hype by blowing opponents out of the water, often thanks to Player of the Year contender Angel Reese's record-smashing numbers.
Still rocking No. 2 is Stanford, but UConn is the Top 5's surprise. The Huskies have been so decimated by injuries that they postponed last Sunday's game. Not to worry, the program is so deep that they're still the No. 4 team in the country. Damn.
Wishing for a season do-over, however, are Texas and Tennessee. The preseason Nos. 3 and 5, respectively, plummeted from the poll early and are still trying to break back into the Top 25.
The fellas: Surprises are the name of the men's game, leaving zero teams undefeated. One of the last to tumble? No. 3 Purdue, who dropped from No. 1 after facing Boilermaker-kryptonite Rutgers last week. But the preseason-unranked Purdue, led by center Zach Edey, is still a shocking contender for spring Madness.
The new No. 1 Houston Cougars are also having a banner year, reaching the top spot this season for the first time since the early 1980s. Meanwhile, last year's champs, Kansas, are still rock chalking at No. 2.
The rest of the Top 5 — No. 4 Alabama and No. 5 Tennessee — have been SEC surprises. Tennessee didn't make the preseason poll but is thriving, while Bama posted massive dubs against some of the best, like UNC, Gonzaga and Houston.
Speaking of UNC, the preseason No. 1 crashed and burned into a mediocre record against mediocre opponents. Also disappointing? Preseason–No. 4 Kentucky. The perennial contender has fallen to nearly every strong opponent they've faced. Big Blue Nation is definitely feeling blue.