Nacho average football game
January 30, 2020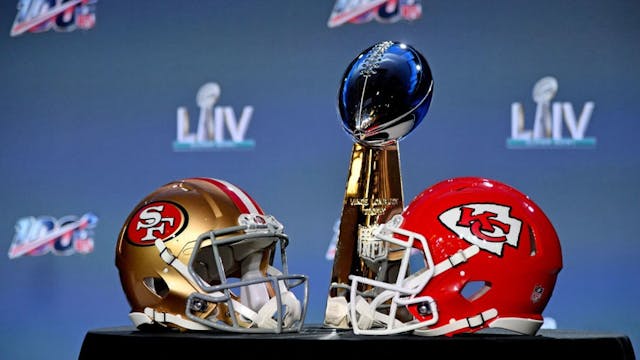 The GIST: The Big Game is right around the corner! Here's #thegist of Super Bowl LIV (that's fancy-speak for 54).
First, tell me when the game is: Action kicks off on Sunday, February 2nd, at 6:30 p.m. ET. And if you're not lucky enough to be at the Hard Rock Stadium in Miami, Florida, you can find out where to watch here.
Great! Now who's playing?: The high-flying Kansas City Chiefs (who won the American Football Conference, aka AFC, and are heading to their first SB in 50 years) will play against the top-ranked defense of the San Francisco 49ers (who ran away with the National Football Conference, aka NFC).
Even though San Fran is basking in their reclaimed dominance, KC really wants this one for their head coach's legacy. KC's Andy Reid is one of the most accomplished head coaches in NFL history, but he's missing a Super Bowl win. It's also been 15 years since his last chance at a title, so we're guessing the boys will be pretty motivated to get Reid his celebratory cheeseburger.
So, who will win?: These two teams can't be a closer match, with San Fran finishing the season at 13-3 and KC at 12-4. KC is just a one-point favorite to win, which basically means even the oddsmakers have no clue who TF is going to take this one. The one thing we can guarantee? Quarterbacks Patrick Mahomes (KC) and Jimmy Garoppolo (San Fran) will both have to bring their A-games if either one wants to pull out a victory.
What about the halftime show?: Who would be more perfect headliners in the American capital of Latin music than Jennifer Lopez and Shakira? Nobody. And our hips words don't lie when we say their performance might be what we're anticipating most.
Anything else?: Don't forget that herstory will also be made when 49ers offensive assistant coach Katie Sowers becomes the first openly LGBTQ+ and female full-time coach to get to the NFL's biggest stage. Cheers to shattering not one, but two glass ceilings!
Want more?: We thought you would. Our special edition launch podcast is all about the Super Bowl. Click here to get The GIST of It.