NFL Postseason Stage is Set
January 04, 2021
The GIST: Yesterday was a wild day of football. And now, with the NFL regular season over, the postseason stage is set and teams like the usually pitiful Cleveland Browns and Buffalo Bills are moving on. 2021, we dig you already.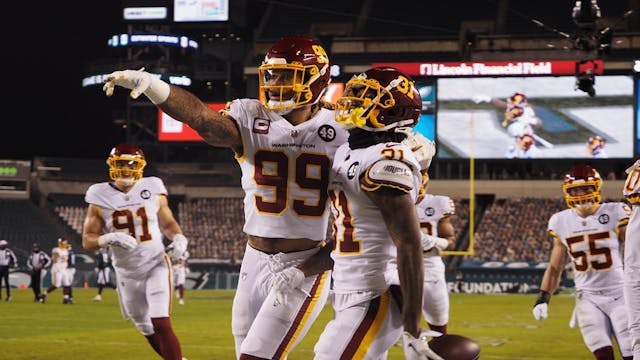 SOURCE: WASHINGTON FOOTBALL TEAM/TWITTER
The Browns and Bills: Not to be blunt, but these two teams have been the laughing stock of the NFL for a long time. However, now that they've been replaced by the New York Jets and Jacksonville Jaguars, things are looking up as we head into Wild Card weekend (aka the first of four playoff rounds).
With yesterday's 24–22 win over the Pittsburgh Steelers, the Browns secured their first playoff spot in 18 years. Yes, their playoff drought was old enough to legally order draught in England. They'll now face a rematch against the Steelers in Sunday's wild card game.

Meanwhile, the Bills walloped the Miami Dolphins 56–26 to solidify the AFC's second seed. The Bills haven't won a playoff game since 1995 though, so we won't hold our breath during Saturday's game against the Indianapolis Colts.
Wild thing: Other teams moving on to the postseason include the Baltimore Ravens, who clinched with a laughable win over the Cincinnati Bengals, and the Tennessee Titans, who won the AFC South by a single, almost missed, field goal.
But it all came down to the regular season's final game and the worst division in the NFL, the NFC East. All four division teams finished with a losing record, but the Washington Football Team was the best loser and took the title — and the final playoff spot — with a 20–14 win over the Philadelphia Eagles.
Bye-bye Miss American Pie: Finishing first in the conference doesn't just get you bragging rights — it means a first round bye, too. The Kansas City Chiefs locked up the AFC's top spot ages ago, and with a win over the Chicago Bears yesterday, the Green Bay Packers claimed the NFC's No. 1 seed. Let the games begin.