2020 U.S. Open Belongs to Women
September 10, 2020
U.S. Open Semifinal matches are upon us, and we have our fingers crossed for a rematch between Naomi Osaka and Serena Williams in Saturday's final.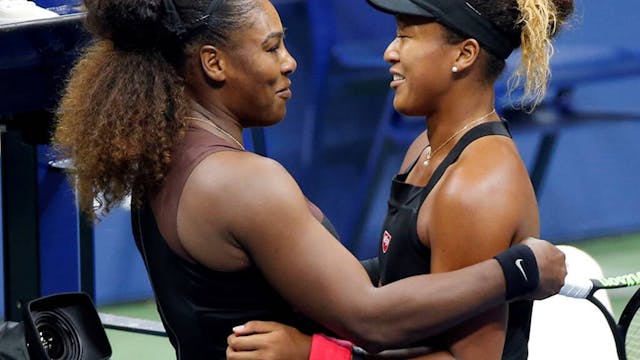 SOURCE: MOHAMMED ELSHAMY/ANADOLU AGENCY/GETTY IMAGES
The GIST: The U.S. Open has long been at the forefront of equality in tennis, and this year's tournament definitely belongs to the women.
Why's that?: Two of the biggest names in the game, Japan's Naomi Osaka and America's Serena Williams, are once again on opposite sides of the draw heading into the semifinals. They've given us some wildly entertaining matches so far, and if both win today, they'll meet in Saturday's final, in a rematch of one of the most infamous showdowns in tennis history.
Osaka, who will face American Jennifer Brady at 7 p.m. ET, is looking for her first Grand Slam final appearance since winning the Australian Open in 2019. Williams, who's set to play two-time Aussie Open winner Victoria Azarenka, has her sights on a record-breaking 24th major and a third straight U.S. Open finals appearance. Truly amazing.
Osaka and Williams met at the 2018 U.S. Open final, when Williams had a memorable dust-up with the chair umpire and was (unfairly, in our humble opinion) penalized. Osaka ended up winning, and her tearful trophy acceptance speech was more of an apology to an angry crowd.
What's the likelihood of this rematch?: No. 4 seed Osaka has dropped just two sets in five matches and made it to the final of the 2020 Cincinnati Open, but this is the farthest she's come in a Grand Slam since her 2019 Aussie win.
No. 3 seed Williams has seen her last three matches go to a deciding third set and had to fight back from a set down in her quarterfinal match yesterday against Tsvetana Pironkova. But Williams has had her sights set on her elusive 24th major win for too long now, so we'd say the odds are ever in our favor to see this rematch.
And what about the men's side?: Okay, fine, the guys are playing, too. And thanks to the last remaining Grand Slam winner in the field, Novak Djokovic (pronounced JOKE-OH-VITCH), defaulting out of the tournament after hitting a line judge with a ball (he is so drama), we're guaranteed to see a new winner this year, with each of the four semifinalists looking for their first major win. Fun!