NFL Week 13
December 07, 2020
The GIST: In the 13th week of the NFL, the league gave to us: one winless team (the 0-12 New York Jets), two new records for QB Aaron Rodgers and the playoff bound 10-2 New Orleans Saints. Now, for our fave plays of the week: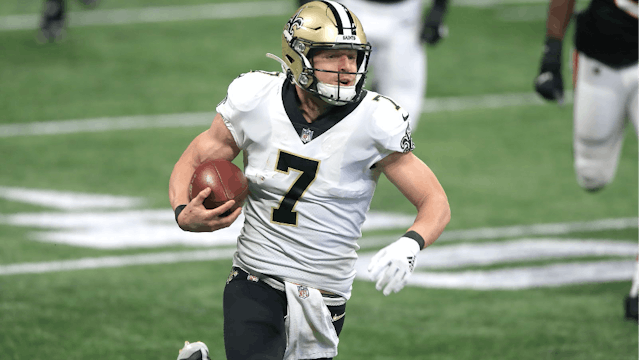 SOURCE: CBS SPORTS/TWITTER
Oh when the saints: The Saints clinched this season's first playoff spot yesterday with a 21–16 win over the Atlanta Falcons (4-8). Even more remarkable is that they did it with backup QB Taysom Hill at the helm. Hill threw his first two NFL touchdowns (TDs) yesterday, and has led the team to three straight wins. Amazing.
No Ruggrets: The NY Jets were seconds away from their first win of the year when Las Vegas Raiders QB Derek Carr spoiled it all with this incredible pass to wide receiver (WR) Henry Ruggs III. The now 7-5 Raiders took it 31–28.
Rodger that: Green Bay Packers (9-3) QB Aaron Rodgers threw his 35th TD of the season yesterday, making him the only QB in NFL history to record at least 35 passing TDs in five different seasons. As the cherry on top, Rodgers then became the seventh (and fastest) QB in NFL history to throw 400 career TDs.
Sunday Night Fever: The Denver Broncos (4-8) may have lost their primetime matchup against the Kansas City Chiefs (11-1), but rookie WR Jerry Jeudy has (possibly) secured a spot on Dancing with the Stars with these pre-game moves.
What's next: It's a rare Monday Night Football doubleheader. The Steelers are going for win #12 against the Washington Football Team (4-7) at 5 p.m. ET, followed by the Buffalo Bills (8-3) and San Francisco 49ers (5-6) at 8:15 p.m. ET.
Then, in an even rarer Tuesday night game, the Dallas Cowboys (3-8) and the still-recuperating Baltimore Ravens (6-5) — who dealt with at least four unique strains of COVID-19 during their recent outbreak — face off at 8:05 p.m. ET.