Moving and shaking: NFL free agency
March 18, 2021
NFL silly season (aka free agency) is upon us.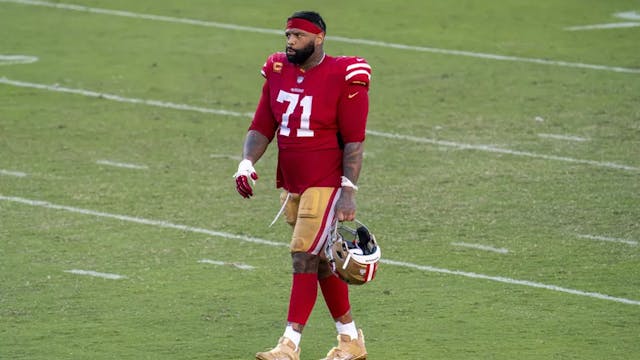 Source: Kyle Terada/USA Today Sports
The GIST: With half a year to go 'til the opening kickoff, it's primetime for off-season wheelings and dealings. And while there's no way we can go through them all, here are a few standouts.
Big spenders: The San Francisco 49ers made a Cardi B-inspired giant money move this week, signing offensive tackle (OT) Trent Williams to a six-year, $138.06-million deal that makes him the highest-paid OT in NFL history. Should just about cover rent for a two-bedroom in SF.
Quantity over quality: The Jacksonville Jaguars did not have a great 2020 (and really, who did?), so they're bringing in a lot of new personnel to make 2021 better. The issue? Not enough game changers.
The Jags signed over 15 new players, mostly adding defensive players like cornerback (CB) Shaquill Griffin and safety (S) Rayshawn Jenkins. Assuming they draft quarterback (QB) Trevor Lawrence No. 1 overall, they might want to beef up the offense, too.
Quantity and quality: Okay, New England Patriots, we see you. The Pats have already signed or re-signed over a dozen players, making them one of the busiest teams this offseason, and their pick-ups, so far, have been pretty solid.
General manager/head coach/Mr. Personality Bill Belichick is completely revamping his roster, which now includes a pair of tight ends (TEs) in Jonnu Smith and Hunter Henry, a new linebacker (LB) in Matt Judon and S Jalen Mills. All that's left is a good QB?
The other news: As Houston Texans QB Deshaun Watson continues to look for a trade, he's also dealing with some serious off-field allegations. Over the past two days, two massage therapists filed sexual assault lawsuits against Watson, and the details are pretty disgusting.
Watson's accusers aren't pressing criminal charges so it's unlikely he'll face jail time, but if he's found guilty in civil court, he'll also be in violation of the NFL's personal conduct policy. Friendly reminder to the Texans: Colin Kaepernick is still a free agent.