Barbora Krejčíková and Novak Djokovic Take Home 2021 French Open Titles
June 14, 2021
The GIST: The French Open is over, and no one is more excited about it than this kid.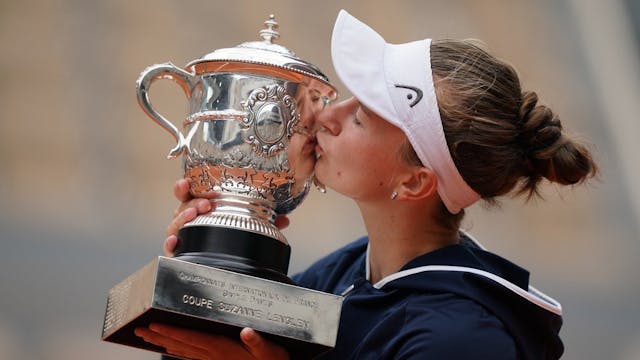 Source: Barbora Krejčíková/Twitter
Women's draw: Another year, another new women's singles champ. Barbora Krejčíková (pronounced krey-CHEE-koh-va), who had one singles title to her name before this tournament, beat Anastasia Pavlyuchenkova (pronounced pav-loo-CHEN-koh-va) on Saturday for her first ever major.
And yesterday, alongside partner Kateřina Siniaková (pronounced seen-yah-KOH-va), Krejčíková won the women's doubles title too, becoming the first woman since 2000 to win both the singles and doubles titles at the French Open. Get a girl that can do both.
Men's draw: World No. 1 Novak Djokovic continued his tennis world domination yesterday, winning his second French Open title and 19th Grand Slam title against No. 4 Stefanos Tsitsipas (pronounced see-see-PASS).
Up next: Wimbledon, mate. The next Grand Slam begins on June 28th, with Djokovic trying to tie Roger Federer (who is also playing) and Rafael Nadal () at 20 Grand Slam titles, whileSerena Williams is gunning for a . Mark your calendar.