"Who gives a sh!t about gender?"
April 27, 2020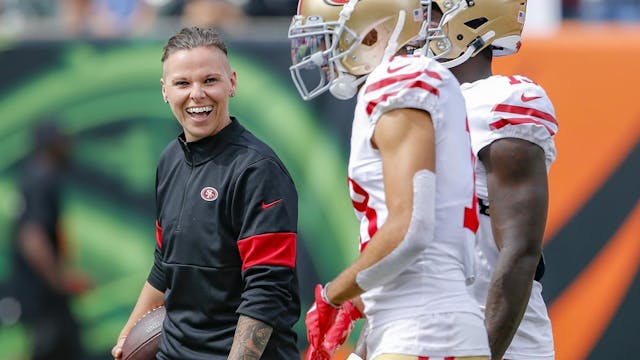 SOURCE: GARY LANDERS/ AP
The GIST: This recent NFL talk has us thinking about the trailblazing women — specifically the coaches — who have contributed to the game.
The numbers: Since 2015, seven full-time female coaches and 15 female coaching interns have worked in the NFL. Currently, four women hold full-time assistant coaching positions. Amazing, right?! However, given the typical NFL team currently averages 23 assistant coaches and there are 32 teams in the league, there are about 736 assistant coaching opportunities. We're no math majors, but this means women hold only 0.54% of assistant coaching roles.
And while the NFL has implemented policies such as the "Rooney Rule," which requires teams to interview ethnic-minority candidates for head coaching and senior football operations jobs, there are no similar gender-diversity policies. Hhhmmmm.
The firsts: Still, there are four full-time coaches in the league and that's a BFD, especially when football, despite having professional women's football leagues, is "not a women's sport." Five years ago, Dr. Jen Welter got the ball rolling when she became the first woman to coach in the NFL as the Arizona Cardinals training camp/preseason coaching intern.
Just a year later in 2016, Kathryn Smith became the NFL's first female full-time coach when she landed the role of special teams quality control coach with the Buffalo Bills.
The present: Mostly recently, Katie Sowers, who's been an offensive assistant coach with the San Francisco 49ers since 2017, became the first woman and openly gay full-time coach in the Super Bowl. Can we get a HYFR?
Then, shortly after the season ended, Jennifer King became the NFL's first Black female full-year coach when she was hired by the Washington who must not be named as a full-year coaching intern. You love to see it.
The future: With the combination of having female coaching role models, an increase in female fandom (the NFL says 47% of its fans are women) and head coaches "not giving a sh!t about gender," we predict we're only going to see more female coaches in the future (and maybe even our first female NFLer).