NFL Week 7 Woes: Antonio Brown, COVID-19
October 26, 2020
Antonio Brown is set to return to the NFL with Tampa Bay; more players test positive for COVID-19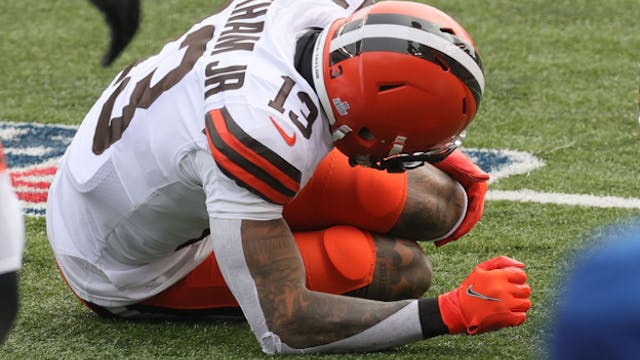 SOURCE: JOHN KUNTZ/CLEVELAND.COM
The GIST: If 2020 were an NFL week, Week 7 would be it.
Care to explain?: To start, Antonio Brown is about to return to the NFL. We can only scratch the surface on his long list of off-field drama, but suffice it to say, he's had a troublesome few years. His history — which includes an ongoing sexual assault lawsuit — apparently isn't bad enough for the Tampa Bay Buccaneers, however.
The Bucs will reportedly sign AB to a one-year, max $2.5 million deal that would reunite him with his old New England Patriots teammate, quarterback (QB) Tom Brady. Brown will be eligible to start for the Bucs in Week 9, once he's done serving the remainder of his eight-game suspension for violating the NFL's Personal Conduct Policy. Ugh.
What else?: COVID-19 continues to rear its ugly head. Jacksonville Jaguars running back (RB) Ryquell Armstead is out for the rest of the season due to COVID-19 complications. The second-year RB has been hospitalized twice since his diagnosis in August. Just awful.
Four Buffalo Bills tight ends (TE) had to sit out during yesterday's win after TE Dawson Knox tested positive, and the Las Vegas Raiders had to send their offensive line home from practice on Wednesday after tackle Trent Brown tested positive. Meanwhile the Tennessee Titans have been fined $350,000 for COVID-19 protocol violations.
Wow. Any on-field news?: You bet. Here are a few of Week 7's lowlights from the gridiron:
Dallas Cowboys QB Andy Dalton suffered a terrible head injury following an illegal helmet-to-helmet hit in a 25–3 loss to the Washington Football Team. Rattling.
The New England Patriots' 33–6 loss to the San Francisco 49ers saw three interceptions from QB Cam Newton and was the worst home defeat of Bill Belichick's Pats coaching career.
And king of the one-handed catch Odell Beckham Jr. suffered a nasty knee injury during his Cleveland Browns' close win over the Cincinnati Bengals. We're ready for Week 8 now, please.