Whenever, Wherever
February 03, 2020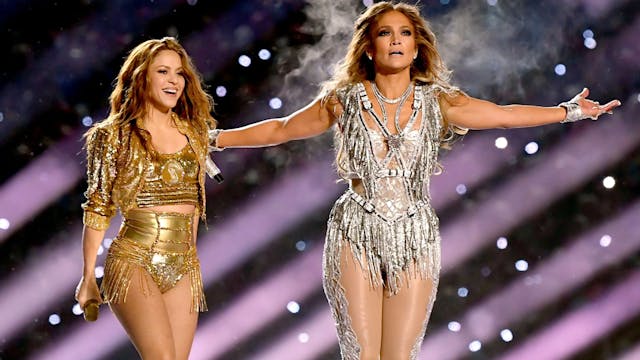 The GIST: After last year's unmemorable Super Bowl halftime show, Shakira and Jennifer Lopez were under big pressure to bring us a good show. And hot damn, did they deliver!
Shakira, Shakira: The Colombian queen kicked off the show in some v. practical footwear with "She Wolf," before giving us a medley of her biggest hits, including "Whenever, Wherever" and "Hips Don't Lie" (which ended in an epic stage dive!). Yesterday was Shakira's 43rd birthday and she belly-danced her way around that stage like she was 23. We're still gagging over it.
Jenny from the Block: JLo, who is FIFTY YEARS OLD (ahem, can we please have their skin-care routine?), picked up right where Shakira left off, with a Hustlers-inspired performance, and our jaws are literally still on the floor (seriously, how is she 50?!). While she was pumping out bangers like "Love Don't Cost a Thing" and "Waiting for Tonight," we were googling "JLo hair inspo."
Collab of the century: These two together were legen — wait for it — dary. Seeing them shake it to "Waka Waka," channel Cheer and rock out to "Born In The USA" with Shakira on drums and JLo and her daughter, Emme, on vocals was the most Girl Power performance we've seen in a while. Lucky for us, we can relive it over and over again.
Our take: We need these two every year. EVERY. YEAR. Surprisingly, we're actually fine that they didn't really perform together. Each gave us totally different vibes but paid homage to their Latina roots and kept us dancing the whole time. This is the halftime show that people will be talking about for years and one that they will compare all future halftime shows to. Good luck to whoever has to follow up on this act next year.
Oh, and a quick shoutout!: To one of our faves, Demi Lovato. She killed the pregame national anthem. She's had a rough go the past few years, and we're so happy to see her looking and sounding amazing. The girl's got pipes!