NFL Sunday Recap
November 30, 2020
The GIST: With that kind of a lead-up to Sunday football, there was no doubt the on-field action would be just as wild.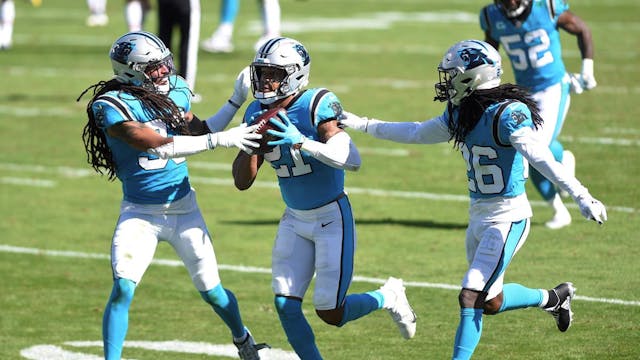 SOURCE: PFF/TWITTER
Here are our favorite history-making highlights from yesterday's games:
Take it on the Chinn: Carolina Panthers (4-8) rookie linebacker/safety Jeremy Chinn made history as the first defensive player to notch back-to-back fumble returns (in a mere 10 seconds of game time!). On top of those two touchdowns, he also added seven tackles for good measure, but it wasn't enough for a win over the Minnesota Vikings (5-6).
King of the Hill: With 203 yards in the first quarter alone, Kansas City Chiefs (10-1) WR Tyreek Hill became just the third player in 30 years to record over 200 yards in a single quarter. Hill ended the 27–24 win over the Tampa Bay Buccaneers (7-5) with 269 yards, three TDs and one backflip. But let's not forget: being a good football player doesn't make you a good person.
#CoachLikeAGirl: The Cleveland Browns (8-3) made herstory yesterday when Callie Brownson subbed in as the tight ends coach, becoming the first-ever female positional coach to work an NFL game. And, of course, the Browns won 27–25 over the Jacksonville Jaguars (1-10).
Awesome. What's up next?: The Seattle Seahawks (7-3) are in the City of Brotherly Love to face the Philadelphia Eagles (3-6-1) tonight for Monday Night Football at 8:15 p.m. ET, and that Steelers-Ravens game is still supposed to happen tomorrow at 8 p.m. ET...but who can really say?